Bombay House comes to Jordan Landing
Congratulations to local independent restaurateur Daniel Shanthakumar. The third iteration of his popular restaurant – Bombay House – opened in Jordan Landing, West Jordan, just a few weeks ago. The restaurant moves into the space formerly occupied by India Fusion.
Daniel left his home in the city of Channai, in the Indian State of Tamil Nadu to study hotel and restaurant management at BYU-Hawaii. After graduation, he moved to Utah. Along with his co-founders, Harpal Toor and Ajmer Singh, he opened the first Bombay House location at 463 North University Ave in downtown Provo in 1993.
At the time, the majority of Daniel's prospective clientele were unfamiliar with the traditional flavors of Daniel's homeland of India. However, his dedication to quality of food and service won over enough Utah County diners that he was able to open a second location in Salt Lake the very next year in 1994. Daniel's business outgrew the original Salt Lake location about a decade later, and so was moved a few blocks away to a beautiful and spacious building off of Parley's Way.
The new spot is a little smaller, but the traditional Indian recipes and techniques remain the same, so its 90 or so seats are sure to fill up fast. Good luck, Daniel!
Bombay House
7726 Campus View Dr., #120, West Jordan, UT 84084
(801) 282-0777
Chef Romina's Recipe for Liquid Apple Pie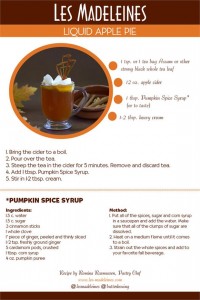 Its that time of the year folks, leaves are falling and sunny skies are giving way to their gloomy, grey counterparts. What better way to stave off a cold, dark evening than with this recipe that popped up in my inbox this week. Featuring fall friendly flavors like apple, cinnamon, cardamom and pumpkin. The recipe from Chef Romina Rasmussen (Les Madeleines) for Liquid Apple Pie combines all of the quintessential fall flavors in one mug.
Click the image on the right for the full recipe, and click the top right corner for the full version.
Looking out the window right now, I think I might go and cook up a batch myself! Of course I might have to add in just a wee nip of spiced rum too!
Finca Beer Dinner
You wont want to miss this one. Maybe the beer dinner of the year? 5 local breweries, 5 beers, 5 courses $55. Squatters Pubs & Beers, Epic Brewing Company, Uinta Brewing, Moab Brewery all at Finca. One night only – November 15th, 6.00PM through 8.30PM. Menu TBD but the following beers should be available
Squatters Brewery: Hells Keep, Golden Strong Ale
Epic Brewery: Doppel Bock
Red Rock Brewery: Reve
Moab Brewery: Scotch Ale "Wee Heavy"
Uinta Brewery: Cockeyed Cooper Bourbon Barrel Barley Wine
Chef Phelix Gardner and owner Scott Evans are sure to pull out all the stops on this one, an event not to be missed!
Finca
1291 South 1100 East Salt Lake City, Utah 84105
(801) 487-0699
New Yorker Rekindles and Old Flame
The New Yorker has renewed its love affair with Italy where the fall menu is all about Tuscan-inspired flavors and fresh ingredients. "We've always found inspiration from the region, and this is a return to many of our favorite dishes, some which were hallmarks of our sister restaurant, Baci Trattoria," says executive chef Will Pliler.
"Guests who have dined with us over the years (for more than 34 years to be exact) know we have always been smitten with classic risottos and freshly made in-house pastas," Pliler said. Rigatoni with Lamb Ragu and Pecorino Romano and Capellini Pomodoro con Gamberetto – both on the Festival di Siena at the New Yorker menu – are just two of the often-requested favorites our guest are loving again."
At both lunch and dinner the Italian theme prevails. Two terrific Tuscan-inspired entrees are Taggliata di Manzo (strips of grilled New York steak with forest mushroom, demi-glace potatoes, onion straws and Chianti reduction) and Petto di Pollo Ripiena (breast of chicken filled with prosciutto, fresh sage and Fontina cheese with mushroom Marsala sauce.)
Traditional cafe favorites like the seafood Cobb salad and New Yorker Black Angus Burger are always on the menu. "We're striving to deliver delicious food at great value and with great service without fuss. Consumers today want to dine casually, but that doesn't mean poor service and uninspired preparation," Pliler said. "Festival di Siena fills this goal so beautifully. Bella," he said. Until the holidays arrive, The New Yorker will be ablaze with the insignia flags of Palio – the famous horse race of the region – and traditional and Tuscan-inspired dishes will be at the heart of the New Yorker menu.
The New Yorker
56 West Market Street (340 South)
(801) 363-0166
Hi, I'm Stuart, nice to meet you!  I'm the founder, writer and wrangler at Gastronomic SLC.  I'm a multiple-award winning journalist and have written in myopic detail about the Salt Lake City  dining scene for the better part of seventeen years.
I've worked extensively with multiple local publications from Visit Salt Lake to Salt Lake Magazine, not least helped to consult on national TV.   Pause those credits, yep, that's me! I'm also a former restaurant critic of more than five years, working for the Salt Lake Tribune.    I'm largely fueled by a critical obsession with rice, alliteration and the use of big words I don't understand.   What they're saying about me: "Not inaccurate", "I thought he was older", "I don't share his feelings".
Want to know more? This is why I am the way I am.
This article may contain content provided by one of our paid partners. These are some of the best businesses in Utah. For a list of all our current and past relationships see our
partnership history page
.