UPDATE: See our updated 2013 review of Copper Onion.
Evening dinner review
What an unusual 18 months it has been for Salt Lake City's restaurant scene. It is almost as if the city is eagerly thumbing its nose to the current economic downturn. Recession? What recession? Restaurant after restaurant has opened, including plenty of outstanding additions worthy of anyone's time and money: Eva, Meditrina, Frida Bistro, Forage, and Pago to name a few. With the addition of The Copper Onion Salt Lake City welcomes another newcomer, one which may just top them all.
But first, lets get the introductions out of the way. The Copper Onion is the work of husband and wife team Ryan and Colleen Lowder, Chef and General Manager respectively. Both have impressive resumes. While Chef Lowder can list stints under such luminaries as Jean Georges and Mario Batali, Colleen Lowder's experience includes time at the famous Grand Central Oyster Bar in NYC. Throw in world travels which include time spent in Colombia and Spain, and you have an experienced and seasoned duo.
The Copper Onion may have the location fates working against it, as previous restaurants in this space (just next door to The Broadway Theater) have fizzled out with little fanfare. Frankly, I have always been perplexed by how a clever restaurateur could not make a hit of the location. A popular downtown spot, right next to a hip movie theater, it surely isn't rocket science. Thankfully The Copper Onion's wonderfully flexible menu is set up to perfectly embrace its surroundings. Wanting a quick light snack before a movie next door? No problem. Looking for a long meandering, romantic meal? Well, that's just fine too. One could quite happily graze on a handful of small plates, side dishes, and the very tasty house-made breads, or just as easily enjoy the more traditional appetizer, entree, and dessert.
While on the subject of the menu, I should mention the liquor too. Wine is available by the glass, bottle, and the not-so-common quartino; a 10 ounce mini decanter, or two decent sized pours to me and you. As well as wines and a selection of beers, a number of impressive house special cocktails (all $10) are offered as well. A recent favourite of mine is the ultra-smooth Commodore (rye whiskey, fresh ginger, bitters, lemon, fresh o.j.), while Wen has become a fan of the Honey Drop (Ketel One vodka, Cointreau, Wyoming white honey, lemon and lime).
Inside, the space has been re-invigorated. The dark interior of the previous tenant has been replaced with warm tones and plenty of heavy wooden tables and chairs. There is a small private dining area, and as the weather starts to warm up, patio dining in the plaza between the restaurant and the theater will become available. The comfortable setting exudes the word "bistro" effortlessly, which is kinda funny given the number of joints around town that use the phrase in the name, and are anything but.
After a few visits now, we have managed to sample a large portion of the menu, so rather than detailing one meal, here are a number of things we just loved at the time and have craved ever since:
Pork Belly Salad (brussel sprouts, pickled carrot relish, $9):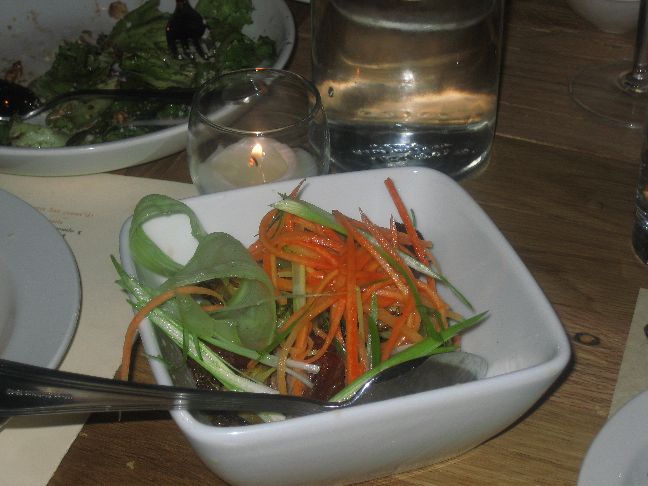 The picture doesn't do this dish justice at all. All those toppings hide chunks of crispy on the outside, meltingly-delicious and fatty on the inside pork belly. Also hiding under there are deep fried brussel sprouts, which I could eat like popcorn. The acidic bite of the pickled carrot keeps the dish nicely balanced. Ok, so it probably isn't heart healthy, but if I need to have a dish that pushes me closer to coronary failure (and I do!), this would be the one.
Sauteed Mushrooms (fried farm egg, potato sticks, pickled carrot relish, $8):
A great example of how fantastic ingredients win the day every time. How can you get simpler than mushrooms and egg? Yet the perfectly cooked (how do they do that every single time?) creamy egg melts into the earthy mushrooms and crispy fried potatoes to form little bites of heaven. This one is quite possibly Wendi's favourite dish from a local restaurant in as long as we can remember.
Manila Clams (creamy black pepper sauce, $14):
From talking to other people who have sampled this dish, it could be overly peppery for some. Me, I'm a black pepper nut. So now you've been warned, this dish doesn't hold back on the spice kick at all. I'm a big fan and would definitely recommend this one to any other spice lovers.
Mussels (Creminelli calabra sausage, $13):
Another elegantly simple preparation. A splash of white wine, garlic, a dusting of paprika and voila. The Creminelli sausage adds a meaty textural counterpoint as well as a depth of flavor to the dish. For those who haven't tried mussels before, this would be a great introduction.
Smoked Niman Ranch Lamb Riblets with Shishito Peppers ($16):
I hate to use the phrase, as its wheeled out ad nauseum when talking about meat and bones, but these lamb 'riblets' really are fall off the bone tender. The deep fried shishito peppers, which are a separate side dish, are also fantastic, fried and lightly tossed with sea salt. If you've never tried these peppers, you should know they aren't spicy, just very addictive.
Pasta Carbonara (house made fettucine with egg, smoked bacon and cream, $15) with sides of brussel sprouts, thrice fried potatoes: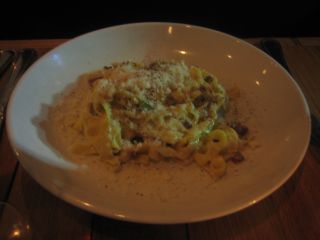 The indulgent Pasta Carbonara is decadently rich with bacon and cream, but even better, it is topped with an egg, which mixes with the other ingredients to form the perfect compliment to the house-made fettucine. This is a dish worth cheating on your diet for. It will make you remember why you love carbs.
Utah Trout Filet (fennel salad, olive tapenade, chili oil, $16):
With another nod to local sourcing where possible, this trout dish hit all the right notes. Perfectly cooked, and seasoned with a judicious hit of chilli oil that complements, not competes with the fish. The crunch of the fennel and salty dabs of tapenade round out probably the best Utah trout dish I think I have sampled locally. And yes, that is another bowl of shishito peppers you see in the background, they really are that good.
Deep Fried Bread Pudding: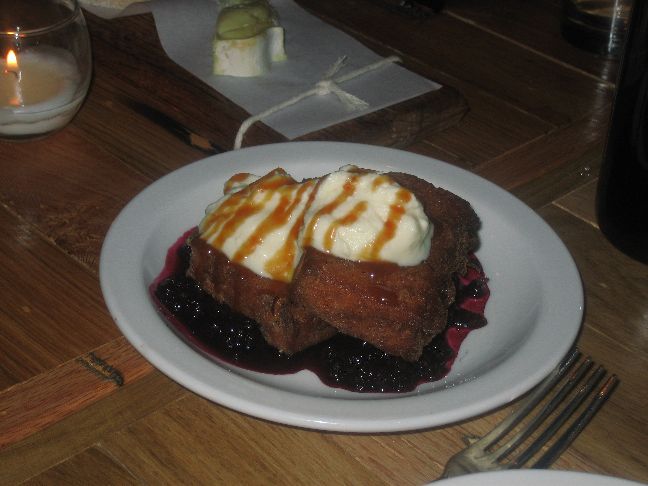 Whoever thought of deep frying bread pudding is a crazy genius and we love them. It's every bit as good as it sounds and probably something that should be savored only on special occasions.
Guinness Ice Cream Float ($10):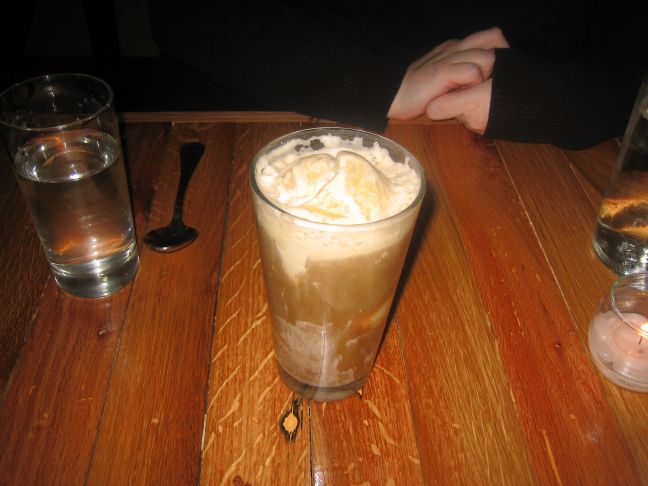 One of the more unusual desserts I can recall trying over the last few years, a play on the traditional root beer float. House-made Guinness ice cream floats atop a pint of the black stuff. It was fun to take spoonfuls followed by swigs of dessert. By the end, it resembled more of a Guinness milkshake, which was every bit as tasty as it sounds weird. Our server advised us that they also serve the Guinness ice cream on its own.
So by now, you're probably craving The Copper Onion as much as I am. On weekends or busy evenings, you might want to grab a reservation first, as word has gotten out and the place can be hopping. The Copper Onion is listed on OpenTable.com so reservations are a cinch.
Service has been impeccable during each of our visits. The service staff are not only enthusiastic about the food, but knowledgeable too. Any questions we posed were answered with expertise and that oh so hard to find mix of friendliness and professionalism. If you want to compliment the Chef and his team directly on your way out, you can go right ahead as The Copper Onion features an open kitchen (with bar seating too). There is a great vibe and buzz about the place, everyone seems finely attuned to providing a great customer experience.
I hate to wax lyrical, but truth is I cannot find fault with The Copper Onion. Everything hits the mark, food, service, ambiance, prices. It's quite simply the real deal folks. So yes, go ahead and believe the hype, but even more importantly go try The Copper Onion! I promise that, just like me, you'll be recommending it to all your friends!
The Copper Onion
111 E. Broadway, Suite 170, Salt Lake City, UT 84111
(801) 355-3282
Hi, I'm Stuart, nice to meet you!  I'm the founder, writer and wrangler at Gastronomic SLC.  I'm a multiple-award winning journalist and have written in myopic detail about the Salt Lake City  dining scene for the better part of seventeen years.
I've worked extensively with multiple local publications from Visit Salt Lake to Salt Lake Magazine, not least helped to consult on national TV.   Pause those credits, yep, that's me! I'm also a former restaurant critic of more than five years, working for the Salt Lake Tribune.    I'm largely fueled by a critical obsession with rice, alliteration and the use of big words I don't understand.   What they're saying about me: "Not inaccurate", "I thought he was older", "I don't share his feelings".
Want to know more? This is why I am the way I am.
This article may contain content provided by one of our paid partners. These are some of the best businesses in Utah. For a list of all our current and past relationships see our
partnership history page
.