Evening dinner review
For as long as I can remember, I have regaled friends and colleagues with what I call my "Salt Lake City Restaurant Wish List". Close to the top of my list was a Mexican restaurant "taken up a notch". I admit to being a relative newbie to Mexican food. Where I come from, there are a handful of mediocre Mexican eateries in an area comparable to the SLC valley. So, when I came to Utah, I was excited at the prospect of the sheer number of Mexican food-related pleasures that awaited me. As I began to work my way through the city's most popular Mexican restaurants, I noticed a few seemingly ever-present similarities. The huge combination plate is an example, another is the ubiquitous presence of the often bland side of rice and beans. I have absolutely no qualms when it comes to value for money, but my "wish list" longed for something a little finer, a place which explored the unique flavors of Latin American cuisine in a more elegant and beautiful setting, and most importantly, someplace with a wine list! I guess simply put, as great as they are, I wouldn't go to La Frontera or Red Iguana for a romantic dinner, regardless of how much I was craving a smothered enchilada.
So, the idea remained in my head, seeming shockingly obvious, but no one in the valley was willing to take the jump from cheap and plentiful to refined and complex when it came to our beloved Mexican cuisine. And then, one day I received an email from Frida Bistro Manager Stephanie Bailey-Hatfield (formally of Wild Grape Bistro) and from what she was saying, it seemed my wish had been granted. To say I was excited when I first got word of the concept behind Frida Bistro would be an understatement.
I've mentioned Frida Bistro a couple of times previously on this website. To recap for those who haven't heard yet, the restaurant is owned by Jorge Fierro of the local Rico Foods brand. Rick Bruno (last seen at Meditrina) is in charge of the kitchen. The restaurant is attached to the Rico's warehouse and production facility in SLC. Being located in the warehouse district, approaching the restaurant is an odd experience as the surrounding neighborhood is nearly deserted at night. I don't think we saw many other cars in the area, but it made for very easy parking.
The restaurant's interior is a treat for the eyes. The potentially drab exposed brick and steel space of what I'm assuming was once the front of the warehouse has been splashed with bright colors. Vibrant artwork adds even more energy to the space (we were delighted to have Jerry Garcia looking down on us enjoying our meal). Lightning is also spot on too with hanging drop lights adding the perfect amount of warm light. The whole affair is conducted with a cool understatement, what sounds like it could be hard on the eyes is actually done in a very elegant and sexy way at Frida Bistro. (Speaking of sexy, Wendi said that I should tell all the ladies to be sure to use the restroom while at Frida Bistro. I'm not sure what she means when she says it's the sexiest bathroom ever, but I'll just take her word for it and make the mention.) Attention to detail is obvious and there was even a small image of Frida Kahlo (the restaurant's namesake) stamped on the paper tablecloth.
Knowing the Manager's eagerness to explore South American wines and considering our longtime love of the same, we eagerly tackled the wine menu. The wine list isn't huge by any means, but did offer a nice selection. We started the meal with a bottle Dona Paula Estate Shiraz Malbec, Mendoza 2006 ($42), which was on the higher end of the markup scale. An amuse was served up while we took in the menus:
The amuse was two small dense corn-based cakes with a creamy filling and sprinkled with pumpkin seeds, but for the life of us, we can't remember what the server said it was. With my cheese aversion, I figured the filling contained cheese of some sort and opted not to try it, but Wendi really enjoyed it. I wish I could tell you more.
We decided to kick things off with a shared appetizer, and a special of the evening was the Duck Empanadas (fig-chipotle marmalade, cotija cheese $11):
I'm pretty sure every cuisine has a take on meat filled pastry, but I think this is the first time I've experienced duck as the filling in question. The empanadas were a little dry in the final analysis, yet we didn't leave a morsel. The entrees were what we were really looking forward to, and with the menu's exotic sounding selections like Chiles en Nogada sitting next to ingredients such as Nopal Cactus, we had a really hard time making our selections.
In the end, Wendi selected the Chile Relleno con Plátano Macho (Plantains, Panela Cheese and Piloncillo, Tres Verdes Rice, $20):
This was a major step up from your run of the mill Chile Relleno for sure. The spicy punch of the Poblano chile was taken down just a notch by the sweetness of the plantain, making for a very interesting taste combination. The Panela cheese was used sparingly. I was very intrigued by the tres verdes rice accompanying the dish. It didn't look like the usual sometimes bland off-pink rice I'm used to seeing at other local Mexican restaurants. It was a vivid green and appeared to have actual bits of spices and herbs in it. My suspicions were confirmed when I tasted it. It was delicious green goodness, extremely flavorful and a very welcome change.
I went with the Carnitas de Puerco (Fried leg of pork, Sweet Citrus Glaze, Chipotle Mashed Potatoes, Salsas and handmade corn tortillas, $21):
The leg of pork was was thoroughly tender and juicy. It instantly took me right back to my childhood evoking memories of my parents cooking; this was a cut of meat I know served up in a completely new way. The flavors were rich and complex. Any dish that can push all those buttons, well, I'm sure you know what I mean! It was really quite fantastic.
The salsa's accompanying the dish were great, one a creamy avocado, the other spicy and smoky . The chipotle mashed potatoes weren't exactly what I expected, but served their carby purpose just fine.
Not featured in the photos were the sides of freshly made corn tortillas, which were served warm and as expected of a venture having to do with Rico's, amazing.
We capped off the meal with 'The Frida by Dough Girl' ($8):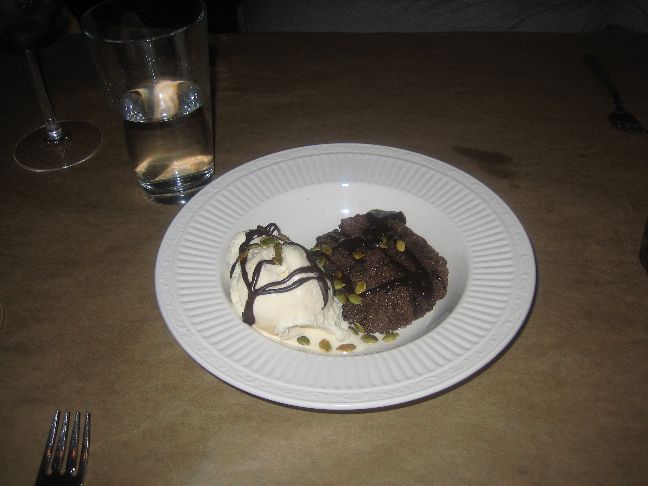 I hadn't heard of this local brand until our meal at Frida Bistro, but you can read more on Dough Girl here. The Frida was a rich chocolate cookie with hints of cinnamon, chili, and salt. The cookie was served warm topped with spiced pumpkin seeds and vanilla ice cream. I recall the battling of spoons over who would get each and every delicious bite of this cookie/ice cream combo. A really top notch end to the meal and a must if you do visit Frida Bistro.
If you hadn't noticed, I have been totally swept away by Frida Bistro. Sure I have only been once, but I just love the place. I know we will be going back countless times. It's largely what I had in my mind's eye for all those years of wishing. I almost don't want to let the cat out of the bag on Frida Bistro, it'd be great to keep it our little secret, but alas, they deserve to thrive and hopefully they will.
Frida Bistro
545 W 700 S, Salt Lake City, UT 84101
(801) 983-6692
Website: www.fridabistro.com
Hi, I'm Stuart, nice to meet you!  I'm the founder, writer and wrangler at Gastronomic SLC.  I'm a multiple-award winning journalist and have written in myopic detail about the Salt Lake City  dining scene for the better part of seventeen years.
I've worked extensively with multiple local publications from Visit Salt Lake to Salt Lake Magazine, not least helped to consult on national TV.   Pause those credits, yep, that's me! I'm also a former restaurant critic of more than five years, working for the Salt Lake Tribune.    I'm largely fueled by a critical obsession with rice, alliteration and the use of big words I don't understand.   What they're saying about me: "Not inaccurate", "I thought he was older", "I don't share his feelings".
Want to know more? This is why I am the way I am.
This article may contain content provided by one of our paid partners. These are some of the best businesses in Utah. For a list of all our current and past relationships see our
partnership history page
.