Evening dinner review
I've found there are two competing schools of thought on how one should approach the task of reviewing any new restaurant. Camp A suggests that an arbitrary amount of leeway be given for any beginning restaurant to hone it's service and food. Camp B counters that if a restaurant is open, accepting guests, and charging full price, the food and service should be up to scratch from the get go. Me? I don't think the issue is that clear cut, there are many shades of grey. The very recently opened The Kathmandu Indian and Nepali restaurant in Sugarhouse is a great example.
During our first two visits, both of which occurred during the restaurant's second week of being open, there still seemed to be some service kinks. Some eagerly awaited appetizers seemingly took forever only to arrive cold and along with the entrees, the ordering process was slow and general confusion seemed to reign among the staff. Yet, with all of this in mind, the overall quality and excellence of the food left us feeling quite forgiving. Simply put, the good just outweighed the bad. Before getting into the details of our meals, here's a little more information on the restaurant and food.
After watching the signage going up and seeing the "opening soon" notices throughout December and January, our excitement over The Kathmandu built. We are huge fans of Indian food. A reader of the site subsequently informed me that the owners of The Kathmandu are the original owners behind downtown's massively popular Himalayan Kitchen. We literally started driving past two to three times a week to see if the interior had been completed and to check the sign on the front door for an opening date.
The Kathmandu occupies the location formerly housing Bangkok Thai Talay on Highland Drive. The interior space has been remodeled. Although it now seems bigger, it also somehow feels warmer. The decor is somewhat simple, booths line two walls, a buffet station lines another and a table along the fourth wall displays a very interesting variety of items from Nepal and ornate Hindu statuary. During our second visit, our server and host eagerly told us about Nepal and shared some fascinating stories as we browsed the display. There are also two television sets above the dining area, which were showing programs about Nepalese culture during both of our visits. The staff at The Kathmandu are obviously very proud of their heritage and seem only too happy to answer questions and engage in discussion.
During our first visit, we weren't initially offered a liquor menu, but on request a simple printed sheet listing a few beers and wines, and thankfully my favourite Taj Mahal ($7), was delivered to the table. The food menu is expansive and contains a great selection of both Indian and Nepali dishes. There is a good variety of vegetarian options on offer. Also worthy of note is that each entree comes with a side of rice and naan bread as standard, no need to pick between the two at The Kathmandu; of course, if you do want something more complex then the menu features additional rice and bread options.
Add to our two in-restaurant dining experiences one recent take-out order, and it's safe to say we have tried a fair number of dishes from The Kathmandu so far. On the whole, they have been largely excellent. I'll round up the dishes we have tried during our multiple visits in no particular order. A Chicken Sekua appetizer ($8.95) was reminiscent of Indian Tandoori:
Our server explained that this Nepali dish was quite different to Indian Tandoori, although he didn't elaborate much and we didn't really pursue the point. Once it arrived, I wouldn't say it was too different from Indian Tandoori, but I will say it was plenty tasty. It was a good serving for the price too.
Chicken Momo ($10.95) simply had to be ordered as we further explored the Nepalese items on the menu:
These dumplings encapsulating ground chicken and spices were a great gustatory example of how Nepalese food can contain both Indian and Chinese influences. The serving of steamed dumplings was very generous and served with a unique sesame seed sauce. They were a hit at our table.
Back over on the Indian side of the menu, the ubiquitous Lamb Tikka Masala ($13.95) also was a must: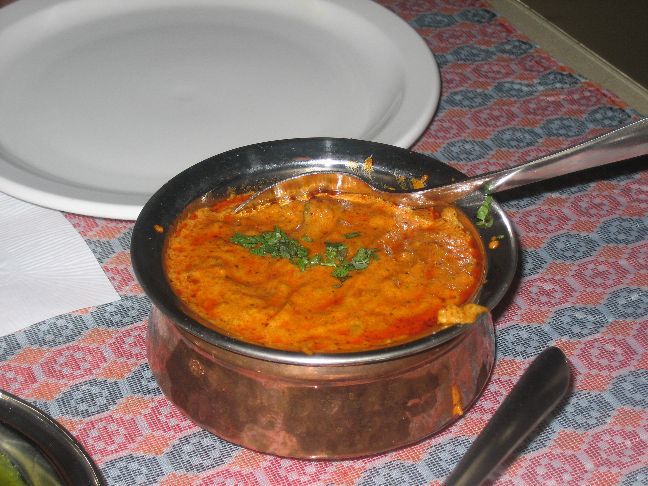 This dish was certainly not as creamy as I've often found it to be in Indian restaurants. It was still a very flavoursome sauce, just not what we had expected. The lamb was a little hit and miss sadly, some pieces were excellent, some were fatty and a little tough.
We also tried the Kathmandu Samosa Chat ($5.95) and Aloo Tikki ($3.95):
Samosa chat can be best described as a deconstructed vegetable samosa topped with chickpeas and yogurt. We've only seen this dish at one other restaurant in town, so we jumped at the chance to try The Kathmandu's version. The extra sauces make the normally dry (at least to my palate) samosa a more lively affair. For any fan of the traditional samosa, I would suggest they try this unique dish.
The Aloo Tikki was fairly pedestrian, but completely expected in fairness. Mashed potato is coated in chickpea flour and deep fried. Maybe a little bit of spice would kick things up a notch. The Kathmandu offers a good selection of accompaniments and sauces. If I order the Aloo Tikki again, perhaps I'll ask if any of these compliment the dish.
Moving back to the Nepalese items, I tried a Chicken Chilli ($13.95) and I think perhaps I inadvertently order it "Nepali hot":
It was utterly delicious, but also Wen pointing-and-giggling-at-my-sweating-profusely-beetroot-red-face hot. I love spicy food. And you know, I would probably order it this hot again given the great flavours. I also appreciate that The Kathmandu isn't afraid to serve something "hot" when the patron orders it that way. They have no fear of spice, unfortunately fear of spice is something I've encountered with Indian restaurants in Utah before. Another plus is the inclusion of both rice and naan bread to cut some of the heat of the dishes.
A Navaratna Korma ($10.95) was also ordered hot, it was very spicy, but not as thoroughly mind-blowingly hot as the Chicken Chilli:
This dish was far more creamy and rich than the Masala, indeed it reminded us both more of the creamier Masala sauces we had eaten at other restaurants in town.
Of course there were service glitches mentioned before (our more recent take out order was completely glitch-free by the way), and things didn't move along at the fastest of paces, but the quality of the food has been consistently great, the prices are fair, and it's obvious the restaurant and it's staff are trying hard. They were also very kind and apologetic for any lapses in services which they noticed. On both of our dine-in visits it was clear everyone was hard at work trying to get the job done, albeit with a degree of confusion at times. They are clearly very proud of the food, as they should be, it would be great to be guided a little more through the Nepali dishes with which we are less familiar. During our next visit, I definitely plan on asking more questions and ordering heavily from the Nepali side of the menu.
During one of our conversations, the owner urged us to spread the word about The Kathmandu (he didn't know about this site), and I'm happy to do just that. I, for one, can't wait to work my way through the extensive menu, even if it does mean the odd service quirk while the restaurant perfects is pacing.
The Kathmandu
3142 South Highland Dr. Salt Lake City, UT 84106
(801) 466-3504
www.thekathmandu.net
Hi, I'm Stuart, nice to meet you!  I'm the founder, writer and wrangler at Gastronomic SLC.  I'm a multiple-award winning journalist and have written in myopic detail about the Salt Lake City  dining scene for the better part of seventeen years.
I've worked extensively with multiple local publications from Visit Salt Lake to Salt Lake Magazine, not least helped to consult on national TV.   Pause those credits, yep, that's me! I'm also a former restaurant critic of more than five years, working for the Salt Lake Tribune.    I'm largely fueled by a critical obsession with rice, alliteration and the use of big words I don't understand.   What they're saying about me: "Not inaccurate", "I thought he was older", "I don't share his feelings".
Want to know more? This is why I am the way I am.
This article may contain content provided by one of our paid partners. These are some of the best businesses in Utah. For a list of all our current and past relationships see our
partnership history page
.