Evening dinner review
As we drove back from Sapa a few weeks ago, we noticed the new Rice restaurant, also a Pan-Asian restaurant plus sushi bar. It struck us as rather perplexing that such a similar restaurant should open its doors in such close proximity to another. One night while idly reading the Rice menu online, I spied a special "buy one get one free appetizer" offer listed. This was the deciding factor that we would be trying Rice, and I demanded we head there that same evening.
From the outside Rice seems like a huge new purpose-built building, some money has certainly been spent here, and we debated what was upstairs, we thought maybe condos, but were still unsure when we left. Inside the restaurant space itself was nice enough, if not a bit eerie, with us being outnumbered by staff. Big windows fronted state street, a sushi bar lined one side, and the center of the space was populated with tables and booths. To our complete distraction, the restaurant's PA system was pumping out some kind of poppy/dancy/electro-y music, very loudly, and utterly unnecessarily. We mused that the restaurant might be aiming for a late night club crowd before remembering they close at 10:00 p.m. on Friday and Saturday nights.
Slightly disturbed by the ambiance, we dug into the menu, which at Rice is huge. The menu is comprised of popular items from China, Thailand, Vietnam and Japan. Even India bizarrely crops up in the form of Roti bread served with Curry Sauce as an appetizer. I counted over 70 menu options before giving up and I hadn't even started on the sushi. Rice also maddeningly uses the phrase "fusion" to describe a number of their dishes when they are anything but; such "fusion" items listed include such traditional and standard staples as Pad Thai, Kung Pao and Pho.
Our waiter checked in on us as we browsed the drinks menu (basic wine and beer). We both noticed our waiter seemed a little bored, ready to get off work most likely (it was around 9:00 p.m. by now). As Wendi ordered, I really didn't appreciate him checking his watch. Focused, attentive service this was not.
It also struck us that he didn't know the menu all that well. We weren't given any information on the mammoth menu, our orders were taken verbatim and he wandered away. He took my order for a glass of "pee-not" noir and was flummoxed by Wendi's requests for some (commonly requested) tweaks to her entree. With the size of the menu being what it was, it was hard to blame the guy really, but this should have served as a warning in hindsight.
I started with the Japanese Croquettes ($5.00), an item that really interested me, as it wasn't something I'd had before:
These plump discs of pseudo-spuds were described as "Japanese style crispy fried potato cakes" so I thought I would give them a whirl. To my mind, they were very likely not made in house, they had quite the processed feel and flavour to them. A vaguely artificial mashed potato, breaded then deep fried. They reminded me of a frozen processed food item from my childhood. For that reason alone, I enjoyed them in a nostalgic kind of way. They were nothing exceptional though, and possibly a tad expensive at five dollars.
Wendi went for the Shanghai Rolls ($3.00):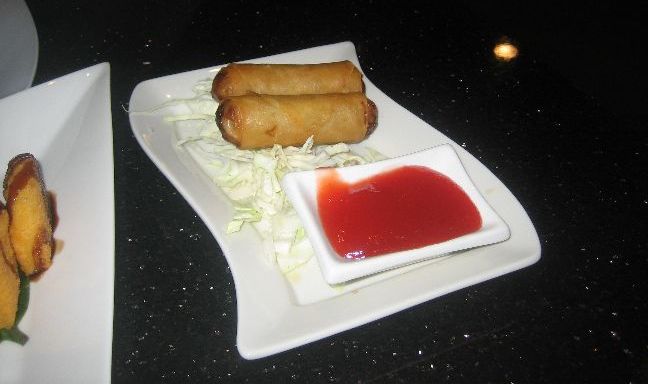 These are Rice's version of meatless spring rolls, served up with a fairly standard sweet & sour sauce. I sampled a bite too and concurred with Wendi that these were nothing more than average and most likely from a box, but for $3 perfectly fine.
Wendi is a *massive* fan of the Vietnamese dish Bun, she is also (oddly enough) a lover of all things soy. So when she spied the Vermicelli Rice Noodle Soy Chicken ($10.00), she just had to order it. This is where the aforementioned confusion crept up a little. What arrived at the table was kinda/sorta/almost what she wanted, but not quite. She had asked for extra chili sauce assuming there would be some sort of chili in the dish itself, but the dish came with just plain old fish sauce on the side for topping. Not a chili to be seen. She was, needless to say, very thankful for that extra side of chili sauce in the end. Anyway, we didn't push the point:
This classic noodle dish comprises beansprouts, cucumber, lettuce, carrot, mint leaf and roasted peanuts. A side of fish sauce comes on the side, but Wendi bemoaned the "strangeness" of the soy chicken, lack of accompanying chili, herbs, and condiments, and just the overall blandness of the dish, She wasn't too happy with the dish at all really, wistfully longing to be at Cindy Lee's for their far better rendition.
I went with the Tonkatsu ($12.00):
For the price, I felt it was a generous serving, especially considering it also came with a free bowl of miso to boot. I don't think I even made a dent in the rice and veggies. The tonkatsu itself was ok, again nothing astounding. It filled my craving for fried pork at any rate. It would have been nice to have had a side of the dipping sauce. The pork was on the drier side and needed more kick than the provided drizzling afforded.
Even at 10:00 p.m., and in a practically deserted restaurant, with our waiter seemingly exclusively ours, obtaining the bill took more than the odd impatient glance in his direction. This is a big pet peeve of mine. When the bill did arrive, we also noted that our free appetizer had not been applied. We could have asked, but by this time we just wanted out, so decided to slink our way home as quickly as possible.
I don't think we will be back based on this experience alone. For the area, we have deemed Sapa far superior in every regard, albeit commensurately more expensive. For what it's worth I feel Rice would do far better in cutting some of the selections from their menu and familiarizing the staff with the dishes that are left. You really can't be all things to all people. I mean really, Indian Roti bread amongst a sea of sushi and Thai dishes; traditional Chinese dishes described as fusion; it really seems just plain odd. I will concede that prices were decent and maybe our server might just been having a bad night. I'd love to hear from others who have been too, maybe it was just the wrong night and the wrong dishes.
Rice: Asian Fusion Cuisine And Sushi Bar
1158 South State Street, Salt Lake City, Utah 84111
(801) 328-3888
Hours: 11am – 10pm daily
Website: www.riceutah.com
Hi, I'm Stuart, nice to meet you!  I'm the founder, writer and wrangler at Gastronomic SLC.  I'm a multiple-award winning journalist and have written in myopic detail about the Salt Lake City  dining scene for the better part of seventeen years.
I've worked extensively with multiple local publications from Visit Salt Lake to Salt Lake Magazine, not least helped to consult on national TV.   Pause those credits, yep, that's me! I'm also a former restaurant critic of more than five years, working for the Salt Lake Tribune.    I'm largely fueled by a critical obsession with rice, alliteration and the use of big words I don't understand.   What they're saying about me: "Not inaccurate", "I thought he was older", "I don't share his feelings".
Want to know more? This is why I am the way I am.
This article may contain content provided by one of our paid partners. These are some of the best businesses in Utah. For a list of all our current and past relationships see our
partnership history page
.