Head to Lehi's KILN co-working space this April 20th for a showing of GATHER. The event will help raise funds to build a new food hub to benefit Dragonfly Farms on the Navajo Nation. Food hubs are critical food facilities where farmers and ranchers can bring their goods to be more readily distributed. The hubs serve a crucial function for a population of some 170,000 spread over 27,000 square miles (an area roughly equivalent to that of West Virginia) otherwise served by just 13 grocery stores.
Bleu Adams, director of the Utah based IndigeHub writes, "Food is not just sustenance, it is a vital part of our cultural identity and connection to the land. By creating food hubs on the Navajo Nation and beyond, we are not only nourishing our bodies, but also reclaiming our sovereignty and promoting economic independence. Through these hubs, we can support local farmers and food producers, preserve traditional knowledge, and build a sustainable future for generations to come. I urge you to join us in this effort and support the development of food hubs within Indigenous communities so that we can ensure a healthy and thriving community for all."
Gather follows Nephi Craig, a chef from the White Mountain Apache Nation (Arizona), opening an indigenous café as a nutritional recovery clinic; Elsie Dubray, a young scientist from the Cheyenne River Sioux Nation (South Dakota), conducting landmark studies on bison; and the Ancestral Guard, a group of environmental activists from the Yurok Nation (Northern California), trying to save the Klamath river.
Tickets to the event are priced $35. Information can be found on the official Eventbrite page here. The evening will begin with small bites and cocktails followed by an intro by Adams, Twila Cassadore and Jaiden Willeto. The screening will start at 7.00 p.m.
Urban Hill – Azienda Loghi wine dinner
On April 18th Urban Hill will link up with Bon Vivant Imports to welcome Valentino Berni of Loghi Farm. The evening will feature wines from Berni's Loghi Estate, located in Montalcino, Tuscany. The wines will be paired by an extra special menu crafted by excellent chef Nick Zocco and chef de cuisine Blake Schumpert. Cost for the event is $135 (food $85, wine $50). The meal begins at 6.00 p.m. with menu as follows:
Insalata di mare, shrimp, scallop, mussels, calamari, apple fennel vinaigrette, espellete crustacean oil

Loghi Bianco, Tuscany, Italy 2020

Greens, duck confit, frisée, radicchio, endive, prosciutto di parma, 10yr aged balsamic, dried cherries, hazelnut

Loghi Rosso di Montalcino, Tuscany, Italy 2018

Charred mushroom ribollita, cannellini beans, preserved lemon, Tuscan kale, rosemary, house ricotta

Loghi Brunello di Montalcino, Tuscany, Italy 2017

Oxtail risotto, local arugula, parmigiano reggiano, agrumato lemon oil, herbs

Loghi Cinabro Rosso, Orcia, Tuscany, Italy 2018

Zabaglione, raspberry and amaretti cookies
Hearth And Hill – De Stefani wine dinner
Meanwhile, sister restaurant to Urban Hill in Park City – Hearth and Hill – are also hosting a talented wine maker. Alessandro de Stefani of Redentore, located in Veneto, Italy will join the team for a five course menu on April 15th.
The evening will feature four wines from Redentore and two wines from de Stefani, paired with a tasting menu from executive chef Eric Diaz and chef de cuisine Casey Bayle. Cost is $125 per person ($85 food, $40 wine) and menu as follows:
Toast of Redentore Prosecco
Crudo, scallop, citrus ponzu, caramelized peach, mint

Redentore Sauviguon Blanc, Veneto, Italy 2022

Greens, arugula, frisee, blood orange, toasted goat cheese, radish, meyer lemon vinaigrette

Redentore Pinot Grigio, Veneto 2021

Duck, rohan duck breast, forbidden rice, snap peas, citrus jus, pickled chilis

Di Stefani Cabernet Sauvig–non, Veneto, Italy 2017

Beef, bistro filet, cauliflower puree, glazed mushrooms, roasted onion, red wine jus

Di Stefani Amarone Della Valpolicella, Veneto, Italy 2016

Olive oil cake, whipped mascarpone, compressed strawberries, mint, polenta crumble

Redentore Prosecco Rose, Veneto, Italy NV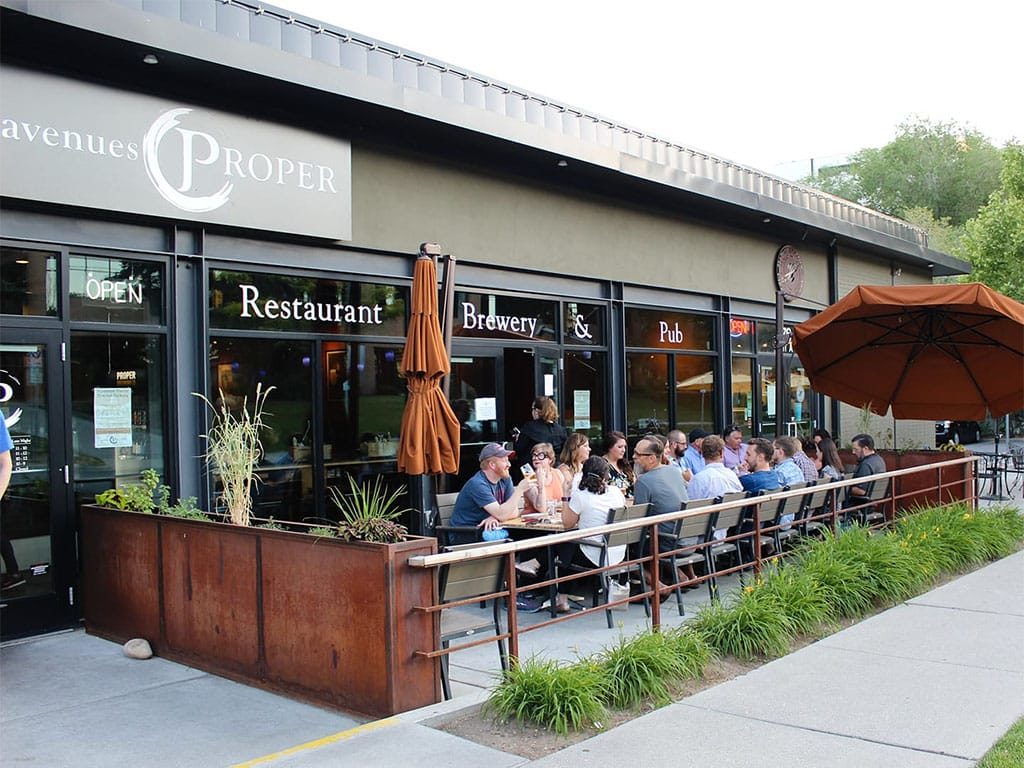 Avenues Proper – 10 year anniversary
How has it been 10 years already? Anyway, you can mark and ponder this milestone by enjoying a five course paired dinner on Monday, April 24th at the Avenues pub that could, and did. The evening starts at 6.00 p.m. with tickets priced $105 (food $70, beer $35). Menu as follows:
Mushroom Proper beer baguette, Intermountain Gourmet Mushroom duxelle, raclette cheese, frog bench farms micrograms

Proper Beer – English style golden ale

Chèvre local fried chèvre, arugula, compressed watermelon, prosciutto crisps, champagne vinaigrette

Cloud Chaser – kölsh ale with watermelon and strawberry

Scallop, bacon wrapped scallops, apricot jam
Intermezzo, sticky rice gelato

Lake Effect – gose ale with coriander and sea salt

Duck duck breast, roasted root vegetables, mole negro, kale chips, cherry gastrique

Carcosa – barrel-aged mixed- fermentation ale

German chocolate cake, coconut caramel, solstice chocolate ganache

Ivar The Boneless – Finnish-style sati ale
Emigration Cafe – La Querce Seconda wine dinner
April 16th sees Scott Evans' Emigration Cafe host Querce Seconda Winery. Special guests Niccolo Bernabei & Linda Sandkvisk will join Evans and guests for a paired five course menu as follows:
Chilled shrimp cocktail, house cocktail sauce

De Stefani 'Col Fondo' Rosé, 2017, Raboso, Veneto, Italy

Roman style pinsa, smoked salmon, goat cheese mousse, red onion, preserved lemon, arugula

La Querce Seconda 'Red Label', 2018, Sangiovese, Chianti, Tuscany, Italy

Rotolo Pasta, house made pasta stuffed with mozzarella & herbed ricotta, tomato mushroom, pomodoro sauce

La Querce Seconda 'Classico Riserva', 2015, Sangiovese, Chianti, Tuscany, Italy

Short Rib, parsnip puree, sautéed kale, demi-glace, kale chips

La Querce Seconda 'Gran Selezione', 2015, Sangiovese, Chianti, Tuscany, Italy

Tiramisu, Logos coffee-soaked lady fingers, mascarpone, cocoa
The evening will begin at 6.00 p.m. and is priced $94 ($49 food, $45 wine). Tickets can be bought online here.
Midway Mercantile – Jose Manuel Echeverria wine dinner
Via press release:
. . .
Join us for another memorable Wine Dinner on Thursday, April 20th at 6 pm! Brad Jensen is the importer and our host for the evening. We will be seated in our Alpine Grove. This wine dinner will feature 7 wines from Jose Manuel Echeverria. Since 1999, José Manuel has developed a reputation amongst his peers as one of the top winemakers in Spain. His bodega produces less than 5,000 cases per year of small lot, hand-crafted wines from approximately 18 hectares of vineyards within the Tierra Estella sub-region of Navarra in northern Spain.
Maria Saenz-Olazabal, his wife, collaborates with him on two stunning lines of wines: Alzania, and Saenz-Olazabal. Each vintage, the release of new wines shows a consistent and exceptional dedication to the varying estate fruit, in wines of elegance and concentration that can stand up with the top wines of the world. José Manuel's vineyards are never irrigated, never see herbicides or chemicals, and his plants produce between 3,000 to 5,000 kg/hectare on average.
As a minimalist in the cellar as well, natural fermentations take place for all of his wines, carefully-thought-out oak treatments are used to complement the variety, and remarkably low amounts of sulfites are used during the process. Alzania wines are truly a magnificent approach to both international grapes and the local expression of Garnacha, and continue to express more and more of the territory year after year.
7 courses crafted by Chef John will accompany the 7 wines from the Alzania and Saenz-Olazabal lines.This will be a night to remember, with fantastic imported wines and seven courses of fabulous food. Our Wine Dinners sell out quickly, so make sure to reserve your spot below as soon as possible! Price for the evening is $175 per person, all included.
Dutch King's Day
Via press release
. . .
Dutch Social Club of Utah and The Old Dutch Store present Salt Lake City's 2nd annual Dutch King's Day, returning to The Gateway on Saturday, April 22 from 11am to 6pm. Koningsdag (or King's Day) is celebrated across the world. The biggest celebration is in Amsterdam where millions of visitors and locals wear orange to celebrate King Willem-Alexander's birthday at the world's largest street party.
Salt Lake City joins the fun with this free, family event showcasing the culture and traditions of Holland. Dutch King's Day features internationally-renowned DJ Marc Brabant, craft and vintage fair, authentic Dutch cuisine and beer, kids' activities, Love Your Legacy Wall and a bicycle fun ride. Although the flag of the Netherlands is red, white and blue, orange is the color of the royal family. Most everyone embraces this bright, happy color, welcome after a long, gray winter. WEAR ORANGE and learn how to party like the Dutch! Event highlights:
Fietstocht (bike parade) at noon – Did you know there are more bicycles than residents in Holland? Cyclists of all ages and levels are welcome to join the ride, but you must decorate your bikes and riders in orange! Prizes will be awarded for the Most Creative Decor and more. Registration Required.
Internationally-renowned DJ Marc Van Brabent – DJ Marc Brabant's score will keep the party going all day in Salt Lake City. Marc is an international sensation, playing in more than 60 countries from Ibiza to Indonesia. Marc's Koningsdag set will start out with soft, familiar tunes progressing to party tunes to get your wooden shoes grooving day away.
Dutch Food and Beer – King's Day would not be complete without authentic Dutch Cuisine and Beers. Pomme Frites, Tompouce, Raclette, Krokketen and typical Dutch sandwiches are just a few of the items to explore at the festival.
King's Day Craft and Vintage Market – Shop for unique handmade crafts and vintage flea at King's Day. A Country built on trade, the Dutch love to haggle and there's no better place to pick up a unique find than at the Craft and Vintage Market.
After Party at Flanker Kitchen + Sporting Club – King's Day revelers 21 and older, can head into Flanker for food and drink specials in honor of Salt Lake City's Dutch King's Day.
The festival begins at 11 am with an opening ceremony and welcoming remarks from the Consulate General of the Netherlands. Bring your friends, grab a tompouce and enjoy the excitement of Dutch King's Day!
2nd Annual Queer Food FEASTival
This one's a little ways out yet, but here's the details via press release
. . .
Following the wonderfully fun and sold out inaugural event of last year, The Utah LGBTQ+ Chamber is proud to announce the 2nd Annual Queer Food FEASTival, a "taste-of" event with a queer little twist or two! May 12, 2023 | 5.30pm-9pm | hosted by Mountain West Hard Cider 425 North 400 West SLC, UT 84103.
In partnership with small, local, queer and allied restaurants, entertainers, and providers of spirits, the Chamber will present a springtime celebration of community and abundance. The focus of the FEAST will not only be the food, but also the nourishment we provide each other through gathering and breaking bead. This Friday evening, 21+ event will feature culinary creations, sumptuous ciders, craft cocktails, party games, and fabulous entertainment. Come enjoy with:
Laziz Kitchen
Sugarhouse Coffee
Sweet Hazel & Co.
Kahve Café
San Diablo Churros
Tea Zaanti
Fry Me to the Moon
Rocky Mountain Photo Booth
Tickets are on sale now at utahlgbtqchamber.org Mountain West Hard Cider sources only the finest local ingredients from the Mountain West region to craft every day, seasonal, and artisan hard apple ciders. Mountain West is owned and operated by Jennifer and Jeff Carleton, sharing a passion for community, locally-owned businesses, and good times with friends. Mountain West Hard Cider is proud to call Utah home.

The Utah LGBTQ+ Chamber of Commerce works to create long lasting partnerships between key organizations and businesses, ensuring both growth and visibility for LGBTQ+ communitis and allies in Utah.
Keep the conversation going
Want to stay on top of the SLC food scene, minute by minute, dish by dish? Here are a few other places you should follow along:
Hi, I'm Stuart, nice to meet you!  I'm the founder, writer and wrangler at Gastronomic SLC.  I'm a multiple-award winning journalist and have written in myopic detail about the Salt Lake City  dining scene for the better part of seventeen years.
I've worked extensively with multiple local publications from Visit Salt Lake to Salt Lake Magazine, not least helped to consult on national TV.   Pause those credits, yep, that's me! I'm also a former restaurant critic of more than five years, working for the Salt Lake Tribune.    I'm largely fueled by a critical obsession with rice, alliteration and the use of big words I don't understand.   What they're saying about me: "Not inaccurate", "I thought he was older", "I don't share his feelings".
Want to know more? This is why I am the way I am.
This article may contain content provided by one of our paid partners. These are some of the best businesses in Utah. For a list of all our current and past relationships see our
partnership history page
.