You can't get good food in Utah they tell me. The restaurants in the Beehive are terrible they tell me. Oh they've told me time and time again. They are of course idiots and this month delivers yet another nail in their argument's coffin; March sees the James Beard Awards recognize one of Utah's finest.
In this month's release of nominations, nestled amongst the state by state lists of must eats – a semifinalist-nod to Hell's Backbone Grill in the prestigious Outstanding Restaurant category. This particular distinction is a first for any Utah restaurant. The 2022 accolade comes after a litany of preceding awards for the Boulder (population 252) destination restaurant; picking up five prior awards from the JBA.
Chef and co-owner Jen Castle (pictured above left, credit Chris Michel) writes, "This national recognition by a group of peers feels very significant. Through 22 seasons, weathering a pandemic, after many long, quiet hours of honest and earnest work, we're thrilled to be honored for our vision and our commitment to teach and empower the next generation about rural food sourcing, high-desert farming methods, good food prepared with love, and the importance of meeting your neighbors. Standing by our convictions has contributed to our longevity. It's also exceptionally meaningful to be recognized in a field traditionally dominated by men."
The Outstanding Restaurant category includes just 20 semifinalists carefully picked from around the country, and goes beyond recognizing culinary talent alone. The Chicago-based organization website states that the category honors "a restaurant that demonstrates consistent excellence in food, atmosphere, hospitality, and operations while contributing positively to its broader community." That last bit couldn't resonate more with co-owner's Jen Castle and Blake Spalding's much storied mission in the intersection of food and politics.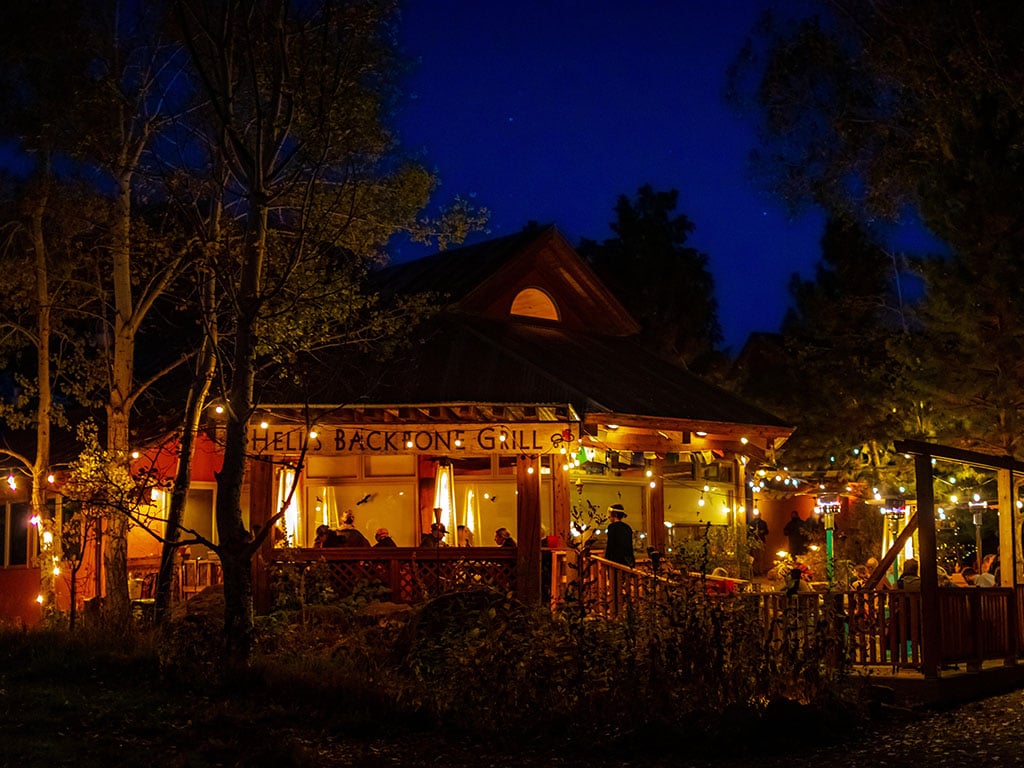 Spalding (pictured above right, credit Chris Michel) writes, "From the beginning, our orientation with the restaurant has been 'how do we use this work for the larger common good'? It's powerful to see industry leaders now recognizing that as important, and a marker by which to determine excellence, on an equal level as the cuisine. We started Hell's Backbone Grill & Farm as a pushback against the '90s attitude that eating 'fancy' food was eating food from far, far away. When we opened in 2000, that was the definition of fine dining, and we were determined to do things differently, to have a positive impact on the restaurant industry and prove it could be done, even as everyone insisted we'd fail. Our recipe for success has been to delight guests with our food and our team's gracious service, offer them a plate of something delicious and nourishing–something we grew ourselves–and encourage them to spend time in their precious public lands."
This Wednesday (March 16th) will see the twenty nominees whittled down to a final five before a grand-finale in Chicago this June crowns the official winners for 2022. If you're keen to check out Hell's Backbone Grill & Farm in the interim – the restaurant will reopen with patio dining and take-out service on Friday, April 8th.
Featured image courtesy of Chris Michel.
Hi, I'm Stuart, nice to meet you!  I'm the founder, writer and wrangler at Gastronomic SLC.  I'm a multiple-award winning journalist and have written in myopic detail about the Salt Lake City  dining scene for the better part of seventeen years.
I've worked extensively with multiple local publications from Visit Salt Lake to Salt Lake Magazine, not least helped to consult on national TV.   Pause those credits, yep, that's me! I'm also a former restaurant critic of more than five years, working for the Salt Lake Tribune.    I'm largely fueled by a critical obsession with rice, alliteration and the use of big words I don't understand.   What they're saying about me: "Not inaccurate", "I thought he was older", "I don't share his feelings".
Want to know more? This is why I am the way I am.
This article may contain content provided by one of our paid partners. These are some of the best businesses in Utah. For a list of all our current and past relationships see our
partnership history page
.