After taking two years of Covid-induced (online) hiatus, Caputo's annual chocolate festival is back for 2022 in person. This year's event marks eleven consecutive years for the celebration of craft chocolate, with each episode centering around one specific name in the world of craft chocolate. Prior events have seen producers from afar as the UK and Iceland head to SLC.
For 2022, Kailua Hawaii's "Mānoa's exceptional bean to bar chocolate" will be the belle of the ball, with a number of local chef's gathering at the downtown Caputo's to get creative with the stuff. This year's participants will include:
Post Office Place
The Lakehouse at Deer Creek
HSL
Central 9th Market
Caputo's Market & Deli
Their concoctions will be paired with cocktails, wine, and coffee from:
Island Time
Post Office Place
Libation Inc
La Barba Coffee
Cultivate Craft Kitchen
All proceeds from the chocolate festival are donated to the Heirloom Cacao Preservation Initiative. Tickets are priced $60 per person, $90 with alcohol pairings. They can be purchased online here.
Grid City seltzer release event
Tomorrow night sees one of South Salt Lake's best release a hotly anticipated new seltzer. If you haven't tried their rose seltzer, where have you been this last year? Their latest creation "clocks in at a modest 10.3%" according to Grid City founder Drew Reynolds who dropped me the info. "it's a raspberry sage seltzer made with pinot noir grapes. I think you'll find it different than anything you've ever had." and like I said its a party" he added.
Tomorrow night (Thursday November 3rd) will see a launch party at Grid City for the new fizz. The party runs 6.00 – 9.00 p.m. w
Midway Mercantile wine dinner
Also on the 3rd, check out the following wine dinner up at the popular Midway Mercantile. Notes from the restaurant are as follows:
Our good friend Maggie Heile from Vin 7000 hosts us on a tour of locally available uniquely sourced value-driven wines. This allows us to offer this dinner at a price many have forgotten and that we hope inspires our local friends to enjoy one of our wine dinners. A 6-course dinner with John's incomparable food pairings, enjoyed under our covered and heated pergola, with delightful Maggie Heile sharing stories and tasting notes on each wine. We will feature the following wines:
Paula Kornell Brut
Leo Steen Rosé
Russian River Vineyards Chardonnay
Chester Pinot Noir (from Russian River Vineyards)
Rock Horse Ranch Red Blend (Cab, Merlot, Sangio)
Covenant Red C Red Blend (Cab, Syrah, Malbec, Merlot)
$115, includes tax and gratuity
Cheese tasting reception
This weekend will see the winners of the 2022 cheese awards announces. The event will be held on November 5th at Shades brewing in downtown SLC. Cheese lovers might want to take note of this tremors looking cheese buffet that will be offered at the event. The menu should be as follows:
Porcini Mushroom Cheddar / Beehive Cheese Co.
Huckleberry Cheddar / Ballard Cheese
Monterey Jack / Heber Valley Artisan Cheese
Mesa Tome / Caputo's Market
Aggiano / Aggie Creamery
Old Juniper / Aggie Creamery
Sourdough Bread / Mooonbread
Apples
Dried Montmorency Cherries / Monties
Raspberry Preserves / Courtesy Cheese Utah LLC
Raw Honey / Bees Brothers
Mexican-style Goat Milk Caramel Sauce / Four Country Gals
As well as that the event will see a small market of "invited artisan producers from the Intermountain States. Take home some award winning cheese or hot sauces, and find gifts for the upcoming holiday season." These include:
Ballard Cheese, Gooding, Idaho
Tounguespank Spice Co, Lehi, Utah
Circle K Woodworks, Farmington, Utah
Mooonbread, Draper, Utah
Bear River Bottling, Logan, Utah
Reception sponsor Shades Brewing will have their entire line of beers available for purchase and at 4.00 p.m. the awards ceremony will announce the winners of the this years competition. Meet local cheesemakers and other fine food producers as they pick up their medals
Tickets are $20 in advance, or $25 on the day. More info and online sales here.
New West Knife Works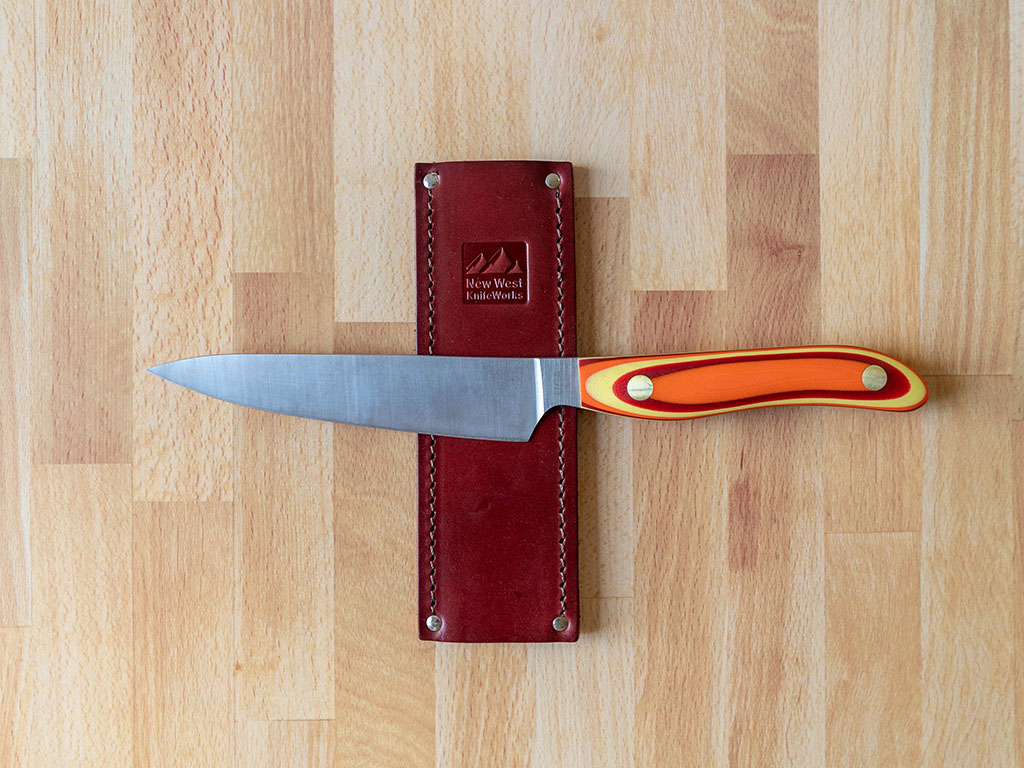 One for my chef friends, who might want to take note of this special offer from Park City boutique knife crafter, New West. Running through till November 18th the company are running a hospitality appreciation month special, offering some great discounts. Here's the info from the company press release:
New West KnifeWorks, a universally beloved knife maker, is offering special industry discounts to those who enroll in their Pro Program from now until November 18th. The Pro Program is a membership-based program for qualified hospitality professionals, offering discounts and limited-time deals.
New West KnifeWorks Pro Program members can receive pro-deal discounts including free and discounted laser engravings and knife sharpening, at their Park City Main Street location. In addition to pro-deal discounts, the location will host special in-store events throughout Hospitality Month. Members only require a pay stub or proof of employment within the hospitality industry to enjoy the perks provided.
"We have stores in Park City, Napa Valley, and Jackson Hole. Those places depend on their hospitality workers to thrive. The cost of living in these places is very high, and affordability for those who work in hospitality can be a challenge," said Corey Milligan, founder of New West KnifeWorks. "This is our way of saying thanks to all those who make Park City a prime destination. We couldn't do it without them."
For more information, hospitality industry professionals can visit the New West KnifeWorks location at 625 Main Street, Park City, or call (318) 502-8042. Potential new members can also sign up for the Pro Program online.
Restaurant closures
It appears as though Toasted Barrel Brewery have closed their doors for good. I stumbled across the news about the loss the local SLC brewer (412 W 600 N) on social media, and the business website does confirm the closure of their operations.
Cache county based Rockhill cheese have also announced this will be their final year in business as well. Writing on Facebook the local cheesemaker posted, "It's sad news that this is Rockhill Creamery's final year in business. It's been a privilege to have been part of Rockhill's story. The remaining cheese is available for purchase in whole or half wheel quantities. Whole wheels are $200. Half wheels are $100
Please send an email with what you would like to parkermeasom@rockhillcheese.com, and we can arrange your order from there. The remaining varieties for order include: Wasatch Mt., Wasatch Reserve, Escalante Hispanico, Snow Canyon Edam, Mt. Gog Montasio, Zwitser Gouda, and BooBoo Baby Swiss. Thanks for your support!"
In other news
Keep the conversation going
Want to stay on top of the SLC food scene, minute by minute, dish by dish? Here are a few other places you should follow along:
Hi, I'm Stuart, nice to meet you!  I'm the founder, writer and wrangler at Gastronomic SLC.  I'm a multiple-award winning journalist and have written in myopic detail about the Salt Lake City  dining scene for the better part of seventeen years.
I've worked extensively with multiple local publications from Visit Salt Lake to Salt Lake Magazine, not least helped to consult on national TV.   Pause those credits, yep, that's me! I'm also a former restaurant critic of more than five years, working for the Salt Lake Tribune.    I'm largely fueled by a critical obsession with rice, alliteration and the use of big words I don't understand.   What they're saying about me: "Not inaccurate", "I thought he was older", "I don't share his feelings".
Want to know more? This is why I am the way I am.
This article may contain content provided by one of our paid partners. These are some of the best businesses in Utah. For a list of all our current and past relationships see our
partnership history page
.