Salt Lake's culinary scene is growing, and I'm not sure anywhere represents that growth better than Central 9th Market. The unassuming deli sits in the middle of the Central 9th district (161 W 900 S). They specialize in sandwiches made on their house focaccia bread which are outstanding. However, they don't limit themselves to a single item. Central 9th has also created buzz for their wood-fired personal pizzas (available daily) and delicious smash burgers served every Monday night. This place has quickly become a community hub, and for a good reason. They offer fantastic food as well as an entire experience. While I'd love to think everyone has heard of this magical place, I know that's not so. Therefore I'd like to formally introduce you to Central 9th Market, your new favorite restaurant and hang.

In typical superhero fashion, Central 9th Market has an origin that is shrouded in mystery. I visit at least once a week, and I will admit I knew nothing about their beginnings. As an observer (and fan), I've watched with great pleasure as Central 9th has risen to a culinary giant in Salt Lake City. Most of its loyal following has come from word of mouth. Even as the Central 9th district undergoes construction, people brave the road closures to get a piece of the action. It's a place with a culture that people want to be a part of, and that culture was born of passion and hard work.
The market is relatively small. Behind the counter is a modest kitchen with a massive wood fire oven. Beyond that is an area for shopping festooned with specialty products and local produce; It is a one-stop-shop for groceries and a great meal. Owners Noah Kuhns and Max Nelson were introduced through mutual friends; Max, a food industry veteran was working at a restaurant in Park City and Noah was a contractor. They bonded over their love of food and a shared vision of opening a place to call their own.
Noah surprised me in this interview when he said, "We had no idea where the food program was going," We thought it was going to be centered around pizza, but it switched to sandwiches based on demand. We didn't want to spend a lot on advertising. The idea was to show up on the block and see what happened. "If your food is worth it, people will find a way." To me it seemed as if C9 appeared out of thin air. Even so, I assumed it was years in the making." "The idea was to create a New York City bodega meets farm stand," Noah told me, preparing food as we spoke. Mission accomplished. This is precisely the vibe Central 9th embodies.

"Wood fire fare" takes center stage and adds a profound element of TLC. Sheets of focaccia bread are prepared daily from a century-old starter. Max and Noah have been baking with the same starter for years and now it is the restaurant's trademark. The bread is incredible, soft and spongy with a beautiful caramel edge. Fermentation creates air bubbles that char in the oven giving the bread a slight crunch. My favorite is the breakfast sandwich with eggs and bacon, but any sandwich choice is heavenly between the thick slices of sourdough focaccia bread.
Noah and Max are continually creating ways to expand the restaurant's culinary repertoire. Employee Joseph Ezra was the mastermind behind Monday Smash Burger Night (editors note: the burger is one of the best in Utah) while last week saw the restaurant partner with neighbor Scion Cider Bar for a Basque evening. During one of my drop ins Max and Noah were preparing spaghetti and meatball dinners – another new item for interested customers. The sky really does seem to be the limit for Central 9th Market.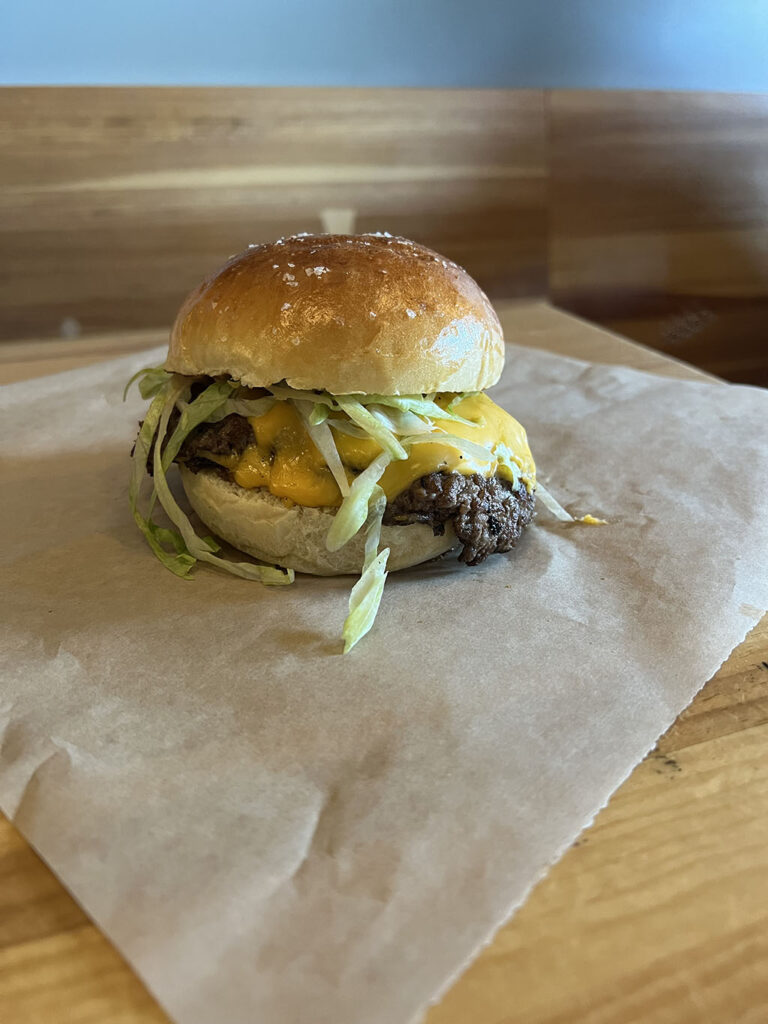 The creativity and drive to grow is paramount to the success. When I asked Noah about his vision for the business moving forward, he commented, "We definitely have a couple things up our sleeve," adding that he wanted the process to continue unfolding naturally. This refusal to settle makes Central 9th stand out. For example, I asked about the focaccia. Noah and Max remarked that they changed the recipe two weeks before. Just as Noah said, "unfolding naturally and letting it flow.
Central 9th Market inspires me. I wanted to write this piece because I believe their presence is essential as part of the food scene in Salt Lake City. The area is becoming a haven for great food and libations. I believe C9 is the anchor for the community in that area. The collaboration with excellent food and beverage establishments that surround them will vicariously improve the demand for better food in our city. In my opinion, the Salt Lake food scene has been a bit bland. Central 9th and like-minded restaurants are changing that. Perhaps it strange to be inspired and even emotional about sandwiches. For me, Central 9th Market's sandwiches are a symbol of great things to come.
161 W 900 S, Salt Lake City, UT 84101
(385) 332-3240
central9th.com
Keep the conversation going
Want to stay on top of the SLC food scene, minute by minute, dish by dish? Here are a few other places you should follow along:
My name is Pete Souvall, I am a blogger and food writer from Salt Lake City. I eas raised and have lived here most of my life. Though I spent years living in several different areas along the west coast I settled back in to Utah life in 2020. I've held several jobs in the restaurant industry including line cook, prep chef, and barista. But in general I just have a passion for everything related to food. 
This article may contain content provided by one of our paid partners. These are some of the best businesses in Utah. For a list of all our current and past relationships see our
partnership history page
.