It was a footnote in the week's local news for many, after all, how much attention do you pay to local municipal code refinements? Garnering a modest amount of column inches back in late 2017, Title 5 of South Salt Lake's Municipal Code was altered, kickstarting a grand vision for the city. A trio of canny ordinance tweaks removed limits on alcohol manufacture, erased minimum production levels for newbies, and eased architectural considerations for those reworking older buildings. Together, the moves laid the foundation for a radical change in the heart of SoSL.
In barely 48 months the city more than tripled the number of brewers and distillers. First came Shades Brewery, SaltFire and the relocation of Beehive Distilling.  Sugar House Distillery, Level Crossing, Dented Brick and Grid City quickly followed in their footsteps. All of these new business fall neatly within a rough boundary, cementing what South Salt Lake now call their Creative Industries Zone.
None of this was by accident of course. Long standing city Mayor Cherie Wood was laser focused on remaking this part of the city. "Residents always cite a lack of entertainment, a central focus and destination for our city", Wood remarks as we chat. "Some half a million cars pass through our newly minted CIZ zone every single day, this made it the perfect spot to attract anchor tenants like Winco, and of course a raft of fabulous new businesses for our residents."
Mark Medura, Founder Level Crossing (pictured above) has nothing but praise for the city and Wood's grand plan, saying, "Before finding our home in South Salt Lake, Level Crossing Brewing Company had a tall hurdle to overcome.  At the time of seeking a location, South Salt Lake code allowed for only 2 breweries based on population density.  I had the building under contract to purchase but needed to know if more breweries were going to be allowed. 
I worked hard and diligently with South Salt Lake City Council, Mayor Wood, and South Salt Lake City Attorney to change the code to remove any "ceiling" for breweries. The pace at how the code was revised and the eagerness of everyone within the city government to help allowed us to begin our dream. The city officials have been very progressive in building South Salt Lake into a prodigious, eclectic, and artful city while maintaining a great small-town vibe."
The CIZ now contains seven stellar breweries and distillers, and Woods note, "there's room for more, should they wish to join the quickly expanding project". The Creative Industries Zone goes beyond alcohol manufacturing of course.
A developing arts scene is also in the works, with the city's murals being the largest collection of street art in the state – celebrated by the wildly popular Mural Fest event. If you've ever stopped by Grid City and taken a moment to pause and look at this this guy 0 the metal art is just one piece in an intentional art installation deployed around the city.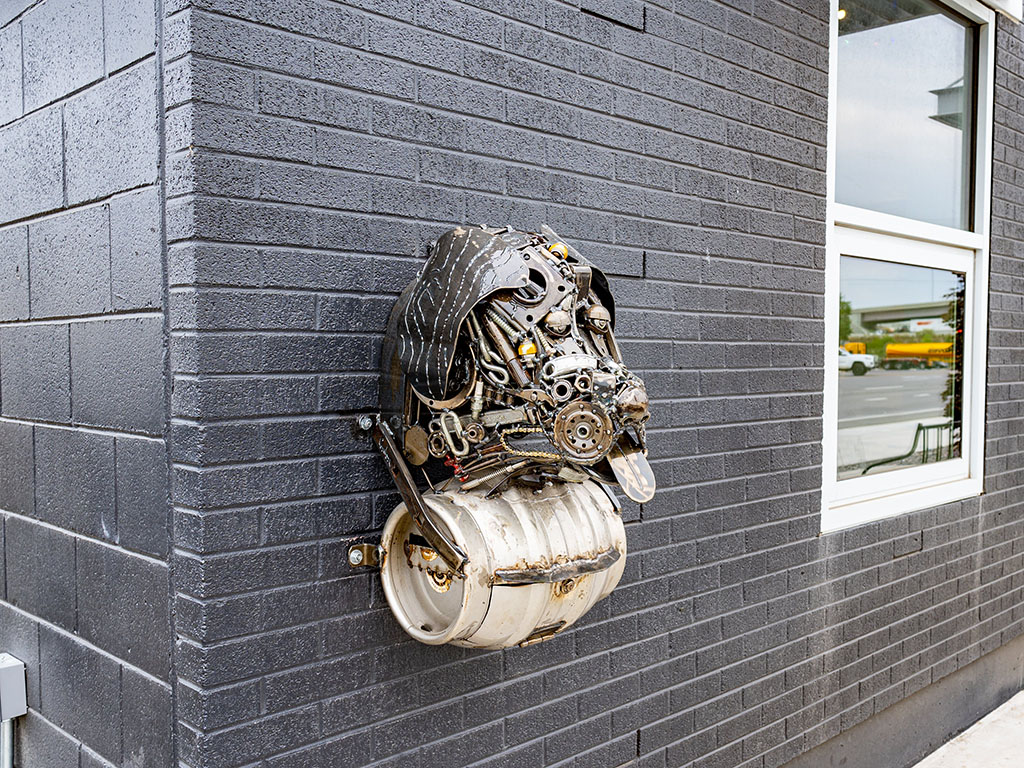 This weekend sees South Salt Lake undertake another party, this time for the brewers, distillers and crafters. The annual Craftoberfest event is a perfect way to showcase all that the city has done, and hopes to do achieve forward. Not least raising a glass to everyone's success in the process.
"We hope the event helps kick start something organic, the area has so much potential for our creative businesses to come together and develop something exceptional", notes Wood. "The new Creative Industries Zone has such a strong footing, and we're hoping to see more businesses join in on the fun."
Held Saturday October 9th at 2250 S West Temple (adjacent to Beehive Distilling) Craftoberfest runs 1.00 – 5.00 p.m. and is free to enter. Food will be available from a variety of food trucks including:
While drinks (alcohol and non alcohol) will be available from the following:
There will also be an additional focus on the burgeoning arts aspect of the CIZ too, with interactive arts for kids (the event is family friendly) as well as artist booths, live music plus a barrel and art auction.
As a proud resident of SoSL myself, not least a more than keen drinker and eater, I'll be there – join me this coming weekend!
Hi, I'm Stuart, nice to meet you!  I'm the founder, writer and wrangler at Gastronomic SLC.  I'm a multiple-award winning journalist and have written in myopic detail about the Salt Lake City  dining scene for the better part of seventeen years.
I've worked extensively with multiple local publications from Visit Salt Lake to Salt Lake Magazine, not least helped to consult on national TV.   Pause those credits, yep, that's me! I'm also a former restaurant critic of more than five years, working for the Salt Lake Tribune.    I'm largely fueled by a critical obsession with rice, alliteration and the use of big words I don't understand.   What they're saying about me: "Not inaccurate", "I thought he was older", "I don't share his feelings".
Want to know more? This is why I am the way I am.
This article may contain content provided by one of our paid partners. These are some of the best businesses in Utah. For a list of all our current and past relationships see our
partnership history page
.