Lets cut to the chase and dive right into the section of this month's DABC meeting that everyone wants know about – bar licenses. Continuing from the previous August meetup, a trio of bar licenses were held over for the September event. Eight hopeful newcomers joined a roster of existing contenders, making for a grand total of fourteen applicants. You don't need to be Euclid to understand that those numbers don't compute.
The commission invited each applicant to speak in turn about their business and provide any pertinent info. The applicants were as follows, with their predicted opening dates and noteworthy items.
Casot – SLC – October 26th. Scott Evans confirmed the last remaining obstacle to the opening of his 15th and 15th wine bar would be the imminent installation of garage doors. Evans also went on to mention the bar will be seeing an antique bar installed; the 100+ year old vintage bar was first imported from Milan to be part of a Larry H Miller / Mark Eaton concept called Cantina – that ultimately fell through. Casot is expected to be a relatively small wine bar with 15 seats outside and 20 indoors.
Garage Grill – Herriman – December 2021. The 8000 sq ft facility in partnership with Salt Flats Brewing will be aiming for a dual license, portioned as a restaurant and bar. The end of year opening will see the culmination of a two and half year project for this second location for Garage Grill; you can find the original in Draper.
The Pearl – SLC – November 2021. Jacob Hall explained this new bar would come to the Central Ninth area around 900 S and 200 W. Hall's concept sees a 1200 sq ft bar with a patio double that size.
The Green Room – SLC – January 2022. Hall also represented this new bar, but provided no further details on what to expect.
The Spoke – Moab – March 2022.
Edison House – SLC – June 2022. Lauren Boyack confirmed the foundation had now been poured on this new members only club set for downtown SLC next year.
Bout Time Pub & Grub – Bluffdale – July 2022.
Fife Brewing Company – Salt Lake City – February 2023.

Side Bar – Ogden – October 27th. This is a new bar coming to the Ogdens Own facility in Weber County. The bar sees the completion of a three and half year project to develop a mammoth new manufacturing facility, package agency and on site bar – that is now ready to go. Mark Fine – a recent addition to the team and former Norwegian cruise line beverage director spoke to the commission about Side Bar. Fine reeled off a range of planned items including craft cocktails, a sustainable model with no single use plastics, local vendors tapped to assist in the creation of syrups and the like, as well as a planned range of alcohol free mocktails.
Aspen Cove Resort – September – Panguitch. Hoping to surrender an existing full restaurant license, owner James Shelton explained his back story. First moving to Panguitch in April 2020 to create a boat rental company, Shelton ultimately purchased the Aspen Cove Resort. He now lives and works on site and intends to enhance what the facility can offer for locals. Shelton spoke about the complete lack of night life in the area joking that even the gas station stops selling hot dogs when the sun goes down. Shelton hoped to secure a bar license and grow the resort as a high quality food and drink destination for the area.
Flanker Kitchen + Sporting Club (pictured above) – SLC. Carver Road Hospitality's Sean Christie detailed plans for the former Punch Bowl space at The Gateway. Christie explained the multi-concept approach and how more a $1million in tech updates have been poured into the facility including golf swing simulators, karaoke, a parlor with world class cocktail program (led by Francesco Lafranconi). Christie confirmed that the SLC opening would serve as blueprint for a bigger national concept with three more locations planned soon too. As for opening date, Christie expected the business to be able to open their doors 1-2 weeks after final permitting and inspections completed. Christie couldn't provide a specific date but indicated he didn't' expect any issues, with the transition from Punch Bowl focused mainly on FF&E (furniture, fixtures and equipment) upgrades – the general layout of there three on site bars and kitchen in the space remains unchanged.
Brick & Mortar – SLC. Alan Galeano – a serial Utah restaurateur – explained that his new concept on downtown SLC's Edison Street is good to go. Galeano didn't elaborate on what to expect from the new business that will open in the former Campos Coffee spot.
Fenice Mediterranean Bistro – SLC – ready to go. Over on nearby Regent street, both the executive chef and head of the bar program spoke in turn to the DABC. The team hoped to surrender their existing full service restaurant license for a bar license. The duo explained how they hoped this would help maximize profits for the small space which comprises just 49 seats – 20 along the kitchen facing bar.
Durango Bar – SLC. In order to be eligible for a full bar license DABC staff indicating a city rezoning would be first be required for this location; 3-4 months was the expectation for such a change to complete.
Given the disparity between available licenses and applicants – some fraught discussions ensued between DABC commissioners and attendant business owners. Commisioners were clearly as frustrated by the situation as applicants. Commissioner Tara Thue spoke to the "dismal" lack of bar licenses, with chairman Jacobson urging those present to go speak to their representatives, about the obvious economic impediments presented by the current fiasco.
With multipole businesses ready to open either immediately or imminently, a number of angles were argued in regards who should win a precious license. Bear in mind that only one more license is predicted to become available in 2021 due to population increase, and even that only in December. Barring a Squid Game style decision making process, various data points where debated including the potential of newly created jobs, economic impacts, number of seats at new bars, served geographic area and more.
Aspen Cove Resort quickly got the nod for the first license, serving as it does, a rural area with minimal existing choice. Ogden's Own Side Bar was the second to win – by virtue of being able to open their doors immediately; something the commission clearly feels strongly about, especially after notably feeling burnt by the August meeting where a successful license recipient still hadn't opened their doors to the public. The message is clear: " you want a license in such austere times? You better be able to open tomorrow, not next week."
The final license caused multiple proposals to be forwarded for vote, only for each to fail, with commissioners disagreeing over how to allocate the license. Should it be held over to next month? Should it be saved for business with more economic impact like Flanker? What about those who have diligently attended meetings for months? Ultimately, Brick & Mortar snagged the last lucky ticket – again by virtue of being ready to open immediately.
For anyone wondering how we get out of this morass, lets take a moment to remember there's an incredibly easy solution here. Once upon a not so long time ago – Utah had far more licenses for would be entrepreneurs. The current (per capita) quota for bar licenses in Utah is one license per 10,200 residents. Prior to July 2018 this was a more generous 1 license per 7,850 residents. This particular revision was made – and a seemingly arbitrary one at that – when the much derided Zion curtain law fell.
By my math (and remember I can barely count my own fingers) I make it that we'd have an immediate boost of 94 bar licenses overnight just by rolling back to 2018's bar license quotas; this remember, was a a limit that everyone was happy with as relatively recent as three years ago. As chairman Jacobson says, let your local representatives know…
Extended closures
Five businesses asked the commission to extend the closure of their liquor licenses, while they battled various business challenges.
Milk – a new bar in SLC – purchased a license on the open market way back in May this year, but has still to open facing numerous location issues. Delays with the city, a new roof, new floors, fire suppression all added up. The bar expects to now finally open by mid November, and was approved an extended closure through to Novembers meeting. Chairman Jacobsen reminded Milk's owner that the maximum extensions (after a license purchase and transfer) is seven months and no more. If Milk fail to open by January, their license will be forfeit, with the commission unable to lend further assistance.
Wahso in Park City is currently closed for remodeling and construction delays (concrete curing) are adding to their closure window. A request for closure until the December meeting was granted, as was one for the Tram Club up in Snowbird until November, and Star Bar in Park City until October.
While reports of downtown SLC's Maxwell's demise are plenty – it looks like the business is still trying to push through construction issues at their site on Main Street, the commission approving an extension closure through December. Representatives from Maxwell's confirmed if they can't make their Main Street location viable for re-opening they do have a new spot lined up at 327 W 200 S – the old George / Bar George location. You heard it here first, Maxwell's *is* staying in downtown SLC.
Finally, Pete's Bar & Grill over in Ogden through a curve ball into the mix. During a facility inspection a meth lab (!) was found in the basement of the building, with the entire location immediately closed and made off limits by the city's health department. The owner requested and extended closure until December in order to sell on his license, and recoup some of his losses. Given the perilous state of bar licenses, the commission was at odds over how to proceed, some clearly feeling the license should flow back into the public pool. Many options where discussed, but commissioners agreed to extend until the next meeting in October and see what if anything the owner could do, including relocating or indeed, selling the license.
License transfers
One of the newer things to come up at DABC meetings is the public record of exactly how much previous liquor licenses are changing hands for. The big news this month in "how much does a Utah bar license cost in the open market" – the transfer of the bar license from ETC Fun Bar (145 W. Pierpoint in downtown SLC) to Revel Social. The transfer was approved, with Revel remaining at the same location. The price tag? A whopping $30,000 big ones!
Ichiban Sushi & Asian Food (Layton) was approved to sell their restaurant license to Blue Fin Sushi (Layton) who will stay ay same location. The price, just $1000. Meanwhile Sargents Ranch Inn (Ogden) was approved conditionally to transfer their bar license to Triple Peaks Grill (Ogden); as was Mulligan's Social Club (Logan) to Barrel & Stave (Logan) for zero dollars.
Full service restaurant license (beer, wine, liquor)
Baan Thai Cuisine & Bar, Lehi
Boat Haus, Ogden
Limited service restaurant license (beer, wine)
R & R BBQ, Midvale

Ramen Haus, Ogden

Itto Sushi, South Jordan, conditional
Prodigy Brewing (Logan) and Beckers Premium Lager Co. (Ogden) both applied for a brewery manufacturer license while Water Canyon Winery (Hildale) received both a Winery manufacture license. Beckers and Water Canyon also received Type 5 package agency licenses – meaning if they so wish they can retail Sundays. Yep wine on Sundays. Here's a reminder of some Utah liquor law quirks you likely don't know.
Durango Bar (SLC) received a tavern license and next month the Tavernacle was given the green light to move to 50 West Broadway, following the storied loss of their recent location.
And lastly, October sees the DABC take the show on the road – with a meeting being held in the sunnier climes of St George.
Drink In Utah report
It's also that time of the month – what's a good buy at state liquor stores from the Drink In Utah folks. As ever – they've crunched the numbers and generated a list of all the latest prices changes at DABC stores. Click here to see what has gone up or down in price, what's new, and what's discontinued.
New beer and liquor releases
Level Crossing debuts Rock On Crafted Lager
Via press release:
Award winning Level Crossing Brewing Company is immensely proud and thrilled to partner with Crosby Hops and the Sweet Relief Musicians Fund to release the Rock On Crafted Lager. This inaugural national project is to benefit musicians and their crews that were heavily impacted by the COVID-19 pandemic. In addition to donating to the Sweet Relief Musicians Fund, Level Crossing will be donating proceeds to Salt Lake's own Salt Lake Academy of Music. You can get the Rock On Crafted Lager at the Level Crossing Taproom in Salt Lake starting September 10, 2021. Do it loud & proud! Technical Specs:
Rock On Crafted Lager 2021
Style: American Pilsner ABV: 5% IBU: 25 Color: 2.5 SRM Malt: Solstice Pilsner, Solstice Flaked Corn, Dextrapils Hops: Amarillo, Idaho 7
Tasting Notes: Rock On Crafted Lager is an American Pilsner brewed with Solstice pilsner, Solstice flaked corn and Dextrapils malts. Rock On has aromas of sweet malt, white grape, apricot and freshly brewed green tea. The use of Solstice Pilsner and flaked corn give Rock On a light yet velvety body with background notes of lightly toasted sourdough bread, lemongrass and honeydew. Rock On finishes moderately dry with a clean and refreshing herbal hop bitterness.

RoHa launches Bumpy Pucker Raspberry Sour
Via press release:
Fasten your seat belts because this Raspberry Sour is about to take off! We released our Fuzzy Pucker Peach Sour in 16oz. cans this year as the first in a seasonal sour rotation. Next up, Bumpy Pucker. A kettle soured ale with fresh raspberries. It pours with a light pinkish hue, bursts with a raspberry aroma on the nose, firmly sour up front with a hint of raspberry in the finish. With one sip of the Bumpy Pucker, you'll get bursts of fruity tones that will make you want to spend all day at the lake or picking your way through the bramble hunting for wild berries. As the new sour hits the shelves in grocery and convenience stores, our Fuzzy Pucker cans will start disappearing. If you're a fuzzy fan, get 'em while you can!
Bumpy Pucker Raspberry Sour is a a slightly tart, sessionable beer, that brings out a strong Raspberry aroma. Fresh fruit infused in this sour provides a clean finish and refreshing nose.
Epic releases Big Bad Baptist series
Via press release:
The notorious Big Bad Baptist Imperial Stout gave birth to our barrel program back in 2016 when we launched "Double Barrel Big Bad Baptist" which combined barrel-aged beer with barrel-aged adjuncts. Since then, other profound ideas that started as food for thought have materialized into liquid enjoyed by the masses. This year six more wildly experimental ideas have come to life as part of our 2021 Big Bad Baptist Imperial Stout Series.
The 2021 Big Bad Baptists will be available at our taprooms in October and will hit our entire distribution footprint by December. This is a one-off series, so get your hands on a bottle of each because they won't be around forever! 2021 Variants from left to right
Chocolate Mint: Enjoy-Mint…. Refresh-Mint… Chocolate Mint! Big Bad Baptist Chocolate Mint is made with fresh mint and a copious addition of cacao nibs. Notes of mint live in harmony with silky chocolate and coffee flavor. "Get the sensation!' of Refresh-Mint with every sip.
Naked Baptist: BIG BAD DISCLAIMER: what you are about to drink is the naked depiction of Big Bad Baptist in the way God – I mean our brewers – intended it. Be ready to indulge in au naturel, Bourbon barrel-aged deliciousness, unadulterated by coffee or cacao. Jokes aside, our brewers have been begging to bottle this for years. Cheers to one of our favorite Epic beers ever!
Black Forest Cake: Have you ever had your cake and drank it, too? Chocolate, ripe cherries, and fresh coconut are layered into this decadent beer. The Sammelsurium of ingredients coalesce into the liquid form of a classic German treat. Skip dessert and reach for a bottle of Black Forest Chocolate Cake.
Imperial Pumpkin Porter – Available Now
Recipe is similar to last year's. It's a true-to-style Porter brewed with a classy amount of spice. We're not trying to rip your head off with Pumpkin spice like so many other seasonal goodies, rather provide a fantastic porter with rich spice character. Available now at Epic and available in October at state liquor stores.
Barrel-Aged Imperial Pumpkin Porter – Available Now
We ditched our tried-and-true bourbon whiskey barrels and challenged ourselves with sherry-finished whiskey barrels. It'll be exciting to do a side-by-side with last year's whiskey barrel version. Available now at Epic and available in October at state liquor stores.
Squatters offers new 147 West IPA series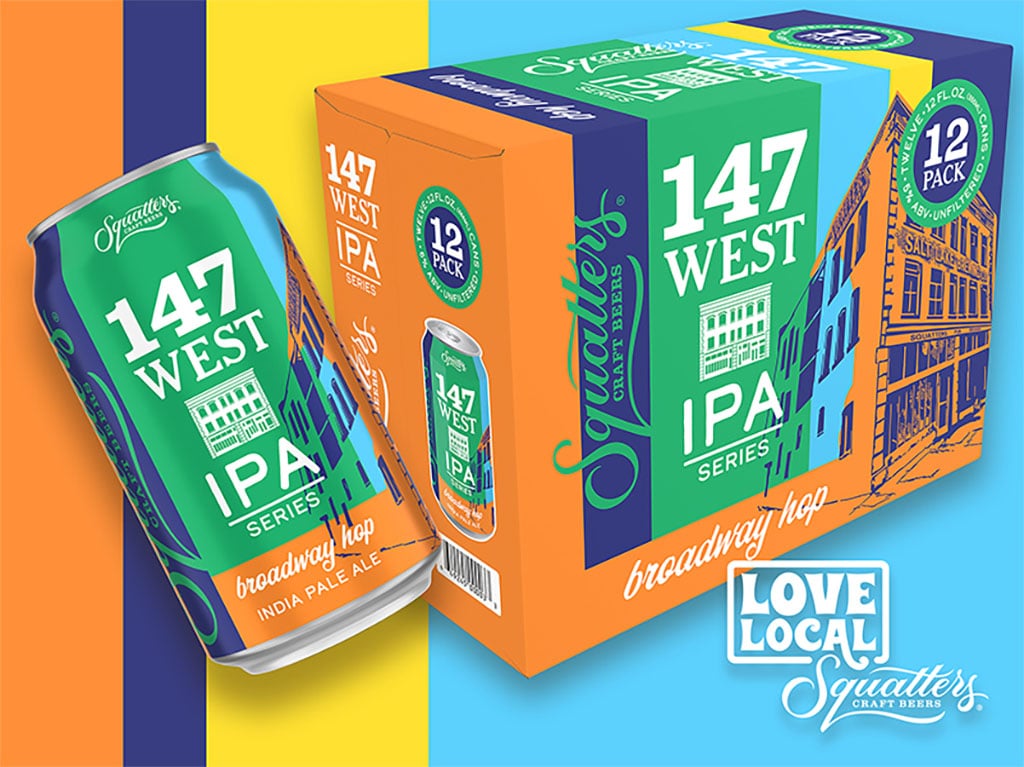 Via press release:
Squatters Craft Beers announces the release of 147 West Broadway Hop, a West Coast IPA named for the original Squatters Pub in Salt Lake City. Utahns know that 147 is more than an address – it's the pub that ignited the craft beer revolution of downtown Salt Lake City when Squatters poured their first pint in 1989. The beer is the first release in the 147 West series, which will showcase brews across a range of styles. 147 West is available across Utah in 12-packs of 12 oz. cans and on draft starting now.
147 West Broadway Hop West Coast IPA (5% ABV) is brewed with the highest quality hops and malts to create big citrus, peach, nectarine and berry flavors, balanced by a malt framework built on notes of crackers and bread dough. 147 was brewed to celebrate the beer community that surrounds Squatters Pubs, including local beer lovers and the wonderful staff that has made the Pub exceptional for over thirty years.
"This rotating IPA series gives our brewers a chance to flex their creative muscles," said Director of Brewing Operations Adam Curfew. "Since we are a bunch of hop heads, that is about as fun as it gets. The first batch is a west coast IPA with a beautiful hop nose and just the right amount of IBUs. I think this beer will pair well with cool fall nights out on the town."
The 147 West series will rotate to a new style three times a year. Follow along with Squatters' social media on facebook or instagram to keep an eye on upcoming beers in the 147 lineup. Meanwhile, find 147 West Broadway Hop West Coast IPA at Squatters Pubs or at a Utah retailer near you.
Bewilder Brewing – Rocket Surgeon Golden Ale!
New Beer On Tap! Come try the Rocket Surgeon Golden Ale! This is another homebrewer recipe from customers and friends at Salt City Brew Supply Scott and Dave Anderson. This beer was the 2017 National Homebrew Competition winner in the Golden Ale category beating out 246 other entries. The name comes from an inside joke from Scott and Dave's annual family fishing trip. We are thrilled that the Andersons came and brewed this beer with us. It uses British pale malt, pilsner malt, white wheat, and cascade hops, for a pleasantly hoppy British summer style ale that drinks easy during any season!
High West's Midwinter Night's Dram Act 9 now on sale
Via press release:
High West Distillery & Saloon, Utah's first legal distillery since 1870, unveils the ninth rendition of A Midwinter Night's Dram, a limited release of High West Rendezvous Rye finished in Ruby and Tawny port barrels. High West continues to bring the adventurous spirit of the American West to the art of making extraordinary whiskeys, experimenting beyond traditional bourbon and rye with new blends and flavor profiles, which translate into a fantastic line of limited-edition whiskeys every year.
"A Midwinter Night's Dram is easily our most anticipated limited release blend of the year. It's High West's Rendezvous Rye finished in both Ruby and Tawny Port barrels for an additional 1 to 2 years," said Master Distiller Brendan Coyle. "This year's release, Act 9, provides notes of dark fig and blackberry layered over that wonderful spice character that great Ryes have to offer. We recommend sipping this spirit neat to experience its many layers of complexity."
This limited-edition blend of straight rye whiskeys opens with notes of muddled blackberries, honey-poached figs, chocolate covered cherries, toasted marshmallow, gentian root, star anise and hoisin sauce. On the palate, it offers refreshing sugar plums, blackberries, spiced bitter orange peel, toffee cookies aside an orange tea, fresh dates, cinnamon strudel, brown sugar glass, and dried thyme leaves. The finish yields aromatic bitters, pink peppercorn, violets and mint.
A Midwinter Night's Dram Act 9 (49.3% Alc/Vol) will be available beginning October 1st. The spirit can be purchased at High West General Store in Old Town Park City and at High West Distillery on Blue Sky Ranch in Wanship, Utah, for $99.99 per bottle. For more information and where to buy High West products near you, visit highwest.com.
In other news
Keep the conversation going
Want to stay on top of the SLC food scene, minute by minute, dish by dish? Here are a few other places you should follow along:
Hi, I'm Stuart, nice to meet you!  I'm the founder, writer and wrangler at Gastronomic SLC; I'm also a former restaurant critic of more than five years, working for the Salt Lake Tribune.  I've worked extensively with multiple local publications from Visit Salt Lake to Salt Lake Magazine, not least helped to consult on national TV shows.
I'm a multiple-award winning journalist and have covered the Utah dining scene for the better part of fifteen years.   I'm largely fueled by a critical obsession with rice, alliteration and the use of big words I don't understand.   What they're saying about me: "Not inaccurate", "I thought he was older", "I don't share his feelings".  Want to know more? This is why I am the way I am.
This article may contain content provided by one of our paid partners. These are some of the best businesses in Utah. For a list of all our current and past relationships see our
partnership history page
.