Late Summer and early Fall – the time of the year that food and drink events really seem to kick up a notch. It's that perfect timing of seasonal harvests, more temperate weather (yeah lol ok) and a desperate rush to fill the belly before Winter hibernation. There's a lot of pent up demand right now, so it goes without saying several of these will for sure sell out (much like EDSLC recently did). Here's the latest events coming up.
Feast Of The Five Senses 2021
The 2020 edition of this local food extravaganza was held virtually due to Covid, and this year sees a similar tack. For the 2021 event a number of restaurants are offering four course meals to go, all in support of Slow Food Utah's yearly fundraising efforts. Here's the full press release for this years event, including all the chefs that are sure to put a great menu on (pictures from previous years):
For 17 years, Slow Food Utah's Feast of Five Senses has brought together local farmers, chefs and food artisans for a night of joyful celebration, one amazing meal and dedication to a good cause. This annual event is the primary fundraiser for Slow Food Utah's microgrant program which funds projects for small farms, food producers and nonprofit organizations. Since its inception, the program has distributed more than $140,000 to bolster projects throughout the state.
This year, Slow Food Utah brings you A Moveable Feast, a hybrid event supporting the health of the community and recognizing the constraints on our restaurant industry. However we may gather, we hope you will join this important celebration of the harvest and artistry brought forth from farm to plate. The title page to Ernest Hemingway's last book, A Moveable Feast, bears this inscription: "If you are lucky enough to have lived in Paris as a young man, then wherever you go for the rest of your life, it stays with you, for Paris is a moveable feast." We believe that once you have delighted your senses with the beautifully prepared bounty of the Utah harvest, the experience stays with you for a lifetime!
A Moveable Feast invites participants to purchase a 4-course farm-to-table meal from one of the 10 local restaurants paired with regional farms. With guidance from the chefs, wine experts and scene setters, it's time to gather your inner circle and recreate the feast at home. Go to slowfoodutah.org to select the desired restaurant and purchase meals for pick up on August 28, 2021.
Participating chefs have partnered with one of the following farms to curate a 4-course tasting menu: 3 Squares Produce, Blue Spring Farm, Borski Farms, Clifford Family Farm and Lau Family Farm. Meals will arrive fully cooked, with instructions to reheat, compose and plate at home. While participants will not have to do any hardcore cooking, part of the experience will include reheating items, combining components and plating dishes just as a chef would if you were eating in their restaurant. Detailed instructions, including plating directions and pictorial guides for the finished plates, will be provided via email. Additionally, participants will also receive instructional videos from local experts to advise on wine pairings and table setting for your personal feast.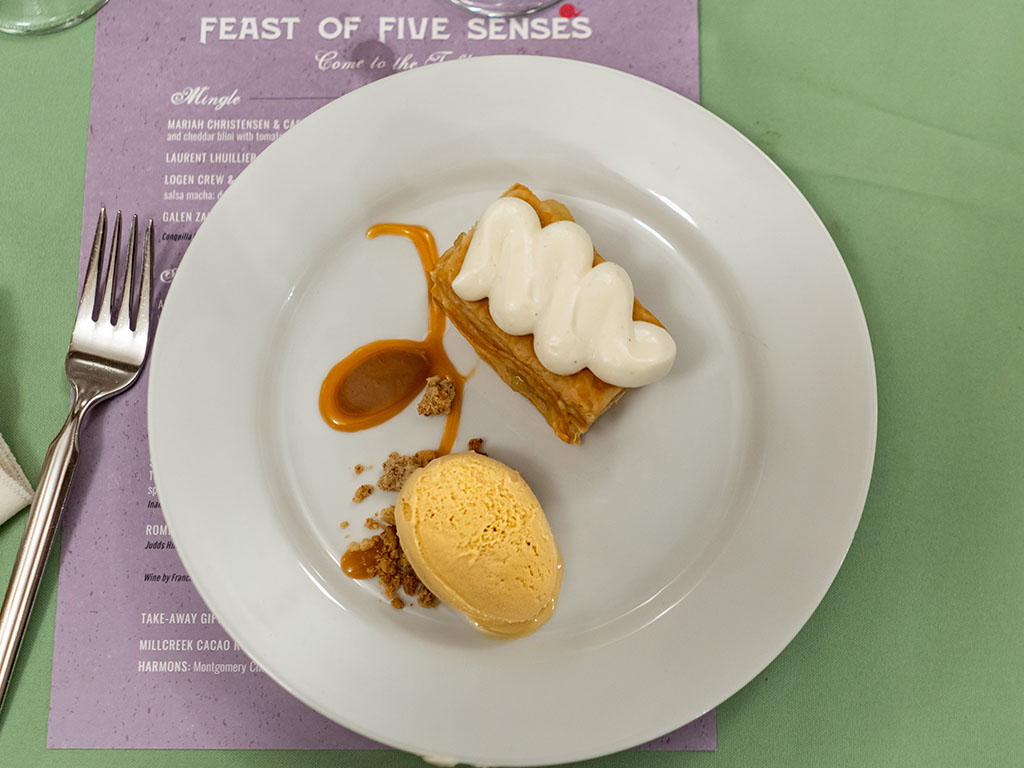 Slow Food Utah Board Chair Jennifer Macali notes, "Despite the challenges over the last 18 months Slow Food Utah still actively supports the local food community. We are deeply invested in the Slow Food mission and continue to prioritize opportunities to provide good, clean and fair food for all. We are excited to present the Moveable Feast for a second year in an effort to provide opportunities to grow our local foodways." Participating restaurants and chefs:
Blended Table | Chef Tom Grant
La Caille | Chef Billy Sotelo
MakanMakan | Chef Daniel Yuswadi
Nohm | Chef David Chon
Pago | Chef Phelix Gardner
Saffron Valley Indian Restaurant | Chef Lavanya Mahate
SLC Eatery | Chef Logen Crew
Stoneground Kitchen | Chef Justin Shifflett
Urban Pioneer Foods | Chef Brooke Woffinden
Those unable to attend but who wish to contribute to the microgrant fund can make a donation at slowfoodutah.org. Our presenting sponsor, Harmons, will match donations up to $5,000. Funds collected will continue to expand our microgrant fund and support our local purveyors. Grant applications open in 2022 and will be awarded in March to support projects from local farms, community organizations, school gardens and food producers.
Savor The City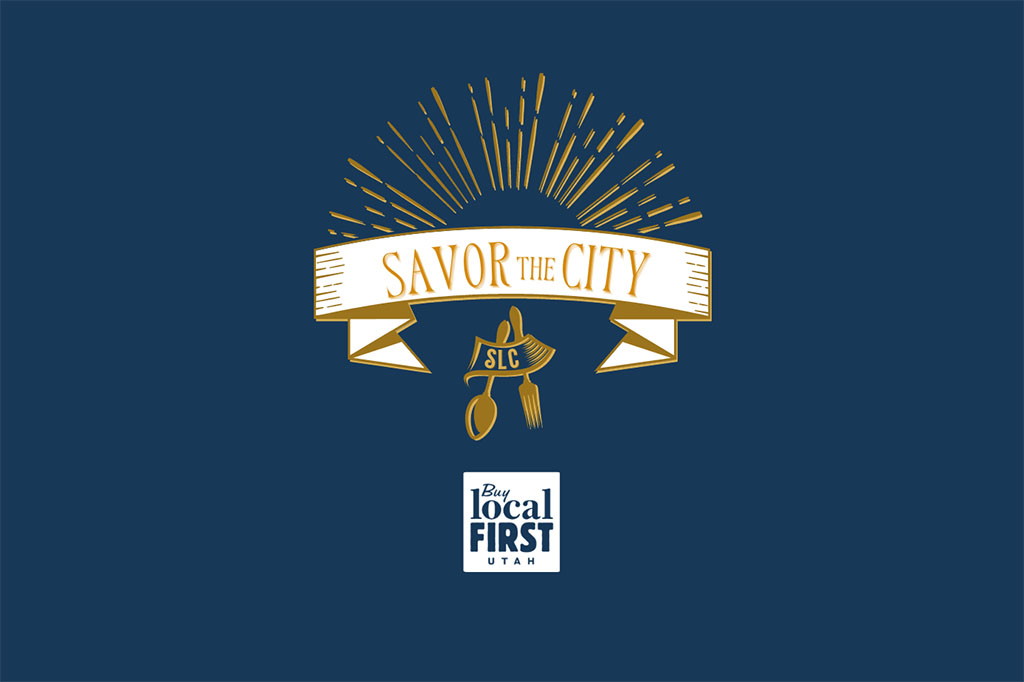 This series of events organized by Local First Utah is already selling out. Touted as a "month long dining event featuring dozens of Utah's finest food purveyors" the quintet of events serve to replace the yearly Celebrate the Bounty; a yearly fundraising get together for the organization.
Events on the docket for this new format in 2021 include:
A Terroir Tasting with TeaZaanti, sold out
Turkish Brunch with Kahve Cafe, $35
Dinner & A Show from SLICE & The Hammered Copper, $125
Tour of Caputo's, $50
4th West Oktoberfest, $8
Hearth And Hill astronomy dinner
Up in Summit County, Hearth and Hill are mixing up gastro and astro with an evening of grazing and gazing. I couldn't resist. The event held at Avalanche Ranch will feature passed appetizers with produce from nearby Ranui Gardens, before moving onto a family-style dinner. After that the gang will be breaking out the 'scopes with help of astronomers from the University of Utah South Physics Observatory.
The menu for the evening is as follows:
Heirloom tomatoes
Wild greens salad
Corn and watermelon
Broccoli slaw
Green coriander crusted trout
Coal fired bison ribeye
Astronaut ice cream bar
Two specialty cocktails will be offered and wine by the glass is available for purchase. The event takes place on Friday the 13th (5.30 – 8.30 p.m.) tickets are priced $150 per adult, or $55 per child 21 and under. The Park Record wrote about this one in more detail here.
Patio dinner @ Stratford Proper
Sunday August 15th (from 7.00 p.m.) is the next date on the calendar for Proper's fun patio series of paired dinners. Cost is $35 for wine and $40 for food, more details on tickets here, menu as follows:
Local goat chevre, Mesa Farms chevre, carrots, olive tapenade, local mixed greens
Crios Rose of Malbec

Lamb tartare, smoked wild mushroom toast, quail egg, mint oil
Cono Sur Cabernet Savignon Carmenere Syrah

Bison tenderloin, charred summer squash puree, demi glace, horseradish creme fraiche
Vina Maquis Cabernet Sauvignon

Yuzu tartlet, yuzu meringue, 'ponzu' glaze, lavender dust
Cousino-Macul Chardonnay

Wine tasting series @ Ridge Café
Another series of events, and again one that already is seeing tickets sold out early. The ever enjoyable James Santangelo leads the classes, which means you're guaranteed plenty of smiles alongside expert insight.
The next event you can still get tickets for at the time of writing is the Splash of Spain event on October 3rd. Tickets are priced $55per person, with the event promising, "a range of delicious Spanish wines ranging from a sparkling Cava to a crisp racy Albarino of the Northwest to a classic Rioja to a big bold Garnacha of the Pyrenees. We can also explore a nutty toffee flavored Sherry as an add on wine for this presentation. Small nibbles of apple, nut and cheese are paired, and receive printed tasting notes and professional 90 minute presentation. A fun, educational and entertaining wine tasting of this classic wine growing region.
Oktoberfest preview
It looks like brats and beer are back on the menu for 2021 (at least so far). Snowbird have confirmed the return of their iconic celebration this year while Talisman Brewing are celebrating five years in a business with an Oktoberfest bash too. As mentioned above 4th West Oktoberfest is back too.. Also, most interesting to me personally…
I have it on good authority that Bewilder Brewing are pulling out all the stops this year and developing a month long Oktoberfest celebration like no other (sidetone: you can learn with the brewers too). Chef Justin Fields told me the whole menu is going out the window – to be replaced with a teutonic inspired smorgasbord. Ok that was my overly flowery interpretation of what he actually said, but it sounded damned excellent – watch this space – ill have more news soon…
A few other random events
Keep the conversation going
Want to stay on top of the SLC food scene, minute by minute, dish by dish? Here are a few other places you should follow along:
Hi, I'm Stuart, nice to meet you!  I'm the founder, writer and wrangler at Gastronomic SLC.  I'm a multiple-award winning journalist and have written in myopic detail about the Salt Lake City  dining scene for the better part of seventeen years.
I've worked extensively with multiple local publications from Visit Salt Lake to Salt Lake Magazine, not least helped to consult on national TV.   Pause those credits, yep, that's me! I'm also a former restaurant critic of more than five years, working for the Salt Lake Tribune.    I'm largely fueled by a critical obsession with rice, alliteration and the use of big words I don't understand.   What they're saying about me: "Not inaccurate", "I thought he was older", "I don't share his feelings".
Want to know more? This is why I am the way I am.
This article may contain content provided by one of our paid partners. These are some of the best businesses in Utah. For a list of all our current and past relationships see our
partnership history page
.