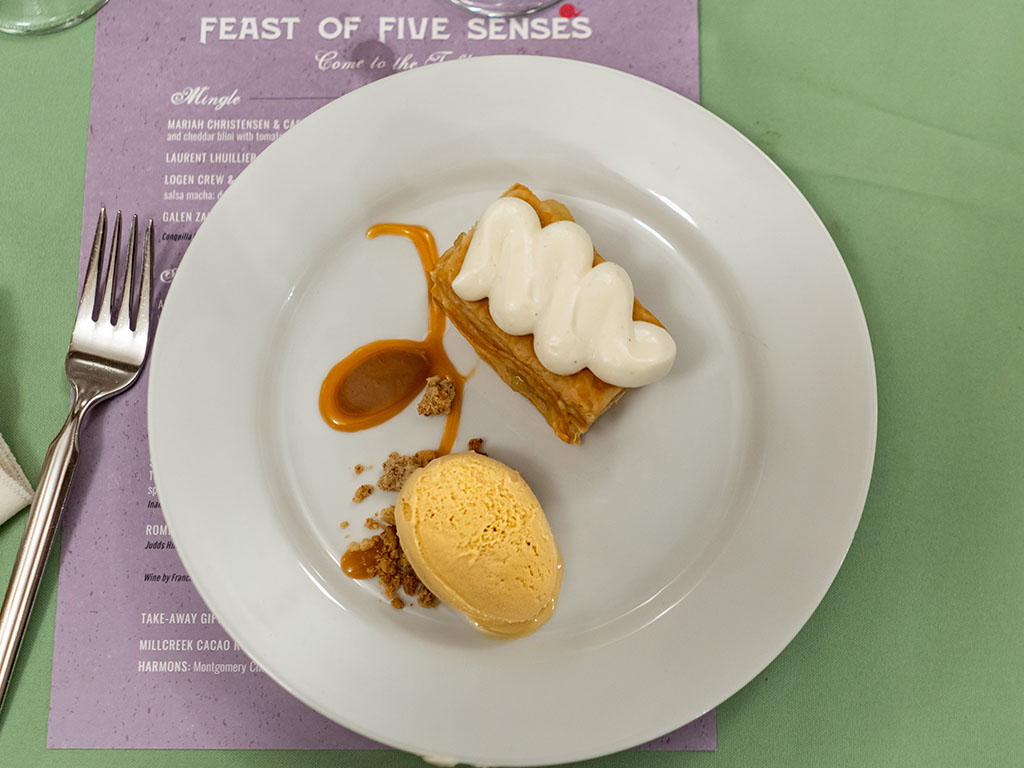 Set to celebrate their 16th annual Feast Of The Five Senses – Slow Food Utah's 2020 event is being offered in a whole new C19-safe way. This year, 10 local restaurants have paired with 10 local farms to create 4-course meals packaged as a four course meal to go. The menu is usually a closely guarded secret until the big night itself, but as way of a teaser, the following chefs and restaurants will be contributing to the meal:
Afterword by Tupelo, Matt Harris
Blended Table, Tom Grant
Franck's Restaurant, Robert Perkins
MakanMakan, Daniel Yuswadi
Oquirrh Restaurant, Drew Fuller
Porch, Jen Gilroy
Saffron Valley Indian Restaurant, Lavanya Mahate
SLC Eatery, Logen Crew
Zest Kitchen, Casey Staker
For the past 15 years, Slow Food Utah's feast has sought to bring together local farmers, chefs and foodies for one amazing meal and dedication to a good cause. This annual event is the primary fundraiser for Slow Food Utah's microgrant program which funds projects for small farms, food producers and nonprofit organizations. Since its inception, the program has distributed more than $120,000 to bolster projects throughout the state.
On September 26, guests will pick up their meal and recreate the feast from the comfort of their own homes. Each order comes with a menu and special instructions from the chef so you can plate your Feast. Videos advising on wine pairings and table setting will also be sent to guests, as well as a Facebook live feed for the evening.
Slightly different this year – proceeds from each meal purchased will be split 50/50 with the participating restaurants, helping to support their costs and pay the partnering farmers for their crops.
To participate in this years feast, you can signup online here.
Franck's and Vida Tequila dinner
One dining event that is being held in person, suitably socially distanced of course, is this upcoming four course dinner at Cottonwood Height's Franck's. The dinner will be paired with Vida Tequila with owner Lisa Barlow on hand too. The menu for the September 14th meal is as follows:
Local heirloom tomato, fresh horseradish, smoked flake salt, celery relish, tomato vinaigrette, aerated Worcestershire, celery leaf salad
Vida Anejo
Crab & scallop tostada, avocado mousse, lime agua chili, charred Utah corn, cilantro, ancho chantilly
Vida Blanco paloma, lime juice, salt, grapefruit soda
Wagyu beef Chile verde, tequila sopes, cotija cheese, tart cherry pica de gallo, refried black lentil, peppercress
Vida Reposado old fashioned, simple syrup, orange, cherry, bitters
A fourth course is currently TBD and the cost for the meal is $80 per person ($45 food).
Eat this now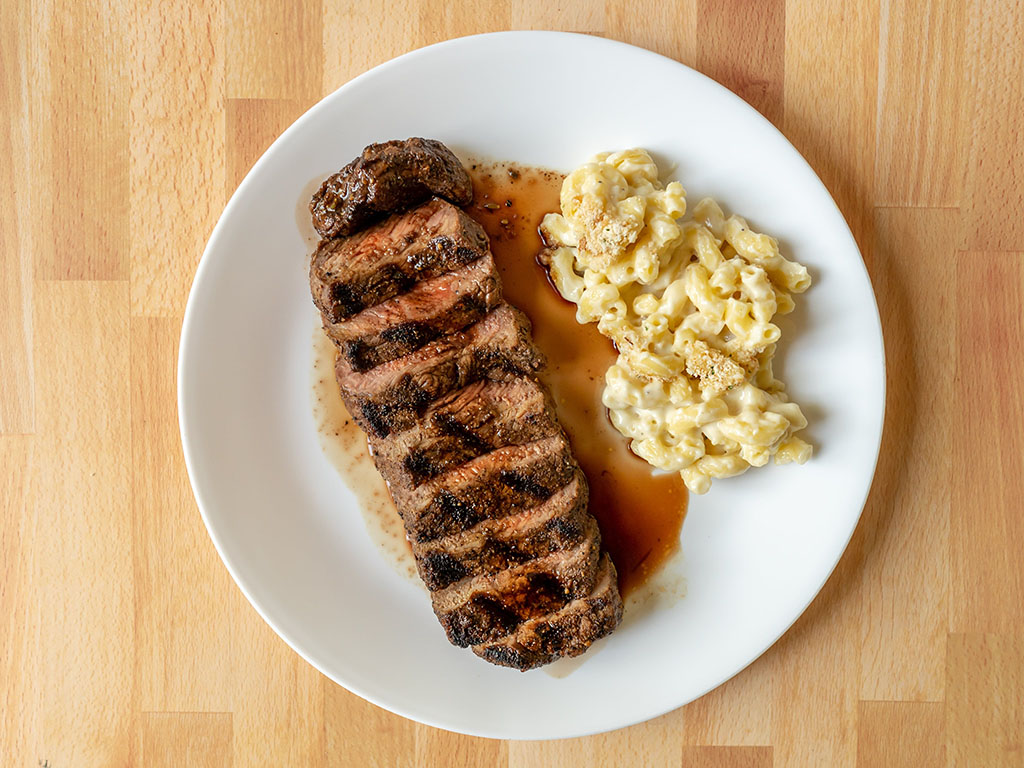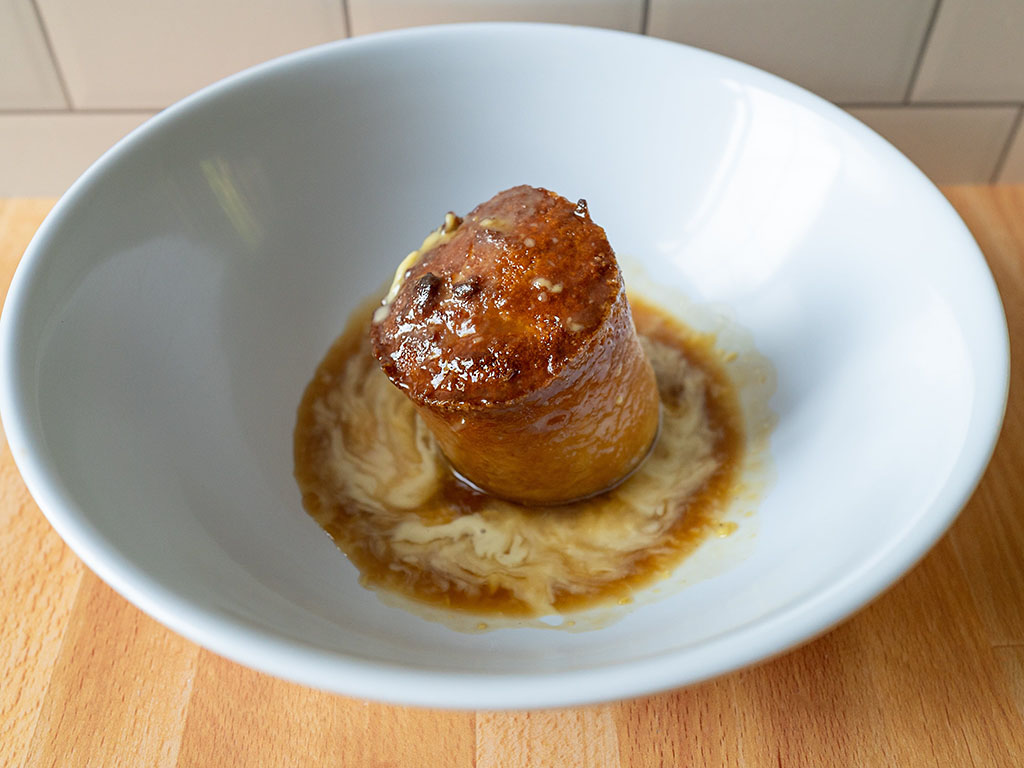 These snaps come by way of a particularly fun curbside order I enjoyed this last week – courtesy of new downtown SLC starlet – Carson Kitchen. The Vegas-borne restaurant has been receiving quite the hype and praise the past week or two, and you can add these two thumbs to the list as well, most definitely pointed up.
The menu is in effect a comfort food affair, embellished along the way with fancy bits and bobs. Those dishes above for example: beets, steak and bread pudding, fairly sedate sounding at first. Well, those beautiful beets are brought to life with pistachio, goat cheese and grapes; the steak is emboldened with a hearty cocoa and espresso rub; while that bread pudding happens to be a glazed donut bread pudding finished off with three rum caramel and creme anglaise.
The mac n cheese is already arguably some of the best in town already, through a judicious trio of cheeses. If it weren't for the dine-in ravages of Coronavirus I'd say expect this one to quickly become one of the hottest tickets in town.
10% of restaurants now closed?
According to the URA 10% of restaurants in Utah have already closed for good; this number apparently derived by "communicating with suppliers about which restaurants have stopped ordering". While our own tracking of Covid-closures doesn't quite match those numbers, from talking to business owners, I know many are on the edge and the list will grow quickly over the coming months. The recent battering by wind storm surely didn't help matters either.
It goes without saying, supporting your favorite local restaurants is paramount right now; whether that's dine in, togo or even delivery. With that in mind here's some inspiration for the weekend with a few menu updates across town.
Menu news
BGR – Check out owner Meili Myles talking about the latest update to Sugar House's best burger spot. Hitting the menu now – burgers are now set to feature 90% certified Angus beef chuck. Watch the video for more details.
Saffron Valley – A variety of dosa are back on the menu at Saffron Valley. The ginormous savory rice and lentil crepes come stuffed with a variety of fillings and come served with fresh coconut and tomato chutneys as well as sambar – a lentil and vegetable dipping soup.⁠ The following four dosa are now back on menus at Saffron Valley:
Masala dosa – traditional filling of spiced mashed potatoes and green peas
⁠Ghee Sosa – plain dosa smeared with fresh clarified butter
Paneer spring dose – seasonal vegetables, cottage cheese sautéed with spiced potatoes
Chicken tikka dosa – pulled chicken pieces smothered in a tikka masala sauce
Taqueria 27 – After manning the helm at Z'Tejas (remember them?) for years and years, T27 chef Todd vowed he'd never sling another burrito again. Well needs must and what you. Of late the Holladay location of Taqueria 27 has been serving "make any taco into a burrito" for 3 bucks – this gets you a 12 inch tortilla with all your favorite taco fillings and pinto beans and rice rolled up in a delicious package. Expect this to hit all locations any day now too.
The business are also offering a special gift card promotion through the Shop in Utah grant too. Buy a gift card for any amount they'll send you one for 1/2 the purchased value free. The promo is available until the grant funds are depleted.
Curry Up Now – With the second Utah location of this national chain now open in downtown SLC (in the old Cedars Of Lebanon spot), there's also a new menu item to check out on your next visit. The TFC (Tandoori Fried Chicken) sandwich features 72 hour tandoori-marinated chicken fried up and "\topped with bombay dust aioli, house made pickled onions, and a chutney of curry leaves, pineapple, and jalapeño on a brioche bun."
Stanza – a new seasonal menu has rolled out at one of our favorite downtown spots. More info on their Facebook page. Don't forget Stanza have a wonderful patio and the temps are pretty much ideal right now.
Tres Hombres – The gift card deals at this Millcreek Mexican restaurant are pretty damned good. If you're looking to treat yourself, you could do worse. More info.
Assessing the storm damage
Dee's burger clown didn't survive, nor did the stock in the coolers at The Store, punished by power cuts; I could have sworn I also saw that Tres Hombres famous signage fell too – though now I can't find any source – a fevered dream maybe?
Have you spotted any restaurant damage out in the world from the recent apocalyptic-assault? Any icons of the dining scene particularly affected. I'd love to know more, drop me a line.
In other news…
Harmons to close for Turkey day
Via press release
Harmons will be closed on Thanksgiving Day this year to give essential workers, its associates, a day with their families.
"Our associates have gone above and beyond this year to keep shelves stocked, stores cleaned, and customers served during the pandemic," said Bob Harmon, chairman for the customer. "We value these essential workers to thank them for their dedication, the decision was made to close on Thanksgiving to enable associates to spend time with their families."
Harmons has become a tradition with thousands of Utah families who take home the taste of Harmons for Thanksgiving dinners. As the holiday comes closer, more details about what prepared products will be available will be posted on HarmonsGrocery.com. Emails will also be sent to customers and Foodie Club members.
High West's Robbie Remmes scoops prize
Via press release
With a toast to a summer unlike any other, Park City cocktail enthusiasts have voted High West's Robbie Remmes this year's Park City Area Restaurant Association (PCARA) Summer Cocktail Contest champion with his cocktail, Devil's Addition.
Seventeen participating PCARA member restaurants welcomed Park City locals and visitors to sip their latest cocktail innovations throughout the month of August.
"Year after year, we are so grateful for the community's support of our world-renowned mixologists through the cocktail contest," said PCARA executive director Ginger Wicks. "Congratulations to this year's winner, Robbie Remmes, who took top honors among some incredibly inventive cocktails!"
Robbie Remmes from High West earned the top prize for his Devil's Addition cocktail. This year's summer sipper mixes High West's Double Rye! whiskey, Tanqueray 10, Cocchi Americano, Matcha Simple Syrup, fresh lemon and pineapple juice, Hops Tincture and Fever Tree Soda Water.
Devil's Addition
Mixologist: Robbie Remmes, High West
Ingredients:
1oz High West Double Rye!
0.5oz Tanqueray 10
0.25oz Cocchi Americano
1oz Matcha Simple Syrup
0.75oz Fresh Lemon Juice
0.75oz Fresh Pineapple Juice
2 Drops of Hops Tincture
Fever Tree Soda Water
Method: Add all ingredients into a cocktail shaker except the soda water and shake until chilled. Strain into a Collins glass with ice and top off with soda water.
"This year's cocktail contest recipes were so full of originality, and I'm honored to be voted the winner," said Remmes. "Within our talented bartender community, the event is a great opportunity to continue challenging each other to always serve up our best, most creative ideas."
Remmes will be awarded a $500 cash prize, city-wide bragging rights, and will be featured in a marketing campaign leading into PCARA's popular fall "Dine About" event. New this year, Remmes will partner with Top Shelf to create his own original Bartender's Box, a cocktail experience delivered right to your door. Equipped with fresh ingredients and helpful how-to videos, boxes include everything imbibers need to prepare high-end, quality cocktails at home.
Hearth And Hill gives back
Via press release
Hearth and Hill, Park City's award-winning "gathering spot," thrives on serving loyal guests and visitors its innovative menus of locally grown and sourced ingredients. As the restaurant's offerings continually change with the seasons, its commitment to providing for the Park City community remains steadfast. 
"Having our community's back is at the core of our mission, no matter how great the challenges we may face," said Proprietor Brooks Kirchheimer. "While the last six months have been difficult for many of our neighbors in need, we are grateful to have had the opportunity to make a helpful impact in as many ways as possible. We will continue to seek ways to keep Park City residents and visitors fed and our community organizations flourishing for many years to come."
Since March 15, Hearth and Hill has dedicated its talent and resources to supporting the Park City community through an exceptionally challenging season. The restaurant has hosted a series of Matching Nights to benefit local organizations, and has provided food and financial support to a number of local causes. Initiatives and funds raised include:
– Matching Nights
o $750 to Hive Family Collective
o $1,000 to Park City Community Foundation
o $750 to National Ability Center
– Participated in EATS What the Fork Fundraiser selling 40 dinners at cost
– Provided more than 30 complimentary family dinners to families in need
– Distributed more than 40 grocery bags to Hearth and Hill associates
– Donated a $2,000 catering dinner to the Park City Education Foundation fundraiser
– Donated $500 to KPCW's annual pledge drive
While the future is still uncertain for many individuals and local businesses, Hearth and Hill remains a steady force for the community to lean on. The health of Hearth and Hill associates and guests continues to be of utmost importance, and the restaurant is dedicated to doing its part to curb the pandemic. Thus, Hearth and Hill diligently adheres to all current applicable Health Department guidelines and orders.
Current hours are Monday-Thursday: Noon-8:30 pm; Friday-Saturday: Noon-9 pm; and Sunday: 10 am-8:30 pm. Reservations for either dine-in or dine-out options, including take-out, free delivery, frozen items, farmers' bags, etc., are available on-line or by calling the restaurant at 435-200-8840. Starting this month, Hearth and Hill offers a special promotion: any food purchase of $100 or more earns a complimentary $25 gift voucher good towards food on Sunday-Thursday, excluding specials, courtesy of the State's recent "Shop in Utah" incentive program.
Keep the conversation going
Want to stay on top of the SLC food scene, minute by minute, dish by dish? Here are a few other places you should follow along:
Hi, I'm Stuart, nice to meet you!  I'm the founder, writer and wrangler at Gastronomic SLC; I'm also a former restaurant critic of more than five years, working for the Salt Lake Tribune.  I've worked extensively with multiple local publications from Visit Salt Lake to Salt Lake Magazine, not least helped to consult on national TV shows.
I'm a multiple-award winning journalist and have covered the Utah dining scene for the better part of fifteen years.   I'm largely fueled by a critical obsession with rice, alliteration and the use of big words I don't understand.   What they're saying about me: "Not inaccurate", "I thought he was older", "I don't share his feelings".  Want to know more? This is why I am the way I am.
This article may contain content provided by one of our paid partners. These are some of the best businesses in Utah. For a list of all our current and past relationships see our
partnership history page
.