New news
Bigeye Poke & Grill – New to South Salt Lake (3144 S State St) – a second location for this poke chain that hails from California. You'll find the inaugural location in Draper. Poke bowls start from $11.45. Actually there's something in the water right now when it comes to poke. Read on to see what I mean…
Sunday's Best – This one is planned to hit the streets of Sandy in just a few weeks time now. The new restaurant comes from restaurateur Michael McHenry and chef Tyler Stokes – the same duo that teamed up to launch Ginger Street in downtown Salt Lake City.
No news yet on the specifics of the restaurant which is following a similarly coy pre-launch promo as Ginger Street; what is known for certain though, this one will be a 'Breakfast & Brunch Restaurant'. All day mimosas with chicken and waffles anyone?
Correction April 23rd, this was original listed as Brunch Me Hard, to clarify the restaurant will be called Sunday's Best.
Fresh Fin Poke – Draper (185 E 12300 S) is all set for the second location of this national poke chain. The brand first launched their bowls in downtown Salt Lake on Regent Street.
Habitat Coffee – Downtown SLC (366 State St) now has a new coffee hangout spot. In addition to the drink side of things, there's also a modest food menu with the likes of breakfast sandwiches and avocado toast.
Hak Sho Ramen – The address for this new ramen shop (3424 State St) in SoSL's China town complex is the same as the wonderful Chinese Taste. I'm unsure if they're one and the same or Google's AI brain has yet to update properly. My current guess is they're a delivery-only play out of the same kitchen. Here's their menu on DoorDash.
Koino Poke – More poke, this time for Midvalians (186 Union Park Ave). Koino offers a familiar looking menu of composed poke bowls or ones of the DIY variety. Prices run $8.99 and up, and they're open seven days a week.
Millcreek Nutrition – This smoothie and juice bar is now open in Millcreek for those (970 East 3300 South) that have managed to hang onto their new yea resolutions this far into the year.
South West Market – A new Asian grocery located on the North side of 3500 S, right next to the swap meet and across the street from Lucky. Find more info here – word to the wise, they offer a compact selection of some unique Vietnamese dishes such as sweet and sour fish, periwinkle snails (pictured above) and fried chicken wings with sweet potato.
Sweet Lake Biscuits And Limited – American Fork (link) is the home of the next location of this once upon a time farmer's market start up.
Uncle Sharkii – More poke, this one a national franchise that has landed here in the City Creek shopping mall in downtown SLC.
University Place – KSL writes about a number of new businesses coming to this Orem strip mall. On the restaurant side of things:
Bunz Burgers: expected to open in the Seasons Food Court later this month
Chubby's Neighborhood Cafe: rhe seventh restaurant location for the Pleasant Grove-based business since it was established in 2010.
Red Tacos: the first permanent brick and mortar restaurant location for the popular Provo food truck business.
The Churro Company: a handcrafted, made from scratch churro businesses.
Raising Cane's – News here and here about this national chain's soon to be brace of Utah operations, namely, South Jordan and Provo.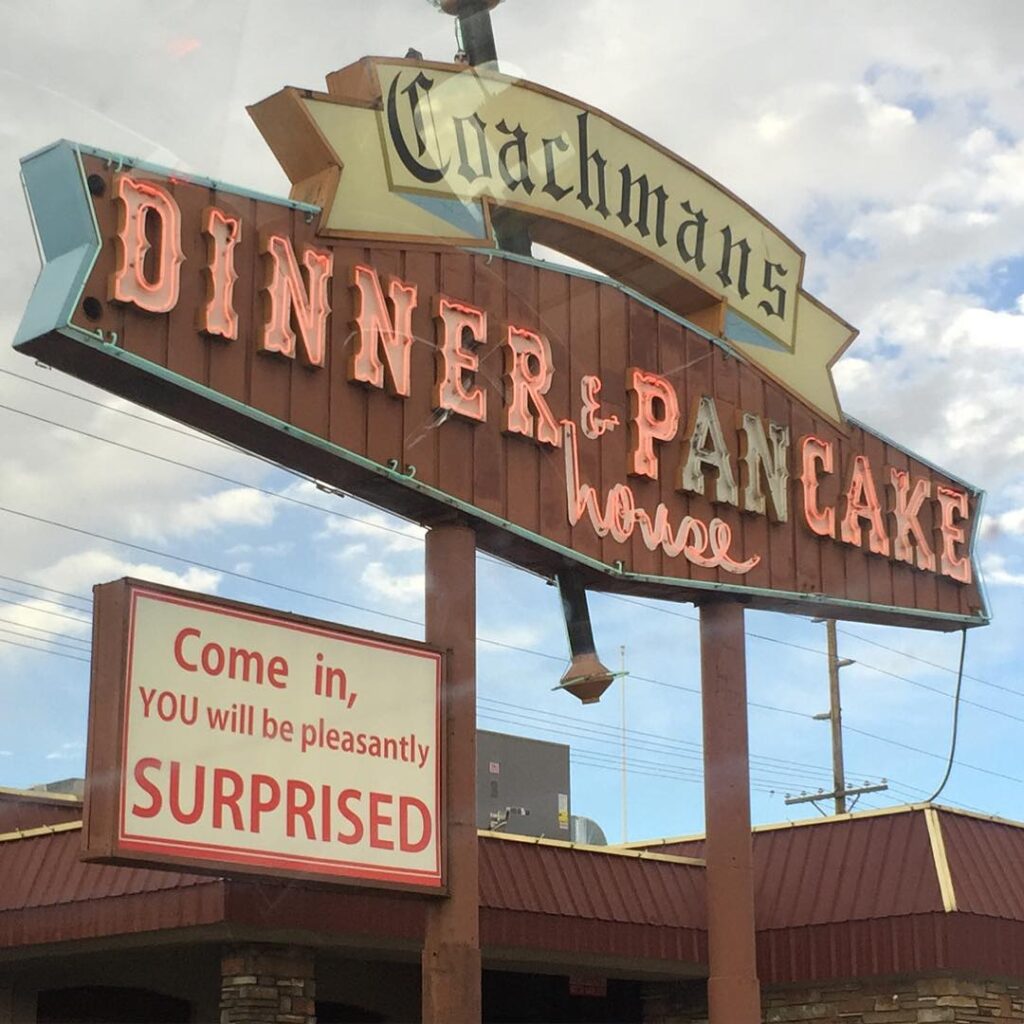 Closures
Coachman's Dinner & Pancake House – Previewed by the excellent Building Salt Lake back in February, the infamous State Street diner has now shuttered for good. The iconic sign and interior are now a thing of the past. Fox 13 writes about the closure of this nearly six decade old State Street landmark.
Carl's Cafe – Also soon to be gone, this Cottonwood Heights diner. The business wrote on Facebook last year about the upcoming loss of the plaza that they call home. The original exit date was first mooted as August 2021, but I believe that may have been brought forward. I've heard the closure date is now May 28th so get there stat if you want to enjoy one last meal with the crew.
Aroy-D Thai Cuisine – Not a closure per se, but still an indication that times are tough. Writing on FB, the ogden eatery announced the change of business operations due to staffing issues. As I wrote about recently, this is a trending problem from the whole industry right now.

Beginning Tuesday April 20, 2021 we will be closing our Dine in service and offering only Take Out. We hope this is only temporary. We have made this hard decision due to younger staff leaving to raise families and older staff simply getting older and slower (mostly the Owners)."
In other news
Keep the conversation going
Want to stay on top of the SLC food scene, minute by minute, dish by dish? Here are a few other places you should follow along:
Hi, I'm Stuart, nice to meet you!  I'm the founder, writer and wrangler at Gastronomic SLC.  I'm a multiple-award winning journalist and have written in myopic detail about the Salt Lake City  dining scene for the better part of seventeen years.
I've worked extensively with multiple local publications from Visit Salt Lake to Salt Lake Magazine, not least helped to consult on national TV.   Pause those credits, yep, that's me! I'm also a former restaurant critic of more than five years, working for the Salt Lake Tribune.    I'm largely fueled by a critical obsession with rice, alliteration and the use of big words I don't understand.   What they're saying about me: "Not inaccurate", "I thought he was older", "I don't share his feelings".
Want to know more? This is why I am the way I am.
This article may contain content provided by one of our paid partners. These are some of the best businesses in Utah. For a list of all our current and past relationships see our
partnership history page
.