Beltex Meats
Think it's too early to get ready for Easter? It's not. At least it's not if you want to snag something extra special from Beltex – same for this upcoming St Pat's too. Pictured above, one of the very best sandwiches I've ever eaten; hint it used the leftovers from my Beltex turkey last year. You'll want to do the same with all that ham this Easter, trust me.
Right now Beltex have cider glazed Utah apple wood smoked Hams for $12/lb boneless seasoned leg of lamb roasts for $15/lb and I'm told the corned beef is almost all gone for the 17th. Give them a call, or get on their site stat to get your reservation in. I guarantee it will be one of the best decisions of your life.
Hearth And Hill
Another smart decision to make would be to head to Park City this Thursday (March 4th, 1-4 p.m.) and check out H&H's Apres Pig Roast event – a grab and go BBQ feast available as single portions or family four packs.
Individual 6 ounce plates are priced $25 and family packs $90. Condiments include KC style BBQ sauce, Carolina Gold sauce, dill pickles, onion marmalade and sauerkraut; sides include slaw, baked beans, cornbread and potato salad.
Nacho Daddy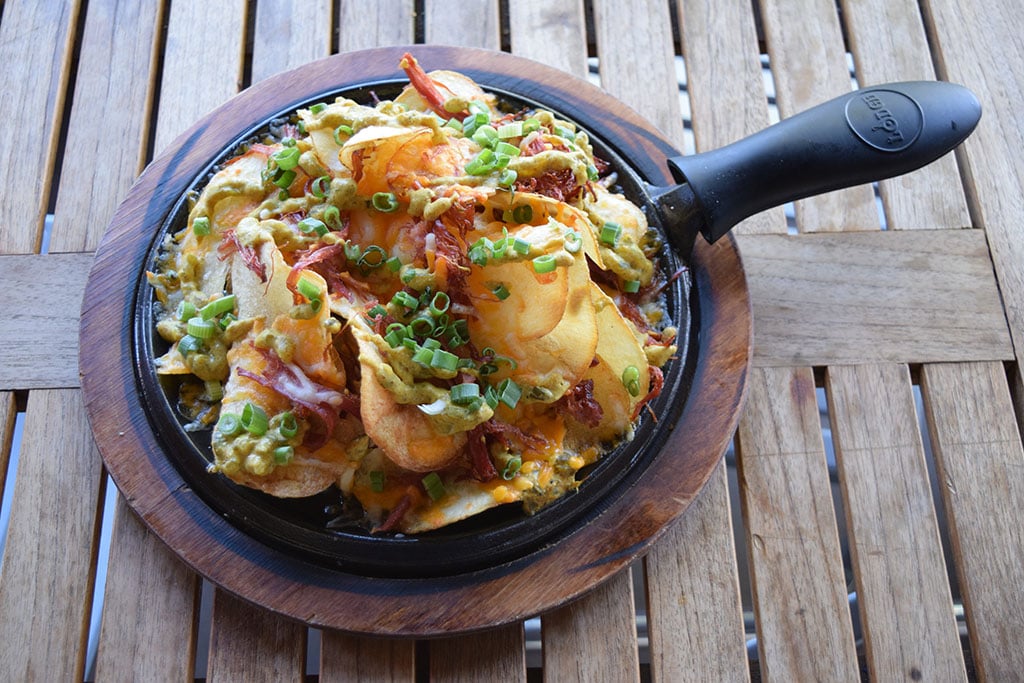 Celebrate St. Patrick's Day now through March 17th with the following seasonal special at the downtown SLC nacho'sperts out of Vegas:
Irish Nacho – Kennebec potato chips smothered in melted cheddar & jack cheese, queso, house-made shredded corned beef, brown mustard relish and scallions
Also available through the whole of March this limited time nacho special:
Shrimp Curry Nacho – Tender marinated shrimp sautéed in a spicy coconut curry sauce on top of spinach corn tortilla chips and white queso topped with a refreshing mango pico de gallo, queso fresco and chopped green onions.
Tsunami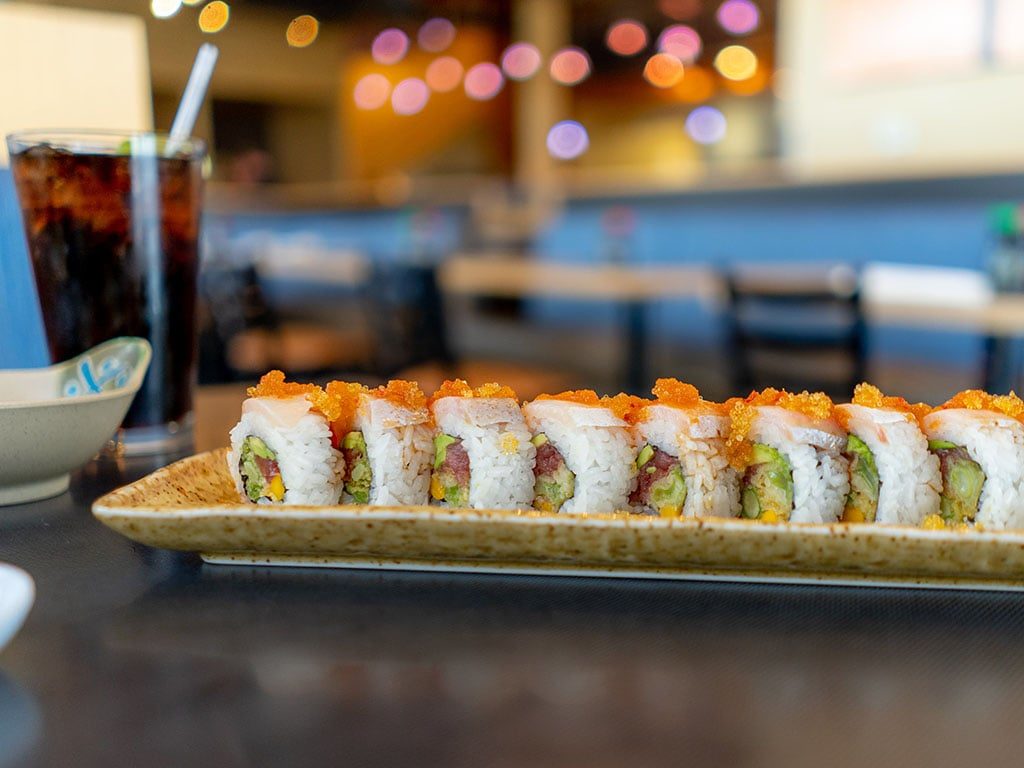 The menus at one of SLC'ers favorite sushi spots changed in February and there's a lot to see, taste and most importantly drink. Teaming up with fellow locals Holystone Distilling there are four new cocktails on the menu:
Tsunami chu-hi – Holystone Tsunami Shochu, stirred with yuzu juice, sweet orange juice, finished with soda water and a twist of orange
Green dragon – martini made with Holystone Tsunami Shochu, cucumber, shiso, fresh lime juice and simple syrup.
Tokyo mule – Tsunami's take on a Moscow Mule with locally distilled Holystone vodka
Yuzu collins – A Japanese twist on a classic Collins with yuzu juice, sweet orange juice, and a splash of white peach puree compliment Holystone Bosun's Navy Strength Gin, topped with soda and an orange twist.
Also of note, for the month of March the group are supporting the Leukemia and Lymphoma Society (LLS). A portion of the proceeds of all UniTy Rolls sold through the entire month of March will be donated to the LLS.
If you want to check that out and support a great cause note that the Sugar House location is temporarily closed, all locations are closed on Mondays too.
Curry Up Now
Speaking of giving back. Tuesdays are now for Teachers at Curry Up Now. On "Teacher Tuesdays" – taking place every Tuesday from March 2 through May 25 – teachers and school staff can pick up a free bowl or burrito at a participating location (school ID required).
As part of the brand's bigger anniversary celebrations, foodies across Salt Lake City can also redeem special deals via the Curry Up Now app with any purchase as follows:
Monday, March 1: $1 Mango Lassi or Chai Tea [use code 'annivdrink']
Tuesday, March 2: $2 Vada Pav [use code 'annivvadapav']
Wednesday, March 3: $3 Burritos [use code 'annivburrito']
Mr Shabu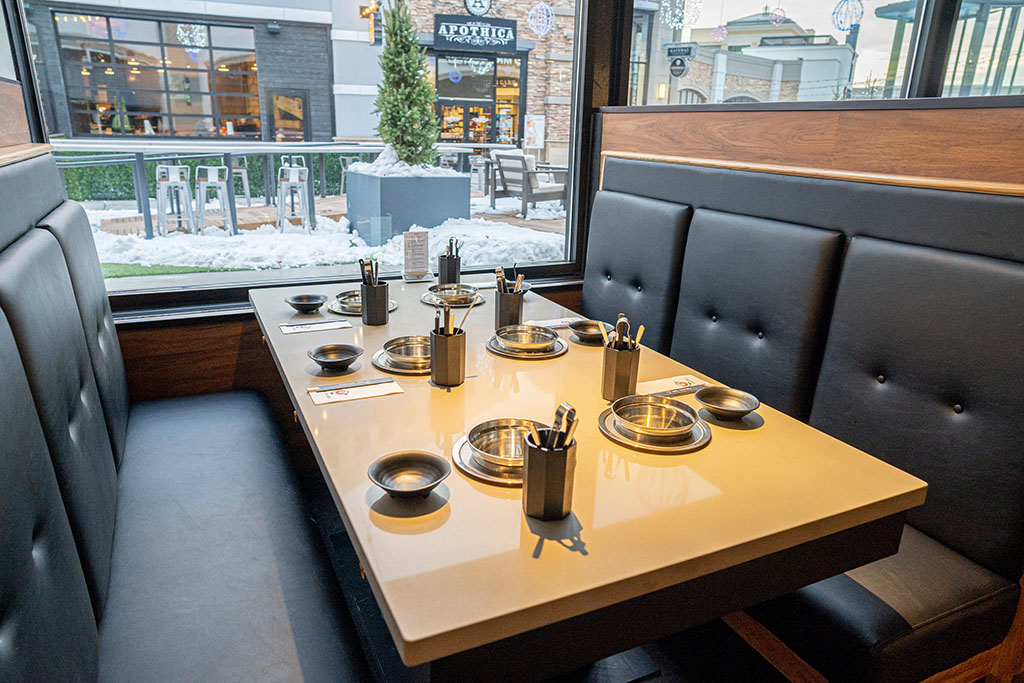 Here's one more for you in the good vibes category. Hands down the best spot for hot pot in town and currently offering healthcare workers and first responders 50% off every Thursday (with valid ID).
Another great deal not to miss – make a reservation for four or more in advance and get 20% off your final bill. Read more here.
The Store
Keep your eyes peeled on the website for The Store, one of the best locally-grown grocery stores. The brand are set to relaunch their website and write:
This website will create a new shopping experience that you can enjoy from anywhere!
You will soon be able to shop for some of our most popular products and have them shipped right to your door!
Also, we have started our own specialty gift box delivery service. You will have over a dozen gift boxes to choose from every month and we can send them to you, your loved on their birthday, or your favorite co-worker!
The list of of new gift boxes include:
Taste of Utah Box (March 2021 edition)
Chocolate Box (Local chocolates, sweets)
Sweet & Salty Box (Nuts, candy, etc.)
Chips & Salsa Box (Local salsa, chips and queso)
Sunshine Box (Bright, tasty and sweet treats, candles, etc.)
Celebration (Birthday, Anniversary, etc.)
Hot Stuff Box (Hot, local spices and sauces)
Coffee Bean (Local coffee)
Honey Bee (Honey & accessories)
Date Night In (Treats, snacks and more)
Cheers Box (Bartenders favorite)
Grill-Meister (BBQ sauces, seasonings)
Salt Shrine (Local & high quality salts)
Vessel Kitchen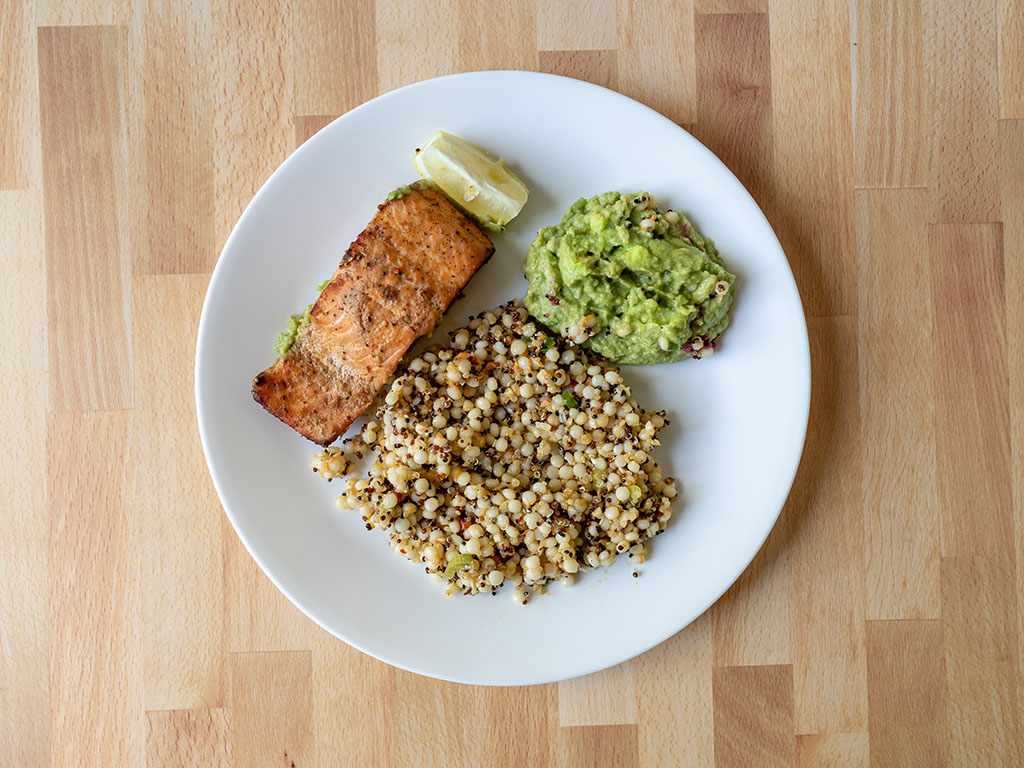 Writing on their website, the DIY-menu based Vessel Kitchen have some big updates to share as well – both aimed at delivering a better experience during C19-woes. The two updates concern curbside and delivery as follows – notes direct from VK:
Curbside – we've been working for months with our point of sale provider to develop a solution for curbside pickup that integrates with our in-house system to ensure we could offer a more seamless and reliable solution to every guest ordering curbside pickup. Needless to say, when this software update went live last week, we were beyond thrilled and we're confident that you'll see the difference.
So now, when you place an order online at all four of our restaurants and select curbside pickup, you'll receive a text with a link that allows you to notify us when you've arrived at the restaurant. We get a notification that informs us you're outside and our team will work to get your order delivered straight to your car as soon as it's ready. No more calling or texting outside hardware – just one seamless and unified system that will streamline all things curbside.
Delivery – another big focus has been improving our delivery front. And we're pleased to announce that at all of our Salt Lake City stores, you no longer have to use the Doordash app to get Vessel delivered. At 9th + 9th, Midvale, and Sandy…you can now place an order for takeout, curbside pickup, and delivery through the same page on our website. Here are some additional benefits to placing a delivery order through our website instead of your Doordash app:
Vessel guests can now accrue rewards for all delivery orders
Live order tracking and text updates
Identical menu pricing as our dine-in menu
No elevated third-party pricing or fees
Rib & Chop House
Also delivering a new cocktail menu, this downtown steak spot. Now available the following all new drinks
Salted melon – Ros'e wine apertif, watermelon, fresh lime, vodka, served with a salted rim, $10
Spa day – gin, elderflower liqueur, lime, mint and cucumber, $10
Steakhouse sour – Four Roses Bourbon, orange curacao, lime juice, egg white, and red wine syrup, $13
Lemon meringue – vanilla vodka, limoncello, lemon juice, and coconut meringue, $12
Forbidden fruit, Four Roses Bourbon, apricot liqueur, lemon juice, $11
The Perch – spiced rum, coconut syrup, lime Juice, pineapple Juice, $11
Red eye – white rum, espresso liqueur, maple syrup, and root beer bitters, $12
Talavera, blanco tequila, prickly pear, pear liqueur , club soda, and mint, $12
Snowbasin
Finally, if you're headed up to Snowbasin anytime soon, there's a lot of updates to check out before and after . Here's the full update via way of press release:
Snowbasin Executive Chef, Nick Davies shares, "New for this season, Snowbasin has added three new outdoor, slopeside dining options, a new full-service bar, along with completing renovations within the Needles Lodge restaurant. With eight different eateries around the mountain, guests can enjoy everything from grab-and-go items, to a full service lunch and après."
Full-Service Dining – For a more leisurely dining experience, head to the Cinnabar for gastro-pub style cuisine with an array of specialty cocktails, wines and local craft beers. Located at the base area in Earl's Lodge, the Cinnabar offers up lunch daily along with great après ski fare with its famous Cinnabar Nachos and a plated brunch on the weekend including its famous eggs benedict. If you're looking to dine with a view, you can also check out Snowbasin's newest restaurant at the resort, The Overlook Bar, located within Needles Lodge. The Overlook features a full-service bar with panoramic views from 8,700 feet offering small plates, lunch fare, craft cocktails, wine and beer. Reservations recommended at both locations.
Quick Bites and Grab & Go Options – New for this season, Snowbasin has added 3 new slopeside dining options. Guests can fuel up for the day with grab and go breakfast options or make a quick pit stop for some of Snowbasin's famous loaded fries for lunch at Earl's Slopeside, located in the base area next to the bottom Littlecat Express. Guests can also head to the base of Strawberry Express to enjoy our fresh baked pizza, salads and cold beers. Also new for this season, Snowbasin has reopened its historic Old Day Lodge. Guests can step back in time in this preserved lodge from 1986 while enjoying hot, fresh grill items and soaking in the vitamin D from the Adirondack chairs outside.
Casual Convenience and Variety – Head to Basin, Bakery and Barista to start your day off with a baked pastry or specialty coffee, or for lunch, enjoy some of Utah's best burgers, homemade pizza or the legendary home-style turkey pot pies. Skiers can also head to the newly renovated Needles Lodge servery where diners can choose from an assortment of stations and menu options including burgers, pizza, fresh salads and hearty soups. Another casual dining option is the John Paul Lodge restaurant is located at the top of John Paul Express. Here guests can enjoy the best views of the resort while dining on gourmet sandwiches, filling soups and fresh salads.
Keep the conversation going
Want to stay on top of the SLC food scene, minute by minute, dish by dish? Here are a few other places you should follow along:
Hi, I'm Stuart, nice to meet you!  I'm the founder, writer and wrangler at Gastronomic SLC.  I'm a multiple-award winning journalist and have written in myopic detail about the Salt Lake City  dining scene for the better part of seventeen years.
I've worked extensively with multiple local publications from Visit Salt Lake to Salt Lake Magazine, not least helped to consult on national TV.   Pause those credits, yep, that's me! I'm also a former restaurant critic of more than five years, working for the Salt Lake Tribune.    I'm largely fueled by a critical obsession with rice, alliteration and the use of big words I don't understand.   What they're saying about me: "Not inaccurate", "I thought he was older", "I don't share his feelings".
Want to know more? This is why I am the way I am.
This article may contain content provided by one of our paid partners. These are some of the best businesses in Utah. For a list of all our current and past relationships see our
partnership history page
.