SLC Eatery celebrates Fresco
For those long enough in the tooth, you might recall one of SLC's finest dining gems – Fresco. Fresco ultimately became the home for Trestle Tavern, and most recently the third iteration of Finca
Fresco was where the plotting and planning for SLC Eatery all began. Owner and chef Paul Chamberlain recently spoke to me about those early memories:
"For those of you who truly know us, you know the history of our humble, but oh so treasured beginnings. All of us, owner, chef, and GM, met and worked together years ago at the SLC gem called Fresco Italian Cafe.  Restaurants are notoriously a difficult industry and we often refer to them as a 'pirate ship'. Mutiny is always afoot, someone is always going overboard, and someone is definitely going to walk the plank. But not at Fresco, and because of our time there, we took the lessons learned and experiences created and went on to open SLC Eatery. "
With that in mind, this Wednesday (October 7th) the SLC Eatery team are planning a return to their roots, with an extra special wine dinner serving up some of Fresco fan's favorite dishes. The celebratory one off meal will be held on the SLC Eatery patio, most likely the last wine dinner to be served al fresco this year. The menu itself is super secret until the night itself, but I can tell you, it will be paired with Vietti Wines in partnership with Libation.
Cost for the five course dinner is $95 per person. Dinner starts at 6 p.m. Call the restaurant on (801) 355-7952 for tickets. One not to miss.
Alamexo closes
As I wrote about last month, the hospitality industry is currently seeing seismic changes; a the temblor that is C19 is leaving a wake of destruction. The latest victim of which – Alamexo – one of the very best eateries in the city full stop. In an interview with the Tribune owner and chef Matt Lake wrote about the current state of affair's for the restaurant, "to-go orders represented only around 2% of revenue."
This also follows Lake's closure of Alamexo Cantina in early 2019. I'm surely not the only one who will lament the loss of the kitchen's talent and execution; make no mistake, this was one of Salt Lake's finest restaurants. Side rambling note: just a couple of years back I found myself in San Diego, eating at a James Beard something or other, very much in the mould of Alamexo – it didn't hold a candle. I found myself craving Lake's cocinitas pibil throughout the whole meal. Sometimes SLC, sigh, you really don't know what you've got till it's gone.
In memoriam then, a look back in pictures at the restaurant's and cooking. This one hurts.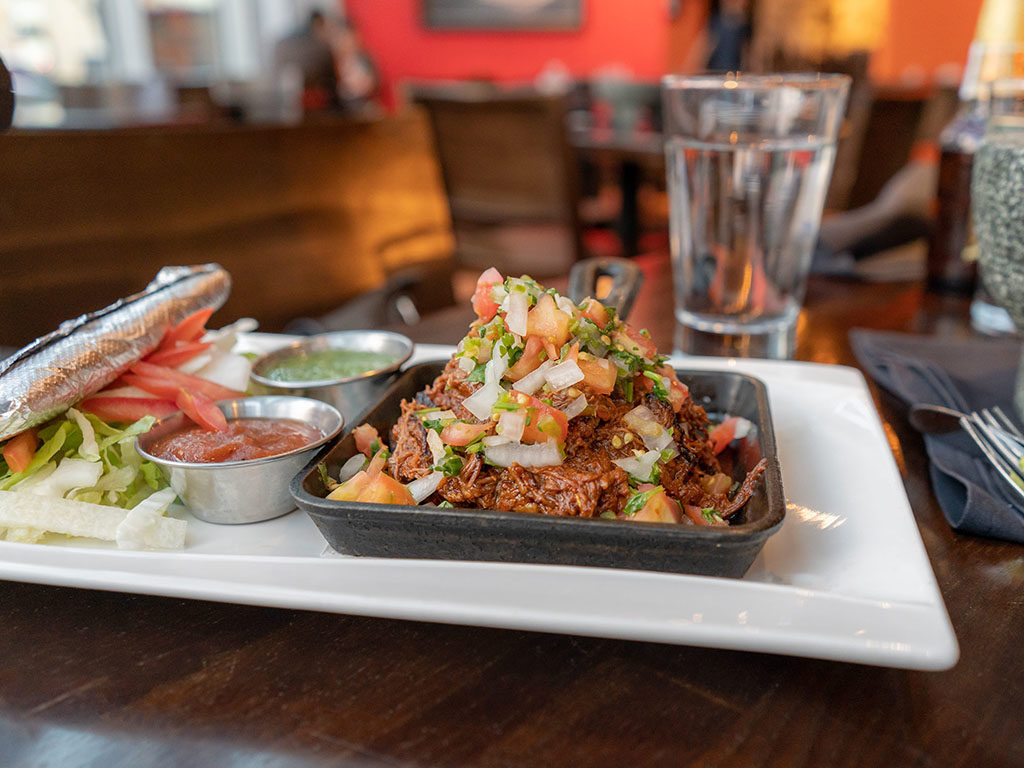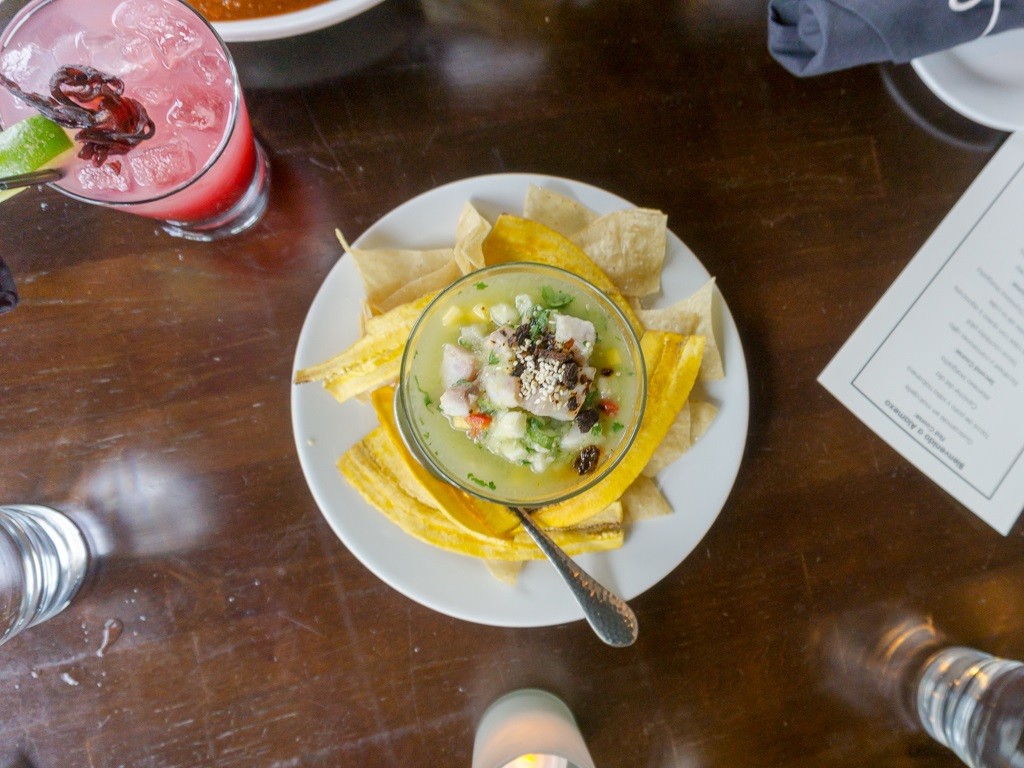 HallPass mixes things up
In more upbeat news, the first major change up at the HallPass setup over in The Gateway is now underway. When the restaurant opened up at the start of the year all of the kitchen concepts in the space where essentially operated by SkinnyFats.
Joining the food hall concept shortly as chef-partner, Las Vegas chef Marc Marrone. Marrone brings with him a brand new concept for the space – Graffiti Bao. The Chinese fast casual concept has been operating over in Vegas for the past year,  with a successful stint at T-Mobile Arena (and the new Raiders' stadium). The presser for the new kitchen writes:
Graffiti Bao is a fast-casual Chinese restaurant featuring bold, Asian-inspired recipes. Signature items will include chili garlic noodles with hand-pulled spinach noodles, crispy chili garlic sauce, Chinese broccoli and choy sum; an assortment of bao buns, including the Royale—Marc's twist on a classic cheeseburger featuring angus beef, cheese, pickles, onions and special sauce; appetizers such as hand-folded dumplings and spring rolls; soups including pho and ramen; and much more. 
Marrone will also head up the Hibachican space at HallPass – with a dual hibachi concept featuring a mix of Japanese teppanyaki, tartare and small plates alongside Mexican tacos, aguachiles and house-made chips, guacamole and assorted salsas.
Menu news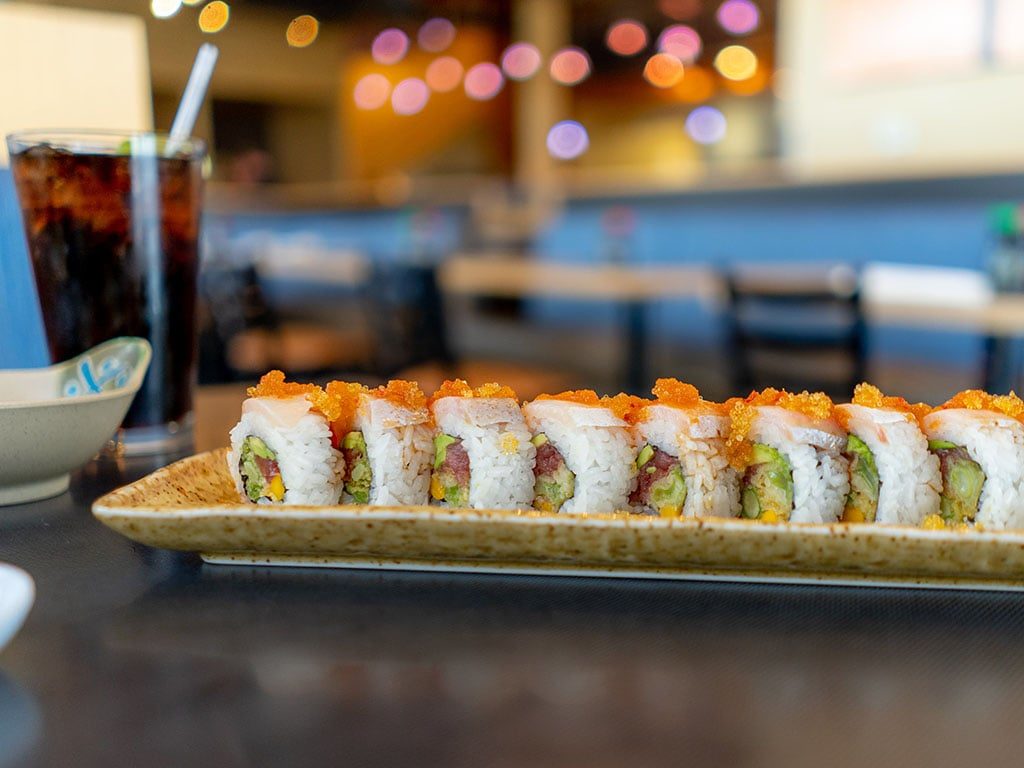 Tsunami – Beginning this week, guests of any Tsunami location (dine in or curbside pickup) will receive 10% off their entire order (excluding alcohol). The limited time offer is made possible by the Shop In Utah grant. E.g. when it runs out, the offer stops.
Beltex Meats – If you want to do Thanksgiving right (and you do) now is the time to start thinking about your menu. It might seem kinda crazy and early, but the very best turkeys need to be pre-booked now. And the best turkey is a Beltex turkey. These just went on sale and will all go soon – order now. Trust me, you'll thank me on November 26th.
Nomad East – Brunch is now on the menu at the new opening on SLC's East side.
In other news
Dine About Park City
Via press release
From Thursday, October 1 – Sunday, October 18, the Park City Area Restaurant Association (PCARA) hosts the 8th Annual Dine About Park City, inviting locals and visitors to enjoy world-class cuisine at an incredible value. For only $10-$15 per person for 2-course lunches and $20-$40 per person for 3-course dinners, Dine About Park City offers an approachable way to enjoy the best of the community's renowned dining scene.
"Dine About is always a great opportunity for our restaurants to thank our community members for their year-round patronage," PCARA executive director Ginger Wicks said. "Guests can relish in seasonal menus featuring ingredients from the freshest fall harvest at a number of Park City's finest dining establishments."
Twenty-four distinguished restaurants are participating in Dine About Park City including: Billy Blanco's, Baja Cantina, Bangkok Thai on Main, Blind Dog, Café Terigo, Chimayo, Deer Valley Grocery Café, Estes Pizza, Flanagan's on Main, Ghidotti's, Goldener Hirsch Inn, Grappa, Handle, Park City Provisions by Riverhorse, Purple Sage, Riverhorse on Main, Shabu, Squatters, Sushi Blue, Twisted Fern, Versante, Wahso, Wasatch Brew Pub and Windy Ridge Café.
Stay Park City, the official lodging partner of PCARA, will be offering exclusive lodging packages for Dine About guests. From picturesque alpine resorts, hotels in the heart of bustling downtown, to cozy neighborhood stays, these well-curated accommodations have something for everyone in search of a unique overnight experience at the guaranteed lowest rates. Visit here to book your special Dine About stay.
High West releases A Midwinter Night's Dram Act VIII
Via press release
High West Distillery reveals the eighth rendition of A Midwinter Night's Dram, a limited release of High West Rendezvous Rye® finished in French oak port barrels. Whiskey lovers can properly toast the spirit and fall season with access to purchase this year's Dram as it hits High West's General Stores on Oct. 1.
"We know autumn is upon us when it's time to sip the latest pour of A Midwinter Night's Dram®," High West Brand Manager Mark Erickson said. "Stoke the fire and pull a batch of sweet fig cookies from the oven to properly complement the complex layers of this robust spirit."
This limited-edition whiskey begins with scents of brandied cherries, fig jam, sun-dried raisins, dried orange peel, baking spice and French oak toast. Pronounced flavors including quince paste, strawberry rhubarb crumble, vanilla caramel, molasses, toffee and leather, lead to a lingering finish of mulling spices, candied dates, black pepper and a hint of spearmint.
"This blend of straight rye whiskeys aged in French oak port barrels is perfect for a cozy night in," Master Distiller Brendan Coyle said. "We suggest sipping it neat to enjoy each and every sweet, rich, spicy note from nose to finish."
A Midwinter Night's Dram® Act VIII will be available nationally beginning Oct. 1. The spirit can be purchased at High West General Store in Old Town Park City and at High West Distillery on Blue Sky Ranch in Wanship, Utah, for $99.99 per bottle.
Hi, I'm Stuart, nice to meet you!  I'm the founder, writer and wrangler at Gastronomic SLC.  I'm a multiple-award winning journalist and have written in myopic detail about the Salt Lake City  dining scene for the better part of seventeen years.
I've worked extensively with multiple local publications from Visit Salt Lake to Salt Lake Magazine, not least helped to consult on national TV.   Pause those credits, yep, that's me! I'm also a former restaurant critic of more than five years, working for the Salt Lake Tribune.    I'm largely fueled by a critical obsession with rice, alliteration and the use of big words I don't understand.   What they're saying about me: "Not inaccurate", "I thought he was older", "I don't share his feelings".
Want to know more? This is why I am the way I am.
This article may contain content provided by one of our paid partners. These are some of the best businesses in Utah. For a list of all our current and past relationships see our
partnership history page
.