Kafe Mamai Fundraiser
Want to stretch your lockdown legs this Friday, get out and about the fresh air with some food? I've got the perfect event for you. This Friday (August 21st) at the Sugarmont Plaza (2234 Highland Drive) in Sugar House, chef Abudu of Kafe Mamai will be hosting a fundraiser for the children of Yemen.
Joining Abudu from at the event from 4 p.m. – 8 p.m. will be
Local food delivery company Chefpanzee are also teaming up to provide free delivery to your home (of any of those listed businesses that evening) as well as donating their commission to the fundraiser.
Proceeds from sales from the Friday event will go to the International Rescue Committee's efforts in Yemen, where every 10 minutes a child dies due to lack of food.
Bite sized news
BGR – Another not to miss item for your weekend plans – this buy one get one free offer also in Sugar House. Seriously I can't stress enough what a great offer this is. Buy any burger, get another free. Use the code BOGO on the online order, or mention it to our cashier when you place order over the phone or in person. The offer expires on the 24th guys. Check out their trio of new burgers too.
Copper Onion – I know people have been champing at the bit to get back to this downtown dining destination, well, the wait is over. This week the CO team announced on Facebook that they're back at it. For the time being it's the patio or take out only.
Feldman's Deli – Also tentatively dipping their toes in the re-opening waters is this East side spot. Feldman's have been offering to go orders only for some time – but you'll find their patio now open too.
Fratelli – Have you visited the new Sandy location of this Italian restaurant yet? If not, you might not know (I didn't!) that the new location has it's very own deli counter for to go items – who knew? The counter area offers weekly specials which this week sees their house made spicy Italian sausage at half price ($3/lb) and Parmigiano Reggiano for $12.50/lb
Pago/Finca – Keep your eyes peeled to these two as well. Announced via their email newsletter this week the twinned restaurants are offering BOGO deals in a limited partnership with the "Shop in Utah" grant program through Governor's Office of Economic Development (GOED). The restaurants will be offering a lunch, dinner and brunch "Buy One Entree, Get One Free" (BOGO) 7 days per week until the grant runs out. Right now the offer is extended only to newsletter subscribes, but it should go public soon.
Other noteworthy offers and deals supported by GOED can be found at https://business.utah.gov/shop-in-utah-offers/
Eat this now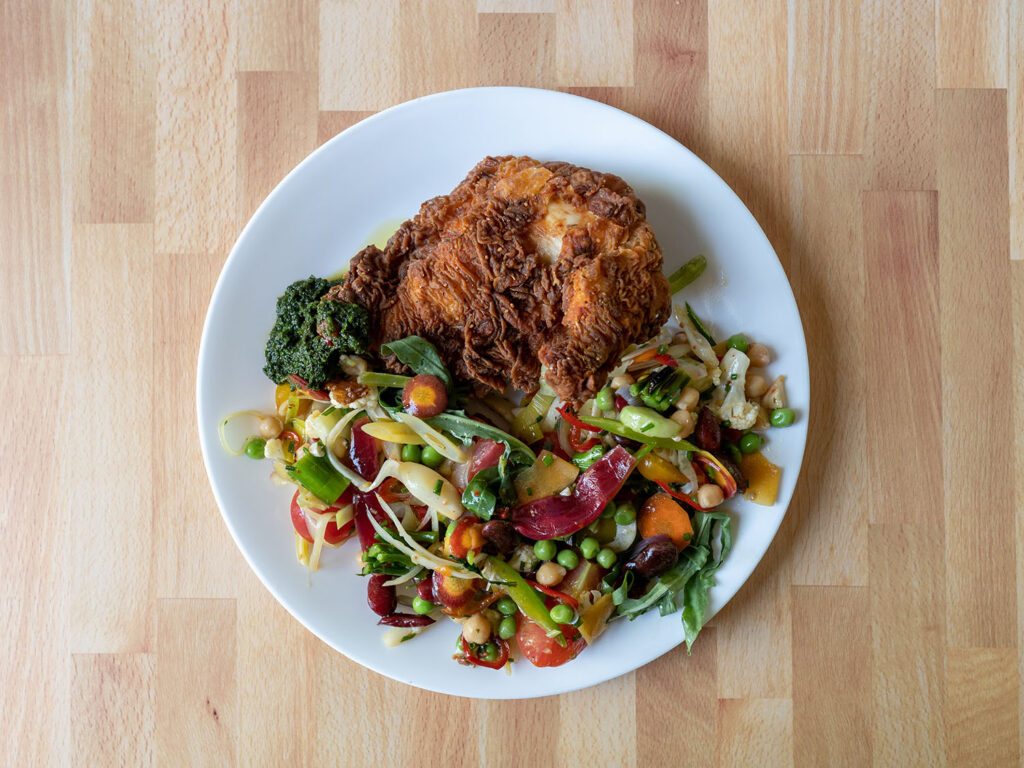 This was just one plate of many Summery dishes that made it's way home safely with me on a recent curbside pickup order from HSL. Like many others the restaurant has started to get back into the swing of things gradually. The restaurant is still offering curbside pickup, as well as take out, dine in and patio dining also.
As for what you should order, might I suggest your consideration starts and ends at this epic chicken. A word I don't use lightly. It's practically a half bird or perfectly fried chicken aside a salad that's a who's who of seasonal farmer's market splendor.
Farmer's market 2.0
Speaking of farmer's markets and seasonal produce – how are you grappling with the conundrum of wanting to secure as many seasonal goodies as possible, whilst still wanting to avoid the baying (breathing!) crowds. Well, here's a list of business/farmers/butchers/makers that are switching things up right now. Online order, pickup, delivery, you name it – crucially – zero crowds.
Hand Sown Home Grown – Every Tuesday/Wednesday a weekly haul goes up online at this local farm's website. You place your order, then pick it up via drive thru nonetheless on Sunday morning. The whole process is contactless and calm. As well as fresh farm produce from Hand Sown, there's everything from artisan bread through to products from the likes of Cache Canning and Clifford Farms.
Top Crops Farm – Fennel, radish, tomatoes, kohlrabi – heck even home made peach pies. Just some of the items you can order online from this local SLC farm (Monday through Wednesday). Pickup in person is offered Thursday's 4 p.m -7.30 p.m. or Saturdays 9-12 in the morning.
Henson Heritage Farm – This Logan based farm offers online ordering and delivers every Thursday, "all along the I 15 from Brigham City to Spanish Fork as well as in Cache Valley". As well as offering their own grass fed Angus beed and pasture raised pork, they supply a few other local items too such as Stong's Bread and Rockhill Creamery.
Kristin's Farm Stand – Billed as the anti-CSA, this farm near the Utah/Idaho border allows shoppers to cherry pick, cmon, farm fresh items ala carte. Delivery is $6 or free over $75.
Bewilder brewing – As I wrote about at the start of the year, some of the very best sausages in Utah, hands down, come from this local brewery. Bewilder have now started to offer the sausage to go and the pricing is ludicrously good. Priced essentially at a dollar a brat, the selection changes weekly. Right now theres everything from their decidedly solid English Suffolk style through to a South African link with cider, pepper, coriander, nutmeg, cloves, allspice.
Seabird Bar / The Store – Available via The Store downtown at The Gateway (or delivery on Fridays) check out Seabird Bar's range of bottled craft mixers. These premade items are ideal for home mixology or a weekend camping trip. Prices for the bottled mixers run $12-$18 and serve 8-24. You'll need to supply your own liquor of course.
Majestic Meats – This high end meat supplier has been making home deliveries ever since the pandemic crisis hit. Previously they supplied only to Utah's high end restaurants (think Valter's, Log Haven, River Horse) – now – you can get their premium product landed directly on your doorstep.
Beltex Meats – I've written about Beltex over and over and over this past few months. With good reason. Their butcher's box service (select cuts delivered to your door each week) is exemplary. It's also been a smashing success with the business confirming it's set to continue way into the future. Order online for their weekly delivery.
Salsa Queen – Offering home delivery of their line of fresh made salsa – this farmer's market stalwart recently launched a new cilantro chimichurri product too; you'll find that added to any online order right now for free. Check out their site for more info.
Bill White Farms – French onion soup, beef bone broth, breakfast packs of eggs/pork sausage and Windy Ridge biscuits – there's a ton on offer from this Park City based extension of the Bill White Restaurant group. Online order and curbside pickup for maximum safety.
Copper Moose Farms – Another Summit County option. Order online for ease and C19 safety then simply swing buy to pickup from the farmstead. The farm also partners with companies like Mamachari Kombucha and Red Bicycle Breadworks to offer items additional their produce.
Utah tip challenge
Via press release
A new grassroots effort, Utah Tip Challenge, has formed to collect funds through Venmo to donate to service staff at a different restaurant each week. In its inaugural week, $1000 was raised by mostly modest contributions to a dedicated Venmo account. As an unexpected surprise for staff, organizers donated funds at Boneyard Saloon & Wine Dive in Park City upon finishing their lunch on August 15th. UTC's mission is to help hospitality workers through financial challenges that have resulted from the pandemic.
Local transportation company owner Sam Rubin was inspired by a similar initiative in Nashville started in May by Lexy Kadey. In a recent week, she raised in excess of $45,000 and donated to nearly 40 individuals. She now has 860,000 followers on TikTok where she posts emotional videos of donations being given.
"Knowing that the hospitality industry is a disproportionately impacted one, I wanted to launch a fundraising effort for this community," says Rubin. "Instead of giving to a single individual; however, the management of each establishment we visit can use their discretion on how to disperse the funds to their staff. Small donations are welcome, and I'd love to see the contributions grow each week. It's a feel good effort that makes a difference, and it's truly rewarding to see the emotional reaction from staff."
Boneyard Saloon & Wine Dive was chosen for the first week's donation because owner Jesse Shetler has long been known for giving back to the Park City community with free Thanksgiving dinners and season-ending parties for locals. He also has been donating proceeds of DBR Restaurants (No Name Saloon, Butcher's Chop House & BR, and Boneyard Saloon & Wine Dive) gift card sales to his staff during the pandemic.
Shetler gratefully says, "I am very excited for the Boneyard staff and appreciate the recognition of all the hard-working folks in this struggling environment. These are unprecedented and excessively challenging times. Along with other small business models, the hospitality industry can only survive this with the support of our community. This is exactly what it looks like when community comes together."
Anyone wishing to suggest a restaurant or bar whose staff is in need, can email utahtipchallenge@gmail.com or reach out through Facebook or Instagram. The donation period each week runs from Friday at 5 p.m. to Friday 5 p.m. Restaurants in both Salt Lake City and the Park City area will be considered by organizers, and they will not be notified in advance.
Individuals and businesses are invited to contribute any amount as often as they wish via Venmo at @utahtipchallenge.
Hearth And Hill dog dining
Via press release
Hearth and Hill, Park City's popular "gathering spot," loves dogs as much as preparing award-winning menus. The restaurant and their associates pride themselves on their compassion for canines, a near prerequisite for being a Park City resident. From mocktail namesakes to certified dog patios and special treats for furry friends, Hearth and Hill welcomes dog lovers – and their pets – to enjoy their abundant hospitality.
"Park City is certainly a 'dog city,' and we want to celebrate that," said Proprietor Brooks Kirchheimer. "Dogs are such an important part of our lives, and we know that's true for so many of our guests. We want to be sure we're celebrating the community's love for our four-legged friends and offering a safe, comfortable space for owners to bring their canines along when they enjoy snacks, drinks or a meal on the patio."
In addition to certifying the patio as an official dog-friendly patio with the Summit County Health Department, Hearth and Hill's mocktails are named after staff members' dogs, all of which were adopted from shelters. The mocktail menu includes:
Boone's Bubbles (Pomegranate, Mint, Lime, Soda, Sprite, Agave)
Inspiration: Boone, Brooks's dog, a 10-year old black lab mix from Nuzzle and Co.
Jack's Jubilee (Lemon, Cinnamon, Soda, Pineapple, Sprite)
Inspiration: Jack, beloved pet of co-wners Sherry andDavid Kirchheimer, a 7-year old Australian Shepherd mix from the Pasadena Humane Society (CA).
Layla's Lemonade (Strawberry Puree, Sprite, Lemonade, Basil Seed)
Inspiration: Layla, the dog of Executive Chef Jordan Harvey and Pastry Chef Jessie Rae, is a 4-year old Blue Heeler mix from Nuzzles and Co.
While their owners are sipping a mocktail and sampling Hearth and Hill's new summer menu on the dog-friendly patio, canine guests will be treated to a custom Hearth and Hill tennis ball and a tasty treat.
Summer hours are: Monday-Thursday: Noon-8:30 pm; Friday & Saturday: Noon-9 pm; and Sunday: 10 am-8:30 pm. Reservations for either dine-in or dine-out options including take-out, free delivery, frozen items, farmers' bags, etc. are available on-line or by calling the restaurant at 435-200-8840.
Porter's Peanut Butter Whiskey launches
Via press release
Ogden's Own, an award-winning leading distiller of craft spirits and the largest independently owned distillery in the state of Utah, is pleased to officially introduce the newest offering to its fan-favorite line of Porter's flavored whiskeys: Porter's Peanut Butter Whiskey. Serving as a prime example of Ogden's Own's willingness to take risks through experimentation with bold, unconventional flavor profiles through its beloved Porter's line, Porter's Peanut Butter is now officially available for sale at the Ogden's Own Distillery Store at 615 W. Stockman Way, and will soon become available to Ogden's Own customers nationwide via the brand's retail and online partners.
Porter's Peanut Butter captures the unmistakable, one-of-a-kind essence of peanut butter and balances it with a hint of rich chocolate flavor, delivering a familiar yet subtle peanut butter presence that avoids coming across as artificial or overpowering. Instead, the gentle nuttiness and comforting warmth of the peanut butter elevates the whiskey itself, creating a balanced 66.6-proof blend of smooth Canadian whiskey and tantalizing peanut butter flavor. Porter's Peanut Butter is an ideal candidate for any consumers looking to indulge their curiosity in the unexpected sipping experience of a peanut butter spirit, as it is completely safe to drink for those with peanut allergies and available at a cost-friendly price point of $19.99, making it hard to resist as one of the most affordably-priced peanut butter spirits on the market.
Porter's Peanut Butter will seamlessly slot into the Ogden's Own family of Porter's whiskeys, which also includes Huckleberry, Peach, Apple, and Cinnamon Fire varietals, along with the limited-edition Porter's Small Batch Rye, released in 2019. Over the years, Porter's whiskeys have garnered significant popularity and grown into a cherished choice for consumers in both Ogden's Own's home state of Utah and in several states across the country. Named after Orrin Porter Rockwell, an iconic enforcer of the Old West, the hallmark of Porter's whiskeys is their sweet-but-not-sugary flavor profiles, which make the expressions perfect for enjoying in a wide variety of forms, ranging from seasonal craft cocktails to on-the-rocks or neat sipping.
"Our top priority at Ogden's Own has always been listening and catering to the feedback of our customers, the loyal community that has embraced our distillery and grown it into what it is today," said Steve Conlin, CEO and Co-Founder of Ogden's Own. "Those who know us know that we're not afraid to take risks and think outside of the box when it comes to our products, and Porter's Peanut Butter represents our willingness and desire to provide our fans with a unique offering that not only taps into a burgeoning consumer trend, but slots in seamlessly with our existing Porter's whiskey portfolio. We couldn't be more excited to see the response. After all, who doesn't love peanut butter?"

Porter's Peanut Butter is the first expression released at the brand-new, state-of-the-art distillery facility that Ogden's Own cut the ribbon on in April 2020. The massive, 32,000 square-foot multi-purpose facility was constructed from the ground-up with the primary goal of helping Ogden's Own continue to scale the distillery's growth fueled by massive regional popularity. With a 10-fold increase in production, the new home of Ogden's Own serves as an ideal environment for expanding the distillery's product offerings and creates an incubator environment for innovative new expressions that push the envelope of traditional spirits while meeting the demands of Ogden's Own's loyal fans, much like Porter's Peanut Butter.

Porter's Peanut Butter Whiskey is now officially available for purchase at the Ogden's Own Distillery Store, 615 W. Stockman Way, Ogden, Utah 84401, for the price of $19.99 per 750ml bottle. For more information regarding Porter's Peanut Butter Whiskey, future availability of the product, and updates on all of Ogden's Own brands, please visit www.ogdensown.com.
More food and drink news
Keep the conversation going
Want to stay on top of the SLC food scene, minute by minute, dish by dish? Here are a few other places you should follow along:
Disclosure, thanks for HSL for the freebie to go order!
Hi, I'm Stuart, nice to meet you!  I'm the founder, writer and wrangler at Gastronomic SLC.  I'm a multiple-award winning journalist and have written in myopic detail about the Salt Lake City  dining scene for the better part of seventeen years.
I've worked extensively with multiple local publications from Visit Salt Lake to Salt Lake Magazine, not least helped to consult on national TV.   Pause those credits, yep, that's me! I'm also a former restaurant critic of more than five years, working for the Salt Lake Tribune.    I'm largely fueled by a critical obsession with rice, alliteration and the use of big words I don't understand.   What they're saying about me: "Not inaccurate", "I thought he was older", "I don't share his feelings".
Want to know more? This is why I am the way I am.
This article may contain content provided by one of our paid partners. These are some of the best businesses in Utah. For a list of all our current and past relationships see our
partnership history page
.