Buckle up, this one's a super sized edition of our monthly menu watch; a blow by blow breakdown of what's new and special on menus around town. First up, lets start with the seasonal specials headed your way. Here are all the Christmas Day and NYE specials we're currently aware of (notes provided by restaurants).
Be sure to check back later. We will update this post as more news comes in from restaurants.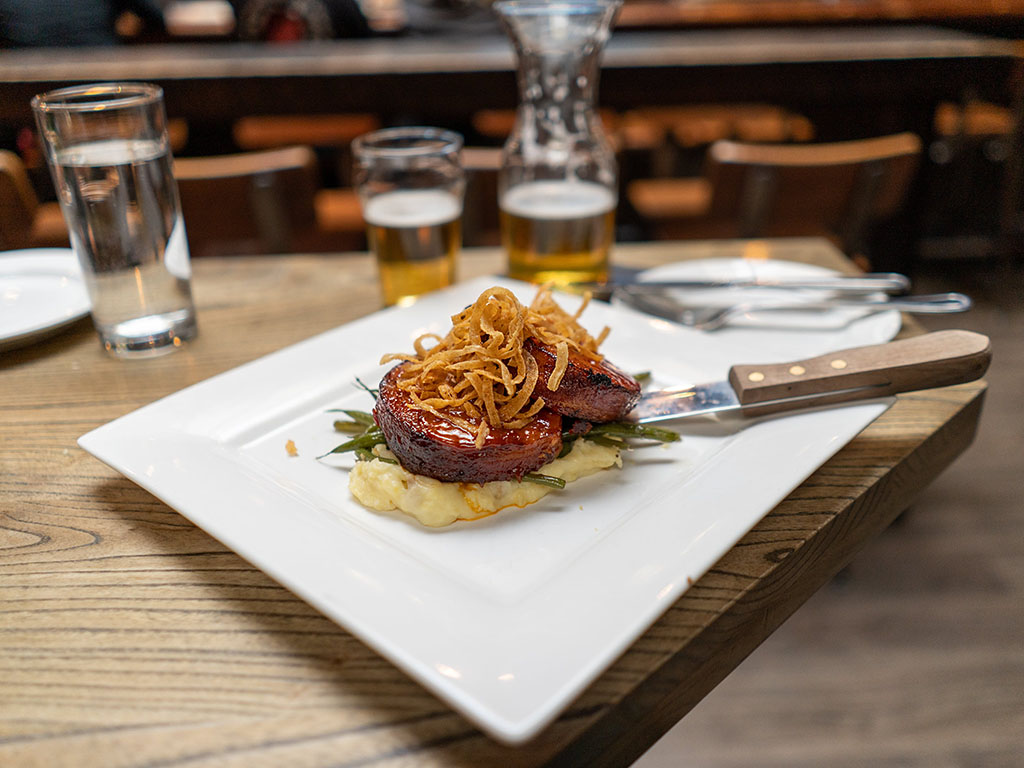 Christmas Day dining
Courchevel
Park City's newest fine dining restaurant on Main Street is serving a delicious brunch from 10 a.m. to 2 p.m., followed by dinner from 5:30-9:30 p.m.
Eating Establishment
Three-course prix fixe. $60 for adults, $35 for children. This Park City mainstay opens at 8 a.m., serving its popular daily menu until 2 p.m. Then from 2-8 p.m., join Eating Establishment for a traditional three-course turkey dinner: your choice of mixed greens or wedge salad, followed by slow-roasted turkey with all the fixings – homemade stuffing, green beans, classic cranberry sauce, savory mashed potatoes and squash with brown sugar. Save room for dessert: it features beer bar bread pudding or Patricia's famous pumpkin cheesecake. Vegetarian options will also be available.
Flanagan's on Main
$39 plus tax and gratuity. Includes appetizer choice of Arugula salad with cranberries, walnut, and citrus vinaigrette or roasted red pepper soup. Entrée includes choice of New York strip with grilled shrimp, our famous Irish mashers and sautéed asparagus or lobster pasta with herbed cream sauce, sautéed veggies and mozzarella cheese. Dessert is hot apple cobbler with French vanilla ice cream.
Grub Steak
Christmas Special for $48.75 per person. Christmas Special includes choice of Park City's best salad bar, baby romaine Caesar salad or wild rice and mushroom soup. Entrée includes choice of New Zealand Elk sirloin with grilled pears in a raspberry vinaigrette with a choice of side. Dessert is a fresh vanilla bean crème brulee with mixed berries.
Saffron Valley
All four locations of this local Indian restaurant will be open Christmas Day, as well as Christmas Eve, NYE and New Year's Day.
tupelo
This stylish, upscale restaurant and bar featuring elevated, globally inspired New American cuisine is serving a delicious five-course dinner: Start with warm local burrata and honey toast, with pickled apple, red kuri squash puree and white truffle, followed by frisee salad, roasted butternut squash, duck confit, bacon lardon, tarragon yogurt dressing and car acara orange. After a dish of coriander spiced Hawaiian tuna, enjoy a petite wagyu sirloin with brown butter and sage parsnip mash, ancho chile bordelaise, toasted benne crumb and roasted carrots. Dessert is gingerbread cake. $95.
Versante
Christmas dinner, 4-9 p.m. Options include:
Slow roasted prime rib with mashed potatoes and marsala jus, $26
Citrus and herbes de Provence's roasted turkey breast with focaccia stuffing, cranberry orange relish and gravy, $24
Crispy porchetta with salsa verde and caramelized cauliflower, $26
Sautéed Gnocchi with wild and exotic mushrooms, $22
Woodward
The restaurant at Park City's state-of-the-art action sport resort is open Christmas Day – and 365 days a year. The restaurant is celebrating its grand opening Dec. 14.
White Horse / Whiskey Street
Both of the popular restaurants from the Bourbon Group will be open Christmas Day, 5 p.m. onwards serving up their regular menu and award winning array of whiskies, ciders and more.
Wingtips Bar & Bistro
$30 per person Christmas Day dinner, menu as follows:
Silky cauliflower soup
Christmas beef Wellington, roasted herb tournee, potatoes, carrots and caramelized shallots
Strawberry bread pudding with Maker's Mark caramel sauce
New Years Eve dining specials
Blind Dog
Blind Dog will serve their full menu plus nightly seafood specials.
Cafe Niche
Café Niche on 300 south will be hosting a special four-course new year's eve dinner celebration from 5 until 10 P.M. Chef Andy Morrison's menu includes: an amuse bouche of deviled egg; first course choices of carrot bisque or roasted beets, main course selections of lobster mac 'n' cheese, green pepper crusted tenderloin, roasted game hen or eggplant stuffed artichoke; and an intermezzo of verjus sorbet. For dessert, diners can choose between cherry berry pistachio bread pudding or a chocolate mousse tart.
Cost per person is $60 and does not include beverages, tax or gratuity. Wine pairings will be offered tableside. Menu as follows:
Amuse bouche, deviled egg, Sriracha caviar, green onion, micro basil, sweet soy
Carrot bisque, orange blossom honey & black pepper, or
Roasted beets, burrata, herb salad, cinnamon-clove spiced balsamic, olive oil
Lobster mac 'n' cheese, or
Green pepper crusted tenderloin, 3 bean salad (black eye pea, marrow bean, haricots verts), watercress, red wine demi, or
Roasted game hen, pomegranate walnut sauce, bay wild rice pilaf, asparagus, or
Eggplant stuffed artichoke, spinach & ricotta, arugula salad, drawn butter & lemon
Intermezzo, verjus sorbet (champagne grapes or frozen grape garnish)
Cherry berry pistachio bread pudding, muscat sabayon, or
Chocolate mousse tart, banana fluff, chopped peanuts, cocoa syrup
Couchevel
Four course prix fixe at 6 p.m.; $85, $145 with wine pairing
Six course prix fixe at 9 p.m.; $225, $300 with wine pairing
Eating Establishment
Eating Establishment will be serving its locals' favorite daily menu from 8 a.m. to 9 p.m.
The Farm @ Canyons Village
Prix fixe. Ring in the new year at this market-driven eatery with seasonal American menus, a woodsy-chic look and an elegant bar.
Franck's
Ring in the New Year 2020 with an amazing 5 course dinner menu created just for the occasion! Menu:
Japanese amberjack tartare, toasted benne seed, kimchi aioli, aromatics, seaweed lavash, dried kimchi, tamari
55 minute slow cooked lobster claw, house cured local pork la joue, Parisian cucumber marine, lobster beignet, chartreuse & cucumber vinegar nage
Oregon truffle & white chocolate emulsion, shallot arare, Oregon huckleberry, huckleberry cream, white truffle pesto
Snake River Farms roasted wagyu N.Y. Champagne & tallow braised wagyu short rib, Robuchon Yukon gold potato, rhubarb confit, top crop ember roasted carrot, rhubarb Bordelaise
Passion fruit custard, Veuve Clicqout buttercream, sweet basil, preserved raspberry sponge, jasmine-raspberry tea, nitrogen raspberry crumbs, kinome leaf, jasmine flower
Cost is $125 per person, special wine pairingsfor each course will be available along with craft cocktails at an addition cost.
Fuego
This relaxed eatery will be serving its famed brick-oven pizzas and classic Italian entrees until 10 p.m., with daily specials.
George
New Year. It's a simple concept, really, just the passing of time from one minute/ day/ month/ year to the next. A look both backward and forward in time. Perhaps that's what makes it so personal yet so universally celebrated. Join us on this momentous occasion as we celebrate the start of something new! Seating from 5pm to 10pm. $55 adult buffet dinner, $22.5 kids 5-12 buffet dinner. Menu link.
Grub Steak
New Year's Eve Special for $85.75 per person. Christmas Special includes choice of Park City's best salad bar, baby romaine Caesar salad or wild rice and mushroom soup. Entrée includes choice of tender roasted strip loin, Dijon mushroom sauce, jumbo Maine lobster tail with a choice of side. Dessert is a housemade chocolate lava cake with vanilla ice cream and fresh berries.
Oasis Cafe
Oasis Cafe will greet revelers this New Year's Eve with a special four-course prix fixe menu from 5 p.m. Chef de Cuisine Efren Benitez's creative menu includes starter options of ahi tartare or heirloom tomato bruschetta. Second course options of arugula pecan salad with goat cheese or a silky shrimp bisque tempt diners, while entrée selections of basil pesto risotto with tiger prawns, Angus prime rib, chicken Marsala and primavera strozzapretti pomodoro round out the meal.
Diners can cap off their New Year's Eve meal with a choice of espresso chai cheesecake, fresh fruit parfait or Tres Leches cake with strawberries. Cost is $55 not including suggested wine pairings, alcoholic beverages, tax or gratuity. Menu as follows
Ahi tartare, avocado and soy ginger vinaigrette, or
Heirloom tomato bruschetta, boursin cheese, grilled ciabatta, balsamic reduction, or
Arugula Pecan Salad with Goat Cheese, Citrus Vinaigrette, or
Shrimp bisque, chives, grilled baguette
Basil pesto risotto with tiger prawns, baby bok choy, heirloom carrots, or
Angus prime rib, Yukon gold smash, caramelized carrots, au jus, or
Chicken marsala, mascarpone white polenta, broccolini and wild mushrooms, or
Primavera strozzapreti pomodoro, heirloom tomatoes, broccolini, yellow peppers, snow peas, zucchini
Espresso chai cheesecake, or
Fresh fruit parfait, or
Tres leches cake with strawberries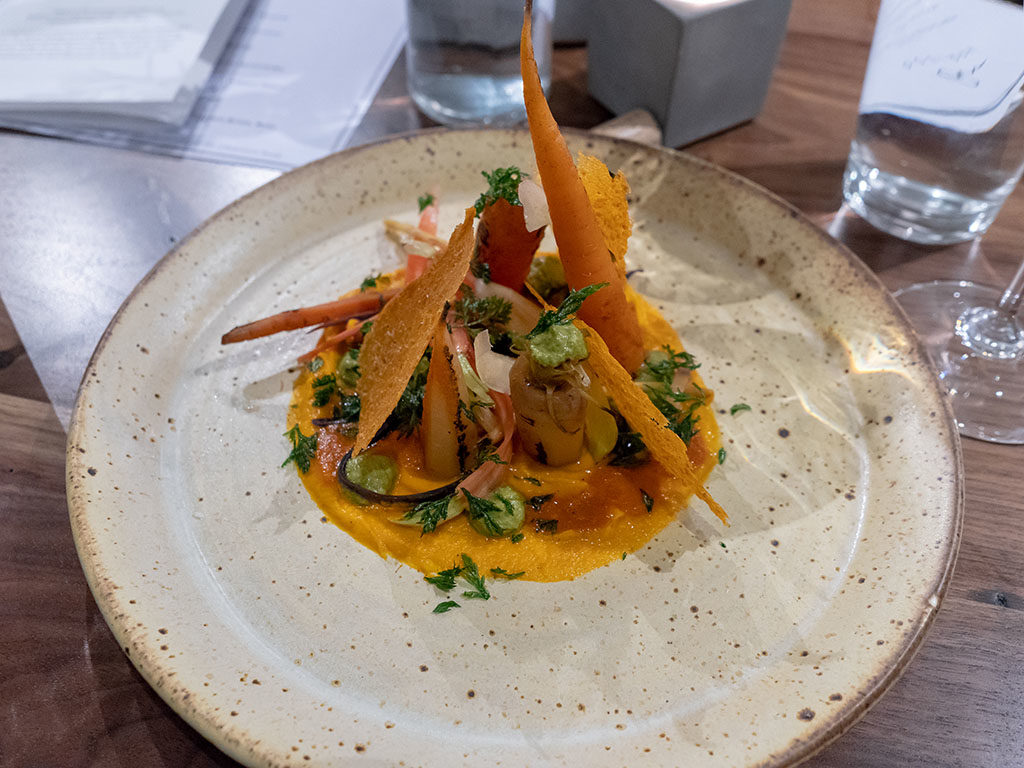 Oquirrh
5 course tasting menu $79 and wine will be $40.
Park City Resort
All-inclusive party. $129 for adults, $59 for children 12 and younger. Make this New Year's Eve one to remember at Park City Resort's 2020 party at the Grand Summit. The event kicks off at 7:30 p.m., with dinner served until 9:30 p.m., and the party going until 1 a.m.
Pago
We hope a custom tasting menu and optional wine pairing at Pago fills a gap for a New Year's experience that's right on the mark. Bring a couple of your favorite people, and join us to celebrate the end of one year and the start of another in a cozy yet festive setting, with some of our finest offerings at Pago. Chef Phelix Gardner and his team have crafted a tasting menu that's sure to delight throughout the evening. For those interested in wine pairings, we have expertly paired each dish with a wine selection to make your night effortless, including some extra special options for those that want to splurge. Join us! Four course dinner, $115 tasting menu, $55 wine pairings. 5-10 p.m. Menu link.
Powder @ Waldorf Astoria
Four-course prix fixe. $95 for adults, $155 with wine pairing; $47 for children ages 4-12. Experience an unforgettable dining experience while ringing in the New Year with friends and family. Start with your choice of thyme crusted tuna or beet and goat cheese with aged balsamic, followed by a forest wild and exotic mushroom cappuccino, then one of three delicious dishes for your entrée: herb and curry marinated lamb loin, squab breast and foie gras, or mushroom crusted Chilean seabass. Dessert is a "New Year's Surprise with Tahitian vanilla, fromage blanc and raspberries.
Stanza
Stanza Italian Bistro & Wine Bar's celebrated chef Jonathan LeBlanc is excited to welcome diners for his third holiday season. His special four-course dinner on New Year's Eve will be served from 5 until 10 p.m. The cost is $65 per person and does not include alcoholic beverages, tax or gratuity. Reservations are highly recommended and can be made by calling 801-746-4441, info@stanzaslc.com or by visiting www.stanzaslc.com. Stanza is located at 454 East, 300 South in Salt Lake. Stanza will be open for dinner service on Christmas Eve from 3 until 8 p.m., closed Christmas Day and New Year's Day to allow their employees to be with their families.
Stanza's New Year's Eve menu includes first course choices of: crab and shrimp imperial or Lucy Glo apple tower; second course offerings of stuffed rigatoni or butternut squash and arugula tortellini; main course selections of tournedos Rossini or seared scallops or rack of lamb. Desserts by Salt Lake's favorite pastry chef Amber Billingsley include choices of a ruby chocolate cheesecake, tiramisu or pistachio cream cannoli. General Manager Keith Faust's knowledgeable service staff will guide diners through the best wine and craft cocktail pairings for each course. Menu as follows:
Crab & shrimp imperial, Pecorino Toscano, garlic aioli, brûlèed lemon, toasted Italian sourdough, or
Lucy glo apple tower, petite field greens, Mt. Sterling chevre, quinoa, crisp prosciutto, marcona almonds, kombucha vinaigrette
Stuffed rigatoni, sausage, caramelized fennel, Ricotta cheese, roasted red pepper cream sauce, or
Butternut squash & arugula tortellini, wild mushroom & Ricotta filling, basil-spinach cream sauce
Tournedos rossini, black truffle foie gras, Madeira reduction, Pecorino whipped Yukon gold potatoes, garlic haricot verts, or
Seared scallops, lardo, cauliflower vodka puree, asparagus ribbons, baby heirloom, five-pepper jelly glaze or
Rack of lamb, risotto Milanese, champagne batter wild mushrooms, sautéed broccolini, saffron-mint gremolata
Ruby chocolate cheesecake, fresh cranberry & Lady Rose apple relish, oat Florentine, or
Tiramisu, marsala mascarpone cream, espresso-soaked ladyfingers, or
Pistachio cream cannoli, roasted pistachio, candied basil, Solstice chocolate sauce
Tuscany
5:00pm-10:00pm, $100 per person. Menu as follows:
Tuna crudo capers, shallots, micro herbs, fried crisp, blood orange vinaigrette, or
Polenta cakes wild mushroom madeira sauce, chives, truffle cream
New England lobster chowder, or
Pear salad arugula, radicchio, gorgonzola, pine nuts, champagne vinaigrette, endive
Filet mignon truffle Yukon whipped potatoes, wild mushrooms, pomegranate foie gras sauce, or
Grilled lamb chops roasted acorn squash, Brussels sprouts, baby red potatoes, dried cranberries, chimichurri sauce, or
Seared Nantucket scallops, spicy Italian sausage, marinara, toasted garlic bread crumbs, squid ink fettuccine, or
Veal saltimbocca, black pepper & mozzarella polenta, grape tomatoes, white wine-sage butter sauce
Desserts are to be determined
Trestle Tavern
5:00pm – 10:00pm. Four course dinner with optional wine pairings. $45 food, $25 wine pairings. Menu link.
Saffron Valley
Bollywood Bash at Saffron Valley Colonial. 8 pm – 1 am, this unique #NYE party will feature a DJ, music, dancing, drink tickets + a cash bar, party favors like a hat and blower, plus delicious Indian food! NYE menu:
• Chilli paneer, cottage cheese, onions, bell peppers, stir-fry
• Vegetable hakka noodles, Indo-Chinese style soft noodles
• Potato peas samosas, golden savory pastry
• Chicken tikka roll, grilled chicken pieces in a warm naan
• Fish amritsari, golden fried fish fingers
• Onion bhaji, crispy spiced onion fritters
• Chutneys, mint and tamarind
• Raita, beaten yogurt, roasted cumin
• Rose lassi, delicately flavored yogurt shake
• New years cake, light fluffy black forest cake with luscious cherries
Max number of guests: 80. Age 21 and up only. Limited number of early bird tickets on-sale through December 20th. Regular price of $30 per ticket or $50 per couple on-sale beginning December 21st.
Snowbasin
Roaring 20's NYE Celebration for 2020! Ring in the new decade with the glamour of Great Gatsby at 9,000 feet. Be whisked up the gondola to be greeted with an unforgettable celebration offering a 5-course meal, live music, watching the ball drop at 10 pm Mountain Time and more. Costumes encouraged. There will be a bar with festive drinks. This celebration is for guests 21 and older. Cost: $129 includes a 5-course meal, and ride to Needles Gondola.
Time: 7:00 pm – 10:30 pm. We will watch the ball drop at 10:00 pm Mountain Time to allow everyone time to make it home safely by midnight our time. Menu:
Smoked pork ribs in a Korean BBQ sauce, radish, chipotle raspberry coulis
Marcona Salad Arugula, Marcona almonds, manchego, blueberries, lemon vinaigrette
Butternut squash curry soup (Vegetarian)
Duck leg confit, seared duck, wild mushroom risotto, and blackberry gastrique, or
Beef tenderloin, grilled asparagus butter-poached fingerling potatoes, port wine reduction, or
Seared halibut, blistered grape tomatoes with snap peas, pommes dauphine, pea puree
Tiramisu
SLC Eatery
Offering a set menu with all the new year spirit, 5-10 p.m.
The Spur
This lively saloon on Main Street is kicking loose for New Year's Eve. Reserve tables for $120 to get down with the DJ upstairs, or for $150 for the live band in the back bar.
tupelo
Five-course prix fixe. $185, $265 with wine pairing. The dishes at tupelo tell the stories that its chefs have experienced throughout their food journey, with a nod to sustainable production in every dish. Join them on a food journey this New Year's Eve, starting with Riesling buttered king crab, potato chip, dill remoulade, lemon and sturgeon caviar, followed by tagliatelle with black winter truffles, black trumpet mushrooms and smoked parmesan cream. Enjoy benne seed Hawaiian tuna with foie gras pate, candied beets, finger lime caviar and fennel, then pan roasted wagyu with potato chive rosti, Maine diver scallop, black garlic bordelaise and white truffles. Dessert is a champagne crème brulee with balsamic strawberries, honeyed blackberries, freeze dried raspberries and gold dusted chocolate shortbread.
Wingtips Bar & Bistro
$30 per person New Years Eve dinner, menu as follows:
Hearty lentil soup
Braised osso bucco, polenta milanesa and onion straws
Sinful seven layer chocolate cake
Woodward
Regular menu. The restaurant at Park City's state-of-the-art action sport resort is open Christmas Day – and 365 days a year. The restaurant is celebrating its grand opening Dec. 14.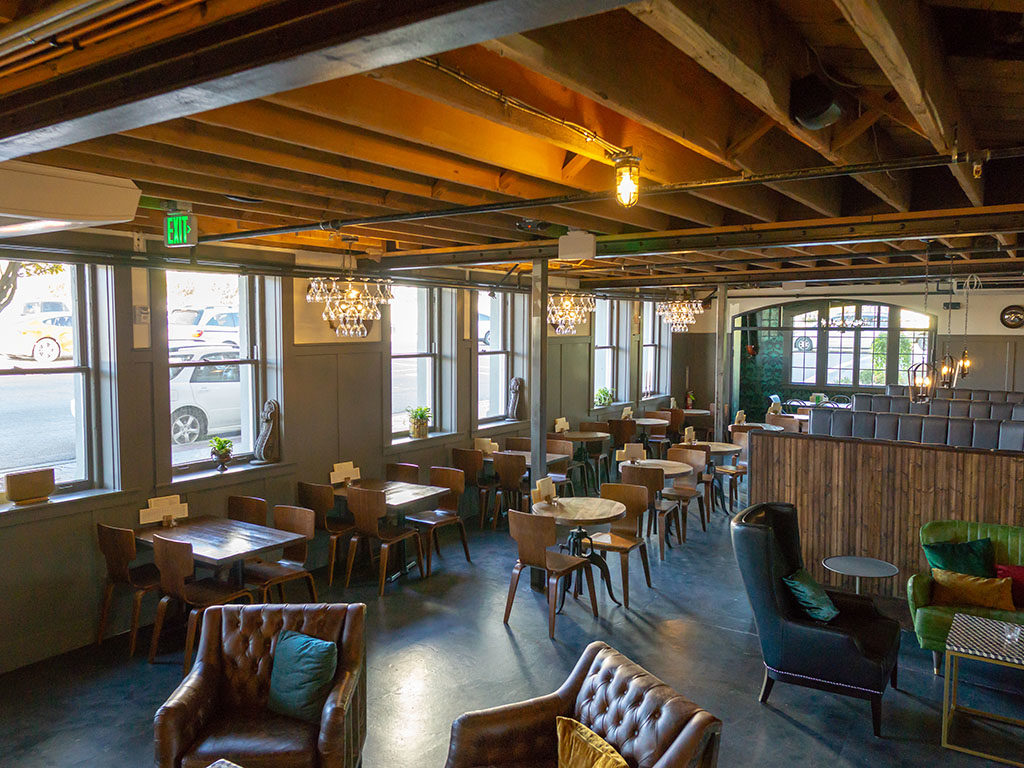 Winter wine updates at BTG
Want to toast the season with something extra special? Get on down to BTG Wine Bar in downtown SLC – who have just unveiled a number of new wines – many unique to the fabulous wine bar. Here are the tasting notes and info from sommelier Louis Koppel:
Antiquum Farm "Daisy" Pinot Gris, Willamette, OR 2018
Special order 750 cases made. Named after winegrowers daughter, no pesticide or herbicides old school pre 1940's farming. Fermented 50/50 stainless steel/neutral oak with 5 months lees contact for texture. Lively with pear, mineral and citrus tones.
Cusumano Insolia, Sicily, 2017
Ran by two brothers, Vineyards in northern Sicily in town of Palermo, indigenous white varietal cold maceration with skin contact for 12 hours. Pineapple, citrus, floral, full.
Chateau Pradeaux Rose Bandol, France 2018
Special order. Estate vineyard on Mediterranean coast near Marseille no herbicide, pesticide, chemical fertilizer or synthetics. Short maceration on skins, 2 months lees contact. Mourvedre & Cinsault slightly orange in color, dried strawberry, blood orange. Spices, dried herbs, dry, full bodied, powerful pink.
Antiquum Farm "Aurosa" Pinot Gris, Willamette 2018
Special order 250 cases made. Skin contact for 24 hours gives a soft orange/copper hue. Sourced from a westerly exposed site it develops thicker skins which adds aromatics and texture. Barrel fermented, 5 months lees contact, steeped tea, lavender, rose hips, textured with citrus and mineral.
Analemma Pinot Noir, Columbia Gorge, Oregon, 2014
Special order wine only 325 cases made. Organically certified Columbia Gorge fruit from a dry farmed site at the base of Mount Adams. Small lots fermented separately, aged on lees in neutral oak and concrete. Bright ruby in glass, aromatic and lively with cranberry & rosehips with subtle brown spices.
Soter, Mineral Springs, "White Label" Pinot Noir 2011
Special order. Estate vineyards from small section of the "crown" of the vineyard planted to heirloom Pinot Noir, 50% new french oak. Intensely perfumed, incense, cola, ginger, anise, clove, earth, mineral, concentrated.
Analemma "Tinto" Columbia Gorge, OR 2016
Special order only 228 cases made. 40% Grenache, 25% Tempranillo, 25% Syrah, 10% Mencia aged in neutral oak for 16 months. Biodynamic estate vineyards. Fresh, lush, vibrant, red fruited, eucalyptus, aromatic.
Monteabellon "14 meses" , Ribera del Duero, Tempranillo 2016
Another special order wine. Aged for 14 months in 70% French/ 30% American Oak. Earthy, woodsy, malty, vanilla, tobacco, black plum, snappy.
Traversa, Nebbiolo, Langhe, Piedmont 2016
Special order wine. 5th generation, no additions, no deletions, friends with Angelo Gaja. 100% Nebbiolo, think Barbaresco & Barolo on a budget. Thinner skinned, less pigment, higher acid & tannin, violets, rose, dried cherry, pine, structured wine.
d'Arenberg, "Dead Arm: Shiraz, McLarenVale, AUS 2011
Named for type of fungus that attacks vine, leaving more concentrated fruit on other side. dark fruit, rich and dense, smoky, meaty (cured meats), powerful.
Elderton, Shiraz, Barossa Valley, Australia 2016
Vine age between 24-124 years. Estate vineyards, produce a rich & darkly colored black fruited wine with notes of creamy dark chocolate, vanilla, plum, chocolate & blk pepper aged for 24 months in second and third filled big oak.
63 W 100 S, Salt Lake City, UT 84101
(801) 359-2814
btgwinebar.com
Franck's happy hour
Over in Cottonwood Heights, the following happy hour menu is now available "all-day" on Mondays in December and on Wednesday – Saturday between the hours of
8:00 pm and close. Happy Hour Menu:
Baking soda wings, gochujang, gorgonzola, fried carrot, celery pastiche, $7
3 cheese fondue served with house bread, $15
Penn Cove mussels, grilled sourdough, brown butter beurre blanc, fennel, $8
Kurobuta pork Milanese, "Oatsotto", slow cooked Layne's Farm egg, cranberry relish, deviled egg aioli, coriander, $17
Petite meatloaf, mashed potatoes, Winter squash, berry-lavender sauce, blueberry compote, $17
Rhubarb & white chocolate ice cream, simple syrup, stewed rhubarb, crystalized mint, $3
Saffron Valley specials
This local Indian restaurant group are having a range of specials through the month and beyond. There's something a little different at each of their locations as follows.
Aunty's Assembly (Riverton)
A four course experience meant to be shared where you choose each dish!
Course 1: kale chaat, butter chicken samosa or fish amritsari
Course 2: mint masala sosa, hariyali paneer tikka, or chicken tikka
Course 3: vegetable coconut korma, chicken tikka masala, fish malabar or lamb vindaloo
Course 4: chocolate lava cake or mango mousse cake
Includes steamed basmati rice and classic naan or garlic naan. Cost is $40 and serves two.
Khao Galli (South Jordan)
Available at Saffron Circle only Monday – Saturday from 5 – 10 pm, and on Sundays from 5 – 9 pm. Khao Galli, which translates to "Eat Street," includes all your favorites from Tiffin Tuesday as well as new Indian Street Foods and more meat options! Cost is $12.99 per person; $9.99 for children ages 10 and under. Available at Saffron Canteen only on Tuesdays from 5 – 10 pm.
Thali for Two (Sugar House)
This traditional Indian sharing platter includes 4 main course dishes plus an appetizer, salad, unlimited classic naan, unlimited rice, accompaniments, and dessert. Dishes are Chef's choice and vary each week. ⁠Choose the vegetarian or the non-vegetarian platter with chicken and/or seafood. ⁠Serves 2 people for just $33.99. Available at Saffron Bistro only on Thursdays from 5 – 10 pm.
Colonial | 26 E St E, Salt Lake City, UT 84103
Bistro | 79 E 2100 S, Salt Lake City, UT 84115
Canteen | 1098 S Jordan Pkwy, South Jordan, UT 84095
Circle | 4597 W. Patridgehill Lane, Riverton, UT, 84096
saffronvalley.com | order delivery (affiliate)
Taqueria 27 delivery options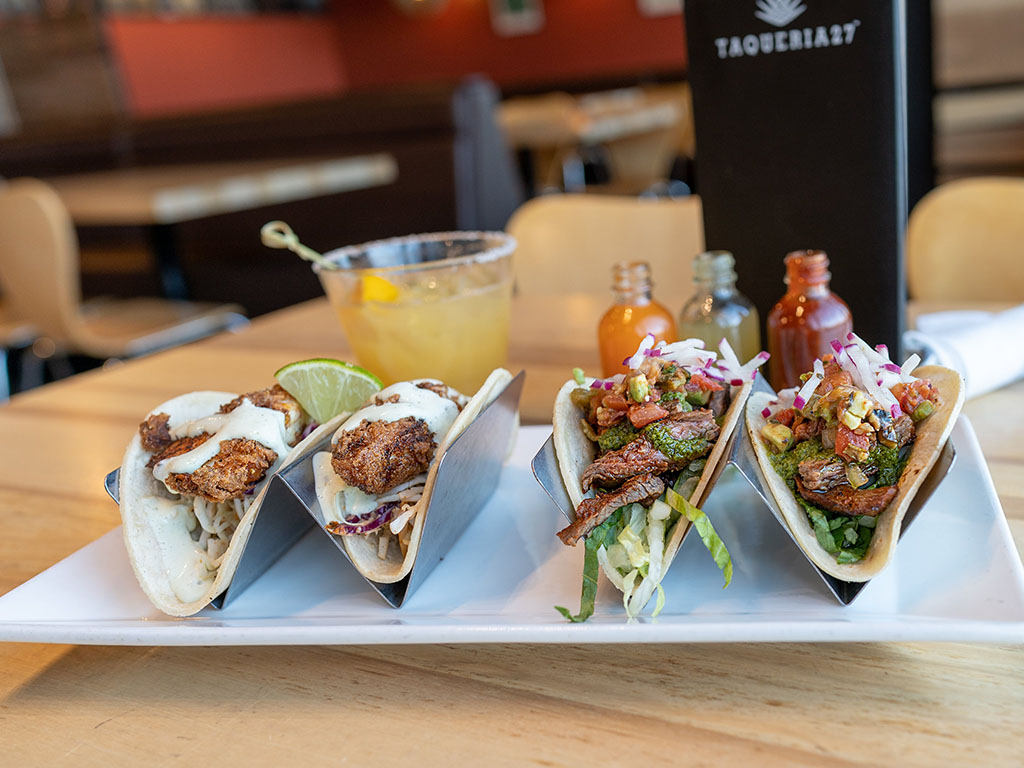 Looking for a break from cooking this holiday season? What about a taco treat at the tap of a button? Now available via their brand spanking new website – Taqueria 27 are offering tacos delivered to your door, seven days a week!
The new delivery service is available from all four locations and is performed by Door Dash. Delivery charges run about 6.75 for the first mile and a dollar per mile up to five miles.
Spitz delivery app
Also delivering direct now is this popular Mediterranean restaurant. Check out your relevant App Store and you should find both iOS and Android apps to download. From there you can earn rewards for every dollar you spend on pickup or delivery; diners can receive a $10 dining credit for every $100 spent.
Extra bonus points: the restaurant is offering a free unicorn baklava nut roll for downloading the app right now.
SLC | 35 E Broadway, Salt Lake City, UT 84111 | (801) 364-0286
Sugar House | 1201 Wilmington Ave, Salt Lake City, UT 84106 | (385) 322-1140
Cottonwood Heights | 3158 6200 S, Holladay, UT 84121 | (801) 930-5114
spitzrestaurant.com
Current hot dining discounts
The following coupons are some of the most interesting / best coupons right now. Disclosure: some links may be affiliate links, eg Groupon, Restaurant.com, and we earn a small commission from each sale.
Beirut Cafe – $6 for $15 coupon at this great Lebanese eatery.
Chedda Burger – Enjoy a delicious burger with this $6 for a $15 coupon.
City Brew Tour – Nearly 30% off thus four hour guided tasting and tour of Utah brews.
Este Pizza – 40% off the popular Salt Lake pizza restaurant.
Itto Sushi downtown SLC – 38% off via Groupon. Fun sushi spot.
Kaze Sushi – 30% off this brand new Japanese restaurant in downtown SLC.
Maize Tacos – 30% off this downtown SLC taco restaurant on to go orders.
Per Noi – Italian food with a fun discount – $10 for a $25 certificate.
Ramen Legend – Sugar House Japanese spot, coupon valid for take out or dine in.
Santo Tacos – $6 for a $15 coupon.
Keep the conversation going
Want to stay on top of the SLC food scene, minute by minute, dish by dish? Here are a few other places you should follow along:
Hi, I'm Stuart, nice to meet you!  I'm the founder, writer and wrangler at Gastronomic SLC; I'm also a former restaurant critic of more than five years, working for the Salt Lake Tribune.  I've worked extensively with multiple local publications from Visit Salt Lake to Salt Lake Magazine, not least helped to consult on national TV shows.
I'm a multiple-award winning journalist and have covered the Utah dining scene for the better part of fifteen years.   I'm largely fueled by a critical obsession with rice, alliteration and the use of big words I don't understand.   What they're saying about me: "Not inaccurate", "I thought he was older", "I don't share his feelings".  Want to know more? This is why I am the way I am.
This article may contain content provided by one of our paid partners. These are some of the best businesses in Utah. For a list of all our current and past relationships see our
partnership history page
.