SLC Eatery rose wine dinner
I'd recommend you snap up tickets for this May 16th event ASAP; the night for SLC Eatery's first ever wine pairing dinner. While I don't have details of exactly what's on the menu for the evening – I can almost guarantee it's going to be knock your socks off amazing. Note: bring extra socks.
SLC Eatery immediately moved into my top 10 Utah dining destinations after just one meal earlier this year. This first foray into a pairing dinner will feature four courses, paired with four rose wines. Francis Fecteau will be on hand talking and pouring, which is another cast iron guarantee that the stuff in your glass will be as impeccable as on the plate.
Lastly, the price for the evening is a ridiculous bargain too: $40 for food and $25 for wine. Contrast that with other wine dinners around town where tickets can reach $250 per person. For reservations call (801) 355-7952 or email GM Emily Merchant at emily@slceatery.com. One not to miss.
1017 Main St, Salt Lake City, UT 84111
(801) 355-7952
Brunch menu
Discover Food Festival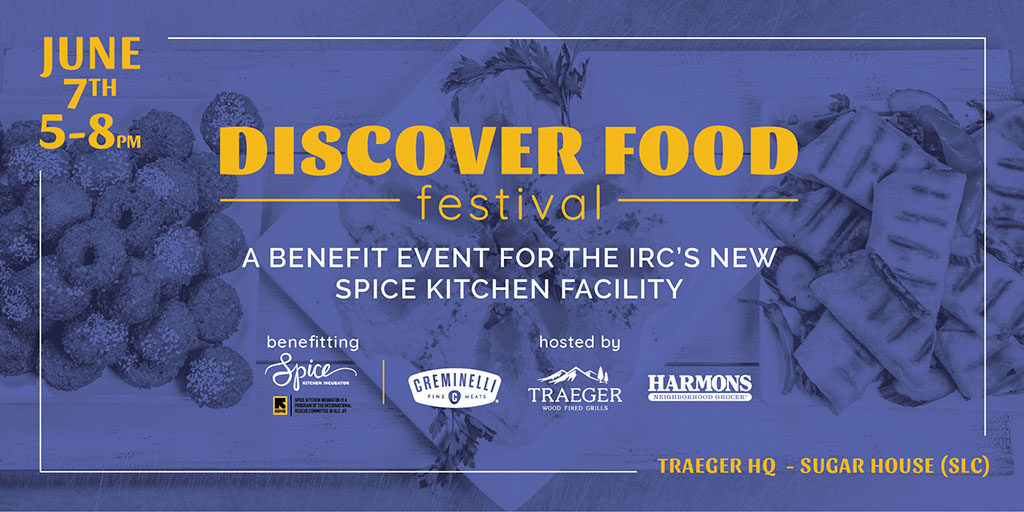 Another sure fire bet is this event coming up in July. Why a sure thing? Well…put Creminelli and Harmons in the same room and you know something special will happen. If you've ever attended an event at Traeger, you'll know they get the grills going en masse and really pull out all the stops. It's typically a beautiful, meaty affair. Edit: to clarify we've since been told that Traeger themselves will only be hosting the event, they will not be providing food per se. The actual food on offer will mainly be cooked by Spice Kitchen graduate businesses – still for sure a delicious sounding event in my book.
The Discover Food Festival is a fundraising event for the International Rescue Committee's Spice Kitchen Incubator, a program that is focused on helping refugees start their own food-based businesses and share their culinary traditions with our local Utah community.

This fundraising event on Friday June 7th (5-8pm) will be held at Traeger's Sugar House HQ; which if you've not been is a treat in and of itself – more dot com cool vibe than anything else. The goal of the event is to raise $50,000 to help fund the build out of Spice Kitchens new kitchen and facility

There's more information on our donation page and tickets can be found here.
1215 E Wilmington Ave, Salt Lake City, UT 84106
(801) 701-7180
traegergrills.com
Pago celebrates 10 delicious years
Sunday May 19th (from 6 p.m.) is the date for celebrations marking the ten year anniversary of what's largely considered Utah's first contemporary farm to table restaurant. Owner Scott Evans is pulling out all the stops for the night, offering a menu that spotlights many of the talented individuals that have helmed the kitchen down the line; not least cameo appearances from wine maker Evan Lewandowski and cocktail whizz Scott Gardner.
Evans writes, "Pago opened its doors to the public on May 27th, 2009. After traveling around the world, I had fallen in love with neighborhood restaurants that featured outstanding food in a personal and intimate settings. And as a young food-obsessed person, I preferred restaurants with exemplary food, beverage and service without the formality of linens and pretense. I wanted Pago to be an expression of my love of local dining, seasonal ingredients, and artisan food. I also wanted to push the boundaries of the standard 2009 wine and beverage lists into unfamiliar territory for diners and for our team – offering unique varietals or unknown regions and brands, featuring small producers and sustainable and natural winemakers. It brings me great joy to know that Pago has brought in 100's of wines to Utah that have never entered state lines before."
The menu for the evening is as follows:
Caviar Pillows, American caviar, warm potato pillows, chives, creme fraiche (chef Mike Richey 2009-2012)
Binner, KB, Cremant d'Alsace '15, Auxerrois/Pinot Gris/Pinot Blanc, Alsace, France
Mini Pago burgers, bacon, white cheddar, pickled onion, black garlic aioli (chefs Richey, Drew Fuller, Dallas Olsen, Phelix Gardner)
Ruth Lewandowski, Feints '18, Arneis/Dolcetto/Barbera/Nebbiolo, CA
Carrot tasting, raw, confit, pickle, chips, carrot mascarpone (chef Drew Fuller 2015-2017)
Frank Cornelissen, Susucaru '17, Nialvasia/Moscadella/Nerello Mascalese, Mt Etna, Sicily, Italy
Sikil pak crudites, toasted pumpkin seeds, roasted tomatoes, chili's, seasonal vegetables (chef Dallas Olsen 2012-2015)
Stekar '17, Rebula, Goriska Brda, Slovenia
Saag paneer, house made roti, Heber Valley cheese, local greens, zursan's lentil dal (Chef Phelix Gardner 2012 – today)
Ruth Lewandowski, Elimilech '16, Riesling, Mendocino, CA
Curry gnocchi, confit Utah elk, green curry, spring vegetables, mint, basil (chef Phelix Gardner)
Bodegas Las Orcas, Solar de Randez, Rosetta '10, Tempranillo, Rig*, Spain
Semifreddo cookie sandwich
Coffee Irish (Scott Gardner 2012)
Cost is $75 for food and $55 for wine pairings. Expect this one to sell out sharpish, seating is very limited.
878 S 900 E, Salt Lake City, UT 84102
(801) 532-0777
www.pagoslc.com
Made In Utah Brewers Fest
I mentioned this event in our recent roundup of unmissable Summer food festivals, but as a quick reminder, this inaugural event lands this weekend at The Gateway. Held Saturday, May 11th from 5 until 10 p.m – 10 local craft brewers will showcase their newest brews alongside popular local foods and cocktails from Utah distilleries. There will be live music by local bands and unique giveaways for those dressed in costumes from their favorite beer drinking county. It's an indoor, 21 + event and is located as 12 South 400 West near the Grand Hall, at the top of the stairs from Olympic Legacy Plaza. General admission is $5 if purchased in advance at MadeInUtahFest.com or $10 at the door.
"Every year in March we write about some new and old breweries and highlight their brewers. We want to give people the opportunity to meet these makers they read about, the faces behind their favorite brews and to give them the opportunity to try their newest creations," says Richard Markosian, Made in Utah Founder and editor of Utah Stories. "You may have not had a chance to get to know some of the newest breweries such as Level Crossing or Cerveza Zolupez. Cerveza Zolupez is at the moment very small and based in Ogden but they create some excellent authentic Mexican beer."
Participating breweries are: SaltFire Brewing, Vernal Brewing, Toasted Barrel, Shades Brewing, Red Rock sBrewing, Strap Tank Brewery, Level Crossing Brewing, Cerveza Zolupez Brewing,Talisman Brewing and Proper Brewing. Attendees will be able to vote for their favorite beer.
Food vendors include Dali Crepes, Paizlees Grass Fed Beef, Petra's Backstubchen, San Diablo Churros, Café India and Cupbop. "Our belief is that excellent beer must be accompanied with delicious food," continued Markosian. "We are sorry that we cannot provide authentic German rotisserie chicken and potato salad, but we will make it up to you with Paizlee's Grass Fed Beef brisket sandwiches, Petra's authentic German pastries and pretzels, San Diablo Churros on steroids and more."
They will also will feature New World Distillery and their Oomaw Gin, Rabbit and Grass Blanco Agave Spirits, Wasatch Blossom UT Tart Cherry Liqueur and Ogden Valley VODKA. Sugar House Distillery will feature a wide variety of their handcrafted, small batch spirits. Distillery 36 and Hammer Spring Distillery will be mixing cocktails. Castle Creek Winery, the largest Utah winery coming from Moab, will offer a large selection of their seasonal wines.
400 W 200 S, Salt Lake City, UT 84101
(801) 456-0000
shopthegateway.com
Mother's Day Dining 2019
Lastly, speaking of events – Mother's Day is this weekend. Yep, you're welcome. Just in case you missed our recent round up, check out our article on Mother's Day dining here.
Looking for even more events?
Our food and drink calendar lists as many local events as we can find. Check out these other upcoming events for something delicious in your near future!
[tribe_events_list limit="10″]
Keep the conversation going
Want to stay on top of the SLC food scene, minute by minute, dish by dish? Here are a few other places you should follow along:
Hi, I'm Stuart, nice to meet you!  I'm the founder, writer and wrangler at Gastronomic SLC.  I'm a multiple-award winning journalist and have written in myopic detail about the Salt Lake City  dining scene for the better part of seventeen years.
I've worked extensively with multiple local publications from Visit Salt Lake to Salt Lake Magazine, not least helped to consult on national TV.   Pause those credits, yep, that's me! I'm also a former restaurant critic of more than five years, working for the Salt Lake Tribune.    I'm largely fueled by a critical obsession with rice, alliteration and the use of big words I don't understand.   What they're saying about me: "Not inaccurate", "I thought he was older", "I don't share his feelings".
Want to know more? This is why I am the way I am.
This article may contain content provided by one of our paid partners. These are some of the best businesses in Utah. For a list of all our current and past relationships see our
partnership history page
.