One of the best things about the Utah food scene? A raft of events in our warmer Summer months each and every year that really brighten up the months ahead. There's not much better than getting out into Summer sun and enjoy clear blue skies paired with glass and plate of something special. The whole foodie event calendar kicks off in May. Here are some of the events you should pencil into your calendar now…
Made In Utah Brewers Festival
Kicking off the schedule this year is the inaugural Made in Utah Brewers Fest at The Gateway. This craft-beer focused bash will be held Saturday, May 11th (5-10 p.m.) Expect this 21+ event to be a popular one, featuring 10 local craft brewers showcasing their newest brews, popular local foods and cocktails from Utah distilleries, live music by local bands and unique giveaways for those dressed in costumes from their favorite beer drinking county.
Participating breweries are: SaltFire Brewing, Vernal Brewing, Toasted Barrel, Shades Brewing, Red Rock sBrewing, Strap Tank Brewery, Level Crossing Brewing, Cerveza Zolupez Brewing,Talisman Brewing and Proper Brewing. Attendees will be able to vote for their favorite beer. Food vendors include Dali Crepes, Paizlees Grass Fed Beef, Petra's Backstubchen, San Diablo Churros, Café India and Cupbop.
The event will also feature New World Distillery and their Oomaw Gin, Rabbit and Grass Blanco Agave Spirits, Wasatch Blossom UT Tart Cherry Liqueur and Ogden Valley VODKA. Sugar House Distillery will feature a wide variety of their handcrafted, small batch spirits. Distillery 36 and Hammer Spring Distillery will be mixing cocktails. Castle Creek Winery, the largest Utah winery coming from Moab, will offer a large selection of their seasonal wines.
It's an indoor, 21 + event and is located as 12 South 400 West near the Grand Hall, at the top of the stairs from Olympic Legacy Plaza. General admission is $5 if purchased in advance at MadeInUtahFest.com or $10 at the door.
Top tip: bring plenty of beer tokens, aka cash.
When: May 11th
Where: The Gateway
Cost: $5
Get tickets
Tastemakers
Salt Lake magazine's Tastemakers 2019 event is back for the eighth year on June 13 and 14th, again at The Gateway, which is looking to assert itself as the goto destination in central SLC for these fun events. If you're new to the event, here's the 60 second pitch; the event offers a range of tastings from participating restaurants. Hand over your punch card and each vendor will offer you up a small sample.
As well as vendors at The Gateway you will also find a range of Tasting Tour restaurants dotted around town, just walk around the city and the same deal applies, hand over your pass for punching, and get a taste in return. If you pony up a little extra for the VIP pass (it's definitely worth it) you get access to more food, pairings, a VIP lounge, private restrooms and a five drink pass too. VIP tickets are 21+ only. Otherwise cash bars apply for the event.
The idea is you should sample the Gateway offerings on one day, and tour the town the next; but if you're really committed you could probably fit it all into one manic evening (I've tried and succeeded in the past). Here's the official promo video:
This year tastings are available from Eatery, Creminelli, Fav Bistro, Last Course Desert Studio Park City Culinary, Rodizio Grill, The Ruin, Rye, Salt & Honey Market, Spencers Steakhouse, Squatters Pub & Brewery, Stoneground Kitchen, Texas de Brazil, Tsunami Restaurant & Sushi Bar
If you have the VIP pass you can also check out samples from Alpine Distilling, Celebrity Cruises, Dented Brick Distillery, Harbor Seafood & Steak, Holystone Distilling, LaCaille Ruby Snap Cookies, SugarHouse Distillery, TF Brewing and Waterpocket Distillery.
Top tip: Arrive early. In my experience restaurants can be overwhelmed by the initial demand and excitement, and items can run out within a few hours of the doors opening. Arrive early to avoid any let downs.
When: June 13th and June 14th
Where: The Gateway
Cost: $45 – $85
Get tickets
Savor The Summit
Billed as Utah's largest outdoor dinner party, Savor The Summit is one of the biggest parties on the food calendar. This years iteration hits Main Street on Saturday, June 22nd (starting officially at 6:00 p.m.) Running the length of Main Street twenty of Park City's best restaurants (and more than 2,500 attendees) pull out all the stops and create The Grand Table – an al fresco dining experience that lets attendees sample some of the best food in town as the sun sets behind Park City's Wasatch Mountains.
Each restaurant puts out its own set menu for the night, usually including beer/wine/cocktail offerings too. You need to check each business directly for more details. This fun event pretty much always sells out so plan on booking tickets now, not later if you want to attend. For ongoing event updates, visit savorthesummit.com. Restaurants taking part this year include:
710 Bodega
Bangkok Thai on Main
Buona Vita
Butcher's Chophouse & Bar
Café Terigo
Cuisine Unlimited Catering
Eating Establishment
Egyptian Theatre
Firewood on Main
Flanagan's on Main
Fletcher's
Handle
High West Distillery
Purple Sage
Riverhorse on Main
Riverhorse Provisions
Shabu
The Bridge Café
The Talisker Club
Tupelo
Wasatch Brew Pub
Top tip: Bring a few extra layers. While it might be blue skies, sunny and perfect Summer weather when you arrive, I guarantee that when that sun sets it's going to get cold. It might be the middle of Summer, but those mountains still get chilly after eight or nine.
When: June 22nd
Where: Park City Main Street
Cost: $varies
Get tickets
Savor The Solstice
This new event for 2019 also runs on the same evening, but features exclusively Bill White restaurants. This event is completely new to me, but the flyer notes:
"Join us Saturday, June 22 for our culinary event of the summer. Begin your tour at one of two locations – Wahso and Grappa. Here, you will experience new and classic offerings from all eight Bill White Restaurants. Indulge in food and drink pairings that will transport you beyond Park City. Continue the journey with a stroll to our second party destination as you take in the sights on Historic Main Street. This reception-style event will have limited seating. We encourage guests to mingle and enjoy the atmosphere filled with live music and the most delectable tastes in town."
When: June 22nd
Where: Park City Main Street
Cost: $80
Get tickets
Eat Drink SLC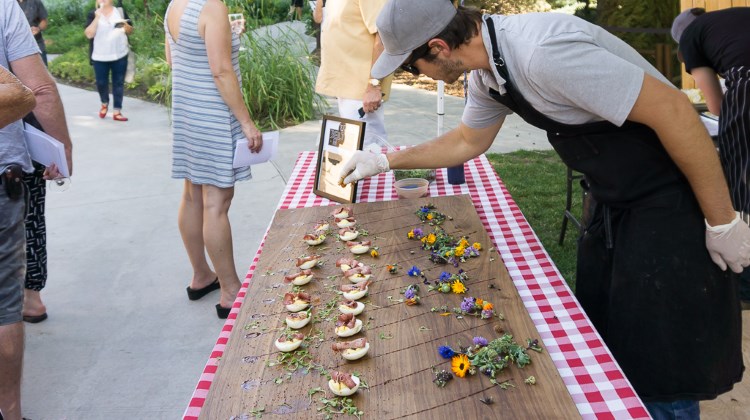 Eat Drink SLC has quickly become one of the most popular Summer food events on the calendar. Now in its fifth year, the event is firmly established and sells out well in advance of the day. Dont expect this to change this year, if anything tickets go earlier and earlier each year.
If you do snap some up (and my advice is that you should) you'll be able to nibble, nosh, sip and swirl the evening away while listening to live music on Tracy Aviary's cool, green grounds. The event on Wednesday July 10th (6.30-9.30) sees guests stroll the greenery of Tracy Aviary, stopping at various food and drinks stations to enjoy an unlimited tasting of some of the best in town.
"Eat Drink SLC is a delightful way to celebrate our community's coming of age as a culinary hotspot and raise visibility for the vibrant food and drink scene with both locals and tourists," says Tracey Thompson, president/owner ofVine Lore Wine and Spirits, one of the event's co-producers. Vine Lore Wine & Spirits has gathered the evening's roster of special wineries and distilleries and joined them with award-winning Salt Lake City restaurants and food businesses to create singular experience. "Eat Drink SLC marries food and drink in a way not found at other Utah events," says Thompson. "The entire experience fosters an appreciation of the synergy between the two, all in a beautiful setting that tantalizes all the senses.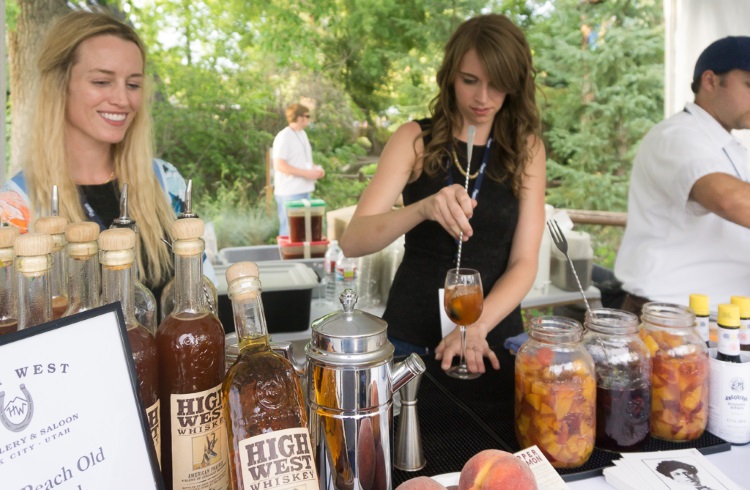 Exact restaurants haven't been named yet, but to get a feel of what to expect check out our review and recap from last year here. Suffices to say, expect a lot of the same great names. Admission includes all food and drink and a complementary signature wine glass. Guests must be 21 years old and over too.
Eat Drink SLC is also hosted under a nonprofit partnership umbrella consisting of Tracy Aviary and SB Dance. These two organizations represent, respectively, a place and an arts-maker that contribute to the unique character of the community. A third nonprofit – Neighborhood House – represents an organization that empowers underserved youth from Salt Lake's west side, many of whom are from families involved in the food and beverage industry. Eat Drink SLC's mission is to honor the entire industry's food chain including customers, business owners, managers, servers, culinary professionals, purveyors and agricultural workers.
Top tip: Bring some sunscreen. Slap bang in the middle of Summer the weather is usually a lock in terms of sun and clear skies. It's also not uncommon for temperatures to be in the 90s at the start of the night. Dress appropriately and bring sun protection.
When: July 10th
Where: Tracy Aviary
Cost: $90
Get tickets and more info
Park City Wine Festival
After a year off, this Fall event returns for 2019 offering oenophiles a bevy of events. The festival runs October 3-6th and offers a range of wine based seminars, parties and events. Prices and exact details are not quite there yet but some highlights on the docket so far include:
PC Uncorked: Wine Dinner Series
Thursday, October 3
A celebration of local food and fine wine, the Park City Wine Festival will kick off a weekend of great wine and food with a series of wine dinners at local establishments in Park City.
The Walk of Wine
Friday, October 4, 4:00pm – 6:30pm
Patrons will stroll up and down Park City's historic Main Street to savor a wide collection of wine, beer and spirits. Venues will include art galleries, tasting rooms, and other historic spaces.
Best of the Fest
Friday, October 4, 7:30pm – 10:00pm
This event will select the gems in participating wineries' portfolios to sip, swirl, and savor. Only 90+ point ratings, reserve bottles, and high price points will make the cut in this unique tasting opportunity.
The Grand Tasting
Saturday, October 5, 2:00pm – 6:00pm
VIP/Industry 2:00pm – 3:00pm, GA 3:00pm – 6:00pm
The grand finale and largest gathering of the weekend will offer an impressive selection of hundreds of domestic and international wines, premium craft beer and spirits, and gourmet local food.
Seminars
Friday – Sunday
Held at various locations in Park City, these educational wine, food and outdoor lifestyle seminars provide a focused introduction of wines to seminar attendees.
A portion of event proceeds will benefit the People's Health Clinic, a volunteer-driven nonprofit organization dedicated to providing no-cost quality care to the uninsured residents of Summit and Wasatch Counties in Utah.
Top tip: Plan head. There's a lot going on here over the four days, you'll want to check the itinerary of events well in advance.
When: October 3rd – 6th
Where: Park City various
Cost: $varies
Get tickets and more info
Disclosure: I've attended several of the above events as invited media in years gone by.
Looking for even more events?
Our food and drink calendar lists as many local events as we can find. Check out these other upcoming events for something delicious in your near future!
[tribe_events_list limit="10″]
Keep the conversation going
Want to stay on top of the SLC food scene, minute by minute, dish by dish? Here are a few other places you should follow along:
Hi, I'm Stuart, nice to meet you!  I'm the founder, writer and wrangler at Gastronomic SLC.  I'm a multiple-award winning journalist and have written in myopic detail about the Salt Lake City  dining scene for the better part of seventeen years.
I've worked extensively with multiple local publications from Visit Salt Lake to Salt Lake Magazine, not least helped to consult on national TV.   Pause those credits, yep, that's me! I'm also a former restaurant critic of more than five years, working for the Salt Lake Tribune.    I'm largely fueled by a critical obsession with rice, alliteration and the use of big words I don't understand.   What they're saying about me: "Not inaccurate", "I thought he was older", "I don't share his feelings".
Want to know more? This is why I am the way I am.
This article may contain content provided by one of our paid partners. These are some of the best businesses in Utah. For a list of all our current and past relationships see our
partnership history page
.