DABC Licenses
A brace of noteworthy items from this month's meeting. Firstly, the popular East side Greek eatery Aristos has now been without a liquor license since February 4th, with no immediate sign of being able to correct the situation. According to owner Aristides Boutsikakis, the loss of liquor licenses has already made a 30K dent in revenues.
Boutsikakis' license was effectively lost due to a relatively simple clerical error, the failure to renew the Utah business licensing of Aristo's holding company. The S-Corp in question – the formal holder of the liquor license – failing to renew its Utah business licensing since 2014.
Boutsikakis explained to the commission that this failure was a simple mistake, being unaware that the corporate entity had lapsed. After deliberation and a few pointed questions, the commission's final approach was to refer the case to the Attorney General's office to first investigate any possible additional violations, tabling discussion of any new license until at least March.
Also in a blink and you might miss it moment – a new venture from the folks behind Tin Angel Cafe looks set to replace the now departed Eccles Bistro in the downtown Eccles Theatre. You might recall the fallout from the previous restaurant operators last year. "Tin Angel Eccles" was slated for a full service restaurant license at the February DABC meeting but due to ongoing lease negotiations with the state, this looks set to be pushed back a further month at least.

Bar licenses
At the February meeting only two full bar licenses were available with four applicants competing as follows:
Bout Time Pub & Grub Hillsbury, West Valley City, conditional
Josie Wyatt's Grill, Moab, conditional
Punch Bowl Social, Salt Lake City, conditional
Mountain West Cider House, Salt Lake City
Mountain West were the only lucky recipient at the meeting. Their Cider House concept seeks to revamp the existing brewery tasting room into a twenty seater bar, that overlooks the production space. The "modern, comfortable space", will serve up a range of craft ciders, national selections as well as Mountain West's own.
Commissioners decided to hold off granting the only other available license until the March meeting, as no further licenses are expected to be otherwise available until May. Josie Wyatt's received a positive nod though for said license down the line, targeting an April opening as opposed to Punch Bowl's Summer projection.
Full service licenses (beer, wine liquor)
Kaze, Salt Lake City
Chef Hog's Oyster Bar & Grill, St George
La Puente, Centerville, conditional
Mariscos Ensenada 2, Midvale
Kou Korean BBQ of Utah, Midvale, conditional
Cooper's Restaurant, Ogden, conditional
Rock Garden Eatery, Torrey, conditional
Crosscut Brewery, Price, conditional
Limited service license (beer and wine)
Sumac Cafe, Cottonwood Heights
NY Pizza Patrol, Draper
Monsieur Crepes, Salt Lake City
Jade Lion Restaurant, Vernal
Red 8 #2 Asian Bistro, Saratoga Springs, conditional
Menu Watch
We didn't publish a full blown Menu Watch article this month, as there wasn't *too* much to talk about in general. That said, here are some highlights I stumbled across.
Avenues Proper – New dishes are always hitting the the menu at this Avenues brewpub, check out this delicious looking stroganoff.
Billy Blanco's – Wing Wednesday offers $0.75 wings and $2 PBR beers. Available for dine in only, 4 p.m. to close.
BGR – The Sugar House boutique burger bar is offering a featured shake in March, cherry blossoms. This month's feature is a reuben burger that you might still be able to grab if you're fast!
Blind Dog – From 5-6 p.m. every night , happy hour is back in the bar with a selection of discounted options.
Bourbon House – Offering a new $10 business lunch special; also running draft beer specials Sunday through Thursday. $2 Bud Light and Shock Top pints as well as $3 Uinta and Moab pints.
EJO – 20% off their All You Can Eat Korean BBQ, every Wednesday.
Log Haven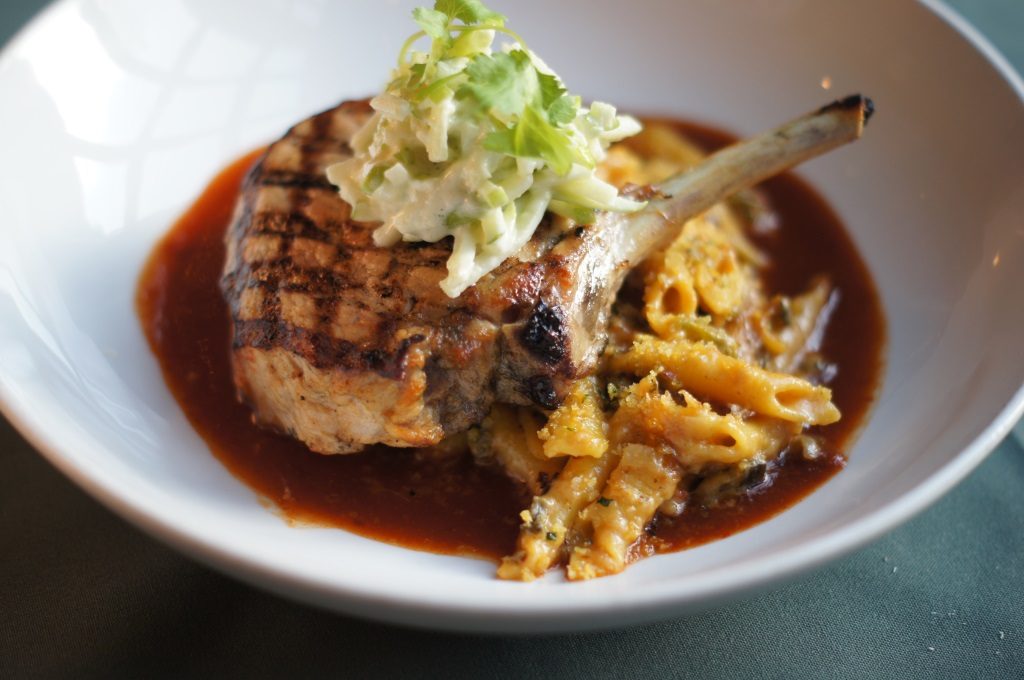 Award season is here, and with it, a few deservedly recognized restaurants. Of particular mention, are our partners nestled up in Millcreek Canyon who managed to bag no less than NINE Open Table readers choice awards:
Best Ambiance
Best Overall
Best Service
Scenic View
Special Occasion
Contemporary American
Hot spot
Romantic
Most Booked
Throw in another Best Restaurant accolade from Salt Lake Magazine this month and you're into double digits. All very well deserved of course, and if you've not hit up this romantic hot spot in a while, nows the time to celebrate with the team.
Also, speaking of which, the restaurant is currently crafting their third in house wine as I write. Partnering with the much respected Rick Longoria (CA) the restaurant hopes to be able to pour the final creation come May; which will also be their 25th anniversary. More info as I get it!
6451 E Millcreek Canyon Rd, Salt Lake City, UT 84109
(801) 272-8255
www.log-haven.com
Restaurant Closures
The Rising Bun
Sadly, this Lehi eatery is officially no more. I was actually pretty surprised to hear about this one. The operation looked like a a classy and clever concept; blending up a range of dishes and flavors in a fun looking fashion.
Korean Bistro
Also gone is this Ogden based Korean restaurant. Reporting via Facebook, the restaurant writes the business will return through a new owner and revised menu:
The Korean Bistro family has some news to share with everyone. This will come as sad news, but we have sold our restaurant. The Korean Bistro's last day will be February 28th. The new owner is Korean as well and will keep it as a Korean restaurant, but with a new name and a different menu. We just want to extend a thank you to everyone that has supported our small family owned restaurant this entire year. It truly means a lot to us and the support was overwhelming from the community.
Squatters
2019 marks 30 years of operation for Squatters Craft Beers, and Salt Lake's original brewpub are planning to celebrate all year long.
"There are very few currently operating breweries as old as ours, and to say that we're proud to have reached this milestone is an understatement," said marketing manager, Lauren Boyack. "It is due entirely to the support of this amazing community that we've been able to enjoy such success," added Boyack.
To give back the brewery has launched Throwback Giveback, a charitable draft beer initiative. City Creek Pale Ale, the first pale ale poured when Squatters opened their doors in 1989, recently returned for a good cause. Every dollar from the sale of this retro beer was donated to the Fourth Street Clinic, an organization which helps Utahns experiencing homelessness improve their quality of life by providing health care and support services. The 14-barrel batch brought in $8,000 for the organization. Squatters will bring back two more throwback beers, Hop Head Red and Beehive Lager, to benefit Alliance House and the Utah Pride Center, beginning April 1st and June 1st, respectively.
"The company that Jeff Polychronis and Peter Cole created 30 years ago was based on giving back to the community. They had no way to know if it would work, let alone last for three decades, but it did," said Doug Hofeling, Chief Operating Officer. "We carry the torch they lit by continuing to give back to the community that we are part of," continued Hofeling.
Squatters will commemorate the actual anniversary on September 7th with a beer festival and celebration. "In addition to our massive birthday party in September, we'll celebrate throughout the year so make sure to visit us on social media for updates," added senior marketing manager, Amy Tangaro.
Table X
The Millcreek fine dining restaurant announced slightly reduced hours this month. As of a few days ago the restaurant will no longer offer a Sunday dinner service. The restaurant will now be dark on both Sundays and Mondays offering dinner service Tuesday through Saturday.
I'd be remiss not to point out our sister site SLC Menu and their list of restaurants open on Sunday, if your looking for a supper on the Sabbath.
1457 E 3350 S, Salt Lake City, UT 84106
(385) 528-3712
tablexrestaurant.com

Real Food For The People
No small amount of hyperbole abounded in a press release that recently came my way announcing a new partnership between Provisions' Tyler Stokes and former Even Stevens' president Michael McHenry.
The giddy PR releases promises "a progressive concept featuring bold flavors" that "creates a disruptive brand in the heart of downtown Salt Lake City." Stokes via the release also states, "Our inventive concept will challenge the status quo by bringing real food to the people".
Burgers? Tacos? Fried chicken? O.k. I admit it, I'm pretty jaded. What the duo are actually cooking up is still a mystery, but construction has begun at The 324 Building (324 South State Street) and you can keep abreast of developments via realfoodforthepeople.com.
Riverhorse Provisions
Park City's Provisions by Riverhorse, formerly Riverhorse Provisions (!) has updated their menu to offer a range of sit down, evening dinner options additional to their grab and go cafe/deli. Via press release, dishes now offered include:

"courses like Provisions Nachos, Crispy Buffalo Chicken Bites, and Wild Game Chili. Hearty mains follow like the Smoked BBQ Baby Back Ribs, Shrimp Ramen, Goat Cheese Stuffed Chicken, and Buffalo Short Rib Stroganoff. Provisions also offers a collection of wine, local craft beer, and house-made cocktails. A kids' menu features grown-up options and classic comforts like grilled chicken, salmon, butter noodles, and mac & cheese."
221 Main St, Park City, UT 84060
(435) 649-0799
riverhorseprovisions.com

Other
Even Stevens no longer donating to charity
https://www.sltrib.com/artsliving/food/2019/02/23/utah-based-even-stevens/

Los Hermanos total loss
https://www.heraldextra.com/news/local/central/provo/los-hermanos-in-downtown-provo-likely-total-loss-after-fire/article_1538184c-9e9e-56e8-bfcc-e6b80405d9b3.html

Hi, I'm Stuart, nice to meet you!  I'm the founder, writer and wrangler at Gastronomic SLC; I'm also a former restaurant critic of more than five years, working for the Salt Lake Tribune.  I've worked extensively with multiple local publications from Visit Salt Lake to Salt Lake Magazine, not least helped to consult on national TV shows.
I'm a multiple-award winning journalist and have covered the Utah dining scene for the better part of fifteen years.   I'm largely fueled by a critical obsession with rice, alliteration and the use of big words I don't understand.   What they're saying about me: "Not inaccurate", "I thought he was older", "I don't share his feelings".  Want to know more? This is why I am the way I am.
This article may contain content provided by one of our paid partners. These are some of the best businesses in Utah. For a list of all our current and past relationships see our
partnership history page
.