If you're new to our site this year, welcome aboard! And welcome to our first menu watch of the year. Each month we look at what's happening across local restaurant menus; updates, specials, items of timely interest. There's always something new and interesting to check out, here's some of the better January items to keep tabs on.
The Yurt at Solitude
The following section is a guest post on behalf of Gastronomic SLC. Ryan Kendrick of SLCEats.com checks out what's on the menu at this rare Utah treat available only in the Winter months:
For those looking to really make an impression—whether it be a first date, corporate dinner, anniversary, or just a special night—an evening at The Yurt at Solitude is an experience that won't easily be forgotten. Before you dinner, you meet your Solitude guide, who will outfit you with snowshoes and a headlamp. At the appointed time, you begin a short half-mile hike up through the trees to The Yurt—a mongolian tent that holds up to 26 guests.

There is no power at The Yurt, so lights are of the propane type and everything is cooked by Chef Craig Gerome on an old cast-iron stove. The salad course consisted of chicory salad with whipped Bellwether Farms ricotta, pine nuts, tarragon, and Pecorino Toscano. Chef Gerome is a specialist with seafood, and it showed with the soup course: Pacific Bay chowder with diver scallops and sourdough. Soup was followed by a giant smoked beef short rib with potato fondant, charred carrots, and a turnip pureé. The wait staff is friendly and full of jokes.
You'll enjoy great company, four delicious courses, and plenty of libations. Dessert was a milk and honey panna cotta with fresh huckleberry jam. "Memorable," "unique," "intimate," and "adventurous" are words that could be used to describe this experience. But I think I'll just stick with "delicious."
The Yurt is available for reservations Wednesday through Sunday during the winter season. Parties from 1 to 26 are welcome. A four-course dinner, snowshoe guide, tax, and corkage are included in the price, with wine and beer available for purchase.
Cost is $140 per person. For Ryan's larger piece (with more pics) covering the night exploring The Yurt be sure to read his piece on SLC Eats: https://slceats.com/2019/01/18/the-yurt-at-solitude-mountain-resort/
12000 Big Cottonwood Canyon Rd, Solitude, UT 84121
(801) 536-5765
solitudemountain.com

RIME Seafood And Raw Bar
Another guest post, this from Katherine Stevenson who took a trip to Deer Valley for Gastronomic SLC to look at the new menu at RIME Seafood And Raw Bar.
A newly-opened offering from chef Matt Harris of Tupelo Park City, RIME is a ski-in, ski-out seafood restaurant located at the top of Deer Valley Resort's Jordanelle gondola. RIME is open only during the winter season, through February 24th of this year, but thanks to the enclosed gondola that takes you directly to the bar's doors, you can check it out whether or not you're hitting the slopes.
The menu includes a variety of both hot/cooked and cold/raw dishes, including half-shell oysters flown in daily from the East Coast. Other highlights are a lemony tuna tartare, a rotating selection of meat and seafood crudos (we tried beef), and tacos (we tried short rib).
The standout dish is definitely a Connecticut-style lobster roll, served warm with lots of butter. Drinks include beer, red and white wines, and a nice selection of sparkling wines that complement the fresh oysters.
Prices are high, but so is the quality of the seafood, and if you're already splurging on the slopes you'll want to stop by for the views as well as the food and drink.
2250 Deer Valley Dr S, Park City, UT 84060, USA
(top of the Jordanelle Gondola)
rimerawbar.com
EJO Korean BBQ
Have you been to the revamped EJO in South Salt Lake yet? If not, their recently announced price change should come as happy surprise and timely reminder.
If the business is new to you, EJO spent most of the last year being knocked to the ground, being replaced by a Rite Aid and moving into the back of the lot at the corner of 33rd South and 7th East. As part of the move, the business updated to become an all you can eat Korean BBQ. Citing better deals with their supplier the business now charges slightly less; lunch is a mere $14.99 and dinner $24.99. Remember, this is all you can eat.
Additionally, EJO have also started to offer JjaJangmyun (black bean noodles) available for dinner and lunch and Nengmyun (cold noodles) for dinner too.
Here are some pictures from a recent visit I made myself. The setup is pretty fun. You take to your table, the staff light up a grill set into your table and bring plate after plate of raw meats for you to cook right there (menu). Theres a buffet station with plenty of banchan and other dishes (fried rice, japchae noodles, fried chicken etc) to load up on, plus dishes delivered from the kitchen too – no I don't want to cook chicken at my table either . All terribly fun and delicious:
Saffron Valley
Speaking of all you can eat deals Over at the Sugar House location of Saffron Valley (aka Saffron Bistro) the lunchtime all you can eat menu has updated from a thali offering to a regular Indian buffet offering. E.g. help yourself as much as you like for the line up of curries and appetizers.
The new lunch buffet is offered 11.00 a.m. through 2.30 p.m. Tuesday through Friday, and until 3.30 pm. on Saturday and Sunday.
The introductory price for the new buffet setup is just $9.99 per person – one of the best values I know of around, check them out at this intro price while you can!
479 E 2100 S, Salt Lake City, UT 84115
(801) 203-3754
saffronvalley.com

Ginza
More all you can eat? O.k. I got you covered! This Sandy based Japanese restaurant is now offering a new AYCE menu featuring appetizer, shabu shabu and sushi with price $24.99. The restaurant has also indicated a liquor is an ongoing work in progress too.
9460 S Union Sq, Sandy, Utah 84070
(801) 432-8736
facebook.com/ginzajapaneseshabushabu
Stanza
Chef Jonathan LeBlanc has created new winter menu over at one of our favorite downtown dining destinations. As you'd expect the flavors are big and bold and sure to keep you toasty as temps stay low. Check out that osso bucco….
Winter burrata salad
Swiss chard, kale, caramelized pearl onions, grilled zucchini, beet chips, fried Brussel petals, pine nuts, champagne vinaigrette, blackberry gastrique, toasted sourdough
Piedmontese Beef Carpaccio
Arugula, shaved parmesan, horseradish-Dijon aioli, EVOO, fried capers
Baked shellfish parmesan
Clams, mussels, house chorizo, wine & butter, focaccia-garlic bread crumbs
Herbed whole wheat pappardelle
Kale, butternut squash, brown butter, pomegranate, sous vide bone-in chicken breast
Calabrian cioppino
North Pacific catch, manila clams, squid, shrimp, mussels, roasted fingerling potatoes
Osso bucco
Veal shank, pecorino polenta, San Marzano tomato, roasted root vegetables, pistachio gremolata, veal au jus
454 E 300 S, Salt Lake City, UT 84111
(801) 746-4441
stanzaslc.com

Superbowl
Starting to plan for the big day of sports eating, drinking and watching advertisements? As ever a few businesses are gearing up as well. Here are a few interesting ones were aware of so far. As we hear about more, this post will be updated, so do check back.
Trolley Wing – make your party a wing party! Prices basically run to about a dollar per wing.
BGR – or what about a catered burger bar? Prices start at $12 per person for burgers with plenty of fixings or alternately choose a slider platter, $60 for 25 regular sliders.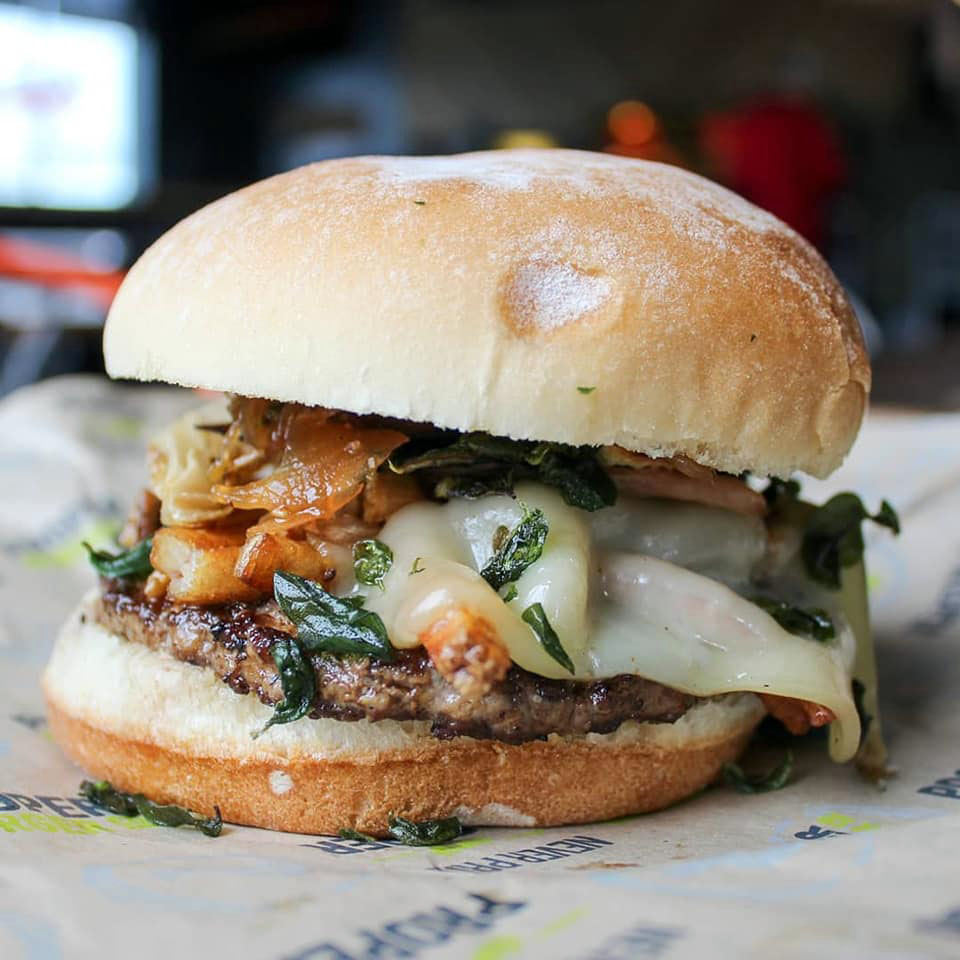 Proper Burger
Finally I couldn't end without mentioning this special burger over at Proper Burger – the impeccably named Fry Gruyieri! The burger comes with any protein of your choice, demi glace aioli, hand cut fries, gruyere cheese, fried oregano, crispy onions, and Proper shallot jam!
The burger is actually in celebration of the businesses appearance on the white haired one's Diners, Drive-Ins and Dives on The Food Network airing this month.
In celebration, neighboring Proper Brewing will be welcoming guests to flavortown -a state of mind, not place you understand. Proceedings start at 6 p.m. and festivities will include:
#DDD Trivia 6:15pm
broadcast viewing 7pm
Guy Fieri costume contest 8:15pm
thematically appropriate food, cocktail, and beer specials
The winning trivia team and top 3 costume contest winners will receive a Proper gift card! Proper will also be accepting donations for the California Community Foundation's Wildfire Relief Fund to help with recovery efforts. If you would like to donate directly, here is where you may do so: https://www.calfund.org/wildfire-relief-fund/
Note: the watch party and episode itself will be played at Proper Burger across from the bar, but all the events will be in the bar, which is a 21+ venue.
Keep the conversation going
Want to stay on top of the SLC food scene, minute by minute, dish by dish? Here are a few other places you should follow along:
Hi, I'm Stuart, nice to meet you!  I'm the founder, writer and wrangler at Gastronomic SLC; I'm also a former restaurant critic of more than five years, working for the Salt Lake Tribune.  I've worked extensively with multiple local publications from Visit Salt Lake to Salt Lake Magazine, not least helped to consult on national TV shows.
I'm a multiple-award winning journalist and have covered the Utah dining scene for the better part of fifteen years.   I'm largely fueled by a critical obsession with rice, alliteration and the use of big words I don't understand.   What they're saying about me: "Not inaccurate", "I thought he was older", "I don't share his feelings".  Want to know more? This is why I am the way I am.
This article may contain content provided by one of our paid partners. These are some of the best businesses in Utah. For a list of all our current and past relationships see our
partnership history page
.