Brewstillery 2018
This Saturday (May 12th) is Slug Magazine's second annual Brewstillery event. Held at the Gallivan Center in downtown SLC, this celebration of local only beer and spirits runs 3.00 – 9.00 p.m. There'll be beer, there'll be food trucks, there'll be more beer. There'll even be exclusive beer, brewed just for the event. Red Rock Brewing for example tell me they'll be pouring an extra special firkin of Belgian Pale with spruce tips not to mention a lime gose, their blackbier and their Zwickelbier.
Tickets are priced $20 in advance or $25 on the day; price includes a commemorative mug and 5 drink tokens. Non drinkers can get in for $5 and kids under 12 are free. Participating Breweries for the 2018 event are as follows:
Bohemian Brewery & Grill
Bonneville Brewery
Desert Edge Pub and Brewery
Epic Brewing Company
Fisher Brewing Company
Hoppers Grill & Brewing Co.
Kiitos Brewing
Moab Brewery
Mountain West Hard Cider
Proper Brewing Co
Red Rock Brewing
RoHa Brewing Project
Roosters Brewing Co.
SaltFire Brewing Co
Squatters Craft Beer
Strap Tank Brewing Co.
Talisman Brewing Company
Uinta Brewing
UTOG Brewing Company
Vernal Brewing Company
Wasatch Brewery
Zion Brewery
Distilleries for the 2018 event also include:
Alpine Distilling
Beehive Distilling
Black Feather Whiskey
Dented Brick Distillery
Distillery 36
Hammer Spring Distillers
Holystone Distilling
Kid Curry Spirits
Ogdens Own Distillery
Outlaw Distillery
Sugar House Distillery
Waterpocket Distillery
If you get a moment of clarity during all of that, you can also vote for your favorite; attendees will be asked to pick their favorite exclusive brew for a People's Choice award to wrap up the event.
American Craft Beer Week
Stat attack time. Did you know there are more than 6,000 breweries in the U.S. and almost all (98%) are small and independent craft brewers? Moreover in 2016, small and independent craft brewers grew by six percent nationwide – the craft brew onslaught shows no sign of drying up. Amidst all those downed pints, IPA remains the most popular style in the craft beer scene, growing 22 percent in 2016. Beer lovers are also turning to sessionable styles, including golden ales, pilsners and pale lagers.
Those stats come to your courtesy of the US Brewers Association as it's time to brace yourself for American Craft Beer Week. While I personally maintain a strict adherence to American Craft Beer Day (daily) myself, the rest of Utah can join in on the fun all of next week, May 14th through 19th.
The following are all the currently planned events and specials around this sudsy week that I'm currently aware of from local Utah Breweries.
I'll update this post as more and more items come in through the week (there will be plenty more I am sure):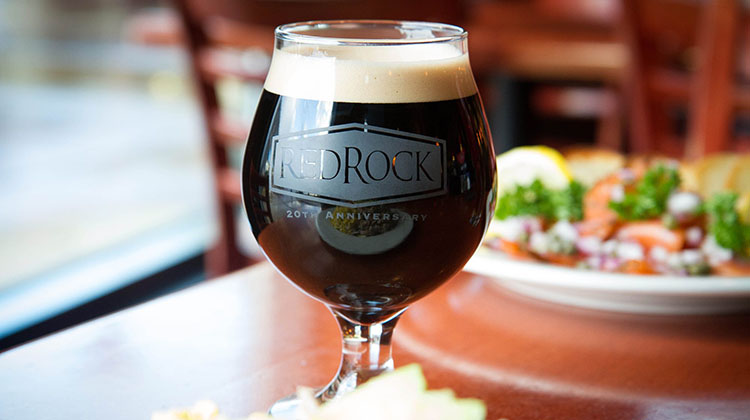 Red Rock Brewing
* Kicking off the week, the brewery will release their White Rainbow, a highly anticipated White IPA. This is normally released to celebrate pride month in June but is releasing a little early this year for Craft Beer Week.
* Offering beers of the day for just $2 on draught, changing daily. There will also be a daily selected bottle along with food pairing specials at the various brew pub locations.
* Ending the week, the brewery team will also be presenting a firkin at Kiitos Brewing on Saturday night (19th). If you're new to Firkins, Shantel Shoff from Red Rock writes:
A little background, a firkin is a unit of measure, 9 Imperial gallons or just about 72 pints. A firkin of beer is a cask of that measure, either wood or steel, that is filled and naturally fermented and carbonated for a single small batch of handcrafted beer. To get the beer out, a firkin is tipped on its side and a spout is driven in using a wooden mallet and then it is a gravity pour, no brew gas needed. A few that we have produced in the past include nut brown ale with candy cap mushrooms, coconut vanilla black saison and a gose with lime, lemongrass and Thai chilies. They tend to sell through so get down to Kiitos early!
Proper Brewing Co.
* On May 16th you should be able to catch the Proper guys on Beers with Bill on ESPN700 at 1:40 local time. Proper Brewing Co is a sponsor of the Davey Foundation and a portion of their proceeds from the NABA 2017 gold medal-winning Ragman Belgian IPA goes toward providing grants for local filmmakers. The after party for the showcase that day is at Proper Brewing Co and is open to the public!
* May 20th (ok its just outside of Craft Week but barely) there will be a self-guided bike brewery crawl between Proper Brewing, Fisher, and RoHa. There will be punch cards, and if you bike to each brewery, enjoy a beer (or nonalcoholic beverage) at each place, you'll get a mystery. No set routes like Tour de Brewtah, just a fun ride.
Bohemian Brewery
* On May 16th will be releasing their limited release Little Lebowski Lager: a tasty light lager featuring the Polish-"Lubelski Hop" that really ties the room together. The Coen brothers' inspired lager will be pared with its namesake inspiration movie at Brewvies. This year marks the 20th Anniversary of the film and Brewviews will be showing the movie at 7 p.m. and a 10 p.m. The Bohemian Crew will have prizes for the best dressed characters from the movie and Brewvies will be offering $3 Bohemian Pint fills all night long
RoHa Brewing
* Night at the Brewstand – an intimate evening to share a beer with the RoHa owners in an open house setting, talk about the beer, and the gear, and really rub elbows with the tanks. Full line up of beer available. Tickets $5, available online includes a beer ticket. Give aways.
SaltFire Brewing
* May 19th is the official opening of their bottle shop – noon – 9 .00 p.m. at their 2199 S West Temple location. Stop by for a tour and grab some high point bottles for the road. Tours of the brew house will be running on the hour every hour noon till 6.00 p.m.
Fisher Brewing
* Fisher Mansion Beer garden event.
Sugar House Pub Crawl
If your liver – heck your mortal coil – is still willing and able after all of that, May 19th is the fourth annual Sugar House pub crawl. The event runs till 4 p.m. and takes in:
Campfire Lounge
The Tap Room
Mellow Mushroom
Sugar House Pub
Trolley Wing Company
Wasatch Brew Pub
Fiddler's Elbow
The Ruin
BGR
The crawl begins at noon and participants can stop by any of the above locations to grab a "passport" (no cost). Get your passport stamped by all 10 pubs and you'll be entered into a drawing for various prizes. No purchase is necessary, but cmon, temperance on a pub crawl? side note: drink responsibly – don't take your lead from permanently half cut food bloggers 😉
Completed passports need to be delivered to Monument Plaza by 4.00 p.m. to qualify for the drawing. The grand prize is 2 tickets to the Idaho Brew Fest – including lodging. Yep, drink beer, win more beer.
Food talk
Want to discuss this post or the SLC food scene in general? Check out our Facebook group and come talk with other likeminded SLC foodies.
Hi, I'm Stuart, nice to meet you!  I'm the founder, writer and wrangler at Gastronomic SLC; I'm also a former restaurant critic of more than five years, working for the Salt Lake Tribune.  I've worked extensively with multiple local publications from Visit Salt Lake to Salt Lake Magazine, not least helped to consult on national TV shows.
I'm a multiple-award winning journalist and have covered the Utah dining scene for the better part of fifteen years.   I'm largely fueled by a critical obsession with rice, alliteration and the use of big words I don't understand.   What they're saying about me: "Not inaccurate", "I thought he was older", "I don't share his feelings".  Want to know more? This is why I am the way I am.
This article may contain content provided by one of our paid partners. These are some of the best businesses in Utah. For a list of all our current and past relationships see our
partnership history page
.