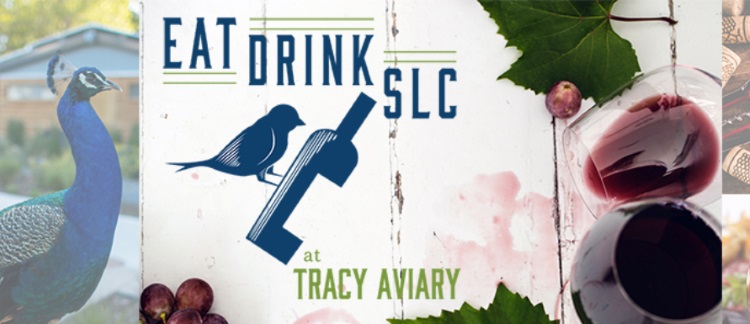 Eat Drink SLC * – Hopefully you carved out Thursday, July 9th in your diary as we previously recommended. If you did, you'll be excited to know that the first annual Eat Drink SLC event is blossoming into quite the stellar event.
This food meets wine, then says hello to spirits and beer – all on equal footing – event, now features a mouth watering line up of cuisine plus innumerable drink options to sate that summer thirst. The lineup for the inaugural event held at Tracey Aviary is now largely locked down. Local restaurants and food trucks providing food options include the following:
3 Cups
The Annex By Epic Brewing
Avenues Bistro On Third
Cannela's
Chow Truck
The Copper Onion
Finca
Forage
Frida Bistro
J. Wongs
Oak Wood Fire Kitchen
Provisions
Red Rock
Rubadue's Saucey Skillet
Same Sushi
Stoneground
Trio
Whiskey Street
Yep, some of the brightest names in town. You'll find all of these first rate restaurants in the lush, verdant settings of Tracy Aviary accompanied by wineries, distilleries and breweries galore. 80 total in fact; if you can't find something to whet your whistle in the summer sun here, you're simply doing it wrong.
The event runs three hours (6-9 p.m.) and is a steal at $75 a ticket, which you can buy right here, right now. Capacity is limited to to just 500, so move fast, I expect this one will sell fast. Please note the event is aged 21 and up.

The Goldener Hirsch Inn & Restaurant * – If your weekend needs even more fun and adventure, the very next evening, Deer Valley's finest hosts its second annual "Pork & Cork" evening on Friday, July 10th. This special evening will feature award-winning wines, live music, and a pig roast.
The Goldener Hirsch Inn's executive chef Ryan Burnham and gold medal winning winemaker Douglas McCombs, of Utah's Iron Gate Winery, will be on hand pouring wine and cooking on the Inn's patio overlooking Silver Lake Village at Deer Valley Resort. "'Pork & Cork' is going to be a very unique and special event," Burnham said. "Barbecue, music, award-winning wines, and our phenomenal location at Deer Valley — what more do you need for a perfect summer night?" I'm not about to argue either with that, Burnham is a very talented chef, and the setting of Goldener is downright serene.
Three locally-raised Niman Ranch hogs, brined in local honey and aromatics, will be slow-roasted over a wood fire and served with all the fixings as well as a range of sides. Dessert will include decadent chocolates, griddled bacon-brown-sugar bread pudding and the Hirsch's signature chocolate fondue. All this will be served with four wines from Iron Gate Winery's collection of International Wine and Grand Harvest Wine award winners.
The Alpine Stube lounge will open at 6 pm to welcome guests with dinner starting at 7 pm. Tickets are $105 per person which includes dinner, Iron Gate wines, tax, and gratuity.
7570 Royal St Park City, UT
(435) 649-7770
www.goldenerhirschinn.com
Outstanding in the Field – Don't worry, you can then put your feet up for a couple of weeks before the next big event demands your attention. Returning to Utah on July 25th is this popular local imprint of the nationally touring event. This year's guest chef Sam Oteo (formerly of Tortilla Bar) is star of the show for the yearly feast at La Nay Ferme in Provo.
After welcome hors d'oeuvres and before sitting down for a four-course, family-style meal paired with wine, guests will tour La Nay Ferme with farmer Clinton Felsted and learn how soils that started out as sandy as a beach have become healthier and more productive every year using biodynamic principles that produce delicious herbs and vegetables. Other local farmers and food producers will provide ingredients for Chef Oteo's menu and join guests at outstanding in the field's long table.
At an outstanding feast, you may find yourself sitting next to a local farmer who grew the greens, a rancher who raised the cattle or the cheesemaker who separated curds from whey. Fellow diners may have traveled from across town or across the country.
To purchase seats visit the Outstanding in the Field website, prices are $195 per person.
La Nay Ferme
4800 East Lawn Drive Provo, UT 84604
* Gastronomic SLC is a proud local partner of Eat Drink SLC and The Goldener Hirsch Inn.
This site is 100% free of annoying ads through the generous headline sponsorship by The Gateway - SLC's premier entertainment destination.
This article may contain content provided by one of our paid partners. These are some of the best businesses in Utah. The current businesses we work with include:
For a list of all our past relationships see our
historical partnerships
.