Headed down to the wine store today for a weekend tipple? Our Local Partner Vine Lore* have a couple of interesting picks for summer sipping.
KRIS wine is handcrafted in the Alto Adige province of Northeast Italy. Alto Adige has a rich past, belonging to various political regimes at different points in time. This history yields Germanic influences and Italian styles, which can be seen in the region's culture, architecture, and lifestyle. It is here among the breathtaking Dolomite Mountains that modern German technology complements traditional Italian artistry in the final blending, refining, and bottling of KRIS.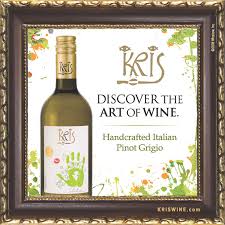 Contemporary Italian artist Riccardo Schweizer (1925 – 2004), who studied under Pablo Picasso and Joan Miró, designed the playful and modern KRIS wine labels. Each label conveys KRIS' expressive style and portrays the blending of art and science in the KRIS winemaking process.
The gold orb in each label depicts role of the Italian sun in ripening the grapes to perfection. The hand represents the role of the human hand in cultivating the grapes and crafting the wine. The sensual kiss mark represents the role of the lips that ultimately savor the wine. The theme of science is ever present in each of Schweizer's label designs, from the molecule-inspired grapes in the Pinot Grigio label to the DNA-inspired color strand in the Pinot Noir label
Pinot Grigio 2014
Del Venzie, IGT
Price: $15.99 Sale Price: $12.99
Code:
367680
With roots in Burgundy, the Pinot Grigio grape has arguably found its home of choice in Northeast Italy. The small, pinkish-gray-skinned grape flourishes in delicate sunshine of this sub-Alpine region. Pinot Grigio has reached unparalleled quality here and surprises the palette with unique floral and spicy notes rarely found in other areas. KRIS handcrafted Pinot Grigio features a flavor profile as playful and expressive as its label suggests.
Wine characteristics: pale yellow in color with brilliant greenish reflections, enticing aromas of acacia flowers, citrus, tangerine, and hints of apricots and almonds. Kris is lean and refreshing on the palate with hints of blossom and honey. Food pairings: recommended with salad, roast vegetables, risotto, lightly flavored pastas, omelets, quiches and grilled white meats or salmon.
Heart Rosso 2013
Sicily, Le Marche, Alto Adige
Price: $ 13.99
Special order only: 948089 – To order contact info@vinelore.com (1 case minimum)
The blend attains its silky smooth character from Merlot grapes grown in the calcareous hillside vineyards of Sicily, its deep purple color and robust body from Montepulciano grapes grown in the alluvial soils of Le Marche, and its exquisite structure from Cabernet Sauvignon vineyards perched on the steep, rocky alpine foothills of Alto Adige. Final tasting, blending and bottling are carried out at the Haas family estate in Alto Adige.
Wine characteristics: Garnet in color with an intense perfume of wild berries, crushed fruit and leather. Ripe fruit flavors are enhanced by its lively acidity. Food pairings: recommended with roasted meats, rich pastas, smoked sausage and flavorful cheeses.
Next up, Vitiano Bianco 2014, available in stores now; two brothers blend 2 indigenous Italian varietals to make a crisp wine perfect for summer. This is a food friendly wine and will go well with most summer fare – but it is a must try with seafood, Spaghetti alle Vongole anyone?
Vitiano Bianco 2014
Verdicchio 50%, Vermentino 50%
Umbria IGP
Price: $12.99
Code:
913938
Verdicchio – Verdicchio excels in the Marche region, on the Adriatic coast. It has far more potential for flavor and character than Trebbiano does, making wines with medium body, crisp acidity, and aromas of lemon and sea air. It's used mainly for un-oaked wines. Vermentino – this variety is at home in Sardinia, Liguria, and coastal Tuscany, where it makes crisp, light- or medium-bodied wines. It has solid potential for fine wines.
The wine – cold maceration of the grapes, the fermentation and the refinement in stainless steel keep the characteristics of the two varieties intact. The wine is fresh, well balanced and soft, with a good structure and lingering aromas.
Hi, I'm Stuart, nice to meet you!  I'm the founder, writer and wrangler at Gastronomic SLC.  I'm a multiple-award winning journalist and have written in myopic detail about the Salt Lake City  dining scene for the better part of seventeen years.
I've worked extensively with multiple local publications from Visit Salt Lake to Salt Lake Magazine, not least helped to consult on national TV.   Pause those credits, yep, that's me! I'm also a former restaurant critic of more than five years, working for the Salt Lake Tribune.    I'm largely fueled by a critical obsession with rice, alliteration and the use of big words I don't understand.   What they're saying about me: "Not inaccurate", "I thought he was older", "I don't share his feelings".
Want to know more? This is why I am the way I am.
This article may contain content provided by one of our paid partners. These are some of the best businesses in Utah. For a list of all our current and past relationships see our
partnership history page
.