Beehive Distilling
Beehive Distilling, Utah's only gin distillery, has released the first gin to be legally made in the state in over 140 years. Jack Rabbit Gin is now available in more than 30 Utah State Liquor and Wine stores statewide—from Logan to St. George. The 750-milliliter bottles are priced at $27.99.
Distilled and bottled at Beehive's Salt Lake City distillery, Jack Rabbit Gin is produced in small batches to ensure each bottle contains the perfect amount of natural ingredients, including juniper berries, lemon peel, sage leaves, coriander seeds, orris root, grain of paradise and rose petals.
"Our gin is the hand-crafted result of extensive recipe tweaks and numerous taste tests," says Chris Barlow, partner, Beehive Distilling. "It's a complex blend of seven slow-steeped botanicals, with juniper as the cornerstone and sage and rose petals for balance. We're confident that Jack Rabbit's bold taste and smooth floral finish will resonate with gin lovers and casual drinkers alike," said Barlow.
Beehive Distilling was launched in 2013 by Matt Aller, Chris Barlow and Erik Ostling — three Salt Lakers with shared passions for design, photography and spirits. For more information, cocktail recipes and a list of Utah establishments serving Jack Rabbit Gin, visit www.beehivedistilling.com.
Mandarin
Eat local might be a presently trendy catchphrase, but Mandarin restaurant has been following the ethos for the better part of two decades, supporting multiple local farms. In 2013, the Bountiful-based restaurant used 2,000 pounds of local produce in 8 weeks.  
Currently arriving on the menu – from Chas W. Bangerter and Son's Family Farm – are local sugar snap peas with zucchini, yellow squash, green beans, bell peppers, eggplant and tomatoes set to follow quickly. The farm is located just one block from the restaurant.
As the produce becomes available, menu items featuring locally grown produce include: Nanking Chicken (current special featuring sugar snap peas), Green Beans in a Black Bean Sauce, Eggplant with Chicken in a Garlic Sauce, Satay Chicken Noodles, Mongolian Pork with Chinese Sausage, Hunan Beef and Asian Fusion Mediterranean Lamb.
Mandarin's homemade dessert menu is enhanced by locally grown Utah fruit too. You will find the Mandarin using Utah raspberries, blueberries, blackberries, currents, cherries, peaches and apples.
348 E 900 N Bountiful, UT
(801) 298-2406
www.mandarinutah.com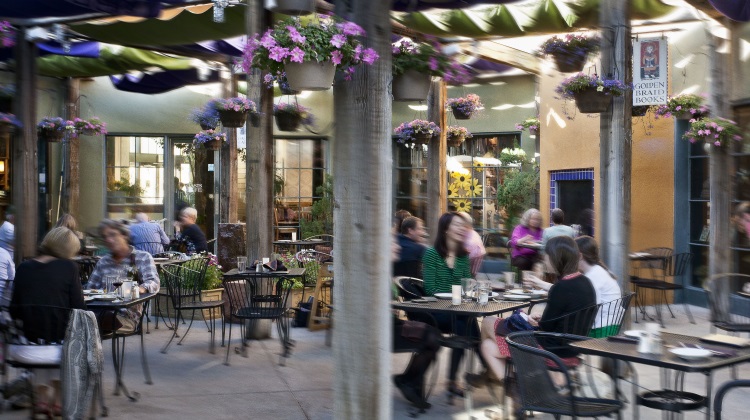 4th July *
This July, holiday revelers can still get a bite to eat before and after the parades or grab an early dinner prior to the fireworks. La Salle group's Faustina and Oasis Cafe will both be open.
Oasis Cafe, will open this year for breakfast, lunch and dinner on Independence Day, Friday, July 4 (the 24th too) from 8 a.m. until 8 p.m. "This is our first time we've ever been open for dinner on the fourth," said General Manager Will Keesen. "We had so many calls last year hoping we were open that we've decided to bend to popular demand. Of course, the evening highlight will be our nightly three-course $25 special."
151 S 500 E, Salt Lake City, UT 84102
(801) 322-0404
www.oasiscafeslc.com
Faustina will be offering their newly-styled small plates menu including bacon wrapped dates with almond, sweet soy and balsamic drizzle and goat cheese; filet two ways (Oscar and au poivre); and lump crab cakes with sweet potato hash and avocado cream. New entree-sized plates will include a pappardelle alla Salsiccia with linguisa sausage, mushrooms, tomatoes and three cheeses; and a delicate seafood scampi with angel hair pasta, white wine lemon sauce, basil, shrimp, crab and plump scallops.
"We welcomed Joe Kemp as our new chef de cuisine last fall and rolled out his new menu with an added focus on small plates," Said Hillary Merrill, general manager. "We are excited to offer our first ever 4th of July dinner this year. We're hoping for great weather so we can show off the new plantings on our patio,"
454 E 300 S, Salt Lake City, UT 84111
(801) 746-4441
www.faustinaslc.com
* Gastronomic SLC is a proud local partner of Faustina and Oasis Cafe.
Hi, I'm Stuart, nice to meet you!  I'm the founder, writer and wrangler at Gastronomic SLC.  I'm a multiple-award winning journalist and have written in myopic detail about the Salt Lake City  dining scene for the better part of seventeen years.
I've worked extensively with multiple local publications from Visit Salt Lake to Salt Lake Magazine, not least helped to consult on national TV.   Pause those credits, yep, that's me! I'm also a former restaurant critic of more than five years, working for the Salt Lake Tribune.    I'm largely fueled by a critical obsession with rice, alliteration and the use of big words I don't understand.   What they're saying about me: "Not inaccurate", "I thought he was older", "I don't share his feelings".
Want to know more? This is why I am the way I am.
This article may contain content provided by one of our paid partners. These are some of the best businesses in Utah. For a list of all our current and past relationships see our
partnership history page
.