Log Haven Named Most Romantic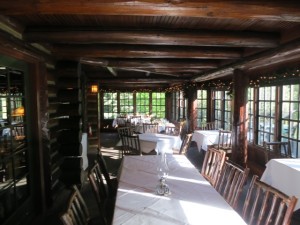 With Valentine's Day fast approaching, keep Log Haven in mind – recently named a winner of OpenTable Diners' Choice Awards for the top 100 most romantic restaurants in the United States for the fifth consecutive year. The list of winners is derived from more than 5 million reviews submitted by OpenTable diners for more than 19,000 restaurants in all 50 states and the District of Columbia.
"It's wonderful to be recognized by OpenTable diners for our commitment to romance. " comments Margo Provost, Log Haven Owner/Operator. "We have always focused on making every diner's experience delicious, adventurous, welcoming and beautiful, and after all, isn't that the perfect setting for love? Since our tagline is 'Romantic Wilderness Dining,' receiving this honor five years in a row confirms that we really do have our head and our heart in the right place!"
To continue its devotion to romance, Log Haven will host "Five Days of Romance" in celebration of Valentine's Day. From Wednesday, February 12 through Sunday, February 16, Log Haven will feature specialty cocktails such as the Raspberry Kiss featuring High West Vodka 7000, mocktails such as Love Potion #9, plus seasonal culinary creations in addition to its regular Winter Menu. Live music, a crackling fire and stunning vistas round out the "Romantic Wilderness Dining" offering.
Log Haven is a Local Partner of GSLC, sponsoring our most romantic restaurants in SLC list.
6451 E Millcreek Canyon Rd, Salt Lake City, UT 84109
(801) 272-8255
www.log-haven.com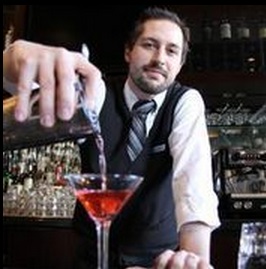 Bambara Oscar Cocktails
To have a little fun with the buzz surrounding the 2014 Academy Awards, Bambara is featuring original specialty drinks, each designed for an Oscar "Best Picture" nominee and crafted by the expert bartenders in Bambara's popular gathering hotspot, "The Vault." Available now through March 2 when the awards are bestowed, every vote (order) will be tallied until the big night when patrons are invited to see how their selections fare against the Academy's awardees.
"Our Oscar-themed cocktails are fun to create every year. Last year, I was inspired by the nominees' film locations, but this year's focus of the nominated films are more about the characters; quirks, personalities and the issues that drive them," said Bambara's expert bartender, Austin Craig (pictured). "I imagined, based on the personalities of the actors in each of the movies, what each character would most likely order in the Vault."
With prices ranging from $10 to $15, the "Vault" is offering nine different Oscar-inspired specialty drinks until Oscar night on March 2, including:
American Hustle $15
Grey Goose Vodka, Dry Vermouth, Lemon, Splash Tonic, Grapefruit Juice
Captain Phillips $11
10 Cane Rum, Grenadine, Cranberry, Orange & Pineapple Juice, Float Myer's Rum
Dallas Buyers Club $14
Corralejo Tequila, Peach Schnapps, Fresh Squeezed Orange Wheel
Gravity $12
Buffalo Trace Bourbon, Canton Ginger Liqueur, Dash Bitters
Her $10
Bombay Gin, Fresh Lemon Juice, Soda, Splash French Red Wine
Nebraska $10
Absolut Mandarin Vodka, Peach Schnapps, Dry Vermouth, Orange Juice
Philomena $10
Absolut Vodka, Canton Ginger Liqueur, Orange Juice, Cinnamon Sugar Rim
12 Years a Slave $15
Woodford Reserve Bourbon, Galliano, Splash Soda, Dash Bitters, Fresh Squeezed Lemon
The Wolf of Wall Street $15
Hendrick's Gin, Smirnoff Vodka, St. Germaine Elderflower Liqueur, Orange Zest
202 S Main St, Salt Lake City, UT 84101
(801) 363-5454
www.bambara-slc.com
Savor The Summit Returns
Loosen your belts and get ready for the hottest dining ticket in town: the Park City Area Restaurant Association's "Savor the Summit" outdoor dinner party returns for its seventh straight year this summer, featuring dozens of restaurants and live musical performances.
On Saturday, June 21, hundreds of residents and visitors will sit together at the summit's "Grande Table," which will run down the center of Historic Main Street and the heart of Park City's renowned restaurant district. Restaurants will offer their choices of dinner and drinks, with menu prices ranging from $40 to $150 per person, and wine and beverage pairings either extra or included, depending on the establishment.
"This event pairs Park City's world-renowned restaurants with Utah's world-famous summers and sunsets," PCARA executive director Ginger Ries said. "Everyone in our community is invited to together for a great evening out on the town."
The event will also feature a Spirit Garden serving local wine and beer at the intersection of Heber Avenue and Main Street, and a live musical performance by the Savor-favorite band, Mountain Town Music.
This year's participating restaurants have not yet been announced, but the 2013 event featured close to 30 establishments, ranging from 350 Main and Zoom to Cisero's and Talisker on Main. To attend you do not need a ticket but you do need to make a reservation directly with a participating restaurant of your choice. Participating restaurants will be added to the event website as they sign up for the event.
Hi, I'm Stuart, nice to meet you!  I'm the founder, writer and wrangler at Gastronomic SLC.  I'm a multiple-award winning journalist and have written in myopic detail about the Salt Lake City  dining scene for the better part of seventeen years.
I've worked extensively with multiple local publications from Visit Salt Lake to Salt Lake Magazine, not least helped to consult on national TV.   Pause those credits, yep, that's me! I'm also a former restaurant critic of more than five years, working for the Salt Lake Tribune.    I'm largely fueled by a critical obsession with rice, alliteration and the use of big words I don't understand.   What they're saying about me: "Not inaccurate", "I thought he was older", "I don't share his feelings".
Want to know more? This is why I am the way I am.
This article may contain content provided by one of our paid partners. These are some of the best businesses in Utah. For a list of all our current and past relationships see our
partnership history page
.