Throughout my years of writing for Gastronomic SLC, people have always asked me why I have never written about some of my more interesting meals, outside of Salt Lake City. I've often shied away from such a path for fear of distracting from the focus of the website. All that said, a recent meal at SAAM in Los Angeles prompted me to rethink that. After an excellent meal I really wanted to write 'something' but had no outlet as such, and with so many people asking me so many questions, I decided to review the meal here. Hope you enjoy.
SAAM is the work of Jose Andres. who is probably most noted for his Washingon D.C restaurant, Minibar. Seating is notoriously hard to come by at Minibar, with only 12 diners seated per evening. For a chef who counts Ferran Adrian as his mentor you would expect to see plenty of creative twists and flair, which Andres serves up in spades. When an opportunity to dine at one of his restaurants recently came up, I jumped at the chance.
SAAM is actually a restaurant within a restaurant. Located within SLS hotel in Beverly Hills you will find 'The Bazaar', a mixture of tapas restaurant (Rojo Y Blanca), bar (Bar Centro), patisserie, shop and tucked out back away from chaotic crowds, the private tasting room, SAAM. The tasting room is a quiet oasis and offers up a single 22 course tasting menu, a few select nights of the week.
The following is a recap of my meal there a few weeks ago. Some of the pictures aren't fantastic, as I was trying to avoid flash photography, in what is a fairly upscale setting.
The Golden Boy, Lotus Root Chips: The meal commenced with this house signature cocktail – a small shot of sherry, cava, bitters and gold dust. A clean, crisp, refreshing hit to the system, and really, its kinda neat when you can relay that you began your meal with gold dust. The lotus root chips were served alongside, coated with star anise – delicious.
Tuna Handroll: The first of the appetizer courses was a play on the traditional hand roll. Only enough for one bite, but what a delicious bite. Ahi tuna is encased in a crisp outer shell with a wonderfully rich avocado cream and liquified nori. The whole thing is topped with a dab of wasabi cream. The presentation and taste made this a hit of our table, we all wanted to take a bag full of these home.
(Note: our party was a group of three, hence three of the same thing in some photographs)
Oyster and Jamón: This spoon sized dish was like taking a bite straight from the ocean. It was a single bite affair, focused around a locally sourced Carlsbad oyster.
Black Olives Ferran Adria: This was the first of several dishes on the menu to utilize the infamous 'shpherification' process – and also an obvious nod to Andres' early tutor, Ferran Adria. Originally pioneered at El Bulli in Barcelona, the technique involves taking a liquid and mixing with sodium alginate before dropping or dripping into a bath of calcium chloride/calcium carbonate. The resulting chemical reaction creates an encapsulation of the original liquid. The exterior is solid while the interior remains liquid. The process can be used to great effect, to re-imagine dishes and ingredients. Plus, its kinda cool.
In this dish, the essence of kalamata olives is mixed with an excellent olive oil and also squid ink for color, before undergoing spherification. Its a one time affair, you pop the olive into your mouth, bite down and keep your mouth closed. The subsequent explosion in your mouth is like tasting the most olive-y olive you ever tried. By the way, if you forgot to close your mouth, you will also be likely looking a messy table cloth right now too 😉
Jose's Combination: Making a complete u-turn from the laboratory, the next dish was the ultra-simple pairing of Jamón Ibérico with a dollop of caviar. Our waiter explained this to be one of Andres' most beloved combinations and who were we to argue. It was fun to see such excellent ingredients, treated so simply, immediately after the previous wizardry.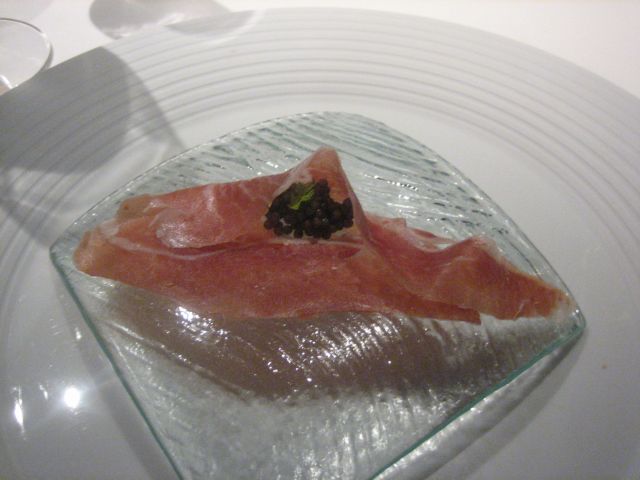 Patatas Bravas: Back to the the world of the avant garde we have this re-interpretation of the classic tapas dish, Patatas Bravas. Where once you had fried potato rounds and a spicy sauce you now have this more elegant presentation. The outside is crispy and the inside is soft and fluffy.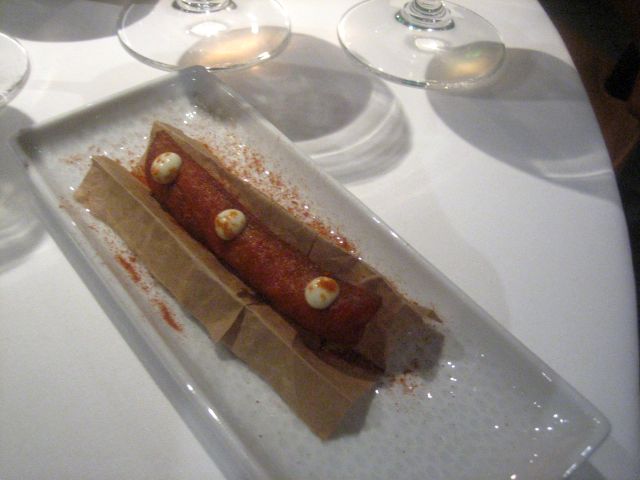 Buffalo Wing: This dish was one of evenings low notes for myself personally. Don't get me wrong, it tasted great, but I wasn't quite sure what the point of this course was to be frank. Was it an excellent boneless buffalo wing, topped with the classic mix of celery, hot sauce and blue cheese? Yes. Did it really bring anything extra to the party? Not really. It felt out of place, like it had wandered onto the menu of its own accord, and for me the blue cheese flavor was too dominant.
Not Your Everyday Caprese: This dish was subject of much debate, but I thought it was the perfect example of what new techniques can bring to old dishes. Here, a caprese salad is given a new story with a little help from spherification. The dish contains a sphere of tomato, spheres of mozzarella, a tomato 'heart', air bread croutons, pesto and a dash of balsamic. This took a completely pedestrian salad, and made it into something exciting, something I was giddy to eat. It helped of course that all the ingredients were first rate too.
Crispy Nigiri: I'm ashamed to say I can't recall too many details about this dish. Sadly that often translates to – "Um, what's the next course?". What I do recall is this was a micro piece of Aji balanced on puffed rice. I don't think anything really stood out here.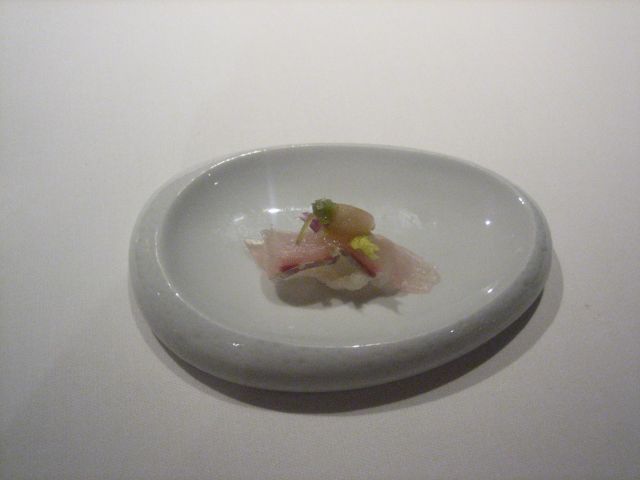 Spring Foie Gras Soup: This dish was spectacular, both in terms of flavor and presentation, that I suspect it might have been partially to blame for forgetting the precise details of its predecessor.
The dish arrived as three pieces of slightly under cooked foie gras, topped with picture perfect edible flowers. Our waiter then proceeded to pour over a piping hot broth of dashi and bergamot to complete the cooking of the foie gras. Our table fell silent while we each enjoyed this one, a unanimous thumbs up all around.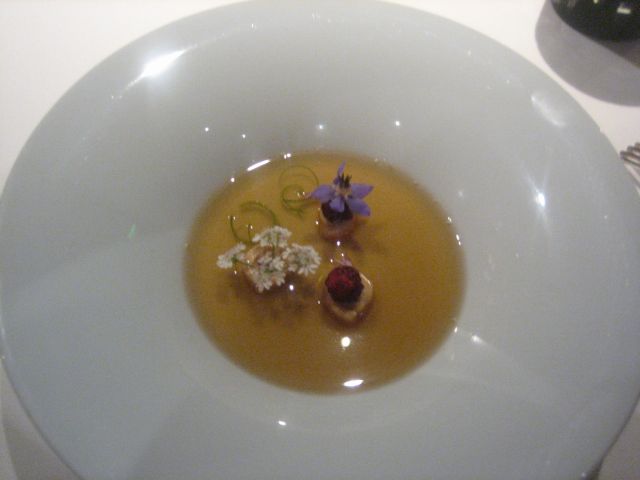 Chipirones: Do you enjoy the taste and texture of squid, with some of its own ink thrown in for good measure? If so, this dish would completely rock your world. For me, I can take or leave squid no matter how well prepared (and this was good), so it didn't leave too much of an impression for me personally.
Banh Mi: My favorite dish of the evening was this spin on the French-Vietnamese sandwich, Banh Mi. The sandwich was created with a wonderfully greasy fried brioche bun, pickled carrots, dehydrated and then re-hydrated (with dashi) tofu, wagyu beef and cilantro.
The oily bread and rich fatty beef could have all too easily overwhelmed the palate, but they were wonderfully tempered by the acidic pickled carrots and assertive cilantro. A thoroughly fabulous mini sandwich, one I could eat for breakfast, lunch and dinner every day. Well, apart from the fact my cholesterol would shoot through the roof and I'd last about three months.
Carrot 'Gnocchi': More spherification, albeit leaning more tubular than spherical. Here we have a creamy carrot 'gnocchi' in a lightly curried soup. An enjoyably delicate course following the richness of the preceding sandwich.
Mirugai: This was introduced to us as Geoduck (pronounced 'gooey-duck'), I'd never realized this was the same as mirugai, seen on sushi restaurant across the land – you learn something new every day huh! Anyway, this dish was another less than memorable moment for me personally. The mild clam was dominated by the garnish (of what I think, if memory serves) of shaved radish and water cress. It didn't leave much of an impression in my memory at any rate.
Kurobuta Pork Belly: After spotting this on the menu before our meal, I was excitedly looking forward to this dish. It came served with micro turnips and an artichoke puree. After a few bites I found myself lusting for some of chef Ryan Lowder's pork belly creations from The Copper Onion, back here in SLC. Don't get me wrong, SAAM's dish was excellent, but it really does go to show how lucky we are to have such a great restaurant like The Copper Onion here in Salt Lake City.
Philly Cheesesteak: One of Andres' signature dishes. This modernization of the East coast favorite uses 'air' bread. In practice this is a thin, crispy hollow tube filled with gooey, oozy, cheddar cheese. The whole thing is layered with wagyu beef. I had to skip this one, as melted cheddar really doesn't float my boat – but my dining partners were all too eager to lay claim to my offering. They rated this dish exceptionally highly.
Japanese Baby Peaches: As we segued from savory to sweet we had this combination of Japanese baby peaches, hazelnuts, Burratta cheese and croutons. Sweet, creamy, cruncy and soft – the ingredients made for quite the unusual, but enjoyable mix.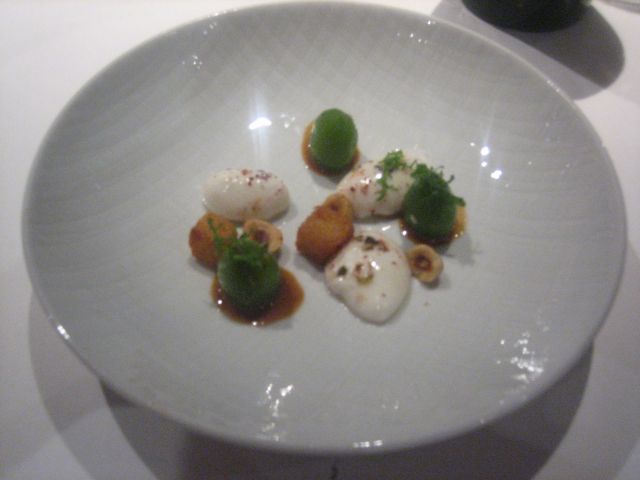 Dragons Breath Popcorn: You might have already seen this on TV. The server brings a metal bowl to the table, filled with liquid nitrogen. Into this maelstrom bites of caramel popcorn are dropped, which 'cook' in the bowl. They are then served up one at a time for each diner to taste. The idea is to keep your mouth closed while chewing, this creates an explosion of smoke, which I found remarkably hard to contain truth be told. You can then breath out the smoke through your nose, to the amusement of your fellow diners, hence the dishes name. Of course it is completely gimmicky, but its also pretty fun nonetheless; although we did note we were left with slightly freeze-burnt tongues afterwards as a result of this one.
SAAM-Buca: This was the first of our two desserts proper. It comprised a very vibrant contrast of both sweet and tart using sambuca gelee, strawberry and fennel. I hope it was by design, and I will give the chefs the benefit of the doubt, but this dish was the perfect wake up call for my numbed palate after the freezing treatment from the dragon's breath.
Chocolate Rock: The final course proper was the chocolate rock, which first started life as a chocolate foam, before meeting liquid nitrogen and creating the unique textural effect. If I recall correctly there was also a couple of excellent pralines mixed in, with a greek yogurt at the base too. I think there was also a citrusy foam to the side too, but after 20+ dishes details get a little hazy! A great dish I thought.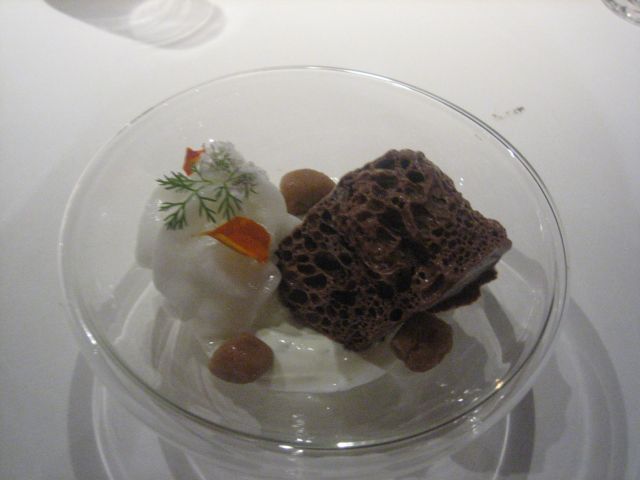 Sexy Little Sweets: We finished the tasting menu with a plate of petit fours to share over coffee (an additional $5 per cup). While we recounted our meal, we realized nearly three hours had passed in what seemed like only the blink of an eye. I thought that spoke volumes to the excellent pacing of the meal. We always seemed to have ample time between courses to chat and discuss the food, while never seemingly waiting at any point.
Our main server and host, Daniel, led a great service throughout the evening. While the service was continually efficient and well schooled, eager to provide more detail when asked, they were only too happy to join in with our joking and fun when the time was apt. The service team managed to deftly balance professional and accessible for the duration of our meal.
As we left the restaurant, and went back into the noisy bustle of the Bazaar, we were handed a copy of the menu rolled up in a little scroll, plus a boxed, bite size chocolate. Those of us who also selected the wine pairing received menus for that too.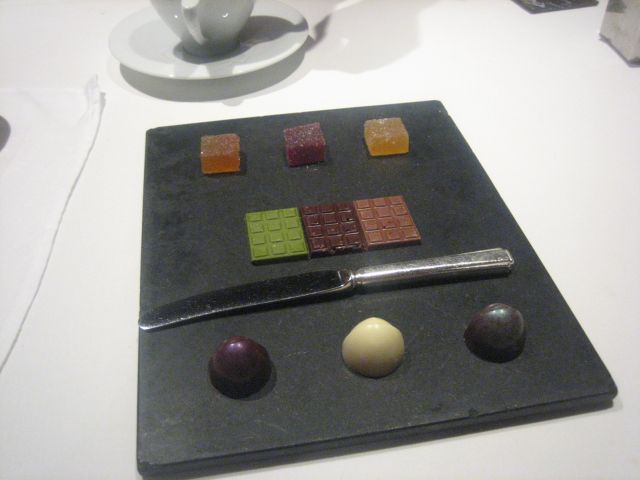 The 22 course tasting menu is priced at $120 with the optional 6 drink pairing, a further $100. Gratuity is added at a mandatory 20% too. I personally felt the tasting menu represented a good value, given the ingredients, creativity and overall experience. I'd perhaps wait 6 to 12 months before visiting again, just to allow the menu to change, but I'd happily visit again.
Saam @ The Bazaar
SLS Hotel Beverly Hills
465 S La Cienega Blvd Los Angeles, CA 90048.
(310) 246-5567
www.thebazaar.com
Hi, I'm Stuart, nice to meet you!  I'm the founder, writer and wrangler at Gastronomic SLC.  I'm a multiple-award winning journalist and have written in myopic detail about the Salt Lake City  dining scene for the better part of seventeen years.
I've worked extensively with multiple local publications from Visit Salt Lake to Salt Lake Magazine, not least helped to consult on national TV.   Pause those credits, yep, that's me! I'm also a former restaurant critic of more than five years, working for the Salt Lake Tribune.    I'm largely fueled by a critical obsession with rice, alliteration and the use of big words I don't understand.   What they're saying about me: "Not inaccurate", "I thought he was older", "I don't share his feelings".
Want to know more? This is why I am the way I am.
This article may contain content provided by one of our paid partners. These are some of the best businesses in Utah. For a list of all our current and past relationships see our
partnership history page
.