Lunch review
It has been approximately three years, not to mention many a repeat visit, since we last reviewed Elizabeth's Bakery & Tea Shop back in 2008. Recently, spurred on by some great Groupon deals for the eatery (signup if you haven't already), I took note of the many changes since that first review. Time for an update then!
The biggest single change to occur since that initial write up is the new ownership. Originally the restaurant was the work of the adjacent London Market's Robin and Elizabeth Grey – the restaurant changed hands and is now a completely separate business venture – owned and operated by Ronni Matthews.
With the change in ownership has come a few tweaks to the overall dining experience too. Thankfully, its more evolution than revolution, and the slight modifications are largely agreeable. On entering the restaurant you no longer need to order up at the counter. While there is no menu as such (except for a list of teas) – one is guided to browse the chiller cabinets of both the savory and sweet treats, before seating themselves.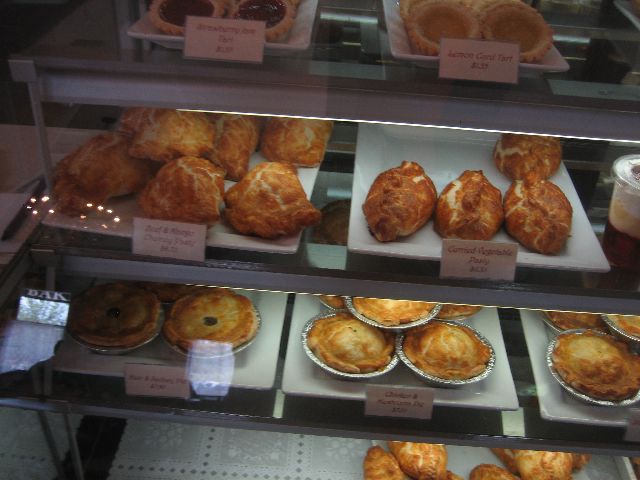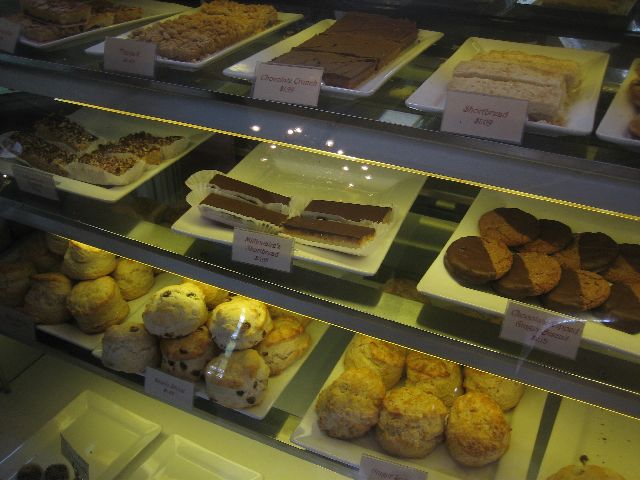 Once sat, a waiter will quickly be table side to take your order. Brit tip #1: for the full English experience get the biggest teapot of PG tips you can muster (strong black UK tea). Also you might think me crazy for suggesting ordering tea in the heat of summer, don't worry, the aircon at Elizabeth's is generally at max, keeping the whole place cool as a cucumber sandwich. Indeed it gets almost too chilly for me by the windows facing Trolley Square.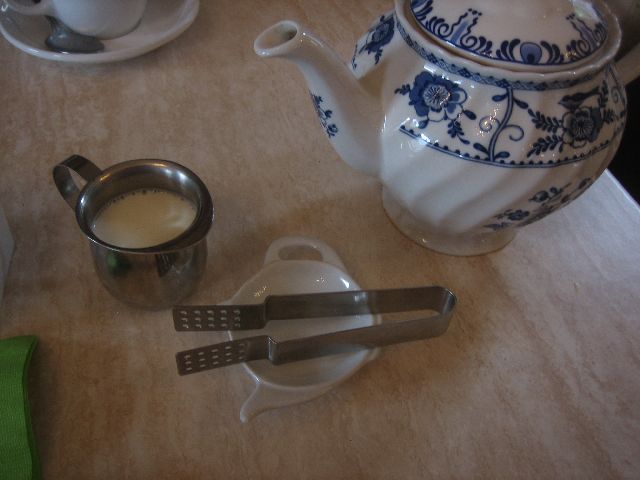 If you haven't been in a while you might also notice the space feels slightly less chintzy. A lot of the ornamental clutter seems to have been simplified. Mind you, the space is still a very feminine one, as you would expect for a tea shop; the main banquette seating being a great example, now revamped with a million pillows:
Much of the menu remains the same despite a few additions here and there. Favorites like quiche, sausage rolls, pies and pastys all remain. A specials board now adorns the wall behind the counter, so keep your eyes peeled. The Beef & Mango Chutney Pasty ($6.35) was one new item I found recently, a fun twist on the standard cornish pasty (root veggies, potato and ground beef in a flaky pastry shell):
Subtle highlights of curry powder and the sweetness of mango added an enjoyable new dimension to this traditional English snack food. Also, where once redundant parsley twigs adorned the plate, a simply dressed salad now takes its place. The salad added a welcome brightness to the dish and helped alleviate some of the dryness, inherent with a menu of baked goods. One tiny gripe was it could have been a smidgeon larger.
Brit tip #2, a sausage roll ($3.25) is probably the most quintessential of UK snack foods:
Seasoned pork sausage wrapped in flaky pastry, perfect for grabbing and eating on the go. Always a favorite of mine, and a decent rendition at Elizabeth's – yet it did feel overpriced at three bucks.
The Cheese and Onion Pie ($6.95) is as full as goodness as ever, and a good option for vegetarians:
Thick, rich, crusty pastry is filled with gooey melted cheddar cheese, and soft onions. With the calorie overload afoot, you might want to pretend the side salad offsets the indulgence (especially with dessert looking). Much like the pasty and sausage roll, I thought the pie was markedly better than I previously remembered. The pastry had a better crunch for sure. I'm not sure precisely what has changed, maybe the baking or the recipe, but the savory goods seemed improved to me.
In the back of above the picture you will also spy a Trifle ($3.95), a dessert we order more often than not. Trifle is composed of several layers – ladyfingers, strawberry jello, custard, cream and a sprinkling of crumbled chocolate on top. It is just one of a bounty of sweet treats you can end your meal with. I could go into detail over the array of selections, but you would be best advised to simply head on down and sample a few over a pot of tea (Brit tip #3 – any opportunity for a pot of tea should be seized at once).
Three years on its great to see Elizabeth's evolving and trying new things. I did once muse that the menu might not have sufficient depth to entice a regular following, but on every trip back, I see ladies lunching sharing sweet treats, families enjoying a meal and couples hanging out, relaxing. My only one gripe is still the price of some of the items, being marginally higher than you would encounter over the pond.
Elizabeth's Bakery & Tea Shop
575 South 700 East Salt Lake City, UT 84102-2814
(801) 433-1170
Website: http://www.elizabethsteashop.com
Hi, I'm Stuart, nice to meet you!  I'm the founder, writer and wrangler at Gastronomic SLC.  I'm a multiple-award winning journalist and have written in myopic detail about the Salt Lake City  dining scene for the better part of seventeen years.
I've worked extensively with multiple local publications from Visit Salt Lake to Salt Lake Magazine, not least helped to consult on national TV.   Pause those credits, yep, that's me! I'm also a former restaurant critic of more than five years, working for the Salt Lake Tribune.    I'm largely fueled by a critical obsession with rice, alliteration and the use of big words I don't understand.   What they're saying about me: "Not inaccurate", "I thought he was older", "I don't share his feelings".
Want to know more? This is why I am the way I am.
This article may contain content provided by one of our paid partners. These are some of the best businesses in Utah. For a list of all our current and past relationships see our
partnership history page
.