It's funny how sometimes you forget about a restaurant. For some reason, it stops being in your "so where do you want to go tonight" list, and pretty soon it slides to the back of your consciousness. I find this to be a strange phenomenon in Salt Lake though, since not too long ago we had about four decent places to eat (yep, I remember those days). But now there are so many downright delicious restaurants here that sometimes a good one falls of my radar. Recently, I was reminded about a very good one; Faustina.
I've always liked Faustina, and we actually did a review in August of 2008 shortly after they opened, but for some reason I haven't been there in quite a while. However, a couple of weeks ago GastronomicSLC was invited to a summer menu preview and I got to go see what Executive Chef Billy Sotelo and General Manager Hillary Merrill are up to. And let me just cut to the chase, they are up to YUM.
From the first bite of the Lamb Chop appetizer to the last sip of the Dow Tawny Port (served with a perfectly made Panna Cotta) my taste buds were rapidly replacing about half of the other restaurants on my "regular" list with Faustina's name.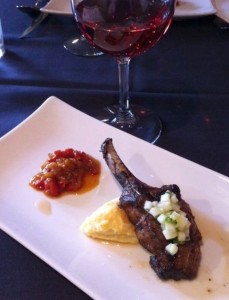 Served with parmesan polenta and stewed peppers, the lamb was tender and delicious (Hillary paired this with a Crios Rose of Malbec – divine!).
Next was a wonderful summer salad of watermelon, arugula, pink peppercorns, cashews, and goat cheese with a watermelon vinaigrette. So light and fresh, and the watermelon was perfectly ripe. I might have left off the cashews, but then I'm not big on cashews. Paired with a lovely Nobilo Sauvignon Blanc this lasted about two minutes.
The next course was an asiago crusted scallop dish with cappellini in a saffron broth. This has been on the menu since we reviewed Faustina last time and I can see why. Very tasty.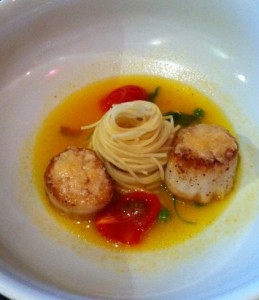 Next came a really interesting stuffed chicken breast (I bet you weren't expecting interesting and chicken to be in the same breath there). Served in a chorizo broth with polenta and asparagus, that broth made the dish unique and very satisfying. p.s. they really know polenta at Faustina. Soooo good.
Finally we had that vanilla bean panna cotta I mentioned earlier. Like a dope, I ate mine before remembering to get a picture, but seriously folks, panna cotta is hard to make right. It walks the razor's edge between scrambled eggs and a weird jell-o concoction, but this baby was perfect. Just the right amount of jiggle, and a full rich creaminess you'll crave. Delicious with balsamic strawberries and toasted pistachios. Oh, and don't forget that port. Just right.
Everything we were served was excellent (and all of the dishes we tried are on the menu – they range from $6.00 for the watermelon salad to $23.00 for the scallops), and the servers were friendly, efficient, and very knowledgeable. And although we didn't sit out on the patio, I was reminded of how nice it is as we walked inside. I'm seriously annoyed with myself for letting Faustina slide off my go-to list, and after the warm reception we received (even when they didn't know we were there for the media dinner), it's will definitely be in heavy rotation from now on.
Disclaimer: Gastronomic SLC was invited by Faustina to sample their summer menu, and did not pay for this meal.
Faustina
454 E 300 S, Salt Lake City, UT 84111
(801) 746-4441
Website: www.faustinaslc.com
This article may contain content provided by one of our paid partners. These are some of the best businesses in Utah. For a list of all our current and past relationships see our
partnership history page
.