Evening dinner review
Okay okay, I know what you might be thinking. Yet another new sushi restaurant in Salt Lake City? Is it possible to have too much of a good thing? I understand the sentiment, believe me I do. At times it seems like Utah has the highest number of sushi dining options of any landlocked state! There's also the all-too-real possibility that such ubiquity could spawn mediocrity and all the poor imitators of the original greats could blur together into a sea of blandness.
Yep, I'm as jaded as the next person, but the opening of Sushi Groove gave me pause for further investigation. The restaurant is the proud work of former Oh Sushi employees, Dave and Jeff. My initial reaction upon discovering the construction occurring in the small space next to the V.F.W., which had once housed an Inkley's, was going to be a sushi place basically consisted of "Whoo Hoo! I hope it's good." This reaction was based on the fact that Sushi Groove is located literally steps from home and I could visualize myself happily partaking of serious amounts of seafood and sake before safely hoofing it home on a regular basis. As luck would have it, my vision became a reality. Since my first visit, I've been back to Sushi Groove again and again. I freely admit that, due to the restaurant's limited space, I was tempted to keep it's greatness a secret. But I trust that you'll keep it just between us.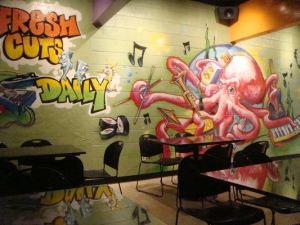 As I mentioned before, Sushi Groove isn't the biggest restaurant in the world, but I've found the close quarters help cement the neighborhood hangout vibe they seem to be happily cultivating. The space holds a smattering of tables, and a sushi bar which seats around 10-12 people. Thankfully the sushi bar isn't one of those towering affairs, its a comfortable height, which allows you to enjoy an eye to eye chat with the friendly and enthusiastic chefs.
The artwork and decor couldn't be more different than so many other local sushi restaurants. You won't find traditional Japanese minimalism here, it certainly isn't a formal or uber chic operation. I would describe Sushi Groove as casual, cool and fun. That theme is played out again and again, whether it's the graffiti-rendered menu or the huge artsy specials board hanging up behind the sushi bar. The music volume also creeps up as the evening progresses (some evenings after 9 p.m., the restaurant features a DJ, although I have yet to experience this event, being an old man/early diner). Regardless of my status, I have found the vibe at Sushi Groove to feel like "you should be here to relax and have fun", which is refreshing to say the least.
But what about the food? I have to admit to harboring some worries that the restaurant could be all style and no substance as I watched it being built and decorated from the outside. Thankfully, that couldn't be further from the truth, and this becomes quite obvious as soon as you step inside. Taking a look at the daily specials board and speaking with the owner/chef Dave, his ambition, talent, creativity, and enthusiasm for only the best and freshest ingredients quickly become apparent. An aspect of the specials board that I have found especially intriguing are the "Dessert Rolls", which I haven't tried yet, but definitely demonstrate the creativity and willingness to experiment which can be found at Sushi Groove. I'm certain there are going to be plenty more intriguing creations from Sushi Groove over the coming months and years (photos below: mixed nigiri $varies; rainbow roll $10.95).
The menu also features all the classic and traditional Japanese elements you've come to expect. Miso, edamame, seaweed/squid salads, through to Nigiri and Maki sushi. In addition to those standards, the kitchen also offers up some hot selections such as rice bowls, Gyoza and Coconut Shrimp. Personally, I've almost always exclusively stuck to the sushi, but it's good to know you have the options if you dine in a large group with that one (clearly not right) friend who simply refuses to eat sushi. There are also several vegetarian rolls on the menu, so that same friend can pretend to fit in (photos below: Mixed Nigiri $varies).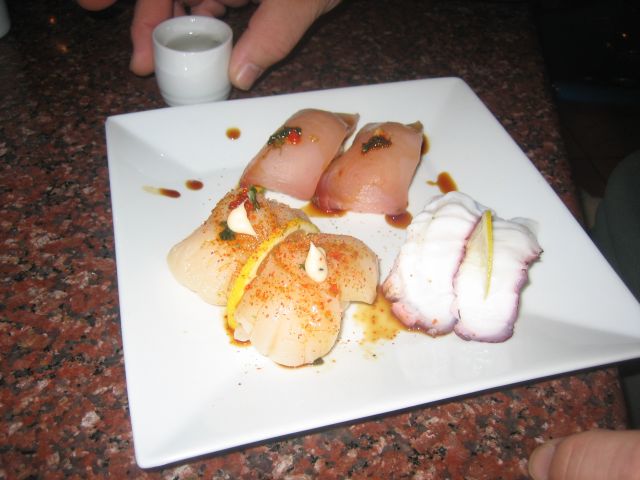 Of all the items I've sampled so far, nothing has been less than good; and more often than not, things are down right fantastic. I've never been a huge fan of scallops in their raw form, but the dry-packed scallops that I've been devouring lately at Sushi Groove have been nothing short of a meltingly soft and rich revelation.
In fact, I'm a huge fan of their Nigiri full stop. They cut a slightly oversized piece of fish that envelops the rice rather than sitting daintily on top. I've never seen such a large cut and I've no clue if it is traditional or not, although I do know it is uncommon. The quality and freshness of the fish is consistently great, and on Tuesdays they offer a $2.50 per two piece order of Nigiri special. Its a bargain you would be crazy not to take advantage of. I almost feel guilty for ordering at those prices…almost (photos below: groovealicious roll $12.95).
As well as the countless amounts of Nigiri I've devoured over the past few weeks, there have been plenty of scrumptious rolls I now crave constantly as well. The Sriracha and jalapeno powered Jersey Devil ($10.50) certainly doesn't hold back on the heat punch; and the Rainbow Roll is generous and filling ($10.95). Moreover, everything is well constructed with obvious care. No self destructing rolls here. Also, if you are such inclined, just ask and you can get fresh Wasabi.
Sushi Groove offers a decent selection of beers (including $6 Sapporo and $2.50 PBR if you're on a budget) and sake ($4/$8 small and big). A recent addition to the menu is a range of sake-centric cocktails.
Sushi Groove offers up a friendly creative team, great prices, and a fun venue. So, I'll admit it, Salt Lake City definitely has room for another sushi restaurant after all. I truly believe we have a new gem of a restaurant in our midst. I'd recommend you get down there sooner rather than later, before the word gets out.
Sushi Groove
2910 Highland Drive Salt Lake City, UT 84106-3018
(801) 467-7420
Website: www.sushigroove.com
Hi, I'm Stuart, nice to meet you!  I'm the founder, writer and wrangler at Gastronomic SLC.  I'm a multiple-award winning journalist and have written in myopic detail about the Salt Lake City  dining scene for the better part of seventeen years.
I've worked extensively with multiple local publications from Visit Salt Lake to Salt Lake Magazine, not least helped to consult on national TV.   Pause those credits, yep, that's me! I'm also a former restaurant critic of more than five years, working for the Salt Lake Tribune.    I'm largely fueled by a critical obsession with rice, alliteration and the use of big words I don't understand.   What they're saying about me: "Not inaccurate", "I thought he was older", "I don't share his feelings".
Want to know more? This is why I am the way I am.
This article may contain content provided by one of our paid partners. These are some of the best businesses in Utah. For a list of all our current and past relationships see our
partnership history page
.