We recently had the good fortune to explore and discover the local treasure that is the Sundance Resort. The primary reason for our visit was to attend a dinner featuring dishes served at the resort's restaurants, along with dishes from the Sundance-owned Zoom restaurant located in Park City. Paired with the dishes were a selection of wines from the Sundance Wine as Art Program. Although we visited as invited guests to sample the food and wine, what we found was that, even at only an hour's drive away from Salt Lake City, Sundance is a world away in terms of experience.
We were especially excited to see the award-winning Tree Room restaurant. The Tree Room, named for the actual native tree around which it is built, did not disappoint. The dining room, which glows with warmth, features pieces from Robert Redford's own Native American art collection. The restaurant's namesake tree trunk rises through the floor up into the ceiling towards one side the room. The impressive space certainly set the scene for what was to be an equally impressive array of food and drink.
On the night in question, the Sundance Chefs had come together to prepare a meal showcasing dining options from the restaurants located at the resort and Zoom. We started with an amuse-bouche, a play on vinegar and oil: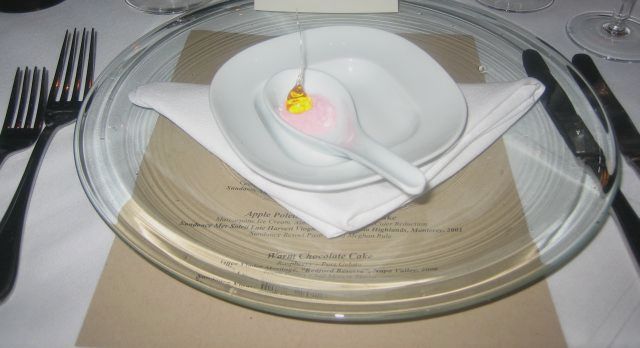 Essentially liquid olive oil was suspended in a thin hard shell. This teardrop bite was meant to be picked up by the end, rolled in the provided dried vinegar, and popped in the mouth, where it exploded with flavor. The amuse seemingly had the perfect impact, creating an audible buzz among the diners.
I talked with Sundance's Executive Chef Mark Shoup regarding his thoughts on molecular gastronomy and new creative ways of repackaging familiar flavors. It was great to hear his opinions on food and technique, as he clearly showed his excitement and passion related to food, and in particular the food of Sundance. He assured me that great ingredients would always be the focus at the Sundance restaurants. While more modern cooking techniques are always interesting and appeal to the Chefs, Mark assured me that science will never be allowed to run amok, as Sundance, and The Tree Room in particular, are known for refined seasonal mountain cuisine.
Next up from Zoom in Park City was an offering from Chef Brian Prusse. Steamed Clams (Roma Tomatoes, Lees, Five-Herb Broth, Garlic Ciabatta Toast). This dish was paired with the Sundance Honig Sauvignon Blanc, Napa Valley, 2007:
A wonderfully aromatic dish, the smell of the incredible five-herb broth was the first thing we noticed. The broth proved a perfect flavor compliment to the clams and after the clams were gone, the accompanying ciabatta toast was quickly used for sopping up what little remained. Zoom, located on Main Street in a renovated Union Pacific railroad depot, is now definitely on our Park City "to do" list.
The Foundry Grill's Chef Timothy Anderson then presented a very creative Arugula and Frisee Salad (Butternut Squash, Pomegranate Seeds, Spiced Pumpkin Seeds, Blue Cheese, Maple Vinaigrette). Paired with the Sundance Selby Chardonnay, Russian River Valley, 2006:
I will confess to largely skipping salads, I shouldn't, but all too often find them yawn-inducing. Chef Anderson's salad might just tempt me back to trying salads more often. The bite of the pomegranate and pumpkin seeds gave the salad a very enjoyable texture and the slight sweetness of the vinaigrette never becoming cloying. The surprising addition of the butternut squash added a nice "wintery" element.
Next up was the offering from Sundance's premier restaurant, the Tree Room and Chef Jesse Moreno. Grilled Buffalo Tenderloin (Cauliflower Gratin, Glazed Carrots, Sauce Bordelaise). This dish was paired with the Sundance Altamura Cabernet Sauvignon, Napa Valley, 2005: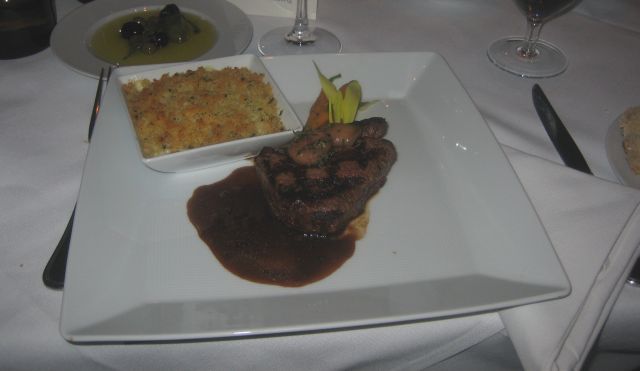 The buffalo was expertly cooked, thoroughly tender and absolutely lip-smacking in flavor. A little sliver of bone marrow sat atop the meat, which Chef Shoup explained as a frequently lost ingredient from the classic Bordelaise sauce recipe. Buffalo being a leaner option than beef, I thought the marrow to be a great addition, adding just that little extra touch of richness. The cauliflower gratin received raves from around the table. Wen commented several times on how much she enjoyed the richness of the side dish. Speaking of Wen, I was very surprised to see her (the near-vegetarian) finish nearly all of her buffalo. Wait, on second thought, I wasn't that surprised. It was just that good.
The first of two desserts came from the Sundance Resort's Pastry Chef Meghan Rule. Apple Polenta Upside-Down Cake (Marscarpone Ice Cream, Almond Crumble, Apple Cider Reduction). Paired with the Sundance Mer Soleil Late Harvest Viognier, Santa Lucia Highlands, Monterey, 2001:
Crunchy, soft, sweet, moist and damned good are just five of many more adjectives I could use to describe this dish. It's rare that a dessert can be described as complex, but this truly was. Especially worthy of note was the skillful use of a salt in the almond crumble, just enough to compliment the sweetness. Marscapone ice cream really isn't my cup of tea, but it garnered considerable praise from the rest of the table.
Finally (and with little to no room left) a second dessert arrived. Zoom Pastry Chef Marcie Sierra presented a Warm Chocolate Cake (Raspberry-Port Gelato). Paired with Sundance Viader Meritage, "Reford Reserve", Napa Valley, 2006:
Chef Sierra presented the dish with a charming story about how each of her desserts is an homage to someone she knows. This cake was deliciously rich and decadent. I'd like to meet the friend who inspired it. The raspberry port gelato added a refreshing dimension to the dense chocolate.
It would be remiss to speak about Sundance and not comment on a certain Mr. Redford. The resort is clearly the result of one man's own distinct vision, and that comes through in the vibe radiating from decor to restaurant menus to employees. Occurrences such as tales of wait staff in their 15th year at the resort and Chefs detailing very specific goals in regards to their food and menus reflect the commitment to excellence apparent at the Sundance restaurants.
This commitment was perfectly exemplified when speaking to Beverage Manager Lindy Overton, who spoke enthusiastically about the Sundance Wine As Art program. In essence Sundance seeks out boutique wineries whose values and ambitions, such as environmentalism and artistic creation, match those of Sundance. These partners in turn produce specific wines, unique to Sundance.
On the evening of our visit we enjoyed fantastic food, wine, and service. From start to finish, the meal was simply excellent, one of the best I have enjoyed in Utah. Although we were in attendance as guests of the resort, I was keen to survey the other diners in the room as we ate; it was clear everyone was receiving the same exceptional level of service.
Indeed, dining at The Tree Room is something you might choose to experience quite soon. On March 16th, The Tree Room will be hosting a wine pairing dinner celebrating their collaboration with the Viader Vinyards and Winery. Pricing is $85 for dinner and wine; and $55 for dinner only. For food and service of this quality, that's a great value in my book. The evening's menu includes the following highlights:
Seared Diver Scallop (Maine Lobster, Anson Mill Grits, House Made Andouille)
Paired with 2008 Viader Rose
Roast Suckling Pig (Potato Gnochi, Crispy Brussels, Granny Smith Apples, Pork, Apple Jus)
Paired with 2005 Viader Estate Cabernet Sauvignon
Roast Loin of Utah Elk (Goat Cheese and Potato Soufflé, Braised Swiss Chard, Neuske's Bacon, Huckleberry Gastrique)
Paired with the 2006 Viader Redford Reserve Cabernet Franc
Chocolate Strawberry Ravioli (Cocoa and Strawberry Sorbet, Strawberry)
Paired with the 2005 Viader Estate Syrah
Reservations are required and can be made by calling (877) 278-9389. I also noted on the resort's website, there is a Viader Wine Pairing Dinner Package available for those wishing to spend the night. The package also includes breakfast at the Foundry Grill the following morning. What more could one ask for? Hope to see you there!
The Tree Room
8841 Alpine Loop Rd, Sundance, UT 84604-5538
(801) 223-4200
Website: www.sundanceresort.com
The Foundry Grill
8841 Alpine Loop Rd, Sundance, UT 84604-5538
(801) 223-4220
Website: www.sundanceresort.com
Zoom
660 Main Street, Park City, UT 84060
(435) 649-9108
Website: www.zoomparkcity.com
Hi, I'm Stuart, nice to meet you!  I'm the founder, writer and wrangler at Gastronomic SLC.  I'm a multiple-award winning journalist and have written in myopic detail about the Salt Lake City  dining scene for the better part of seventeen years.
I've worked extensively with multiple local publications from Visit Salt Lake to Salt Lake Magazine, not least helped to consult on national TV.   Pause those credits, yep, that's me! I'm also a former restaurant critic of more than five years, working for the Salt Lake Tribune.    I'm largely fueled by a critical obsession with rice, alliteration and the use of big words I don't understand.   What they're saying about me: "Not inaccurate", "I thought he was older", "I don't share his feelings".
Want to know more? This is why I am the way I am.
This article may contain content provided by one of our paid partners. These are some of the best businesses in Utah. For a list of all our current and past relationships see our
partnership history page
.