See our most recent Naked Fish Japanese Bistro review over at The Utah Review.
Evening dinner review
Naked Fish Japanese Bistro is the restaurant now occupying the space that once housed the downtown location of ">Mikado (Mikado currently has Bountiful, Southern Valley, and Cottonwood locations). With Mikado practically being a Salt Lake City institution, the new owners and operators of the space were faced with the challenge of filling some seriously big sushi-heavy shoes. Having recently visited Naked Fish, I'm not 100% certain that much, besides the ownership, has changed.
During our recent visit to Naked Fish, we were pleasantly surprised to find many of the excellent aspects we had come to expect from dinging at Mikado. We quizzed our server regarding just what, other than the name, had been effected by the changes at the restaurant. In truth, not a great deal has changed. From a diner's perspective, Naked Fish seems like an equally appealing version of Mikado, rather than a complete revamp.
There are also still some familiar faces at Naked Fish. The experienced head chef Toshio Sekikawa still fronts kitchen operations. The menu itself remains a contemporary take on Japanese, from flair sushi to smaller tapas-style plates. The restaurant space seems just slightly changed from what I could recall. This is no bad thing mind you; I always enjoyed Mikado's upscale urban feel. Fortunately, the row of TV sets above the sushi bar, which I have always found a little strange, were set to mute.
On our recent visit, we were warmly greeted by what was a continually professional and warm service staff. Something else that has thankfully not changed. After being seated we were handed a vast array of menus (four including the wine list). The restaurant has broken down their small plates and entrees, traditional sushi selections, and more modern sushi selections into different menus. I must confess to not being a fan of the 'stack-o-menus' approach. I much prefer perusing one simple, nicely structured list of choices. A very small complaint though and perhaps the only real one.
We started by ordering a bottle of Dreamy Clouds ($55.00) Sake and then (as we were dining with friends) ordered a slew of food to share. As the plates came out one by one, we all dug in.
First up, a selection of smaller appetizer plates, Sunomono ($4.50) with crab ($2.00), Kurobuta Pork Ribs ($12.50) and a Vegetable Tempura ($6.50):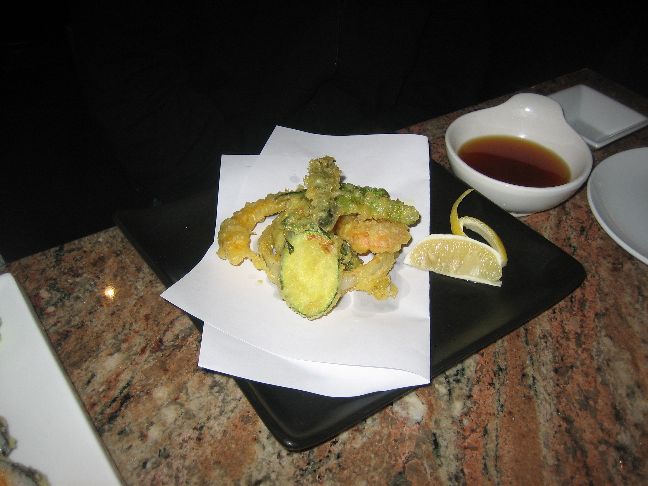 I found the ribs exceptionally tasty. They were juicy, rich and lip-smackingly moreish. The tangy, citrus-based sauce that covered the ribs was equally delicious and never strayed into the cloying 'too sweet zone'. The Sunomono was great too, a perfect light and refreshing start to a meal. The crispy tempura also received plenty of praise.
After these smaller plates, our sushi rolls began to arrive. Play Boy Roll (tempura shrimp, topped with tuna, avocado, spicy aioli and sweetened soy glaze, $11.95) and On Death Roll (spicy tuna, cucumber, romaine, habanero extract, $8.95)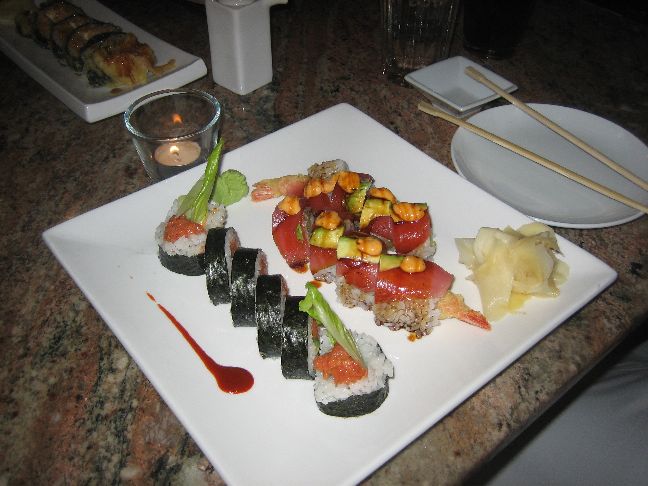 The On Death Roll particularly appealed to me and my spice addiction. The roll itself wasn't actually too hot, despite cries of pain to the contrary from our dining companions. The accompanying hot sauce mind you, was scorching. That'd be the habanero extract at a guess. A friend insisted on trying Naked Fish's version of the Playboy Roll; and a very happy person he was after scarfing it down covetously.
A few more rolls appeared in the form of the Funky Roll (tuna, salmon, avocado, tempura fried and topped with wasabi ailoi and unagi sauce, $8.95), Spicy Jin Jin Roll (spicy tuna, tempura, jalapeno, sweetened soy glaze, $9.95) and Connect Roll (white tuna, crab salad, cream cheese and siracha, tempura fried with Teriyaki sauce, $11.95):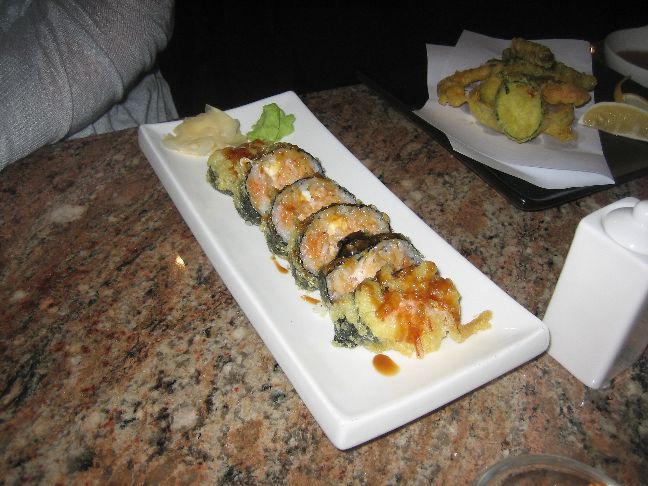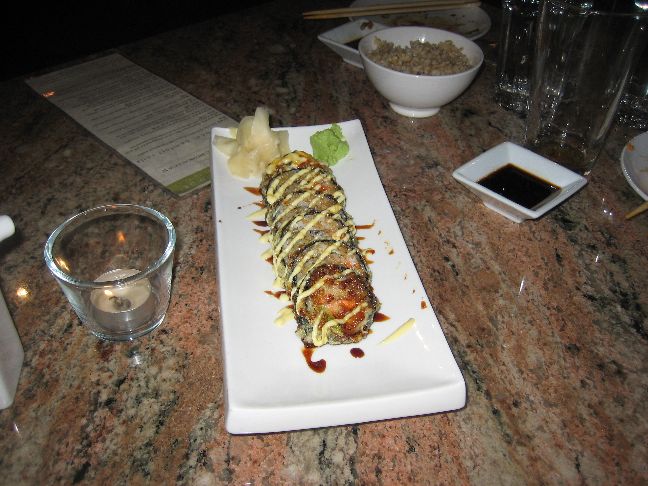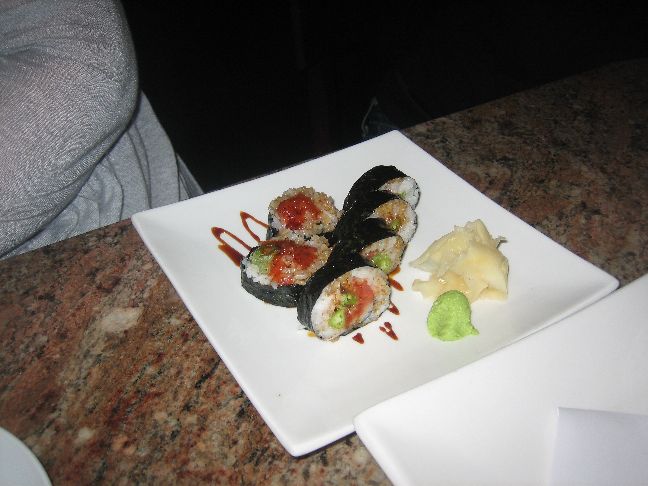 Only the Connect Roll failed to impress. The other two rolls were gobbled up quickly. All in all the rolls were well constructed, beautifully presented, and most importantly tasted great.
It was at this stage we were about to order a roll containing Kobe beef. Disappointingly, the waitress came from the kitchen offering apologies and informing us that they had no more Kobe in stock. We finished instead with an order of the Calamari Karaage ($8.50)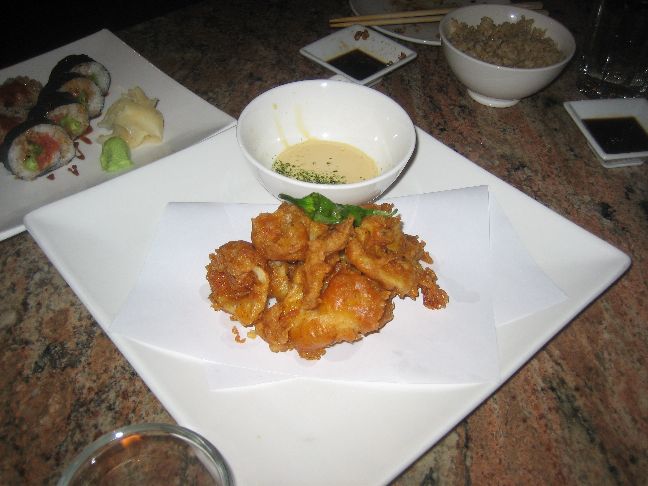 We had a few of the calamari-hesitant in our group. Mostly due to the fact it can often be rubbery and bland. The dubious were easily assuaged by Naked Fish's preparation, which was crispy on the outside and soft, tender and tasty inside. The dish's charms did wane as it cooled down though, so this is one to eat quickly.
Naked Fish Japanese Bistro was an enjoyable surprise. The new management clearly haven't tinkered too much with what is for me, a winning formula. It isn't the cheapest sushi in town, but the quality is consistent and the menu does feature some interesting and unique options. In addition, you get a relaxed, hip atmosphere and contemporary, well-presented food all served up with great professional service. In a town that at times seems to have more sushi restaurants than people, Naked Fish Japanese Bistro definitely stands out from the crowd.
Naked Fish Japanese Bistro
67 West 100 South, Salt Lake City, UT 84101
(801) 595-8888
Hours:
Mon-Fri 11:30 AM – 2:00 PM (Lunch)
Mon-Fri 5:00 PM – 9:30 PM (Dinner)
Fri & Sat: 5:00 PM – 10:30 PM (Dinner)
www.nakedfishbistro.com
Hi, I'm Stuart, nice to meet you!  I'm the founder, writer and wrangler at Gastronomic SLC.  I'm a multiple-award winning journalist and have written in myopic detail about the Salt Lake City  dining scene for the better part of seventeen years.
I've worked extensively with multiple local publications from Visit Salt Lake to Salt Lake Magazine, not least helped to consult on national TV.   Pause those credits, yep, that's me! I'm also a former restaurant critic of more than five years, working for the Salt Lake Tribune.    I'm largely fueled by a critical obsession with rice, alliteration and the use of big words I don't understand.   What they're saying about me: "Not inaccurate", "I thought he was older", "I don't share his feelings".
Want to know more? This is why I am the way I am.
This article may contain content provided by one of our paid partners. These are some of the best businesses in Utah. For a list of all our current and past relationships see our
partnership history page
.