Take out review
I would wager that Salt Lakers know their Greek food just as well as their counterparts in any other US city, no matter how large or bustling. The Greek influence on locally owned fast food restaurants is hard to miss. The list is long, plentiful, and for the most part, mighty tasty. Gyros, souvlaki, and the non-traditional, but seemingly ever present, pastrami-topped burgers are almost never more than a quick walk or drive away for most of us.
Long time readers will know of my love/hate relationship with the gyro. Love: tender juicy meat wrapped in fluffy pita, what's not to love? Hate: nothing this tasty is ever good for you, so as much as I would like to eat a gyro every day, I have had to reconsider. The Salt Lake Tribune recently ran an admirable article trying to define and rate the best gyros in town. It was here that I read about Greek City Grill, which was mentioned as one of the best.
The article even went as far as to place Greek City Grill ahead of many of my Utah favourites, including the mighty Crown Burgers. Yes I know, I know, Crown Burgers is a favourite among many, but even myself (a non-Utah native) has come to really enjoy "the crown". I wouldn't stick my neck out and say it is the de-facto local Greek fast food winner, but it certainly places high in the running. I find it is a good yardstick to measure any new place, which is just what we decided to do when we headed out to Greek City Grill.
Finding Greek City Grill wasn't the easiest of tasks. It took a couple of passes, and some worried looks at the directions provided by the iPhone to finally figure out where it was hidden. The space is located in a strip-mall-type building just off Highland Drive. Greek City Grill is on far east side of the building, and don't worry, they do have a drive through, we were just too confused by finding the place to try to figure out the drive through on this visit. Next time, we will take full advantage of this convenient option for sure.
We ended up parking in front of the main entrance on the north side of the building and walking up to the counter. The kitchen space is open to the small ordering/waiting/dining area, so you can see your food being made fresh to order. I'm not sure how new Greek City Grill actually is, but it felt brand new inside. I grabbed a menu, perused and placed my order, and then watched the news on the big screen LCD while I waited for my order to come up.
As I waited I spotted owner Bob Daskalakis happily bouncing back and forth between directing his team in the kitchen and amiably discussing business and life with regular customers. For the sake of journalistic integrity, I kept a very low profile and with food in hand eagerly drove home to dig in. First, let me apologize for the rather poor photography. This really isn't the prettiest food in the world to take snaps of, especially while it sits going cold, things get a little rushed.
My first impression of Greek City Grill's gyros were that they were larger than Crown Burgers'. I wouldn't stake my life on it for sure, but they did have a seemingly weightier feel to them. The pita bread was fluffy and thick, never falling apart mid bite.
I started with a Chicken Gyro ($4.75):
Greek City Grill presented a decent gyro, but not perfect. I felt the chicken, albeit plentiful, was under seasoned and lacked the lemony zest of "the crown's" version. Greek City Grill also offers the choice of red sauce or white sauce on their gyros. I went with the red, but it didn't float my boat. I expected a meaty rich red sauce (ala Yanni's) and instead discovered something more reminiscent of an Italian marinara sauce.
It was half way through the chicken gyro that I became wary of the heft of the thing. I can normally finish two Crown Burgers' gyros happily in one sitting, so I had ordered two from Greek City Grill. As I chomped through my chicken, feeling increasingly full, I looked on somewhat worriedly at the awaiting lamb gyro.
Undeterred, I dove into the classic gyro ($4.75):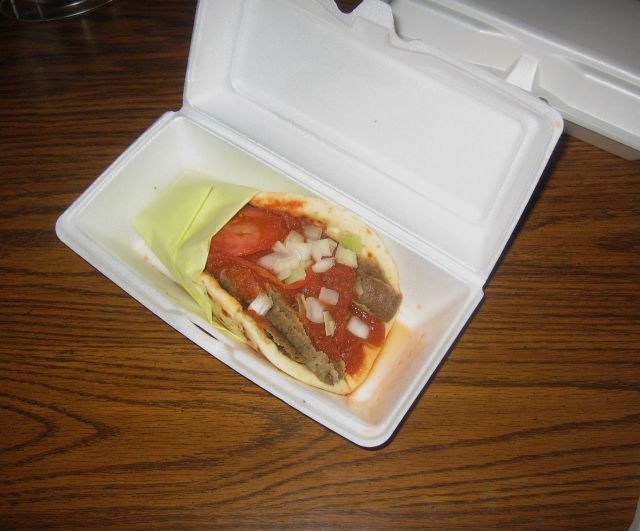 This was as good, if not slightly better, than "the crown's" gyro for me. The meat was less seasoned and flavourful, but not detrimentally so. Sometimes I feel gyro meat can be over seasoned, but not this time. The meat also seemed moister and didn't have Crown Burgers' sometime crispy/crusty edge to it. If it weren't for a brief brain freeze, I would have tried their white sauce on this gyro, but accidentally ordered the red sauce again. Overall, I really enjoyed this good solid lamb gyro.
Wendi was somewhat disappointed at the lack of a veggie burger at Greek City Grill. One of the things she appreciates most about "the crown" is their willingness to dress their veggie burger exactly as she wants it. Heck, she doesn't even think they would ask twice if she ordered it with pastrami, but for now, she's happy with extra cheese no onions. Greek City Grill does offer several veggie options such as a veggie gyro and falafel. Wen finally decided to try the halibut sandwich ($5.29) with a side of fries ($1.95):
The sandwich was a not altogether unexpected "meh" moment. Nothing great, nothing terrible. Just one of those items that sounded really good at the time of ordering, but didn't match up to her favorite, which unfortunately for our wallets, can only be found at the Rainbow Casino coffee shop in Wendover, but I digress. We both puzzled over Creek City Grill's french fries. They were good in that trashy fast food kinda way for which we all love fries, but still perplexingly different. The outside had a strange extra crispiness, which Wendi thought indicated they may be frozen "reformed" mashed potatoes with some sort of batter on the outside. I'd also guess at them having been frozen at some point. Regardless, we both enjoyed them with lashings of a tasty fry sauce.
I also had to try a side of rice ($2.29), which I always personally chose over french fries. It's kind of my healthy justification for eating gyros. This was a *big* portion of lemon rice, and much moister than Crown Burgers'. The rice received a big thumbs up from both of us.
So, the best Greek fast food in SLC? I don't think I will be switching my allegiance from Crown Burgers anytime soon. This of course is purely due to the fact that Greek City Grill is just so much further away from home than our local "crown". The food was very good indeed. Now if I lived in the area, I can almost bet it would be a regular haunt for me. Moreover as I sit and write this, I'm getting a hankering to compare and contrast their burgers with "crowns" and I wonder if Wendi would like to see how Greek City Grill's grilled cheese measures up. Sounds like a another visit is in order…
Greek City Grill
6165 South Highland Dr, Holladay, UT 84121
(801) 277-2355
Website: www.greekcitygrill.com
Monday through Friday 11.00am–8.00pm
Saturday 10.00am–5.00pm
Closed Sundays, Major Holidays
Hi, I'm Stuart, nice to meet you!  I'm the founder, writer and wrangler at Gastronomic SLC.  I'm a multiple-award winning journalist and have written in myopic detail about the Salt Lake City  dining scene for the better part of seventeen years.
I've worked extensively with multiple local publications from Visit Salt Lake to Salt Lake Magazine, not least helped to consult on national TV.   Pause those credits, yep, that's me! I'm also a former restaurant critic of more than five years, working for the Salt Lake Tribune.    I'm largely fueled by a critical obsession with rice, alliteration and the use of big words I don't understand.   What they're saying about me: "Not inaccurate", "I thought he was older", "I don't share his feelings".
Want to know more? This is why I am the way I am.
This article may contain content provided by one of our paid partners. These are some of the best businesses in Utah. For a list of all our current and past relationships see our
partnership history page
.