Evening dinner review
We only had a vague idea of what might await us when we recently stepped into The Olive Bistro. Reports from local publications suggested a work in progress, but essentially a menu centered around Paninis. Ted Scheffler of the City Weekly certainly seemed a fan. He raved that the owner Hassan Salami was "simply, one of the nicest guys you'll ever meet". Ted also noted Salami comes to Utah via both France and Morroco, and is actually trained as an engineer. So what does one expect from a French/Moroccan, trained in a different industry, serving up fancy Italian grilled cheese sandwiches here in SLC? We weren't exactly sure and intended get to the bottom of all the praise lavished on this new-ish down town eatery.
We were both all the more excited by the strange and inexplicable fact that neither of us had ever eaten a panini before. We aren't sure how we have missed them other than the fact they seem to be a lunch staple and I usually eat lunch at home. When given the opportunity to dine out for lunch, Wendi heads straight to Cindy Lee, so no paninis there. Now we know what we have been missing, we need to make up for lost time.
Compared with some restaurants in town, The Olive Bistro's menu is downright simple. That for me, especially in this case, is mostly a good thing. In my opinion, it's better to do a few things very well than to try to do a hundred things. Let's start with the menu, it isn't complicated at all. You can choose from paninis ($7.99 – $12.99), salads ($7.99 – $12.99), a smattering of appetizer plates ($6.99 – $12.99), and desserts. And that's it.
All paninis come with a side of blue corn chips, salsa, and small lightly-dressed salad. It was refreshing not to have to pick from a mountain of side options, which usually results in some configuration of potato. Due to this fact, I may have just had my first "side salad" in years! I feel pretty healthy.
There is also a small but decent selection of wines by the glass and bottle (all bottles $32) plus several beers and teas.
The restaurant space compliments the restrained theme of the menu. The interior is one large uncluttered room, populated mainly by sturdy wooden tables. This motif is replicated by cabinets that causally serve as both display and storage for the restaurant's wines. The ceilings are anchored on one side by a fireplace and windows overlooking the foot traffic on 200 South, which was particularly plentiful and entertaining during our visit due to a huge convention in town. Another side of the restaurant holds the kitchen, which is behind a counter. I actually really enjoyed the laid back soundtrack playing gently in the background too. Just the right volume to add a little ambiance, it all felt very "urban" for want of a better phrase, and yet very relaxed as well.
We decided to share a bottle of Neil Ellis Left Bank (Red Blend) that caught our eye from the wine menu. The DABC website lists this at $12.99, so the $32 pricing was almost 2.5 times markup. This markup seems somewhat heavy handed in these harsher economic times. Nonetheless, we did, as usual enjoy the wine.
Appetizers were mainly bread-based affairs like crostini and bruschetta. We also quizzed our waitress on the vin rouge and vin blanc plates, which we were informed were essentially cheese plates, with a few garnishes like olives. In the end, we went for the Pita and Hummus ($6.99):
The appetizer was served up by the owner/chef himself. From reading other reviews, he seems to be a mainstay of the operation who doesn't mind lending a hand to his servers; he was quite a friendly and amiable chap too. His huge smile was infectious. As for the dish, the pita was grilled and had a nice tasty char, most likely from the panini press I thought. This, coupled with the with shards of cucumber topping the hummus, helped perk up the whole dish. We happily munched away while watching life unfold through the big windows.
With our appetizer plate cleared away, we considered our entree options. As an on and off vegetarian, and also at the suggestion of our server, Wendi went with the Balsamic Artichoke Heart Panini ($9.99):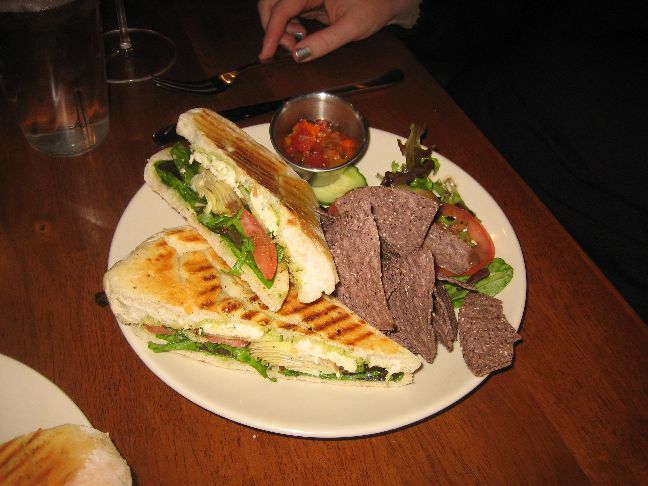 The panini featured a nice mild cheese and special in-house marinated artichoke hearts. Wendi did comment that the artichoke hearts were delicious and complimented Mr. Salami on our server's great recommendation.
Prosciutto and Garlic Chicken Panini ($10.99)
My panini was also very good: stuffed with great fresh veggies, generous amounts of meat and an herby pesto sauce. It also had a suitably weighty feel to make me feel like it would suffice for dinner. It was not your typical sandwich. I would have liked more of a garlic kick actually, but then I do like more garlic and spice than is probably healthy.
The Olive Bistro uses bread from Vosen's Bread Paradise (a fact I know thanks again to Ted Scheffler's review in City Weekly), which was delicious. Especially so, in its warm crunchy form after spending time in the panini press
The side salad was a nice mix of varying greens, coming dressed in balsamic. The corn chips and salsa I didn't really understand. There were only a handful of very basic chips and a tiny portion of rather bland salsa, which we had both left neglected on our plates by the end of the meal. I doubt these would be missed if they didn't come as standard.
My only real complaint, if any, would be the price. Our meal came to a tad under $65 before tip, I felt this was a little on the steep end of things. Granted half the price was largely due to the bottle of wine. Perhaps it is hard to escape the mentality that one is "merely having a sandwich", and it's hard to escape a general perception that, therefore, the bill will be much lower.
That is just a small gripe though. I was happily surprised by our meal at The Olive Bistro. This would also be a great place to hang out once the weather warms up again, as they have a patio area on 200 South. Overall, Olive Bistro was a welcome exercise in simplicity and restraint. Certainly an example several restaurants would do well to study.
The Olive Bistro
57 West 200 South, Salt Lake City, UT 84101
(801) 364-1401
Monday to Friday 7.00am – 3.00pm and 5.00pm – 10pm
Saturday 5.00pm – 10.00pm
Hi, I'm Stuart, nice to meet you!  I'm the founder, writer and wrangler at Gastronomic SLC.  I'm a multiple-award winning journalist and have written in myopic detail about the Salt Lake City  dining scene for the better part of seventeen years.
I've worked extensively with multiple local publications from Visit Salt Lake to Salt Lake Magazine, not least helped to consult on national TV.   Pause those credits, yep, that's me! I'm also a former restaurant critic of more than five years, working for the Salt Lake Tribune.    I'm largely fueled by a critical obsession with rice, alliteration and the use of big words I don't understand.   What they're saying about me: "Not inaccurate", "I thought he was older", "I don't share his feelings".
Want to know more? This is why I am the way I am.
This article may contain content provided by one of our paid partners. These are some of the best businesses in Utah. For a list of all our current and past relationships see our
partnership history page
.