This article started as something very different from a standard restaurant review. My initial plan was to compare and contrast the traditional with the contemporary. Sushi bar with table seating. Deep fried roll with basic nigiri. Our favourite authentic Japanese eatery is Kyoto, and for contemporary Japanese, Takashi is the favorite.
My great plan also happened to perfectly coincide with a visit of one of our friends, whom as chance had it, lived in Japan for many years. We thought he would be able to give a perfectly unbiased opinion and offer a verdict on which he preferred, the traditional and exquisitely executed experience of sushi bar dining at Kyoto, or the modern, upscale experience offered by Takashi. I figured a pair of fresh eyes would shed new light on a couple of our tried and tested favourites.
So what happened to this genius plan? Well, simply put, our guest loved every last bite, refusing to rank either a clear winner based on the food. Back to square one then. So, as a back up plan, we instead decided to run the rule over Takashi as a stand alone review. Sure Takashi is well established and popular, but we have never put pen to paper (or fingers to keyboard) about the place, so here goes.
Takashi is an enigma to me, it does so many things right, yet other aspects of dining there have proven annoying. Case in point, they don't take reservations. Maybe someone in the industry can explain to me why some places operate with this policy? Surely taking reservations streamlines an operation. At Takashi, you turn up and you takes your chances. If a table isn't available (and after 7 p.m. the place is rocking) you can add your name to a list and wait.
On our recent visit, Wendi turned up first and asked for a table for four. Thankfully several tables were free, but rather than being instantly seated, the hostess curiously asked if Wendi had "spoken with her other guests recently" as if doubting that the rest of us were really going to show up. Although it may not have been the hostess's intent, Wen did note that as an initial contact, this line of questioning may cause a guest to feel somewhat less than comfortable and relaxed. Suffices to say, myself and our other guests did arrive shortly thereafter, completing the group.
For those not familiar with Takashi, the interior is in sharp modern contrast to other more traditional Japanese restaurants. In the past, I found the space somewhat utilitarian, perhaps even bleak in its starkness. It seems the tone has softened over the months and years. The centerpiece of decorations is a giant metal fish suspended over the sushi bar. Japanese paper lanterns swarm over the table seating, adding a much-needed warmth.
Given the popularity of the place, patrons waiting for tables spill out from the tiny waiting area into the dining room, drinks in hand. It can get crowded and noisy very quickly, if you like a quiet romantic meal, this might not be your ideal venue. Yet another point of consternation and surely solved by a reservation system.
You may also want to reconsider Takashi if you are in any kind of hurry. It seems to me that there are always too few servers at Takashi, especially since the majority of tables order their food in several "rounds" as we did. This type of ordering is perfectly suited to Takashi menu: small plates and sushi. This naturally puts more strain on the service staff, and at times that strain shows.
Takashi doesn't offer a full bar, but does offer a small selection of wine, beer and a not-too-shabby sake list. Our visiting friend stumbled across a bottle from his former home prefecture of Akita, so we went with a bottle of the Ama No To aka "Heavens Door" ($52.00). A clear, slightly dry fruity sake, which was served chilled: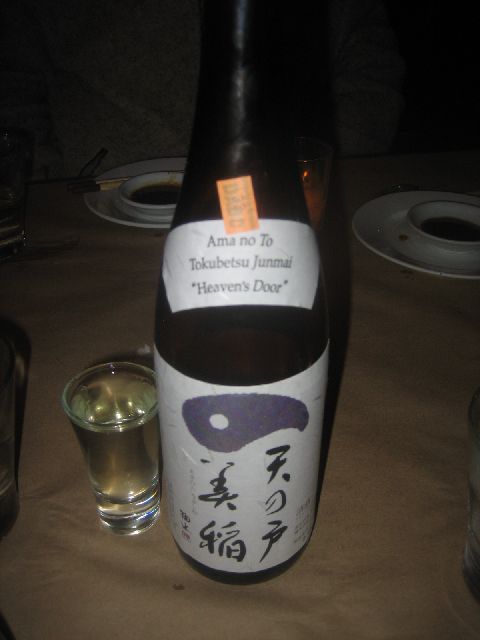 Takashi offers a number of nightly specials, which do seem to change routinely. As such, it's always with some eagerness that we look forward to seeing what is on offer. Annoyingly, one of the two special boards is located outside the restaurant and the inside board is hidden from view of at least half of the dining floor. Our waiter did his best to reel through the list, but the sheer size coupled with the noise levels can make it all hard to take in. Here's a suggestion, what about a menu insert listing the specials each night, or maybe more boards placed throughout the space?
On this night, we ordered a number of specials, the first of which was the Salmon Gyoza ($8.50):
This instantly stood out for Wendi. She isn't normally a huge pork fan, and as a result not usually a gyoza eater. This special changed that. Not exactly earth shattering in taste terms, it would taste like you imagine. A perfectly executed gyoza dumpling stuffed with salmon. It was however a nice example of the modern creativity at work at Takashi. These didn't last long, and I'm sure we would all order them again.
The Ramon's Roll ($8.50) is a nice fusion of local and the traditional ingredients:
A simple tuna and avocado roll is beefed up with cilantro and spicy sauce. The outside is then sprinkled with a smattering of thinly sliced serrano peppers. This roll is seriously hot and not for the faint of heart. I'm fan of spice and heat (a big Siracha fan!) and managed to burn my tongue for several minutes with my carelessness.
Another special that interested me was the Tempura Shishito Peppers ($6.00):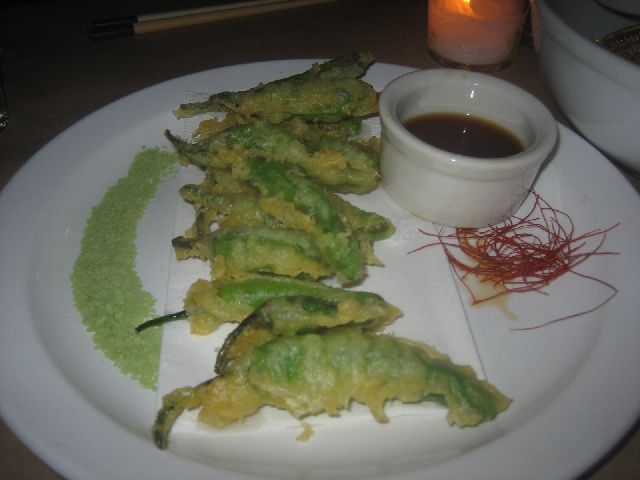 Deep fried Shishito peppers seemed like heaven to me, and indeed they were. They were also served with a little green tea flavoured salt and soy. A dab of soy and then salt, worked well with the bitterness of the mild peppers. I could snack on these all night long.
The T&T roll is a perfect example of Takashi's modern twist ($10.50):
The T&T comprises yellow tail, albacore, salmon and green onion. The roll is then deep fried and served with "hotter than hell dipping sauce". The roll is one of our favourites in town. The only way I can explain the taste is that it reminds me of fish and chips back in England. All very vague I know, but simply put, its a taste sensation.
The accompanying sauce is indeed mighty hot, essentially a blend of peppers. A simple drop on the end of a chopstick is enough to set the tongue alight. Dunking the roll directly into the sauce is for the very brave. On this evening, the roll was sadly a little cold upon arriving at the table, not warm and crisp as it has been in the past when served fresh from the deep fryer. I wouldn't want to apportion the blame to any one staff member. It was just one those occurrences that highlights the aforementioned strain on the service staff.
Another special of the night was the Snow White Roll ($8.95):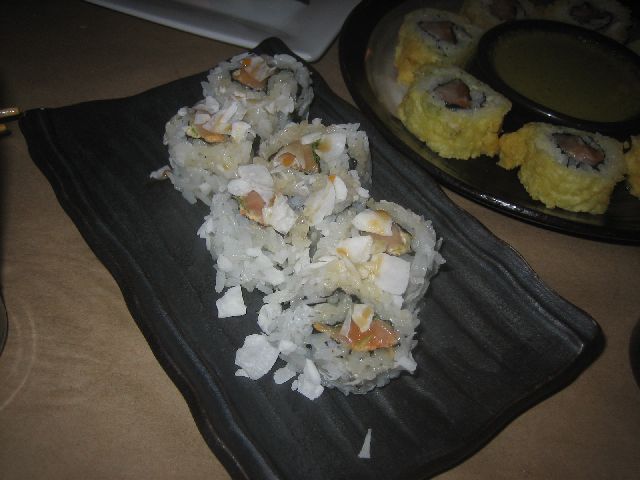 A roll using mint inside and coconut shavings on the outside had us all intrigued. I suppose mint and coconut come together in Thai food, but it's not a combination I have seen in sushi before. I'm afraid a mix of poor notes and Sake generally combined to make me forget what fish was involved in the roll. The point however, was that the idea and execution was first rate and we all found the roll to be fantastic.
Yet another special was the Tai sashimi with tomatillo salsa ($15.00):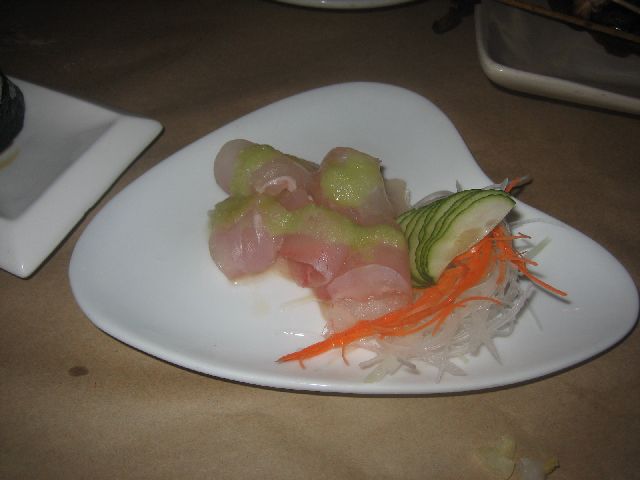 A touch on the pricey side perhaps, but another mix-up of regional ingredients with the more traditional Japanese. The tomatillo salsa added an enjoyable citrusy bite to the sweet and mild Tai.
The Buddha Roll ($6.00) is one of Takashi's three vegetarian rolls:
It includes portabello mushrooms, green beans and sweet potatoes. The whole shebang is then deep fried and topped with a sweet sauce and sesame seeds. All those veggies lend a satisfying crunch to each mouthful. If the raw fishes aren't your thing, then you could do far worse than give this roll a go. Even as a self confessed carnivore, I found the roll surprisingly tasty. Heck, I guess pretty much anything deep fried is a winner!
We also tried an order of the Nasu ($6.00):
Grilled eggplant is topped with some chopped tomato and cucumber, and rounded out with a miso-based sauce. Another enjoyable menu item, especially if you are a fan of eggplant.
If all of the above sounds a little too exotic, Takashi also offers more traditional Japanese fare. The Chicken Yakitori ($8.50) is one example:
I'd wager that this skewered and grilled chicken in a Teriyaki sauce would be great even for the most picky of eaters. Another more 'standard' item was the fried Calamari ($8.50):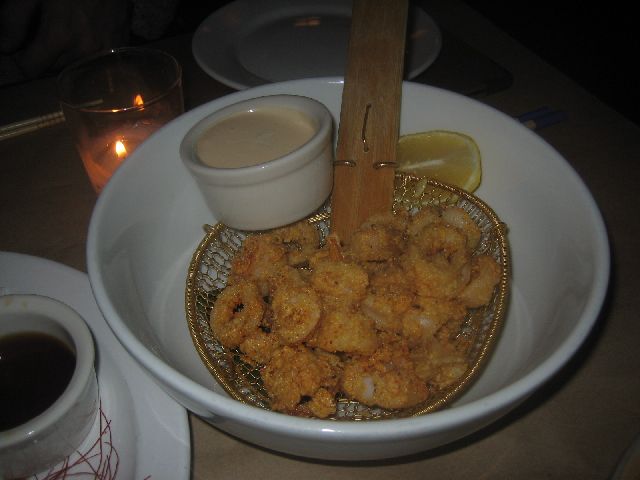 Another expertly executed plate. Light, crunchy batter and not-in-the-slightest chewy squid. A wasabi aioli was also served up on the side. Again delicious, and didn't last long before being gobbled up. Takashi is an equally accessible restaurant for both the seasoned expert or the less adventurous diner.
Takashi provides really excellent and often innovative food. It's just a shame about the many little niggles in the organization of the operation. This really could be one of my favourite SLC restaurants if they tried. A case of so close, yet so far.
I don't see these issues being worked out anytime soon either, the place is regularly swamped from my experience. I'm sure the business is roaringly profitable, so I doubt there is the impetus for change. I will continue to come back over the months and years, but not with the regularity the food deserves.
Come and discuss this review with us, on our foodie forum here.
Takashi
18 W Market St
Salt Lake City, UT 84101
(801) 519-9595
Hi, I'm Stuart, nice to meet you!  I'm the founder, writer and wrangler at Gastronomic SLC.  I'm a multiple-award winning journalist and have written in myopic detail about the Salt Lake City  dining scene for the better part of seventeen years.
I've worked extensively with multiple local publications from Visit Salt Lake to Salt Lake Magazine, not least helped to consult on national TV.   Pause those credits, yep, that's me! I'm also a former restaurant critic of more than five years, working for the Salt Lake Tribune.    I'm largely fueled by a critical obsession with rice, alliteration and the use of big words I don't understand.   What they're saying about me: "Not inaccurate", "I thought he was older", "I don't share his feelings".
Want to know more? This is why I am the way I am.
This article may contain content provided by one of our paid partners. These are some of the best businesses in Utah. For a list of all our current and past relationships see our
partnership history page
.