Evening dinner review
So goes the English axiom, you wait hours for a bus and then three all turn up at once. When it comes to Italian restaurant reviews, this website is like those buses, nothing for many months and now our second one in as many months. I've no idea why, I guess our tastes have been turning to heartier fare of late. Caffe Molise recently popped on our radar after repeated attempts to dine at Vienna Bistro downtown failed due to one reason or another.
Stepping in off the cold streets, we hoped 8 p.m. was late enough to seize a table without a reservation. Luck was in our court and we were led quickly through the busy restaurant to an open spot, which I felt was a little close to our neighbor's table truth be told. The restaurant space is a very urban affair. Exposed brick walls and black painted overhead piping frame the buzzing restaurant space. Light wood tables are dotted throughout the room which is divided down the middle, rather thankfully as the ricocheting noise from the wooden flooring might be too loud otherwise. As we took our seats, we felt immediately comfortable and browsed the menu.
I'm by no means an Italian food expert so quoting from the restaurants own blurb, Caffe Molise focuses on "cuisine inspired by the Molise region of Italy". The common choices of lasagne, marsala, and bruschetta were all present with some more interesting options such as rolled breast of chicken, sauteed gulf shrimp in red pepper sauce, and lots of dishes with spicy Italian sausage (always good in my books!).
Our server seemed a little harassed or rushed as she introduced herself. She took my order for a a glass of the DiMajo Sangiovese ($6.00) and disappeared almost at once. I didn't think the restaurant was too slammed, but sitting nearer the kitchen, the constant flow of rushing wait staff seemed to indicate they were at capacity.
As usual, when we first try a new restaurant we usually order two appetizers and two entrees, and usually desert. As we both started to reel off our app choices, our seemingly stressed server straight away said something along the lines of "and that's all right?". I wasn't entirely sure if we had ordered too much already in two appetizers, or if we just didn't look like we would order much. At any rate we just plowed on ordering more food.
As our server took off to get the order going, we started work on the free bread/oil/vinegar combo. The bread itself was pleasant but something wasn't quite right to my tastes with the oil, which seemed lacking in flavour. As we sat and chatted, we overheard another server reel off the days specials to another table. We both looked at one another with a touch of discouragement, I guess we will never know what specials we may have enjoyed.
Thankfully, our food came up reasonably quickly, and even with the rushed nature of the service, our waitress was perfectly affable. The appetizers we chose were the Bruschetta Misto ($8.95, apologies for the unusually blurry picture):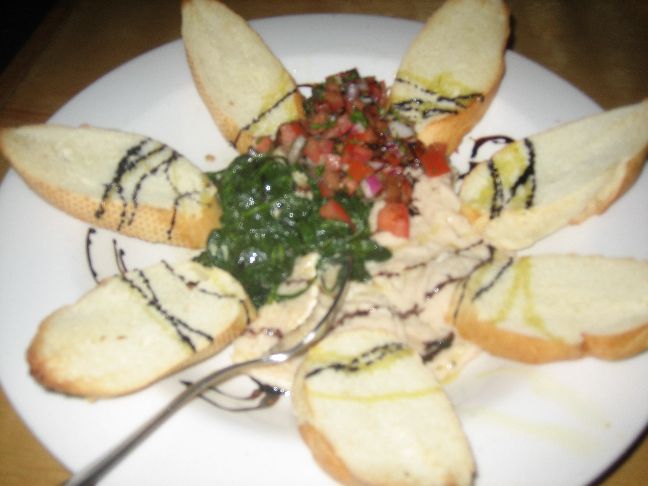 Several slices of toasted baguette served up with roma tomatoes and the slightly less common bean puree and sauteed spinach. The bean dip was enjoyable enough, if a little bland. It offered a nice change from the bread being coated in oil, cheese, and tomato. We both felt the much more interesting appetizer was the Polenta Con Salsiccia ($9.95):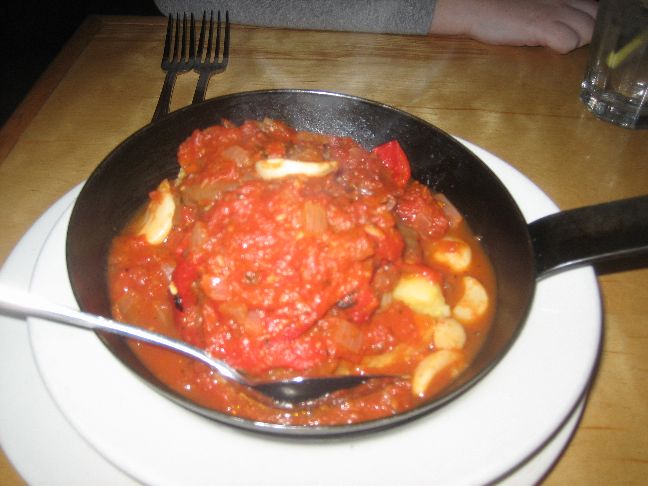 A rich and creamy polenta was topped with a very hearty mix of Italian sausage, peppers, onions and marinara sauce. Perfect for a cold winters night. Additionally the copious chunks of garlic made for an excellent spreadable bruschetta topping we found. That's probably some horrible faux pas, but I'm of the school of thought that if it tastes good then dig in.
Neither appetizer was skimpy, in fact it was at this point we remembered our waitresses earlier comments and thought we might have gone a little overboard. A single shared appetizer here would seem to be plenty sufficient for two.
Up next was the basic green salad that comes free with every entree. I was a little saddened to see mine topped with cheese, after I had asked for no cheese on either my appetizer or main course. I know, I know, I could have pressed the issue and also checked on the salad. But I forgot, and at the end of the day if the kitchen and/or server had caught this for me, it would have been a really nice touch.
For her entree Wendi went with the Gnocchi Di Patate ($15.95):
These classic potato dumplings were covered in a tomato and cream sauce and finished off with a liberal spread of pine nuts, which Wendi described rich and sinful. The dish was heavy and satisfying as expected.
I decided on the Arista ($23.95):
Simply descirbed on the menu as "spice rubbed pork tenderloin with black mission fig compote". What actually came to the table was a huge plate consisting of all of the above plus a heaping of vermicelli noodles and a big side of veggies. I could have sworn I heard the table groan at some point. The pork was cooked well enough, perhaps just a touch too far. The fig was a nice match also, not overly sweet. Most surprising were the noodles and their surprising chilli oil kick, which worked really well against the meat and fig sweetness. A dish I would be happy to order again.
One of these days we should compile a best of SLC Bread Pudding list, based on our experiments over the years. It should come as no surprise then, that once bread pudding was mentioned by our waitress, it was ours to have ($6.95):
The pudding came covered in an excellent and addictive caramel sauce. So, despite our already full bellies, we managed to finish off most of our dessert as well.
All in all, a quite enjoyable meal, which would have been slightly improved with a few service kinks ironed out. I do have to say again that our waitress was plenty friendly and eager to assist, we just felt ever so rushed at times. The only other problem is the perennial lack of parking in this downtown location. Overall, Cafe Molise definitely gets a thumbs up from us, as proven by our satisfied groans of, "I won't eat again for a week." on the drive home.
Caffe Molise
55 W 100 S, Salt Lake City, UT 84101
801 364 8833
Website: http://www.caffemolise.com/
Hi, I'm Stuart, nice to meet you!  I'm the founder, writer and wrangler at Gastronomic SLC.  I'm a multiple-award winning journalist and have written in myopic detail about the Salt Lake City  dining scene for the better part of seventeen years.
I've worked extensively with multiple local publications from Visit Salt Lake to Salt Lake Magazine, not least helped to consult on national TV.   Pause those credits, yep, that's me! I'm also a former restaurant critic of more than five years, working for the Salt Lake Tribune.    I'm largely fueled by a critical obsession with rice, alliteration and the use of big words I don't understand.   What they're saying about me: "Not inaccurate", "I thought he was older", "I don't share his feelings".
Want to know more? This is why I am the way I am.
This article may contain content provided by one of our paid partners. These are some of the best businesses in Utah. For a list of all our current and past relationships see our
partnership history page
.