I feel somewhat ashamed in saying that even though I have lived here on and off for 7 years, I still can't ski, nor can I snowboard. Maybe next year, well maybe… It's because of this fact, that I tend to head up to Park City in the summer and autumn months, rather than the winter when the rest of the world is up there enjoying the snow. With the slopes closed hotel prices plummet, making Park City a great place for an overnight break from Salt Lake.
If you are a foodie, the deal becomes all the sweeter with the array of fine dining on offer; many of which feature some great summer deals ranging from 2-for-1 entree offers to percentage off discounts. Restaurants like Prime, Glitretind, Grappa, Bangkok Thai, Blind Dog, Mustang and many more all run similar summer offers. I'm told the best place to keep track of all this is the town's free newspaper, The Park Record.
With the summer season now in full swing, I thought it would be fun to cover three of the great meals I had the pleasure of enjoying last year in the off season. I have left pricing and specific dish detail out; the menus of these restaurants have likely evolved since my previous visit. All the restaurants have on-line menu's so do be sure to check items and pricing.
First up, Ghidotti's Italian Cafe, which is one of my favourite Italian restaurants in Utah. Full disclosure, we are friends with staff at Ghidotti's.
Ghidotti's is one of Park City restaurateur Bill White's many outposts. As with all the Bill White restaurants I have experienced, little expense has been spared on the dining space. Ghidotti's features chandeliers hanging from lofty ceilings while elegantly upholstered booths and chairs sit around crisp white-clothed tables. Even the entrance to the restaurant is framed by two large flaming cauldrons.
On our last visit to Ghidotti's, we dined with one of the restaurants management staff. Based on this, I don't feel it would be fair to comment in detail on the excellent service we received. I do believe though that their general service is comparable to other eateries in this price bracket (e.g. very good). Certainly I recall noting that other guests seemed to be having an equally great time at Ghigotti's.
We started this meal with the Antipasto Plate:
The plate consisted of a delicious array of olives, cheeses, cured meats and anchovies. Ever the sucker for strong fish, I found the anchovies especially impressive. At the insistence of our host, we also tried the Heirloom Tomatoes:
These were some of the tastiest tomatoes I have ever had the pleasure of trying. I would love to know where these tomatoes came from, and if I could guarantee that mine would turn out this good, I might even put in the hard work required to grow some. As for the entrees, these included the Shrimp Scampi and Housemade Ravioli (garlic, shrimp, fennel) for Wen:
Wendi really enjoyed the house-made ravioli. Next up was the Wild Mushroom Tortelloni (humbolt fog goat cheese, roasted squast, parmesean-truffle broth):
I passed on trying both of the pasta dishes, due to the cheese factor, but there were satisfied raves from the rest of the table. A special word of mention should go to the Pork Osso Buco (squash, papardelle, pine nut):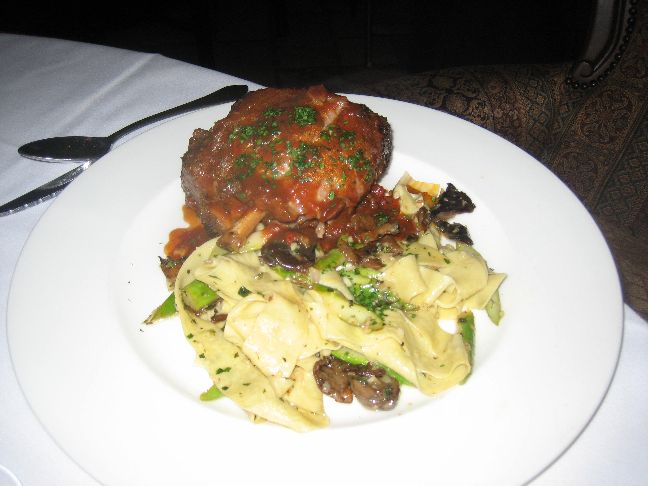 Everyone at the table had to sample a bite of this dish, once we saw the meat falling from the bone with just the slightest teasing. A beautifully executed dish, which I could probably eat all day long.
For something a little different, I went with the Ahi Tuna (capers, kalamata olives, eggplant):
The fish was cooked well but perhaps ever so on the over-seasoned side, especially with the capers in the side dish. Nonetheless the accompanying side was a perfect match and led to a still very enjoyable dish.
Desert started with a selection of Gelato's:
Our staff friend told us the turning wheel was the latest in a line of different ways this dish was presented. This was very good gelato, that got a little messy towards the end (probably not helped by the amount of wine we drank during the meal). We also chose to share a decent Creme Brulee:
I don't doubt that this evening's meal was made even more enjoyable being in the presence of our friend, but I also have no doubt that dining at Ghidotti's would be a highly enjoyable experience for anyone. The food was first rate and served in a very relaxed and comfortable environment. We also had the pleasure of meeting some of the staff and the chef, all of whom seem very dedicated to making the dining experience a great one. I thought the standard prices were already quite reasonable (for upscale Park City dining); if you can grab a 2-for-1 discount when available, Ghidottis would represent a fabulous value for money.
Ghidotti's Italian Cafe is located at 6030 Market St, Park City, UT 84098
Prime Steak House is another restaurant that offers a great deal in the summer months with their "buy one get one free entrees". As I write, this offer is presently available until November 30th.
The entrance to Prime is located just off Main Street, stepping inside you find a more contemporary space than a traditional steakhouse. Indeed, Prime bills itself as a Piano Bar in addition to steakhouse. Towards the front of the restaurant a large piano provides the source for much of the venue's live music (nightly). On our last visit, the piano player's tunes ranged from the more steakhouse-apt swing/rat-pack numbers through to slightly chuckle-worthy renditions of pop tunes by groups such as Coldplay. At any rate, the music was certainly understated and provided a nice accompaniment to our meal.
Our meal began with an order of the Crab Cakes:
A well executed classic steakhouse dish, but nothing special to write home about. Wendi chose the 8oz Filet Steak Oscar Style:
Whilst the picture isn't the greatest, you can see how all the steaks at Prime are served with butter. In retrospect, Wendi found this choice, coupled with her Oscar-style, a little unwise. Plates are served insanely hot, causing the butter and crab to continue cooking table side. We found this results in some unpleasant burning of the crab meat. Definitely something to consider when ordering at Prime.
Personally I find the idea of dousing a steak in butter a touch of gilding the lilly so to speak. As such, I went with the 8oz Filet Steak without butter:
A great steak on a par with the Spencers back down in Salt Lake City. Prime's website presently states "Voted Best Steak House in Utah 2008". We really enjoyed our night at Prime, but Spencer's old school charm still wins out for me. That 2-for-1 offer is hard to beat though.
Prime Steak House is located at 804 Main St Park City, UT 84060
Wahso is the second of my Bill White restaurant picks, and another equally impressive dining experience. The Wahso website describes the restaurant as "Discover the mood of the Orient with an ambiance that reflects Shanghai in the 1930's". From the ornate ceilings, to the elaborate draping of silky fabrics and choices of rich understated colours, the interior of Wahso, is a breathtaking adventure for the eyes. It's somewhat surprising to think that all of this waits at the top of a flight of stairs just off Main Street, but lucky for Wahso's diners, it does.
Again a little disclosure should be in order. The staff at Wahso knew in advance I was coming in and that intended to write about my experience. Service was impeccable, which I honestly suspect it may have been anyway. Bill White's employees seem to have their stuff very much together when it comes to service. Again like the Ghidotti's meal, I took great efforts to survey the dining space and check on other diners. Once again, everyone seemed very happy. The meal started with an Amuse Bouche:
Deep fried won ton chips (which appeared a couple of times on the menu) were served with a curried mayo-based sauce. We both found this a nice little touch being suckers for things deep fried.
Full to the brim with won ton chips, we decided to share the Tuna Tartare (scallop ceviche, spicy tuna, house made ponzu and won ton crisps):
A great little appetizers that we eagerly finished off. We were also treated to some lovely soups on this evening, the first of which was the vivid Roasted Bell Pepper Soup:
The soup was an excellent, creamy and possessing a deep flavour. Ever a fan of Chinese soups, I had to try their Hot and Sour Soup with Dumplings:
A very pleasing rendition of the popular soup, all the more enjoyable with the added texture of the dumplings. We also had the pleasure of trying the Beet Salad with goat cheese:
I passed due to the cheese, but Wendi loved this salad. Beets are certainly an acquired taste, but the classic beet/cheese combo suited Wendi's tastes perfectly. Wendi's entree on this evening was a pan roasted Halibut with risotto:
Wendi gave her entree rave reviews, but was so stuffed she could hardly finish half of it. She certainly did her best though.
I went with the Szechuan Duck:
If memory serves, this also came with a pineapple and duck confit fried rice. The duck was perfectly cooked on the medium/medium-rare side. All said and done, every course was competently executed, and very tasty. My only slight niggle would be that I feel the prices might be ever so slightly on the high side.
I would be back at Wahso in a heart beat though, as we had a thoroughly enjoyable meal. Looking over their on-line menu, much has changed since our last visit, so please do check their menu at http://www.wahso.com if you're considering a visit.
Wahso is located at 577 Main St, Park City, UT 84060
Aside from the food last summer, we also had the pleasure of visiting the Bacchus wine bar for the first time. Unless you know to look for Bacchus you could easily miss it, the bar is hidden underground via a simple doorway down a flight of stairs on Main Street. Park City's signing ordinances prevent anything overtly noticeable on exteriors. Once inside, Bacchus is an intimate space, dimly lit with a red-black colour scheme throughout. Seating ranges from tables to sofas and a long bar area. Many of the furnishings are imported directly from Bali, the part-time home of the owners.
Given the time of the year, we found Bacchus to be almost deserted, so we decided to sit up at the bar and speak with the bar tender. As chance would have it, that evening we were served by the super-friendly owner himself. As such, we were not only lucky enough to be led through the menu with expert assistance, but also regaled with some fun stories of Park City and the bar's much busier times during the Sundance Film Festival.
The wine list was very extensive, especially so the options by the glass. Bacchus uses a compressed inert gas to seal bottles after pouring a glass of wine, allowing them to stock and serve far more options by the glass than is usually common. Best of all, the menu featured a number of affordable "wine flights"; a series of smaller glasses of wines, highlighting a specific area or varietal of wine.
A small menu of light wine-friendly bites such as olives, cheeses and meats is also available. Both myself and Wendi each chose one of the red wine flights and sat back with a small plate of olives and cheese. We whiled away the late afternoon with some really excellent wine, and equally great conversation with the owner.
We enjoyed our time here so much so, we came back later the same evening after dinner to round the night off with a sampling of ports. An excellent little wine bar, and one we can't wait to visit again. For any wine lovers in the Park City area, I would encourage you to get on down there ASAP.
Bacchus Wine Bar: 442 Main St Park City, UT 84060
Hi, I'm Stuart, nice to meet you!  I'm the founder, writer and wrangler at Gastronomic SLC; I'm also a former restaurant critic of more than five years, working for the Salt Lake Tribune.  I've worked extensively with multiple local publications from Visit Salt Lake to Salt Lake Magazine, not least helped to consult on national TV shows.
I'm a multiple-award winning journalist and have covered the Utah dining scene for the better part of fifteen years.   I'm largely fueled by a critical obsession with rice, alliteration and the use of big words I don't understand.   What they're saying about me: "Not inaccurate", "I thought he was older", "I don't share his feelings".  Want to know more? This is why I am the way I am.
This article may contain content provided by one of our paid partners. These are some of the best businesses in Utah. For a list of all our current and past relationships see our
partnership history page
.