Like any city in the U.S. there's more craft breweries in Salt Lake City than you can shake a keg of IPA at; and they show no sign of waning in popularity. So who are the very best? Which breweries shouldn't you miss and why?
If you're ready to plan to pub crawl of the very best local brews and breweries, check out our list of the top spots not to miss Remember, drink responsibly and use Lyft or Uber!
New to Utah? Check out our low down on Utah liquor laws here.
Level Crossing Brewery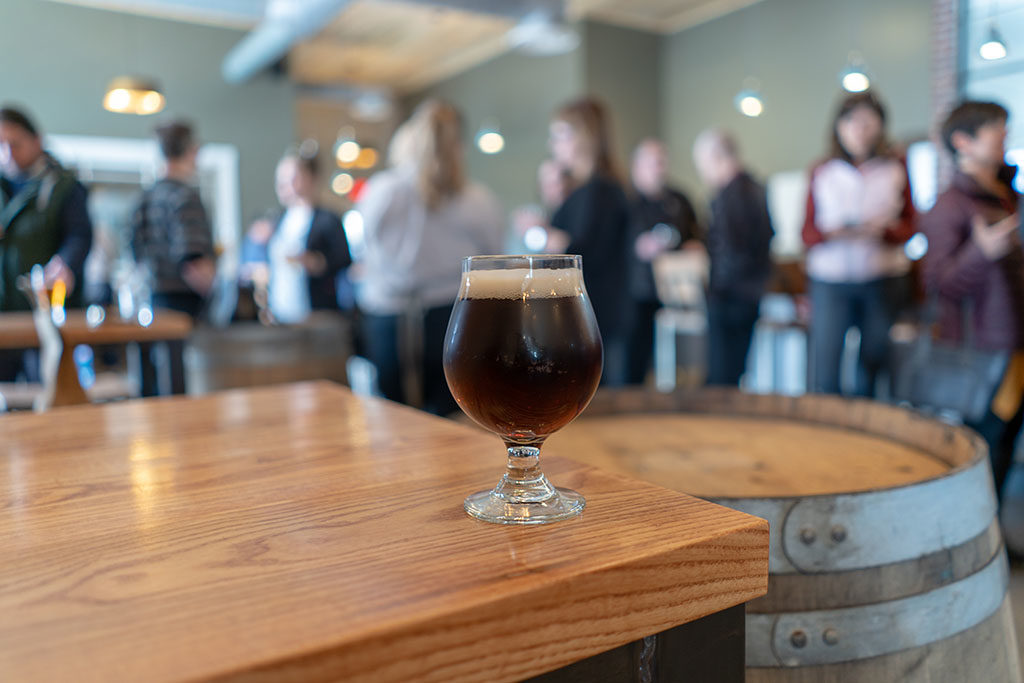 Opening to the public in early 2019, this relatively brand new brewery starts our list. Head brewer Chris Detrick started off with a quartet of simple brews, but the list has been expanding ever since. The smoky Utah Uncommon is a sure fire selection to whet your whistle if you stop by.
The main bar space features a reclaimed 1946 chevy truck from a farm in Sterling Utah – whose flatbed serves as stage for music at the brewery. There's also a modest on site selection of food such as pizza and sandwiches. Read our full initial preview of Level Crossing here.
Bonus points: Bonwood Bowl is a mere block East, should you wish to start or end your brewery visit with a little fun and games!
2496 S W Temple, South Salt Lake, UT 84115
(385) 270-5752
facebook.com/levelcrossingbrewingco/

Desert Edge Brewery
Next on our list – this old school brewer – who have been slinging out hand brewed beers long since the current fad. Located in historic Trolley Square the bar/restaurant has been putting out award winning (plenty of GABF medals) beers for more than three decades. As Desert Edge beers aren't canned or bottled, you'll only be able to same head brewer Chad Krussell's product here, and here only.
Bonus points: Licensed as a restaurant you need to order food here…but don't worry…if you only really want to sample brews, sit up at the bar and ask what's on tap. Desert Edge offer a handy menu of small and super-cheap bites (thing fries, chips, buts etc) so you don't need to order a full or pricey meal.
273 Trolley Square, Salt Lake City, UT 84102
(801) 521-891
desertedgebrewery.com
Kiitos
This newcomer to the SLC brew scene has quickly become one of the most popular. That's in part due to the eclectic lineup of beers, ; creations like coffee cream ale, mango pale ale, blackberry sour, coconut stout are poured alongside more common pilsners and amber ales.
Bonus points: R&R BBQ is a couple blocks East if you want to grab some grub; while fellow breweries Fisher and T.F. brewing are about three blocks South East.
608 W 700 S, Salt Lake City, UT 84104
(801) 215-9165
kiitosbrewing.com
Proper Brewing Co.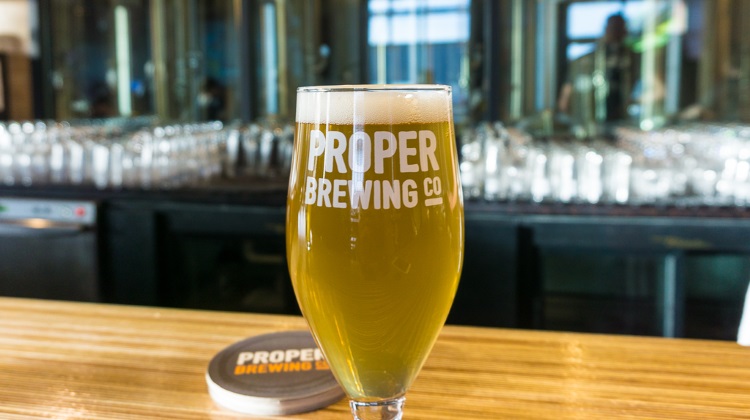 Proper's head brewer Rio Connelly started his craft at neighbors Epic Brewing. After a stint there he teamed up with brother Liam and third partner in the trio – Andrew Tendick. The initial opening was the nano brewery and restaurant Avenues Proper. The success of that gave way to the full blown brewery operation in 2016. The success of this local startup has been meteoric ever since. You'll find Proper brews in bars across town as well as canned and bottled in grocery stores. At the brewery location, there's always something fun going on, with release parties and themed nights. Check, their social accounts for what's going on.
Bonus points: housed on the same lot is their sister restaurant Proper Burger Co – one of the best spots in town for a burger. You can eat in, or have the burger over at the brewery, your call.
857 Main St, Salt Lake City, UT 84111
(801) 953-1707
properbrewingco.com
Who did we miss?
If you think we're missing a really great addition to this list, please email us at stuart@gastronomicslc.com – we'd love to hear from you. Let us know who you think should be on this list and why. If you have a really great picture of one of more dishes, please send that too! We're always excited to check our more businesses!
Our sponsors and this page
This page may contain information about one of our sponsors. We only work with the very best businesses in the state, and routinely turn down offers to work with businesses we don't enjoy. If we can't hand on heart recommend them - they can't be a sponsor.
At this time we have the following sponosrs: Avenues Proper, BGR Sugar House, BTG, Caffe Molise, Craft by Proper, The Dough Miner, Downtown Alliance, Feldman's Deli, Flanker, Garage On Beck, Hearth And Hill, Hill's Kitchen, Kao Thai, Kin Sen Asian Noodle Bar, Kyoto, Laziz Kitchen, Log Haven, Oasis Cafe, Pirate O's Gourmet Market, Proper Brewing, Proper Burger, Scion Cider Bar, SLC Eatery, Squatter's Downtown Salt Lake City, Stoneground Italian Kitchen, Urban Hill, Wasatch Brew Pub Sugar House, Whiskey Street, White Horse.
I encourage you to Google any of our sponsors and see the stellar reviews on multiple sites that they enjoy. For a list of all our current and past relationships see our partnership history page.