Finding a really good food focused book can be tough. Whether for yourself or for a foodie friend, the choice can be overwhelming; sometimes it seems like practically everyone has their own cookbook. Lets be honest – there's a ton of garbage out there.
Through the years of running this website, we've received countless books to page through. The following food books are all volumes we've received and enjoyed. Please note that links to Amazon are affiliate links, we earn a very small commission on any sales made.
Gastro Obscura – A Food Adventurer's Guide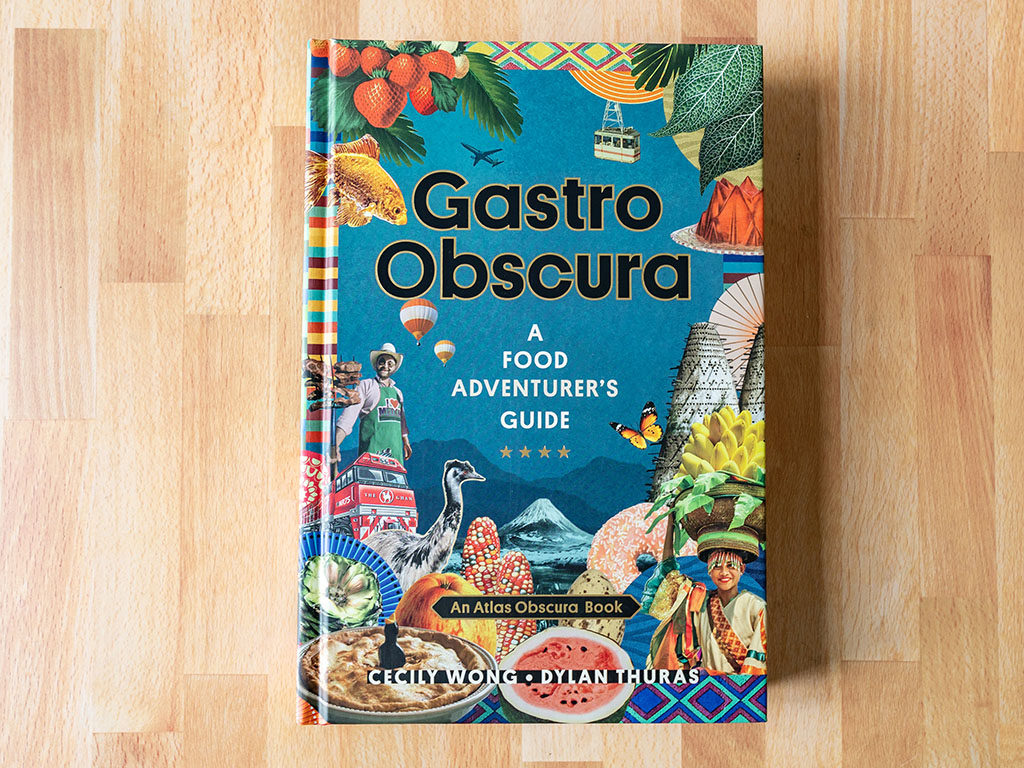 This collection of worldly food knowledge is four years in the making, based on intel from 1000s of foodies. It's a reassuring weighty hardback that lands in at more than 400 pages. Inside you'll find detailed look at unique food and culinary traditions from around the world; Chilean beer made from fog, Sardinian 'threads of god' pasta, Asturian cider pouring, on and on, it's absorbing stuff. The book is separated by continent and country and is a fascinating read. Any foodie will find themselves lost in this for hour after hour. Buy on Amazon here – affiliate link, we get a referral fee for purchases made.
Real Food Fake Food
One of the the most interesting books I've read, and a must for any food fanatic. Or anyone who cares about just being ripped off right and left frankly. Go ahead and buy one for yourself and your friend. This book is equal parts fascinating and disturbing. A completely riveting read.
From olive oil to cheese, seafood to meat, the products you're buying literally aren't what you think. You might believe you're a savvy shopper and know the score – but you don't. You probably know there's not actually lobster in that chain restaurant dish that just cost you $12, you're smart enough to know they substituted langoustine to meet that price point right? But did you even know about the entire business of langoustine import fraud, that fake lobster meat isn't even real fake lobster meat. Scary.
Author Larry Olmstead leads the reader through product after product. You're not buying real olive oil if you're in a grocery store, you're not really eating Kobe beef in that hot dog (99.9% in the states is fake don't you know) and you might not even be eating real parmesan cheese (two words, wood pulp) – even in a Michelin starred restaurant in NYC. Seriously.
The book is endlessly eye opening, and you'll fly through it – "oh god, really, this is made of lies and sadness too?". Thankfully Olmsted ends each section with savvy advice on how to avoid being duped and how to hedge your bets and shop smart. Buy Real Food/Fake Food on Amazon – affiliate link, we get a referral fee for purchases made.
The Flavor Bible
This is the anti-cookbook. This for these who can't stand those volumes of artfully tasteful photos and garbage recipes that have never been tested. In fact, you won't find a single recipe here. What you will find is a dictionary like collection of ingredients, a through z. Each ingredient is listed alongside other items that pair well, with exceptional pairings highlighted. Along the way there is info on cuisines and technique, insight from chefs and restaurant owners. but never a recipe to follow. For the most part, this book serves as inspiration and a jumping off point for your own creativity. Buy on Amazon here – affiliate link, we get a referral fee for purchases made.
The Complete Plant Based Cookbook
Sure there are pretty pictures here – but unlike many cookbooks – they don't come at the expense of solid recipes. With more and more people adopting a plant based diet these days, the demand for intelligent recipes is ratcheting up. As with all of America's Test Kitchen books, the recipes here are sharp, concise and without fluff. You won't have to wade through the author's wistful memories of their childhood before getting to the main course. Buy on Amazon here – affiliate link, we get a referral fee for purchases made.
Five Ingredient Dinners
Another book from the same America's Test Kitchen library, and one for meat eaters who want in on the fun. Like the plant-based volume above, this one is clear, concise and thoughtful. The book features more than a hundred ideas for dinner, all of which contain the minimum of ingredients. If you're stuck in a dinner rut, need some new inspiration, but want to keep things simple, this is the book for you. Buy on Amazon – affiliate link, we get a referral fee if you make a purchase.
More food gift ideas
Our sponsors and this page
This page may contain information about one of our sponsors. We only work with the very best businesses in the state, and routinely turn down offers to work with businesses we don't enjoy. If we can't hand on heart recommend them - they can't be a sponsor.
At this time we have the following sponosrs: Avenues Proper, BGR Sugar House, BTG, Caffe Molise, Craft by Proper, The Dough Miner, Downtown Alliance, Feldman's Deli, Flanker, Garage On Beck, Hearth And Hill, Hill's Kitchen, Kao Thai, Kin Sen Asian Noodle Bar, Kyoto, Laziz Kitchen, Log Haven, Oasis Cafe, Pirate O's Gourmet Market, Proper Brewing, Proper Burger, Scion Cider Bar, SLC Eatery, Squatter's Downtown Salt Lake City, Stoneground Italian Kitchen, Urban Hill, Wasatch Brew Pub Sugar House, Whiskey Street, White Horse.
I encourage you to Google any of our sponsors and see the stellar reviews on multiple sites that they enjoy. For a list of all our current and past relationships see our partnership history page.