Looking for information on Salt Lake City catering? Maybe you want to cater for a private party, just friends and family, an event or a business meeting? Not sure which of the wonderful restaurants in SLC can meet your requirements? Don't worry! Restaurants often send us details on their catering efforts and we list the best here:
Laziz Kitchen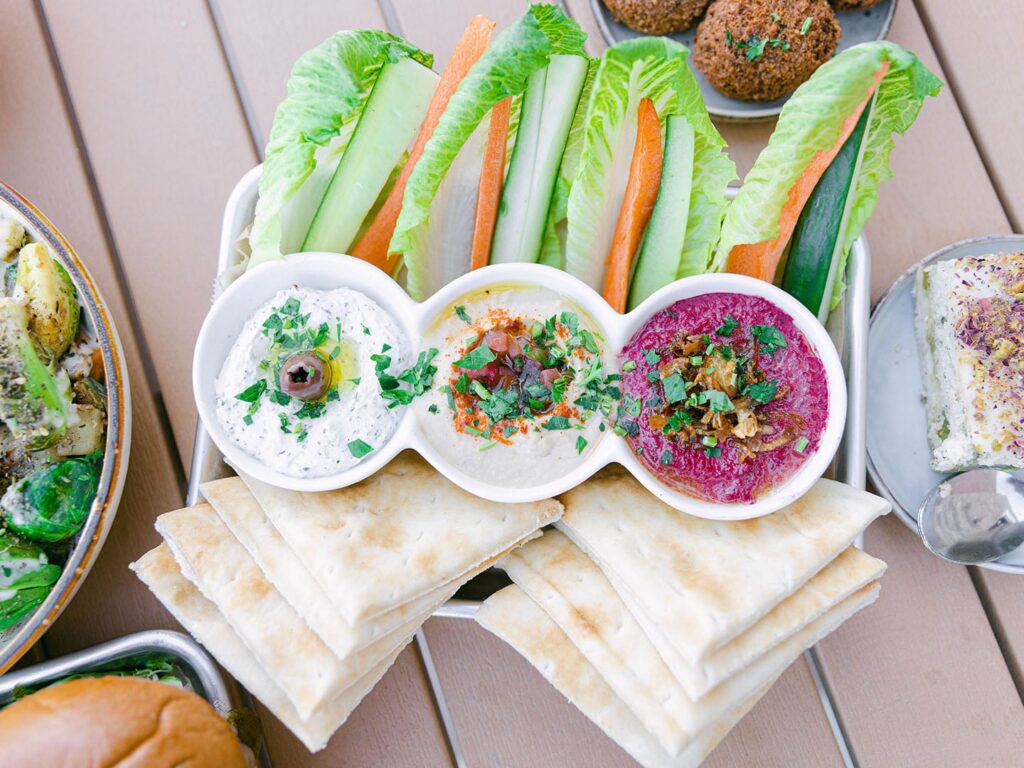 Wow your guests with modern Mediterranean cuisine crafted in an inclusive kitchen. Laziz Kitchen can cater events of all kinds, from social at-home gatherings to office lunches and weddings. Let us take care of the food while you focus on the people around you. Options on their catering menu are extensive and include everything from set per person deals through ala carte options. Smart collections of their dishes – such as the party package for $225 which feeds 15-20 – make catering events a cinch.
Taqueria 27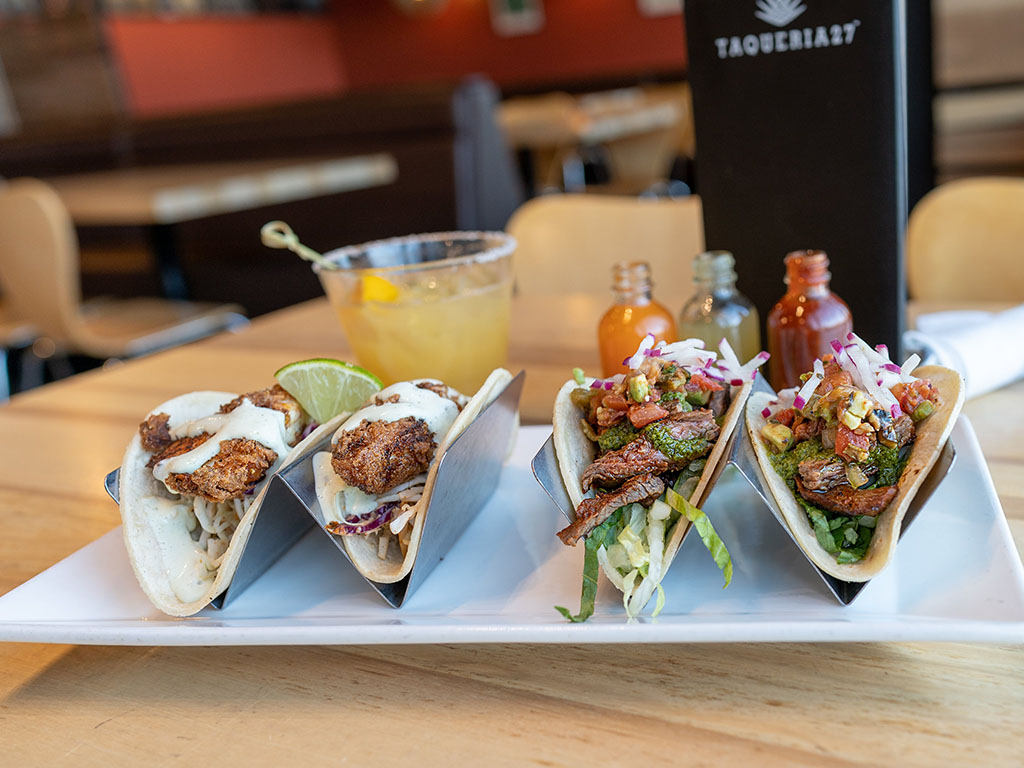 Tacos make the best event cuisine, grab and go dining at its best – and who doesn't love. taco. One of SLC's best taco joints offer a very special Taco Bar option that can cater small and large groups alike.
Taco Bar to go options start from a 10 person option priced at $130 all inclusive which comes with beans, tortilla and one protein. Larger options and additional add ons are included too.
Sugar House BBQ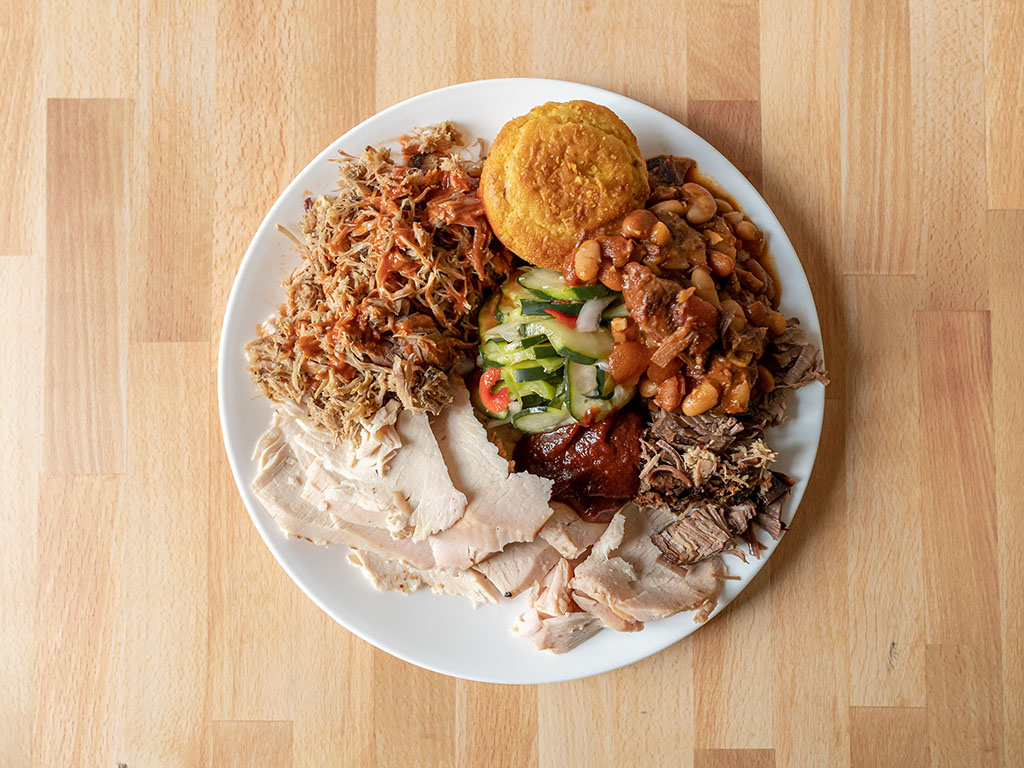 Feel like BBQ for your next business lunch? Check out this popular SLC Q outfit, lauded as one of the best SLC has to offer over and over. Ribs, brisket, chicken, beans, turkey, cornbread – you name it – they have all the classics that will make your next event smokin' hot. Moreover BBQ makes a great catering event cuisine as the food fares well, served in a catering style setup. Meats and sides are sold by the pound; you can simply swing by and pickup yourself or have the team attend your event and run service.
I can vouch first hand for SBBQ, having found them supplying the goods for a surprise birthday party held for me one year.
880 E 2100 S, Salt Lake City, UT 84106
(801) 463-4800
sugarhousebbq.com
Cuisine Unlimited
Founded by Maxine Turner way back in 1985 as a small deli and catering operation. Some 35 years later the business has flourished and now operates as a true, full-service event provider offering services to the Utah community. That longevity tells you something, these guys know what they're doing and have the experience you'll want to rely on at your next event.
With more than 140 employees the business caters everything from small working lunches through grand weddings to major Salt Lake City food events. Who do Salt Lake Magazine turn to when they need catering their yearly restaurant award ceremony? An event packed with the most discerning eaters in SLC? You guessed it, these guys!
Their level of flexibility and flavors for any occasion resulted them in also being tapped to operate food services at the new Eccles Theare in downtown SLC. If you're curious about their cuisine, just stop by their Encore Bistro which is open to the public for breakfast, lunch and dinner; the menu changes routinely to reflect not just seasons, but the shows at the facility too.
Cuisine Unlimited are our pick for the best catering in Salt Lake City. We've sampled their creations at event after event, year after year, and are always blown away.
Hearth And Hill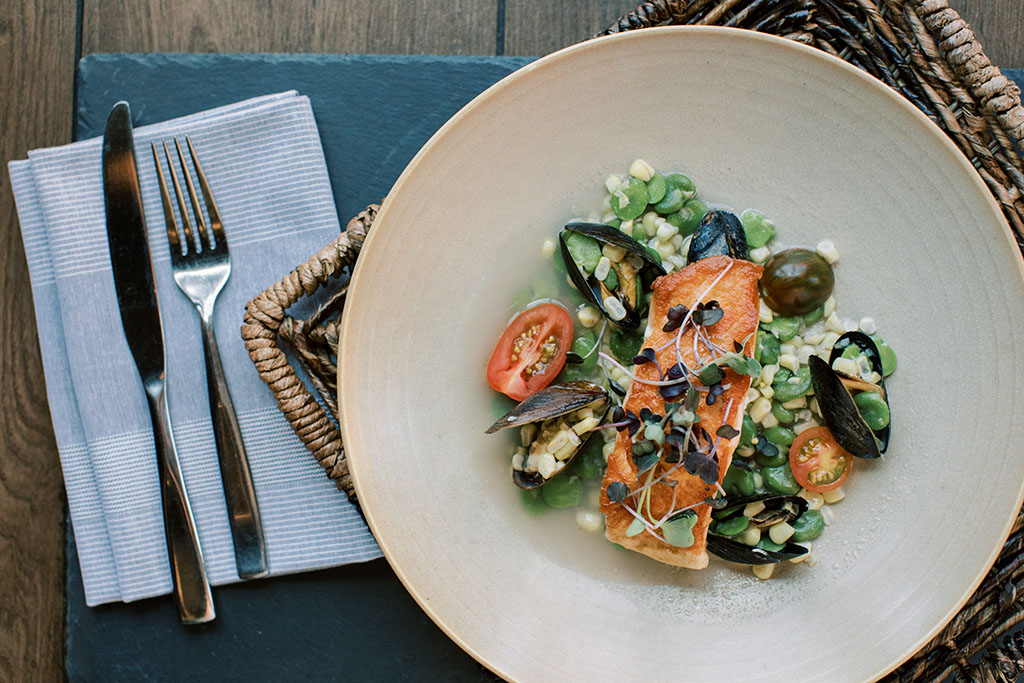 For Park City catering options, check out this local restaurant. Here's the full details on their catering service direct from the business:
Hearth and Hill restaurant, the popular "gathering spot" for Park City locals and visitors, launches its full-service catering services for all those parties, events and get-togethers that are long overdue. Hearth and Hill's promise: "We cater to you!" Spacious, on-site event spaces, accommodating off-site options, and thoughtful menus crafted by Executive Chef Jordan Harvey and Pastry Chef Jessie Nakoneczny, give patrons the refreshing opportunity to safely gather and celebrate once again.
"We are thrilled to unveil our brand new catering menus and wide range of private event services available to our guests," said Proprietor Brooks Kirchheimer. "We pride ourselves on being Park City's 'gathering spot,' and we welcome the opportunity to create unforgettable experiences with our award-winning cuisine and service."
Hearth and Hill's welcoming event spaces include a private dining room, outdoor patio, bar and cocktail areas, and a full restaurant buy-out option. Seated or cocktail options are available, and each space is equipped with full AV capabilities, cozy fireplace and outdoor heaters, if needed. The Hearth and Hill team can also provide drop-off or full-service catering for off-site events up to 150 people with custom menus and event details tailored to every guests' needs.
Fresh, inventive and locally-sourced, Hearth and Hill's catering menus are a direct reflection of the restaurant's in-house offerings, which have garnered numerous awards. Items include a selection of the restaurant's signature soups and salads, such as the Refuel (almond, apple, beet, cranberry, brown rice, yam, kale, spinach, pomegranate vinaigrette) and Quinoa and Roasted Vegetable salads. A variety of upscale finger foods include Deviled Eggs, Bacon Wrapped Shrimp, Wagyu Beef Sliders, Crab Stuffed Peppadew Peppers, Smoked Elk Meatballs, Beer Battered Cauliflower, Beet Bruschetta and BBQ Pulled Pork Sliders. Ample platters of charcuterie, crudité and seafood are also available.
Guests may also choose from four different party themes carefully curated from the Hearth and Hill kitchen – Americana, Backyard BBQ, Game Day or Tex-Mex. Additionally, sandwich platters and boxed lunches include Smoked Turkey, Roast Beef, Grilled Chicken Club, Chicken Caesar Wrap, Veggie Wrap and Cuban offerings. Don't forget the dips – White Bean & Squash Hummus, Grilled Onion, Smoked Trout and Pimento Cheese, to name just a few. For a sweet finish on the perfect event, indulge in Coconut Lime Bars, Peanut Butter Squares, Berries and Zabaione Sauce, Caramel Flan or Coconut Cherry Macaroons. Special custom orders from Jessie's Cakes for any occasion are also available.
Guests interested in Hearth and Hill's catering services or booking a private event can call 435-200-8840 or email the Hearth and Hill event coordinator at events@hearth-hill.com to create a customized package from conception to completion.
1153 Center Dr, Park City, UT 84098
(435) 200-8840
hearth-hill.com
Food trucks
Or what about a food truck to cater your next event? Most of Salt Lake City's food truck businesses happily offer catering services. By definition these mobile kitchens can pitch themselves up, anytime and any place. All you need to do, is choose what menu fits your particular event.
Most food trucks will offer pricing for a complete rent out for your event. This can be a popular way to cater an outdoor event, or facilities without kitchen setups. For some ideas on food trucks for catering check out our sister site SLC menu and the round up of food truck menus here.
Greek Souvlaki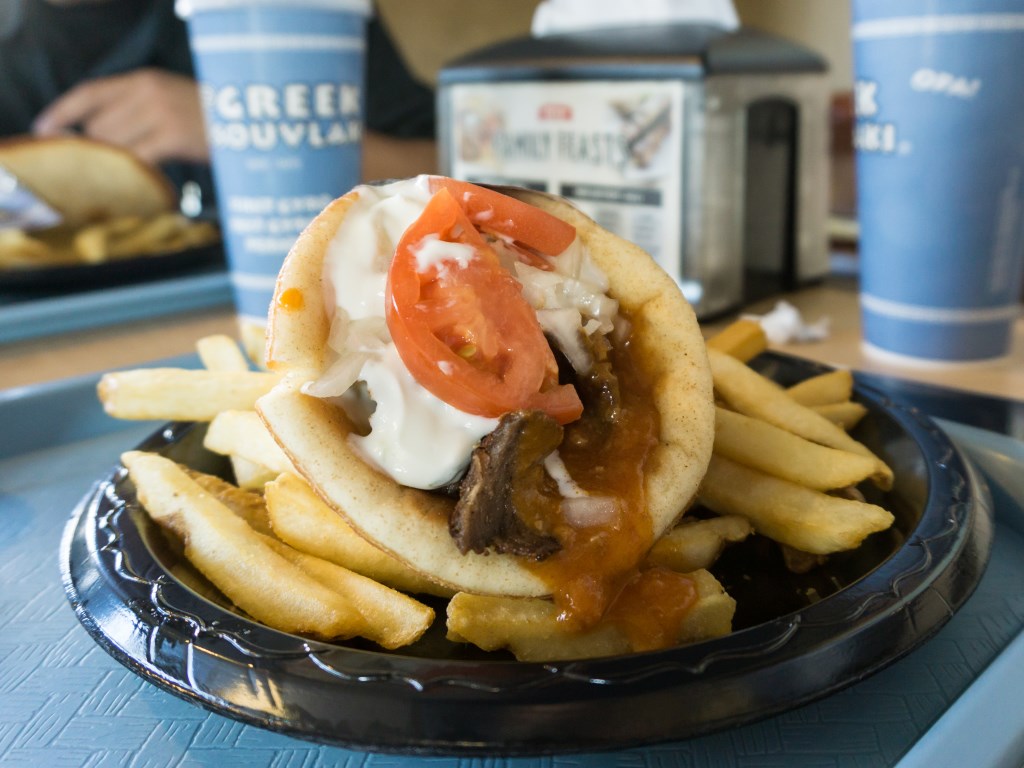 If you've spent more than ten seconds in SLC you know we lvoe our Greek food. If you've ever thought about gyro, sovlaki, dolmathes or beefteki for yoru next event – and seriously if not why not – then check these guys out.
Catering from Greek Souvlaki is offered as a three step process: choose your main, choose a side, choose a dessert or beverage; but if you're stuck the restaurant has pre-built options such as their souvlaki package for example, more details here.
Sushi Groove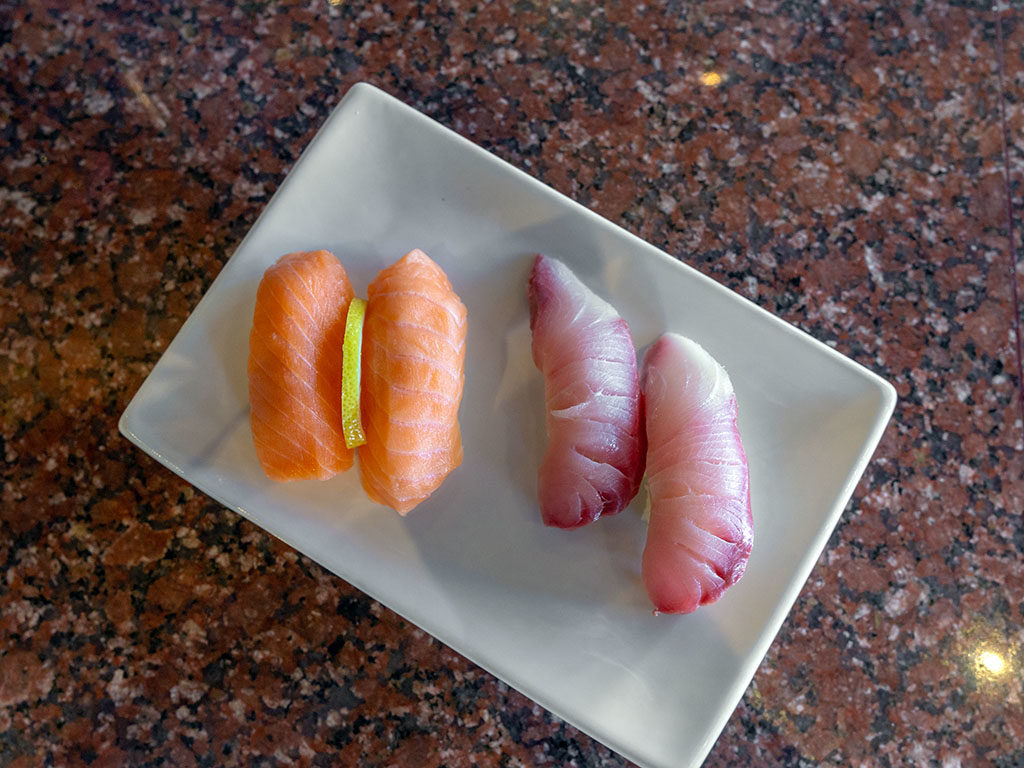 How about catered sushi instead? Sushi Groove are one of our favorite sushi operations in town. Fresh, funky and fun, fun, fun. Sushi Groove also cater in a number of ways (catering menu).
Choose form sushi platters starting from as little as $10 a head or even hire a sushi chef for your event and host a 'roll your own' party. $50 a head secures you one of Sushi Grooves fun sushi chefs and all the supplies you and your guests will need to learn the craft of sushi rolling.
2910 Highland Dr, Salt Lake City, UT 84106
(801) 467-7420
sushigroove.us
Rico Catering
We've written before about this businesses catering options – that are available for anything from a small lunch to a full blown wedding. The catering arm of Jorge Fierro's larger Mexican cuisine business, as a range of delicious options but one unique item is their taco cart.
From around $12.99 a person (and a $250 setup fee) Rico can pitch up at your summer event with a full service taco cart. While your neighbors are carefully burning their burgers on the grill, the hardest task you will be undertaking is deciding whether to go with the Carne Asada or Pork Achiote tacos.
Spitz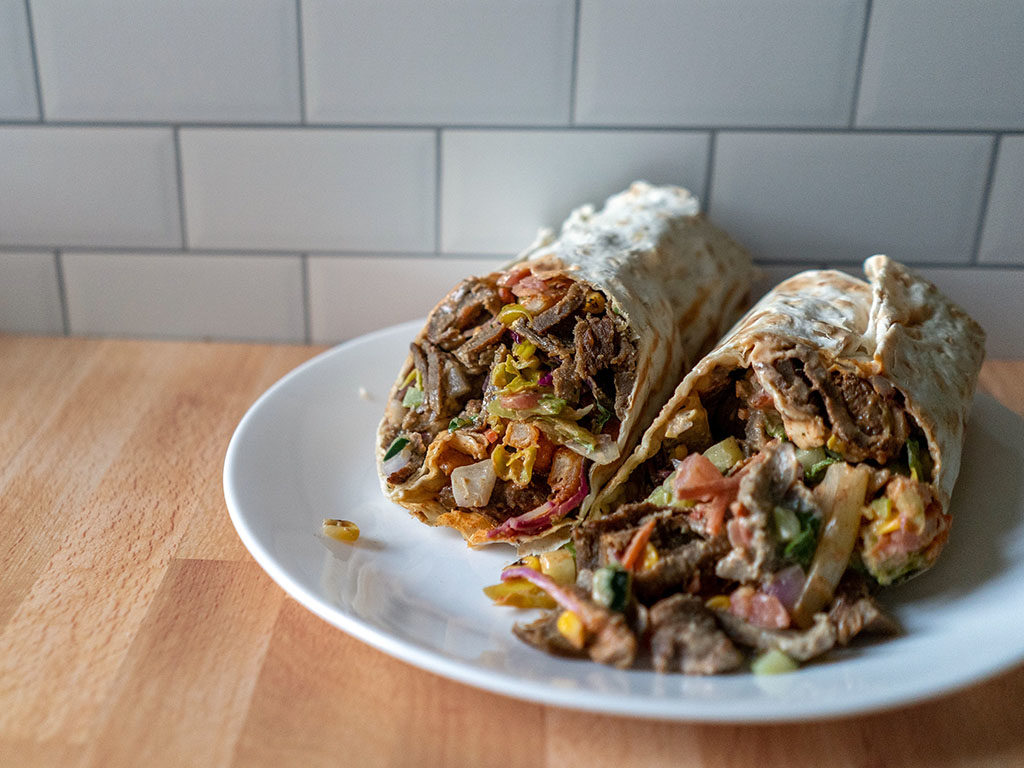 Enjoy the Mediterranean flavors of Spitz at your next party and your friends will love you forever. Spitz' catered cuisine can be ordered ala carte, on party platters or even provided buffet style so your guests can build their own monster doner kebab or loaded fries.
Prices start from around $9 a head and their catering menu can be found online here.
Our sponsors and this page
This page may contain information about one of our sponsors. We only work with the very best businesses in the state, and routinely turn down offers to work with businesses we don't enjoy. If we can't hand on heart recommend them - they can't be a sponsor.
At this time we have the following sponosrs: Avenues Proper, BGR Sugar House, BTG, Caffe Molise, Craft by Proper, The Dough Miner, Downtown Alliance, Feldman's Deli, Flanker, Garage On Beck, Hearth And Hill, Hill's Kitchen, Kao Thai, Kin Sen Asian Noodle Bar, Kyoto, Laziz Kitchen, Log Haven, Oasis Cafe, Pirate O's Gourmet Market, Proper Brewing, Proper Burger, Scion Cider Bar, SLC Eatery, Squatter's Downtown Salt Lake City, Stoneground Italian Kitchen, Urban Hill, Wasatch Brew Pub Sugar House, Whiskey Street, White Horse.
I encourage you to Google any of our sponsors and see the stellar reviews on multiple sites that they enjoy. For a list of all our current and past relationships see our partnership history page.