Just recently I toured the warehouse and catering facilities of The Fierro Group. Most people will know The Fierro Group from at least one of their three main activities. First up there's the fine dining restaurant Frida Bistro, which if you haven't tried, go right now! Next there's Rico Brand products – of which I was surprised to learn there are something like 100 different varieties – found at grocery stores across the valley. And finally, the purpose of my visit, checking out the third arm of the business – Rico Catering. What I discovered was one of the most capable and unique catering providers I've run across in SLC.
So what makes Rico Catering such a great option? Put simply, the sheer depth and breadth of their offering makes a great option for a myriad of events big and small. Rico can cater both offsite or onsite, breakfast through dinners, casual BBQ's through weddings, heck your tailgate before a Utes football game! You name it, they've done it and can do it for you.
Onsite catering offers up the Rico warehouse space – a trendy, high capacity warehouse environment fit for all manner of event sizes. The front area of the space that creates Rico Brand products during the day transforms into a hip cocktail area by night, and the main warehouse space has hosted some pretty big events, with capacity for up to 500 attendees. Another option is Frida Bistro itself, available for groups as small as 10 in the guest conference room, through 30 in the private lounge – even the full restaurant is available for buyout (100 guests). Both restaurant and warehouse are situated in a neighborhood with a cool cache too – off the beaten path with plenty of edge, recently seeing the pop up Granary Row project take shape there.
One item in particular that caught my eye while touring the space, was Rico's taco cart. From around $12.99 a person (and a $250 setup fee) Rico can pitch up at your summer event with a full service taco cart. While your neighbors are carefully burning their burgers on the grill, the hardest task you will be undertaking is deciding whether to go with the Carne Asada or Pork Achiote tacos. And if you're like me, that's the kinda of decision that you prefer.
Another element is that the trio of Fierro businesses all happily work together – want your favorite Rico salsa at your event, you got it, craving that particular empanada or margarita from Frida Bistro, again no problem, the team are happy and flexible to ensure your event is as delicious as it is spectacular, just check out some of these photos from previous events.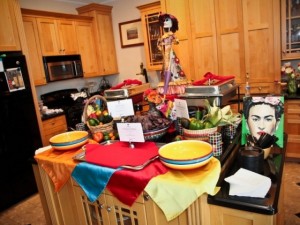 Put simply in their own words: Dare to be different and let Rico and Frida set your event apart by bringing the flavors of Mexico to you.
Rico Catering
5454 West 700 South, Salt Lake City, Utah 84101
(801) 433 9923
www.ricocatering.com
Hi, I'm Stuart, nice to meet you!  I'm the founder, writer and wrangler at Gastronomic SLC.  I'm a multiple-award winning journalist and have written in myopic detail about the Salt Lake City  dining scene for the better part of seventeen years.
I've worked extensively with multiple local publications from Visit Salt Lake to Salt Lake Magazine, not least helped to consult on national TV.   Pause those credits, yep, that's me! I'm also a former restaurant critic of more than five years, working for the Salt Lake Tribune.    I'm largely fueled by a critical obsession with rice, alliteration and the use of big words I don't understand.   What they're saying about me: "Not inaccurate", "I thought he was older", "I don't share his feelings".
Want to know more? This is why I am the way I am.
This article may contain content provided by one of our paid partners. These are some of the best businesses in Utah. For a list of all our current and past relationships see our
partnership history page
.