Looking to support restaurants in this difficult time? We've been actively compiling lists of curbside pickup, delivery, drive thru and more. Check out the links below for all the best options to support local businesses. We're updating these daily.
Bookmark these links!
Original post
Sure, pretty much any restaurant will provide to go, or take out service, but it doesn't mean it's a good idea. Some restaurants are just perfectly setup for take out though. From the packaging to order process to the style of food – some restaurants are a take out match made in heaven.
While this list is by far from definitive, here are some of our favorites if you're looking for take out inspiration in the SLC.
1 – Saffron Valley
Saffron Valley has three locations that put it in reach of most of the valley for takeout pretty easily. You can find them in the Avenues, Sugar House and South Jordan. The menu differs slightly at each location but all try to showcase regional Indian cuisine, beyond the typical run of the mill dishes. Top tip with Indian food for take out – it tastes even better the next day reheated…so order plenty…
2 – Cinnaholic
Open seven days a week and offering a veritable bounty of fresh and decadent toppings – if you're looking for a sweet treat on the go – check out this downtown temple dedicated to the cinnamon roll. Bonus points, everything at Cinnaholic is 100% vegan friendly with no dairy in sight.
3 – Mad Greek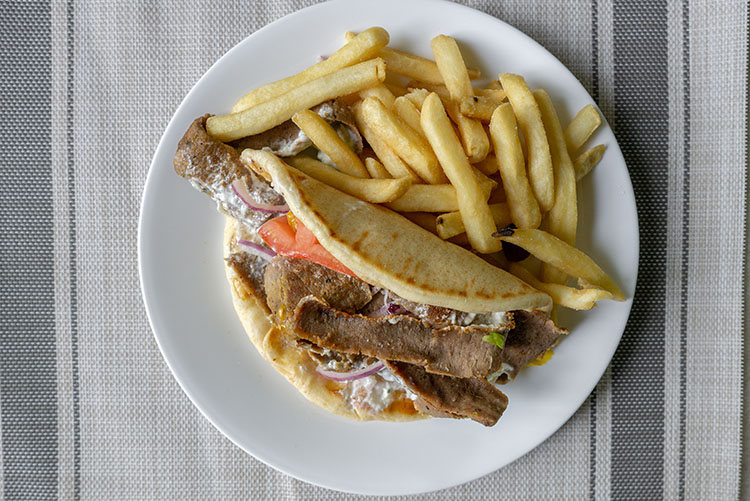 We're suckers for Mad Greek's calorific togo options; sometimes you just need a plate full of golden fries while slouched on the sofa, right? The food here is fast and furious and in the case of the delivery (Door Dash), we've actually found reheats decently in the microwave if delayed. If you head over yourself the two locations (Murry and South Salt Lake) both have drive thrus.
4- Long Life Vegi House
This vegetarian restaurant in Millcreek has been a staple of the dining scene for more than twenty years. The fact that the menu has seen little to no changes since pre 2000 speaks volumes to the enduring popularity of this meat free Chinese restaurant. The business does a strong take out business, and packages items up well togo. Prices are still as crazily affordable as ever, which means you can load up and go wild ordering a togo feast!
5 – Spitz
With locations in Sugar House, Cottonwood, Downtown and Lehi – many in the valley can turn to Spitz for a healthy and fun take out option. The Mediterranean inspired cuisine at Spitz ranges from salads to wraps to sandwiches and is perfect for togo orders. The business also delivers through DoorDash and Grubhub too.
6 – Afghan Kitchen
The Afghani cuisine from this South Salt Lake business makes the perfect take out order. Moreover dishes such as the chicken and rice above are just as good later as leftovers cold, or quickly heated up in the microwave.
7 – Yannis
Another gyro, burger and fry option. Yanni's Greek has been offering the good stuff for decades out of the humble Sugar House location. There's a drive thru and prices are plenty affordable. The business delivers through the Door Dash service.
8 – New Golden Dragon
This Cantonese leaning restaurant on State Street offers an extensive menu from American-Chinese favorites through to more authentic dishes like the one funky fermented salted fish dish above. The business happily fulfills to go orders and also delivers – directly themselves in a limited area – for free.
9 – Mano Thai Diner
Formerly known as Bon Appe Thai, this Thai eatery in South Salt Lake is home to the only Thai restaurant drive thru I know of in Utah. That alone is worth the trip in my book. The food of course is worth the journey too, everything from bold curries to vibrant stir fries.
41 W 3300 S, South Salt Lake, UT 84115
(801) 485-1209

manothai.com
10 – Sugar House BBQ
Another business that offers a drive thru – can you tell what's important to me in life yet? Sugar House BBQ are open seven days a week, deliver through GrubHub, operate a drive thru and their food is always perfect to go. I mean who doesn't want a plate of smoked meats on hand at all times?
11 – Feldman's Deli
The picture above is proof positive that Feldman's Deli is equally enjoyable at home as it is in the hustle and bustle of the restaurant. You might lose a little bit of heat in transport, but if you want to avoid the lunch rush and savor the wonders of Feldman's loaded sandwiches in the eave and comfort or your own home – we'd rate it as a definite must.
12 – Crown Burgers
Of course, we'd be remiss not to mention of SLC's most popular and enduring local take out businesses – Crown Burgers! Sometimes life just demands a pastrami laden burger atop a heaping of golden fries. Heck, I think I'm off to go grab some now..
Your business on this page?
Looking to drive more sales to your restaurant? Sponsor this page and put your business in front of thousands of hungry diners searching for somewhere good to dine in Sandy. This page is currently available. Check out our Page Sponsor information and get started in 24 hours.