Sometimes only the crisp and crunch of juicy hot chicken right from the fryer will do. Calories be damned. It's fried chicken time. The following are some of the best fried chicken dishes, restaurants and options you can find around Salt Lake City. I'll start with my own personal favorites.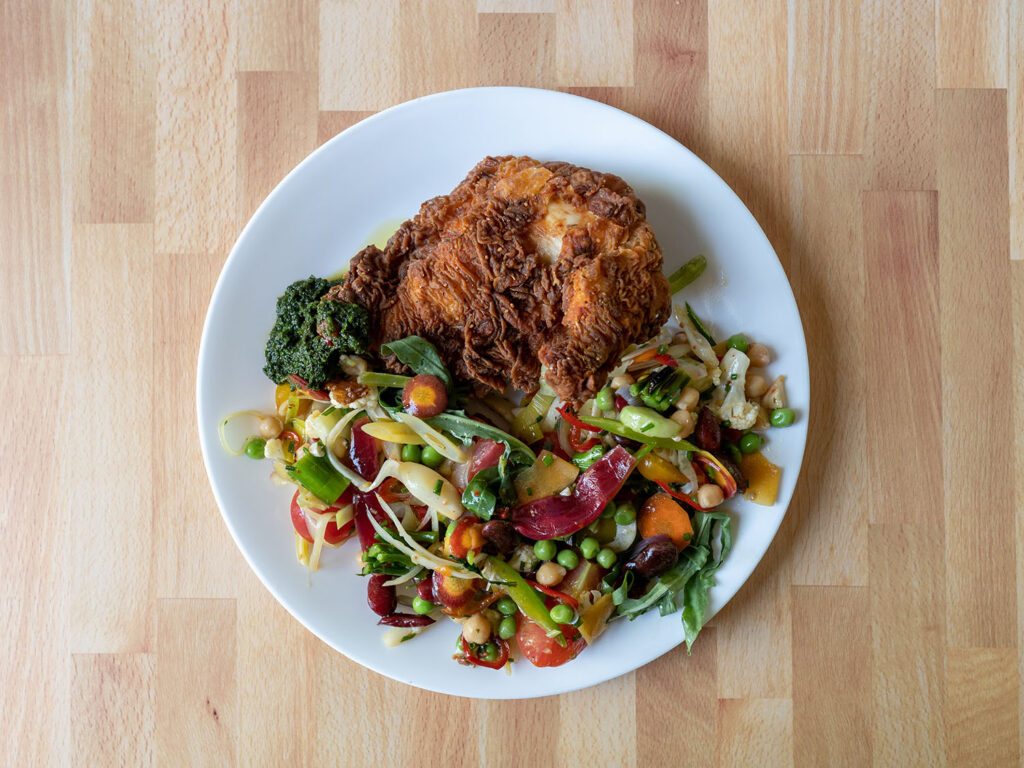 HSL – my top pick
At this downtown SLC restaurant chef Briar Handly always ensures there's a fried chicken dish on the menu; the specifics change with the season but what doesn't is that gloriously perfect fried bone-in chicken! Pictured above a half-chicken of thigh and breast with Summery salad. The fried chicken is always a staple here, and I've not tasted a better exampled at a sit down restaurant in town.
418 E 200 S, Salt Lake City, UT 84111
(801) 539-9999
hslrestaurant.com
Pretty Bird – my top pick
When Viet Pham left his popular fine dining gig at Forage, folks probably understood the move; his subsequent media career saw him feature on a myriad of TV shows, including famously beating Bobbly Flay. When he returned to the dining scene, many didn't expect fried chicken to be the vehicle that brought him back.
Pham's fried chicken honors the best of Nashville spicy fried chicken. his tiny miss and you'll blink it spot in Downtown SLC offers basically two dishes – a fried chicken plate, or a fried chicken sandwich. Each is offered in various spice levels. Sides are minimal too – the star of the show here is fried chicken and it more than regularly sells out.
146 Regent St, Salt Lake City, UT 84111
https://prettybirdchicken.com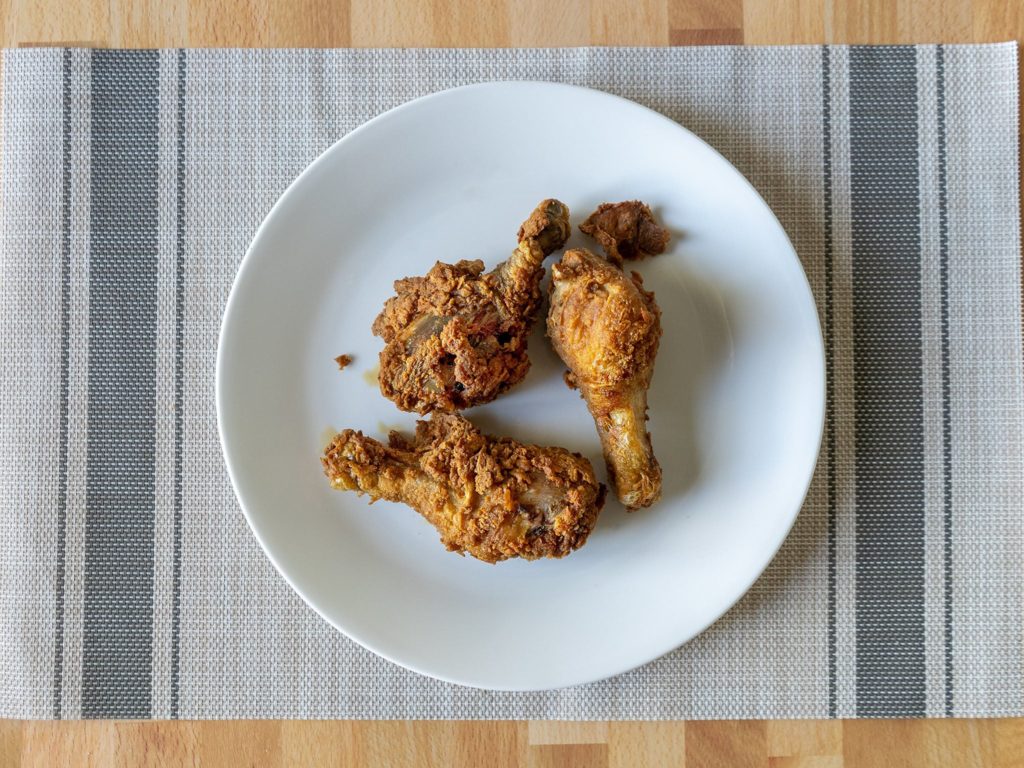 Harmons – my top pick
This local Utah grocery store is home to one of the best kept foodie secrets in town: it's home to some killer fried chicken. The store offers the chicken in four and ten packs as well as a variety of other options like "less only". While we often dive right into the chilled chicken out of the box – it's best when quickly reheated. Hint: five minutes in an air fryer works wonders!
Various locations
harmonsgrocery.com
Franklin Avenue – my top pick
Looking for chicken and waffles? Stop and reconsider what you *really* want. The picture above then – the chicken n "waffles" plate at Franklin. The base of the dish is a frisbee sized slab of funnel cake, a piped and fried entanglement. On top, an equally blush worthy large piece of fried chicken, togarashi, dynamite aioli and maple syrup, the final flourishes.  This mammoth calorie infusion is just one of fifteen dishes on the brunch menu which is available until 3.00 p.m. at weekends.
231 S Edison St, Salt Lake City, UT 84111
(385) 831-7560
franklinaveslc.com
Curry Fried Chicken – my top pick
Curry. Fried. Chicken. Just take a moment for that to sink in. Spicy, richly aromatic and punching with Indian flavor – this chicken is legit. Indeed, it's great fried chicken in it's own right, the seasoning simply takes it over the top. The modest fast casual space is close to downtown and perfect for grab and go lunches and dinner.
660 State St, Salt Lake City, UT 84111
(801) 924-9188
slcmenu.com/2012/08/30/curry-fried-chicken-restaurant-menu/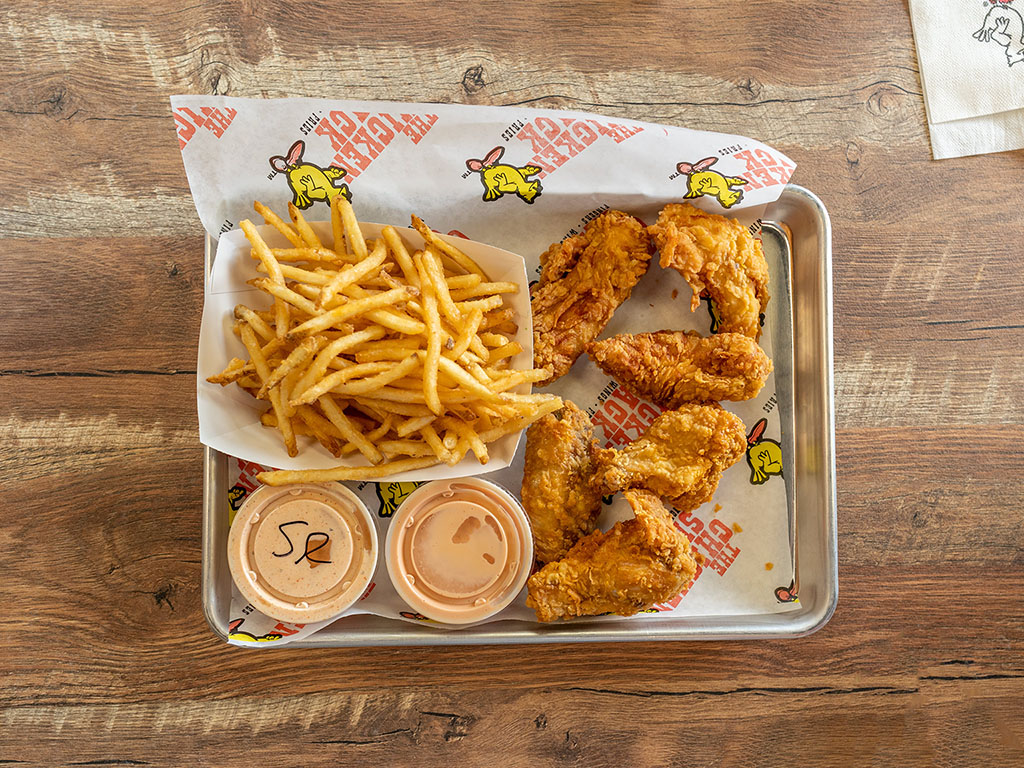 The Chicken Shack
The Chicken Shack hit the streets of SLC in the Summer of 2021. The business is a mini chain out of Las Vegas, and cook up a range of chicken wings, fingers, fries and more. The restaurant is a fast-casual setup and gets extra points for a menu wide a range of rubs and sauces.
358 S 700 E, Salt Lake City, UT 84102
(385) 229-4856
mychickenshack.com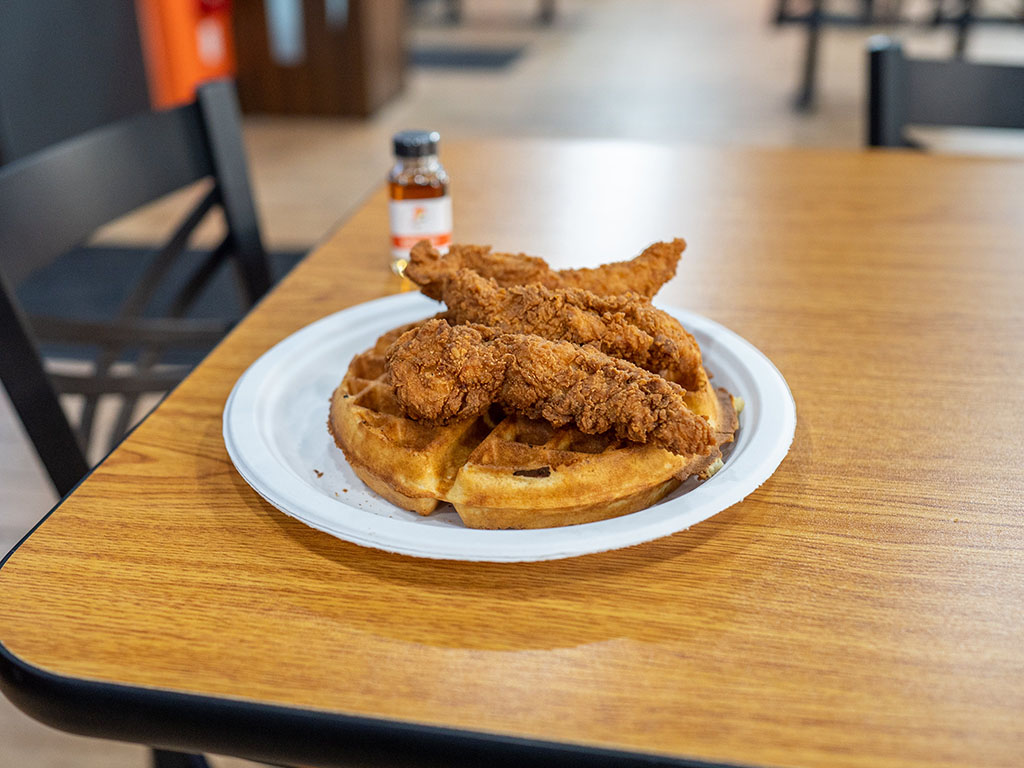 Mr Charlie's Chicken Fingers
Mr Charlie's focuses on just one think – exceptional chicken fingers. The business expanded with a second location in 2021, and with it, a new dish for this bigger location. Head to the Draper Mr Charlie's and you will find their chicken and waffle dish, perfectly juicy and savory tenders over a sweet waffle. And yes, there's maple syrup.
592 E 12300 S, Draper, UT 84020
(801) 938-9561
mrcharlies.com
The Angry Korean
The guys behind South Jordan's The Angry Korean started their culinary careers in Utah with just a few inches of cooking space in a food truck. That all changed when they opened their first bricks and mortar store in 2019. Their fried chicken is crisp, sticky, sweet and spicy – be sure to ask for plenty of napkins! The version comes in both milder and spicier versions, so don't worry if you like your Korean fried chicken at either end of the spectrum – they have you covered.
Mom's Kitchen
These bite sized morsels of crunch fun are flavored with a five spice powder and hoisin. This Taiwanese preparation can be found at Mom's Kitchen in South Salt Lake and is just as good as a snack to share, or greedily gobble up all to yourself.
SLC Eatery
The chef driven menu at SLC Eatery is always subject to change – but if you see their fried chicken on the menu – bite their hands off and order right away. These guys cook a mean chicken and it's not to be missed.
1017 S Main Street, Salt Lake City, Utah
facebook.com/pg/slceatery

Popeye's Louisiana Chicken
Let it never be said we're foodie snobs here. Salt Lake City is home to multiple locations of Popeye's and it's one of the better fast food fried chickens going. And we say that even though KFC started right here in Salt Lake City. In fact you can still visit the very first KFC right here in SLC.
Lake Effect
This hip bar on the edge of Downtown SLC has a special affinity with the deep fat frier – a good thing in our books. The fried chicken above comes plated on a big fat slice of bread and comes with crema, chives, pickles and a side of buffalo sauce.
62 East 700 South, Salt Lake City, UT 84111
(801) 596-2294
purgatorybar.com

Hi, I'm Stuart, nice to meet you!  I'm the founder, writer and wrangler at Gastronomic SLC.  I'm a multiple-award winning journalist and have written in myopic detail about the Salt Lake City  dining scene for the better part of seventeen years.
I've worked extensively with multiple local publications from Visit Salt Lake to Salt Lake Magazine, not least helped to consult on national TV.   Pause those credits, yep, that's me! I'm also a former restaurant critic of more than five years, working for the Salt Lake Tribune.    I'm largely fueled by a critical obsession with rice, alliteration and the use of big words I don't understand.   What they're saying about me: "Not inaccurate", "I thought he was older", "I don't share his feelings".
Want to know more? This is why I am the way I am.
Our sponsors and this page
This page may contain information about one of our sponsors. We only work with the very best businesses in the state, and routinely turn down offers to work with businesses we don't enjoy. If we can't hand on heart recommend them - they can't be a sponsor.
At this time we have the following sponosrs: BTG, Caffe Molise, The Dough Miner, Downtown Alliance, Feldman's Deli, Flanker, Garage On Beck, Hearth And Hill, Hill's Kitchen, Kao Thai, Kin Sen Asian Noodle Bar, Kyoto, LemonShark Poke, Log Haven, Oasis Cafe, Pirate O's Gourmet Market, SLC Eatery, Squatter's Downtown Salt Lake City, Stoneground Italian Kitchen, Urban Hill, Wasatch Brew Pub Sugar House, Whiskey Street, White Horse.
I encourage you to Google any of our sponsors and see the stellar reviews on multiple sites that they enjoy. For a list of all our current and past relationships see our partnership history page.