What do you mean it's closed, no one told me? That's the common refrain when I tell someone their favorite restaurant has called it a day. Closures then often come overnight and with little to no notice. Which is why fans of Fat Boy Phillies in Murray should sit up and take notice of this one; a merciful heads up to enjoy a few last bites.
Posting via an Instagram story the restaurant explained, "Attention To all our Fat Boy Phillies Fam! We have decided after a good 8 years that we will be closing our doors on 10/31/23. We want to thank everyone for the love and support. These last couple weeks we would love to see our community for our final farewell. So come in and get some Yummy sandwiches. Let your family and friends know! All our love, Fat Boy Phillies #MakeNoMisteak."
Fat Boy Phillies first opened in 2018 by Anthony and Oliver Duran, the business also operating a food truck along the Wasatch. A brief downtown excursion (on the corner of State and 400S) came in time, but shuttered in 2021. Sadly the original Murray (5823 S State St) location – long held up as one of the finest Philly picks in SLC – is now slated to follow.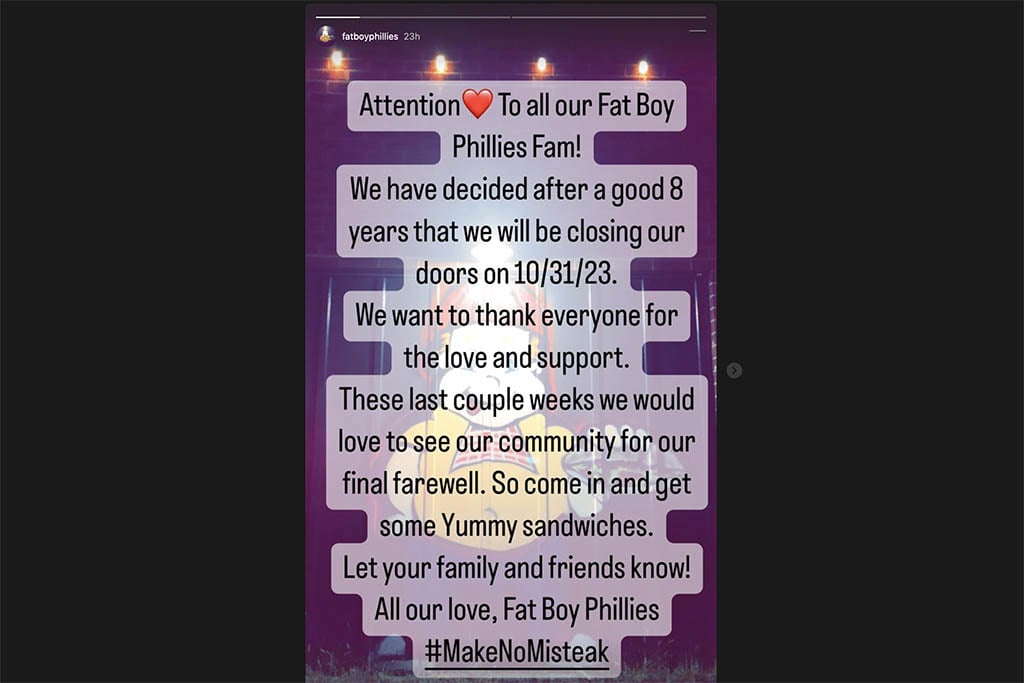 Fat Boy's signature dish was the classic Philly Cheesesteak sandwich, hoping to capture some of the limelight of East coast names like Pat's and Geno's. Offering both cheez whiz and provolone, local writers seemed sure on the correct way to order up a cheesesteak at Fat Boy's.
My colleague Heather L. King at the Tribune wrote, "While the Cheez Whiz brings additional moisture to the tender, juicy meat, it also adds saltiness. With the addition of grilled mushrooms, peppers and onions (called "loaded") and a housemade jalapeño mayo sauce drizzled on top, the melted provolone is ideal."
Alex Springer in the Weekly concurred, "I'm typically a provolone kind of guy when it comes to cheesesteaks," adding, "I remain a provolone purist, but I can totally understand why Whiz is the Philly tradition."
Per the social media posting October 31st is the last day of business for the restaurant – you should be able to get in a few more visits and settle the debate for your yourself.
Image credit, Eat Utah on Instagram.
Keep the conversation going
Want to stay on top of the SLC food scene, minute by minute, dish by dish? Here are a few other places you should follow along:
Hi, I'm Stuart, nice to meet you!  I'm the founder, writer and wrangler at Gastronomic SLC.  I'm a multiple-award winning journalist and have written in myopic detail about the Salt Lake City  dining scene for the better part of seventeen years.
I've worked extensively with multiple local publications from Visit Salt Lake to Salt Lake Magazine, not least helped to consult on national TV.   Pause those credits, yep, that's me! I'm also a former restaurant critic of more than five years, working for the Salt Lake Tribune.    I'm largely fueled by a critical obsession with rice, alliteration and the use of big words I don't understand.   What they're saying about me: "Not inaccurate", "I thought he was older", "I don't share his feelings".
Want to know more? This is why I am the way I am.
This article may contain content provided by one of our paid partners. These are some of the best businesses in Utah. For a list of all our current and past relationships see our
partnership history page
.