Meet Honey Teahive, a local company devoted to all things tea, and taking tea time to a new level. Owner Mika Lee is a Utah native who loves British afternoon tea. She's turned her obsession with tea into a thriving business, offering tea lessons, catered high-tea parties, tea party boxes, and now grab and go items.
Lee built her business from the ground up, launching during the pandemic with a tea-party-in-a-box model featuring savory finger sandwiches, traditional English scones and seasonal petit four desserts that could be enjoyed over Zoom parties or outside. "Honey Teahive was founded to bring a fun, unique and delicious experience to your doorstep," she explains.
Since then, she's expanded her offerings to now provide customized and catered tea parties with full set up and break down. Customers can also enjoy tea lessons detailing how to brew tea—she learned from her relatives in Taiwan—blind tea tastings and how best to enjoy them.
With the recent opening of Spice on 9th, customers can now pick up their custom orders or browse a curated selection of loose-leaf teas, strainers and steepers alongside bake-and-serve frozen pasties from Honey Teahive.
One of Lee's newest products available are chilled drink pouches. These convenient, 16 ounce resealable plastic drink pouches are so portable they can be frozen to enjoy poolside or dipped in a cool stream while setting up camp or resting from a hike.
For a little fall fun, we collaborated with Honey Teahive to see what kind of spirited drinks we could make with her tea-infused lemonades.
Follow along to see what happens when you pair high-end brewed teas and lemonade with a few shots of locally crafted spirits to make an adult sippy drink worth raising a glass to! You'll be thrilled at how easy it is to take these portable stunners to tailgating afternoons, Halloween parties, pumpkin patches and corn mazes, to the mountains to enjoy the fall colors and even on the lifts of your favorite ski resort this winter.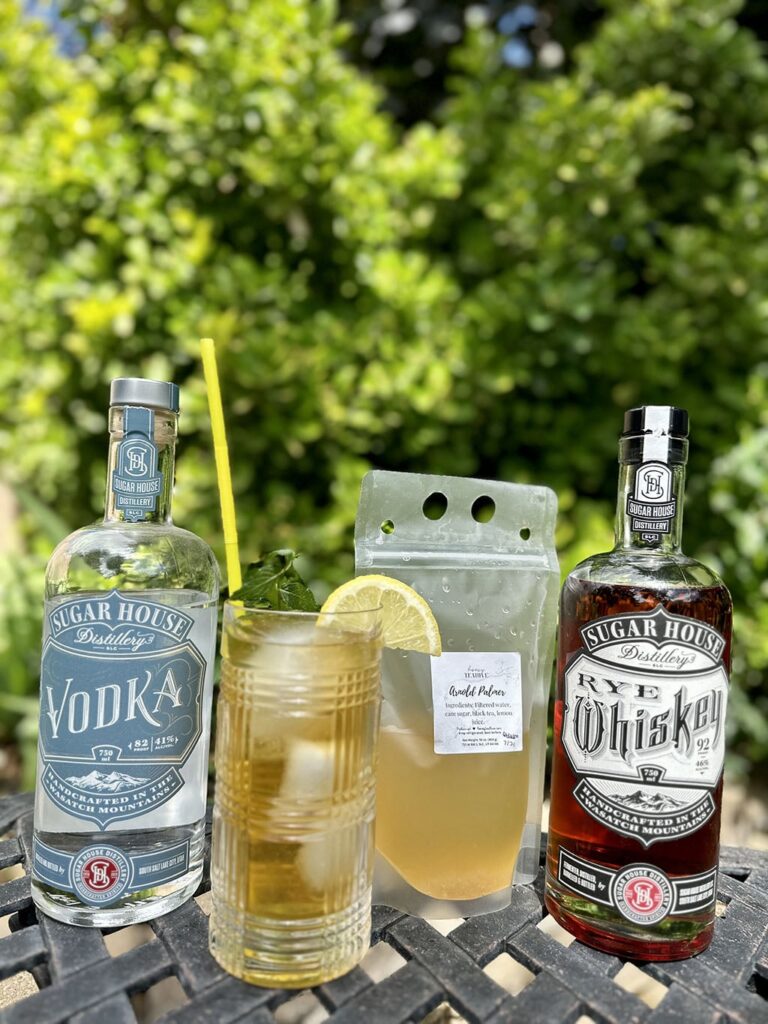 Arnold Palmer
The classic Arnold Palmer is half lemonade and half unsweetened iced tea. Honey Teahive uses black tea and it's a great blend of herbal and sweet flavors. We made the obvious choice to start with a John Daly cocktail.
For the traditional John Daly, we went slightly out on a limb for our tastings. We tested not one but two local vodkas, one distilled with grain (Sugar House Distillery) and one distilled with grapes (Holystone Distilling) with remarkably different tasting notes.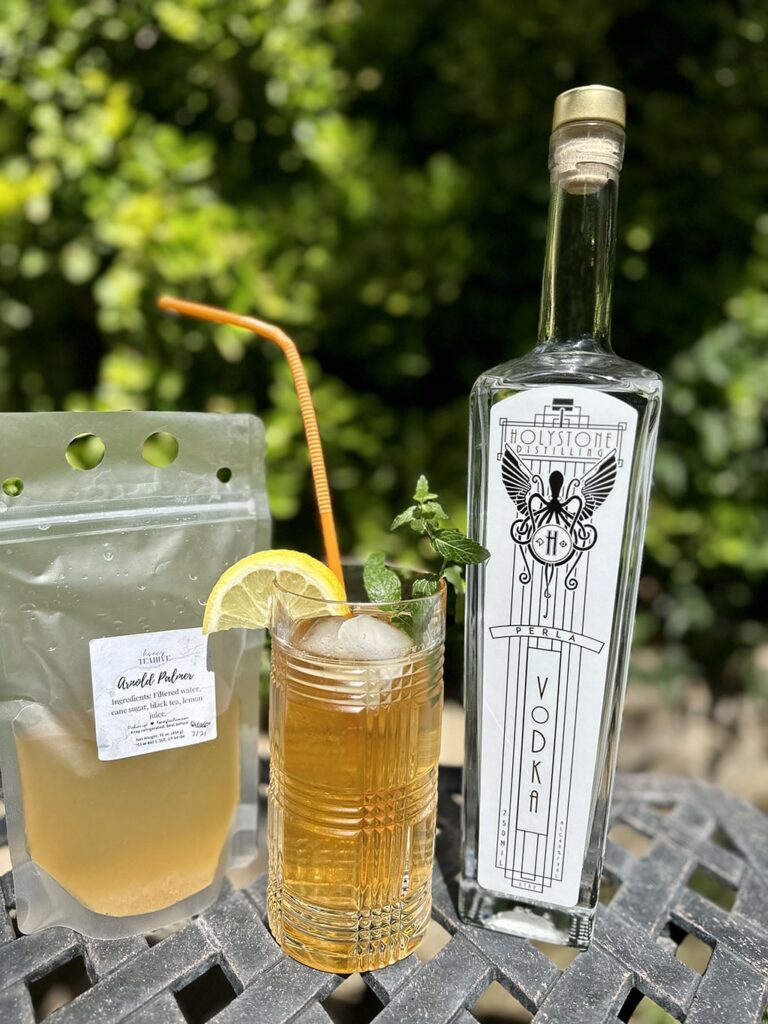 By law, American vodka is a neutral spirit with minimal sugar and citric acid that can't be stored in wood barrels. That neutral requirement has made vodka the obvious spirit to add to cocktails where one doesn't want to taste too much flavor from the alcohol.
Yet we discovered that the local vodka options were able to elevate different flavors coming from the Arnold Palmer beverage.
Holystone's Perla vodka is distilled from a variety of California grapes. We enjoyed the wine-like mouthfeel and also the buttery Chardonnay hints it pulled from the Arnold Palmer.
On the other hand, the grain-distilled Sugar House vodka brought out the malty, fresh bread notes from the black tea.
History says that in the 1950s and 60s, vodka was marketed as a glamorous and sophisticated drink for women who were looking for an alternative to heavy whiskey cocktails.
But we didn't want to leave out any whiskey-loving guys (or gals) so we also gave Honey Teahive's Arnold Palmer a sip with Sugar House rye whiskey. This whiskey is 100% regionally sourced rye barreled in lightly charred new American oak. Our Arnold Palmer and rye pairing featured a garnish of lemon and fresh ginger (rather than the vodka's mint) to elevate the whiskey's spicy character and pepper notes. For those looking to take a brown spirit in their beverage, this is the tangy choice.
Where to find Honey Teahive's Arnold Palmer: Central 9th Market and Spice on 9th
Lavender Lemonade
Honey Teahive's Lavendar Lemonade is as beautiful to look at as it is to drink. Perfect as a cool option at a tea party, this refreshing blend contains lavender, lemon juice and pea flower for that gorgeous color.
This lemonade was the most fitting to break out some local gins to taste together.
Our first option was Beehive Distilling's original product, Jack Rabbit Gin. An obvious match made in cocktail heaven, the floral-forward gin (think rose and violet) really pulled out the citrus and lavender from the lemonade. We garnished with fresh mint for a perfect garden party toast.
Waterpocket Distillery's Temple of the Moon Gin is packed with juniper and botanical notes which amped up the tartness of the lemonade while still revealing the delicate chamomile and lavender nuances of this pairing.
We had to try Holystone's Cerulea Gin first just to see what the two varieties of natural pea flower coloring did together. The answer? A gorgeous blue-violet stunner. With lavender leading the flavor profile of Cerulea, it's no wonder this pairing took us straight to a pollinator garden with bees buzzing through the lavender with every sip. Even more meaningful, a portion of the proceeds from Cerulea Gin are donated to support breast cancer research.
A bonus pairing came about by adding Waterpocket's Meliae from their Long Lost spirit line to the lavender lemonade. This bottling pays tribute to Eau De Mélisse des Carmes—made by the Carmelite nuns of France—a digestif of 14 medicinal plants and 9 spices. Meliae is the name of the Greek goddess of honey. While we expected the lavender flavor to win out from this lemon-forward herbal tonic, a delightful honey character developed and nicely balanced itself with the lemonade.
Where to find Honey Teahive's Lavender Lemonade: Central 9th and Spice on 9th
Raspberry Hibiscus Lemonade
This lemonade is a fun blend of fruits and herbs. Lemon peel and juice mingle with raspberry puree to form the base. Honey Teahive brings in orange peel and apple pieces which are then mixed with hibiscus, spearmint, peppermint, and rosehips. Definitely fruity, a little bit floral, a little herbaceous.
Those floral and herb notes are one of the reasons we leaned to vodka for this pairing. There's already a lot of great flavors here so simply spiking it with vodka made for a perfect pool beverage. It's also great for University of Utah tailgating fans as the color nicely reflects the University of Utes well.
It's no wonder we found Sugar House vodka and the raspberry hibiscus lemonade such a natural pairing as Sugar House Distillery also cans their own raspberry lemonade cocktail. Grab some of both and enjoy them side-by-side.
For an outside-the-box option, try Outlaw Distillery's Moonshine. This spirit is a playful mix that drinks kind of like a rum vodka. There's a little bit of maltiness that plays with the florals and some buttery molasses that loves the fruity flavors of Honey Teahive's mix.
Where to find Honey Teahive's Raspberry Hibiscus Lemonade: Central 9th and Spice on 9th
Comforting Cool Weather Warmers
For some cooler weather options, we also sampled warm chai tea and milk with Sugar House rye whiskey for a creamy, belly-warming tailgate sipper.
Finally, have some fun with hot toddies. Honey Teahive's earl grey tea is the base for this comforting drink complimented by honey and a cinnamon stick.
Waterpocket's Meliae is an excellent hot toddy addition with the fresh and dried lemon peel and warm spices pulling the citrus and herbal notes forward.
We also added Outlaw Distillery's Honey Bourbon with excellent results. Distilled from both sugar cane and grain, it was the sweetest option thanks to lots of honey notes.
Keep the conversation going
Want to stay on top of the SLC food scene, minute by minute, dish by dish? Here are a few other places you should follow along:
Heather King: Writer and lover of delicious food and drink in Utah and around the world. Anonymous food critic and writer for The Salt Lake Tribune, The Utah Review, Devour Utah, Utah Stories and more. Runs #LadiesWhoLunchSLC.
This article may contain content provided by one of our paid partners. These are some of the best businesses in Utah. For a list of all our current and past relationships see our
partnership history page
.