The world's largest assemblage of pie and beer. So goes the accolade bestowed on this upcoming Utah event by The New York Times. I'm unsure if the Guinness Book of World Records (remember those?) have been consulted over the title, but the breadth of options at this Pioneer Day bash is undeniable.
Starting at noon (July 24th) and running through to 4.00 p.m. organizers anticipate more than 9,000 slices of pie will be served from 24 bakeries; countless paired pours will come from an accompanying 24 local breweries. Promoter Brad Wheeler writes, "Often imitated, but never replicated, Pie and Beer Day officially started 12 years ago at Beer Bar. The pastries and potions will be accompanied by live local musicians for a truly one-of-a-kind celebration of local. Proceeds will be donated to the Wilderness Rehabilitation Center of Northern Utah."
Attendees can obtain a 'Pie and Beer Day' pass on the day itself for $40 which will allow them to enjoy five pairings of "scrumptious pie and refreshing cold beer". The event returns to Beer Bar again for 2023 with those participating in this year's big bash as follows:
Bewilder Brewing
Eating Establishment
Level Crossing
Snowmobile Pizza
Salt Flats Brewing
Strap Tank Brewing
NOMAD
Uinta Brewing
Proper Brewing
Avenues Proper
Auntie Em's Bakery
Roha Brewing
EPIC Brewing
Eva Bakery
Red Rock Brewing
Harmons
Wasatch & Squatters
Cotton Bottom
Desert Edge Brewery
Beer Brewing Co
Coffee Garden
Fisher Brewing Co
Pago
Salt Lake Brewing Co
UTOG Brewing
Copper Onion
Comica
T.F. Brewing
Mountain West Hard Cider
Stein Eriksen Lodge
Slackwater
Park City Culinary Institute
Ogden Beer Co
Salt Fire Brewing Co
Helper Beer
Roosters Brewing Company
Este Pizza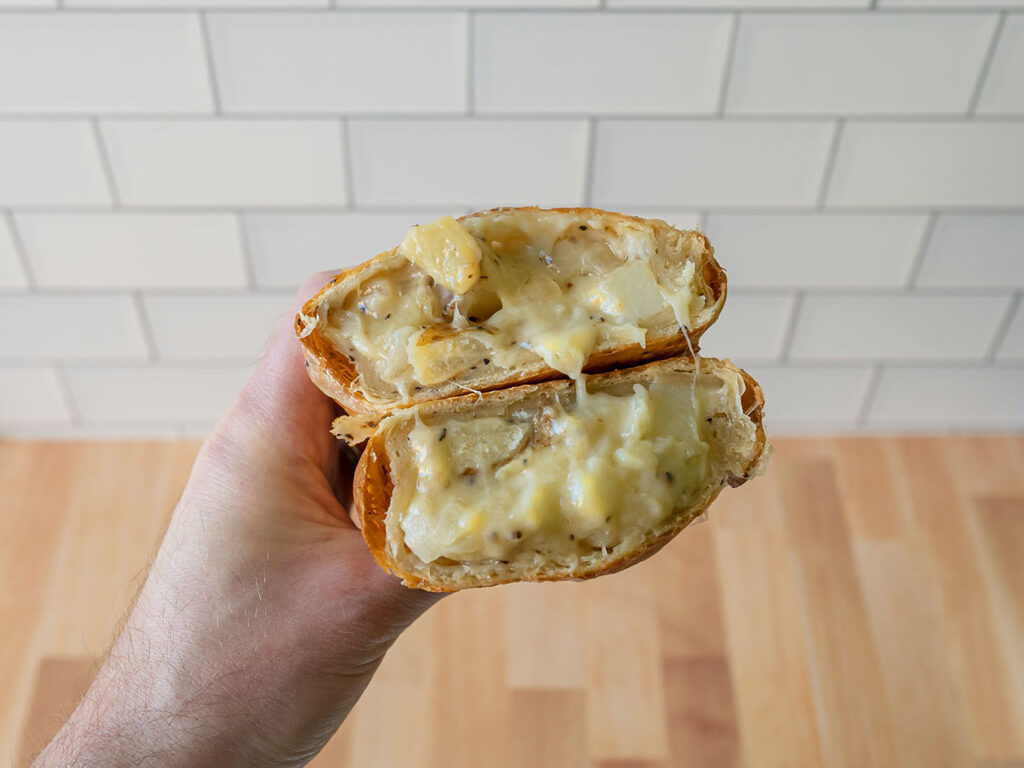 Scion cider pre-game
Want to start the party a day early this year? Central 9th's Scion Cider will be hosting their annual Scioneer Day event on July 23rd. Star of the show will be the return of Reverend Nat's Cherry Pie cider, available on tap; a cheeky 6.6% ABV with a sour cherry flavor and pie spices.
To pair, a selection of sweet and savory pies from local businesses. Dough Miner and their fantastic pasties (funeral potato pictured above) will take care of the savory side of things, while for those with sweeter tooth, assorted pie bars will be available from Pie Party will be offered too. The 21+ bar also reminded me that they're always friendly to patrons bringing in their own bites from neighboring businesses; with that in mind Snowmobile Pizza is just over the road and can be brought in from 4.00 p.m.
Lastly, with temps soaring the bar write, "We're taking over the alleyway for extra space – shade tents to hang out under, and ice cold cider bar outside too."
Keep the conversation going
Want to stay on top of the SLC food scene, minute by minute, dish by dish? Here are a few other places you should follow along:
Hi, I'm Stuart, nice to meet you!  I'm the founder, writer and wrangler at Gastronomic SLC; I'm also a former restaurant critic of more than five years, working for the Salt Lake Tribune.  I've worked extensively with multiple local publications from Visit Salt Lake to Salt Lake Magazine, not least helped to consult on national TV shows.
I'm a multiple-award winning journalist and have covered the Utah dining scene for the better part of fifteen years.   I'm largely fueled by a critical obsession with rice, alliteration and the use of big words I don't understand.   What they're saying about me: "Not inaccurate", "I thought he was older", "I don't share his feelings".  Want to know more? This is why I am the way I am.
This article may contain content provided by one of our paid partners. These are some of the best businesses in Utah. For a list of all our current and past relationships see our
partnership history page
.