Thankfully it's been a while since I've needed to roundup restaurant closures en masse; the one two punch of Covid-inflation has been lessening its punishment of late. The restaurant business is of course a tough ol' game – and we're always losing a few to the wayside. Here's some of the notable names to vanish of late.
Bourbon House
May 13th was last call at this downtown SLC bar. The launchpad for the Bourbon Group's extremely popular range of bar/restaurants (Whiskey Street, White Horse and Franklin Ave) the underground bar had been an increasingly oddball part of the overall business group mix. The latter businesses at BG focus on chef-driven menus, opposed to Bourbon's basement collegiate vibe. The business signed off on Facebook here.
Partner in the group Jason LeCates talked with the Trib recently about the impact of Covid explaining, "The bar was very popular, very strong going into COVID. But when Bourbon House was allowed to reopen. [LeCates said they followed restrictions such as social distancing and not allowing dancing, which didn't go over well with the younger crowd the bar often brought in]. "They'd leave and just go somewhere and find someone that was allowing them to party and dance and have a good time. And we just kind of lost our momentum as those competitors gained momentum, and we just never, never recovered from it."
At the time of writing, there's no official news on what's set to replace Bourbon House, though I've had a wee tip off I need to follow up on further. All I can say for now, it's more than likely (though not confirmed) the spot will continue to operate as a bar.
Ramen Bar
Another recent downtown closure, this Japanese noodle shop, sitting between Eva and London Belle on bustling Main Street (who'd have thought I'd use that adjective fifteen years ago). The business closed up shop with little to no announcement best I can tell. Coming next? Rumor – and until confirmed please treat all rumors as nebulous at best – is that Los Tapatios may be taking over the space. Then again, someone else reckons it's gonna be a brunch place. Place your bets.
EJO
Perhaps my favorite place in town for DIY Korean meats (not least a Post Malone hangout), this Millcreek eatery is no more (pictured top). This location was the businesses second after making the move from the corner of 2700 S. and State some years prior. Rumor has it – and again proceed with caution – the space will be redeveloped as a Japanese restaurant.
ChiFa
I had the greatest of plans to write a verbose and vivid recap of my meals at this one – but sadly, time got in the way. The article never made it to print, and the restaurant recently called it quits. The West Valley industrial neighborhood surely wasn't the best, but their menu of Peruvian classics was fabulous. The kitchen had a particular focus on the Chinese influence (hence the name) on the South American country's eclectic culinary traditions. I'd recently really enjoyed their "carbon" menu, all big steaks and heaving sides. I'd meant to go back and try their ceviche, "best in the state", according to their chef.
Icy Mountain Shaved Ice
This one via the Trib's Sean Means, "Icy Mountain Shaved Ice, which operated a food truck and a brick-and-mortar store at 2272 E. 3300 South in Millcreek, closed both the truck and the store at the end of February. "We've loved serving you in our store the past few years, and have made so many amazing memories with you," the owners wrote on the shop's Facebook page."
Cafe Yugo
This South Jordan spot also recently called it quits. A short Facebook message posted by the company reads, "With a very heavy heart, we are announcing Cafe Yugo as permanently closed. We appreciated and thankful for all the support over the years. Thank you from the bottom of our hearts!"
Updates and changes
Myung Ga
Not a closure per se, but a definite change of direction for another local Korean stalwart. The business was recently purchased by the Itto Sushi group, with a plan to updating and infusing the menu with the popular chain's menu of maki sushi and more. Discussion on what that means for the traditional Korean side of affairs ensued over on the local Reddit; for their part, the new owners posted that, "We plan on keeping the same menu but make a few adjustments to the recipes to make them even better".
In other local news then…
Cheapest beer in SLC crowned
This one is particularly close to my liver, seeing as my own personal home from home recently snagged the prize of Salt Lake County's cheapest bar. In this deep data dive by the Trib's Andy Larsen, more than 100 SLC bars were polled for the price of their cheapest pour. Highland Drive's Bongo Lounge topped the list of wallet friendly places to plump yourself down at.
I've been a customer for coming up on twenty years, and to this day it remains one of my favorite places to forget the outside world. Easy when there's no windows. Also, no Edison lightbulbs, no cocktail menu, oh and no credit cards. The Bongo is anachronistically delightful – one of the few cash only spots in town. Not only does this keep prices down, but it keeps me honest. When that $20 bill is shot, so is my adventure, time to head home.
New local book with foodie insights
The work of several local writers, the "What's Good Salt Lake City" book recently launched – a handsome looking thing, and the perfect coffee table centerpiece for any proud local. I asked my fellow colleague Darby Doyle (who contributed to the guide) to explain a bit about the book, specifically the food component. Here's what she told me:
"In addition to featuring engaging write-ups of favorite restaurants, markets, and bars, there's equal attention to spots like Afghan Kitchen, Feldman's and Mahider, as there is for the likes of Casot, Table X and HSL — the photography, design layout, and the goddamn joy of having an actual book in your hands can't be beat.
With essays about SLC past and future from local luminaries like Chef Viet Pham and architect Anne Mooney, and a fun Q&A with Ty Burrell, it evokes for me the feel of what I most miss about exploring a place in the days before social media made it all about the 'gram. When you picked up a guidebook and dog-eared the pages of the places you wanted to try next when you could afford to go."
If you want to grab a copy, the tome can be purchased online at copythat.club as well as in person at the following spots:
Curriculum
FICE
King's English
Mochi Kids
UMOCA gift shop
Hyatt Regency lobby gift shop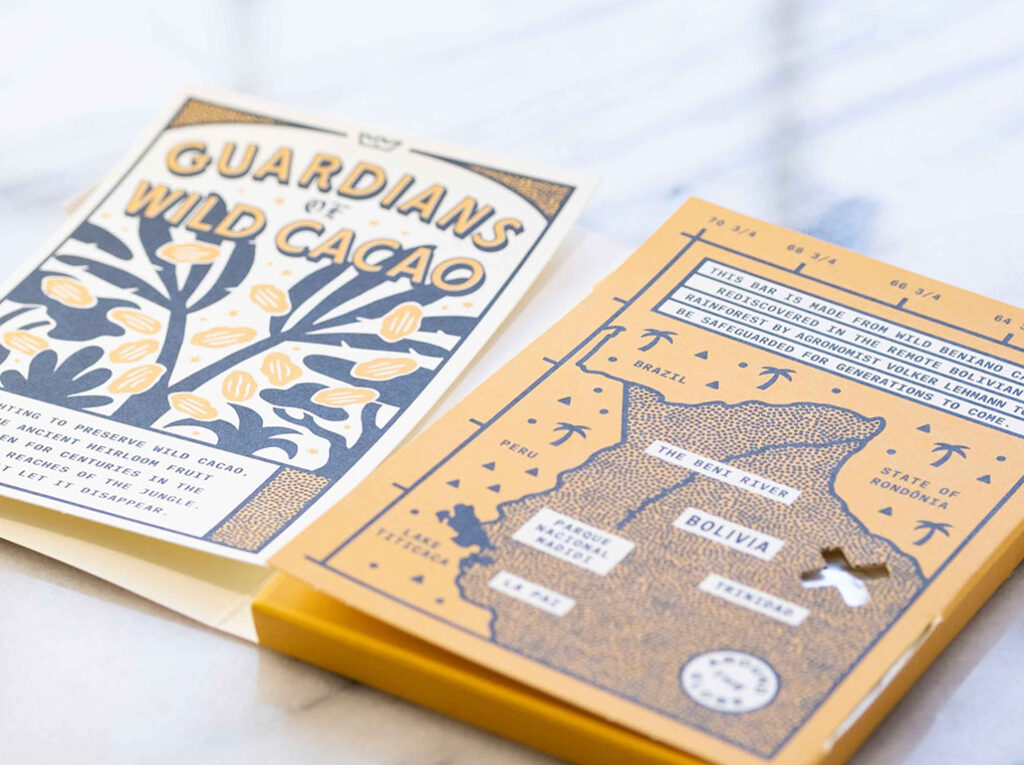 Caputo's Wild Tranquilidad chocolate bar
Via press release
. . .
Salt Lake City, Utah, May 1, 2023: As part of Caputo's Preservation Program we are proud to announce a partnership between Caputo's Market & Deli, Hacienda Tranquilidad (Baures, Bolivia), and Ritual Chocolate (Heber, Utah). Namely, a chocolate bar made from rare wild cacao.
The Caputo's Wild Tranquilidad bar started almost a decade ago when Caputo's donated money on behalf of an agronomist who had discovered something very special. The tests sponsored provided a USDA Genetic Profile proving Tranquilidad's samples were a previously undiscovered type of cacao, "Beniano."
Even before the tests had confirmed it, Tranquilidad's cacao had become famous being referred to as Cru Sauvage, Cacao Sylvestre, Boliviano, to name a few. The agronomist, Volker Lehmann, bought land in the area and dedicated his life to building a business that would preserve this cacao. Despite the fame and insanely delicious, one of a kind cacao, Tranquilidad has faced bankruptcy, competitor counterfeiting, fires, drought, floods and more. In short, even in the world of fancy chocolate not enough money flows back to the farmer.
Caputo's has arranged for Ritual to buy Tranquilidad's genetically pure Beniano and pay top dollar directly to Tranquilidad with no intermediaries. Ritual uses these jewels of the jungle to make chocolate bars to Caputo's specifications. After countless tests and tweaks to the chocolate making process, Ritual Chocolate proves their mastery with one of the best tasting dark chocolate bars of all time. Caputo's then gives a full dollar to Tranquilidad for every 60g chocolate bar sold. This represents an additional $7.60 per pound of chocolate sold and is many multiples more than a farmer would otherwise receive selling cacao. Caputo's believes that Capitalism can actually serve as a viable system for positive change when all stakeholders in the supply chain share equally in the rewards. With each purchase, food lovers join Caputo's in blazing a trail to a food system that preserves biodiversity and sustainable agriculture.
Mark Of Beastro wins PETA pick
Via press release
. . .
In honor of National Hamburger Month, PETA has named its picks for the best vegan burgers in the U.S., and SLC's own Mark of the Beastro has won a top spot with its sinfully delicious Garlic Mushroom Burger, a juicy, meat-free guilty pleasure.
Located at 666 S. State St. (yes, really), the eatery is widely loved not just for its heavenly vegan comfort food but also for its tongue-in-cheek menu, which includes Burgatory, Sinwiches, and, for dessert, of course, Temptations. The award-winning Garlic Mushroom Burger features a no-beef patty topped with savory garlic, mushrooms, dairy-free cheese, lettuce, tomato, and onions—and it's good enough to make anyone commit the sin of gluttony.
"Keeping Mark of the Beastro's mouthwatering, garlicky comfort food classic to ourselves would be heresy," says PETA President Ingrid Newkirk. "All the winning vegan burgers on PETA's national top 10 list prove that serving plant-based foods is a wickedly smart business decision."
Mark of the Beastro will receive a framed certificate from PETA in honor of its culinary achievement. The other top burgers receiving the group's recognition are the Ménage à Trois at Slutty Vegan (Atlanta), the Mushroom Swizz Burger at Modern Love Omaha (Omaha, Nebraska), the Love Life Burger at Love Life Cafe (Miami), the Beet Burger at Three Carrots (Indianapolis), the Flatiron at Meta Burger (Boulder, Denver, and Edgewater, Colorado), the Dirty Secret at J. Selby's (St. Paul, Minnesota), the WAP-er at Houstatlantavegan (Houston), the Deluxe Vurger at Vurger Guyz (Los Angeles), and the Cowboy Burger at Bean Vegan Cuisine (Charlotte, North Carolina).
Other local reads and news
Local reviews and writeups
Keep the conversation going
Want to stay on top of the SLC food scene, minute by minute, dish by dish? Here are a few other places you should follow along:
Hi, I'm Stuart, nice to meet you!  I'm the founder, writer and wrangler at Gastronomic SLC; I'm also a former restaurant critic of more than five years, working for the Salt Lake Tribune.  I've worked extensively with multiple local publications from Visit Salt Lake to Salt Lake Magazine, not least helped to consult on national TV shows.
I'm a multiple-award winning journalist and have covered the Utah dining scene for the better part of fifteen years.   I'm largely fueled by a critical obsession with rice, alliteration and the use of big words I don't understand.   What they're saying about me: "Not inaccurate", "I thought he was older", "I don't share his feelings".  Want to know more? This is why I am the way I am.
This article may contain content provided by one of our paid partners. These are some of the best businesses in Utah. For a list of all our current and past relationships see our
partnership history page
.