James and Julie Mcbeth, owners of Z's Gourmet Hot Sauce, have been bringing the heat to Utah food connoisseurs for eight years now via farmers markets and special events. Their product line includes a spicy bloody Mary mix, pepper powders, salsa and small-batch hot sauces from mild to fire.
Yet their latest product edition is perhaps the most innovative yet—meet Z's Gourmet Barrel-Aged Pepper Sauces which are both a labor of love and truly one-of-a-kind creations.
"We both love whiskey and bourbon and since we make pepper sauces we thought, what would be better than a pepper sauce aged in a whiskey barrel?!", James explains.
Currently available in Red Bourbon Whiskey and Red Whiskey (rye) varieties, these handcrafted sauces come in limited quantities of 170 bottles each. Each batch is an irreplicable variation, just like the spirit that was previously held in the barrels the sauces were aged in. The artisan barrel-aged pepper sauces allow the naturally occurring differences found in each barrel of whiskey or rum and each batch of pepper sauce to enhance the sauce's final characteristics.
"Some barrel-aged pepper sauce batches will be similar, but all will be different," James says. "We harvest peppers from farmers all over and that alone can affect the flavor of each batch due to how the produce was grown, the water, the sun, the soil, and differing conditions. Some batches will be a one-off because we can only get one of that type of barrel." That's why each hang tag on the custom glass bottles is hand numbered.
To date, the Mcbeths have tried three of their pepper sauces—Green Man chile verde Hot Sauce, Viking Blood Roasted 3 Pepper Hot Sauce and their flagship product the Original Red Hot Sauce—aged in various barrels. "With those three sauces, the types of barrels we can age them in is endless—three products now becomes many," says James. "For example, we aged our Roasted Pepper Sauce in a rum barrel and also a bourbon whiskey barrel. And we already have the Roasted Pepper Sauce aging in a sweet maple syrup barrel. We have our Original Red Hot Sauce aging in a rum barrel right now and plan to call it 'REDRUM'."
The creation of the barrel-aged pepper sauces has been a time consuming and arduous process. The sauces have been in the making for approximately two years and are a collaboration with Z's and various distilleries. Each are pasteurized, have a specialized HACCP plan for health safety and are biologically tested by a third party to ensure the aging process was sound.
Red Bourbon Whiskey Pepper Sauce and Hot Sauce Whiskey
The Mcbeths pride themselves on producing products that celebrate Utah and local growers and makers and the Red Bourbon Whiskey Pepper Sauce is an excellent representation of their efforts—right down to the beautifully embossed gold and silver labels sourced from Matthew Barker at Moon Labeling in Ogden.
The barrel-aged pepper sauce begins with Z's Original Red Hot Sauce recipe with a slight variation. They decided to replace the red fresno chile with red jalapeno before it went into Outlaw Distillery's Bourbon Whiskey barrel to age for four months.
"We were very surprised at how much of the flavors of the barrel came through into the pepper sauces," James remarks. "Aging the sauce also seemed to have toned the heat down a bit. The bourbon whiskey and charred American white oak barrel flavors come through very well and balanced in the pepper sauce."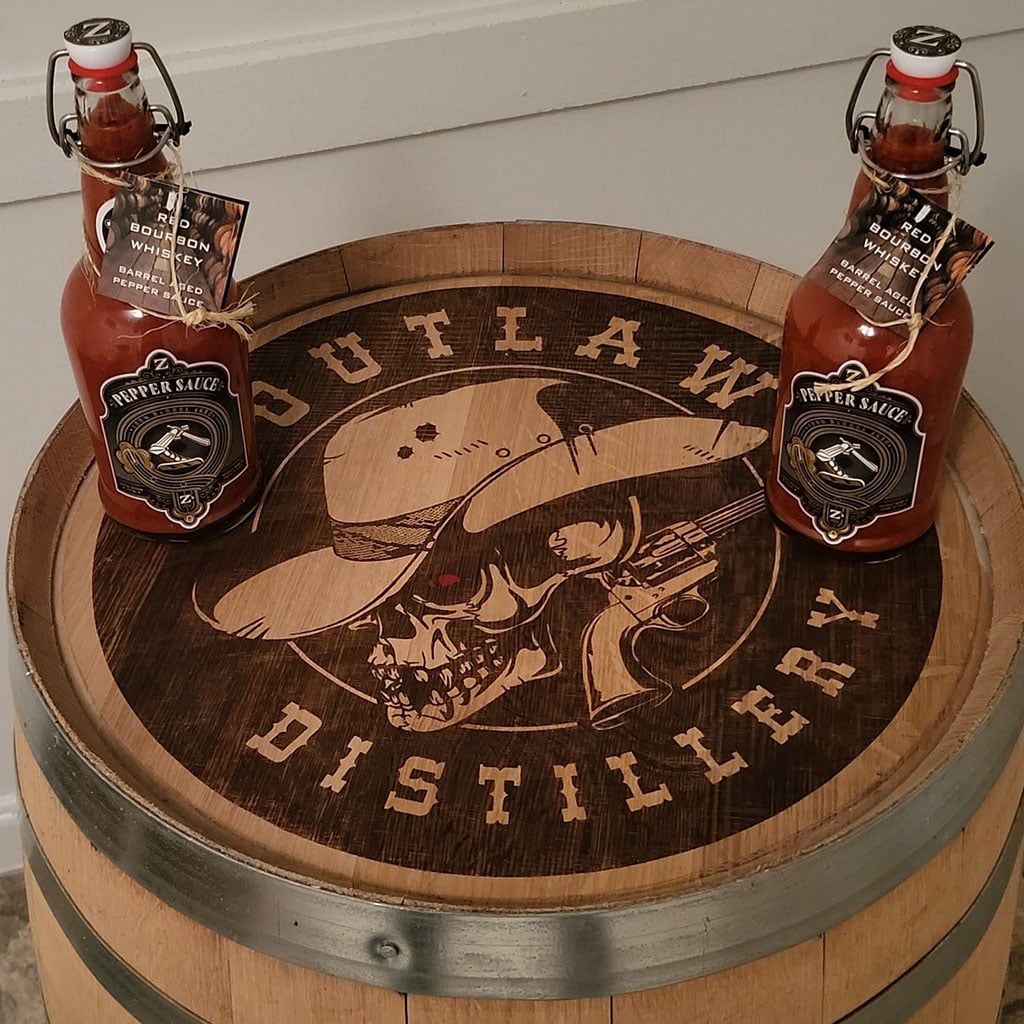 Once the first small batch of Red Bourbon Whiskey Pepper Sauce came out of the barrels, Tyler Halstead, owner of Outlaw Distillery, then put the original batch of bourbon back in the hot sauce barrels and let it age for another year. The finished product, available only at the distillery, is Hot Sauce Whiskey—a spicy little number that hot sauce fans are loving.
"It's absolutely wild how much flavor the whiskey took," Halstead says. "It turned out incredibly more spicy than I expected."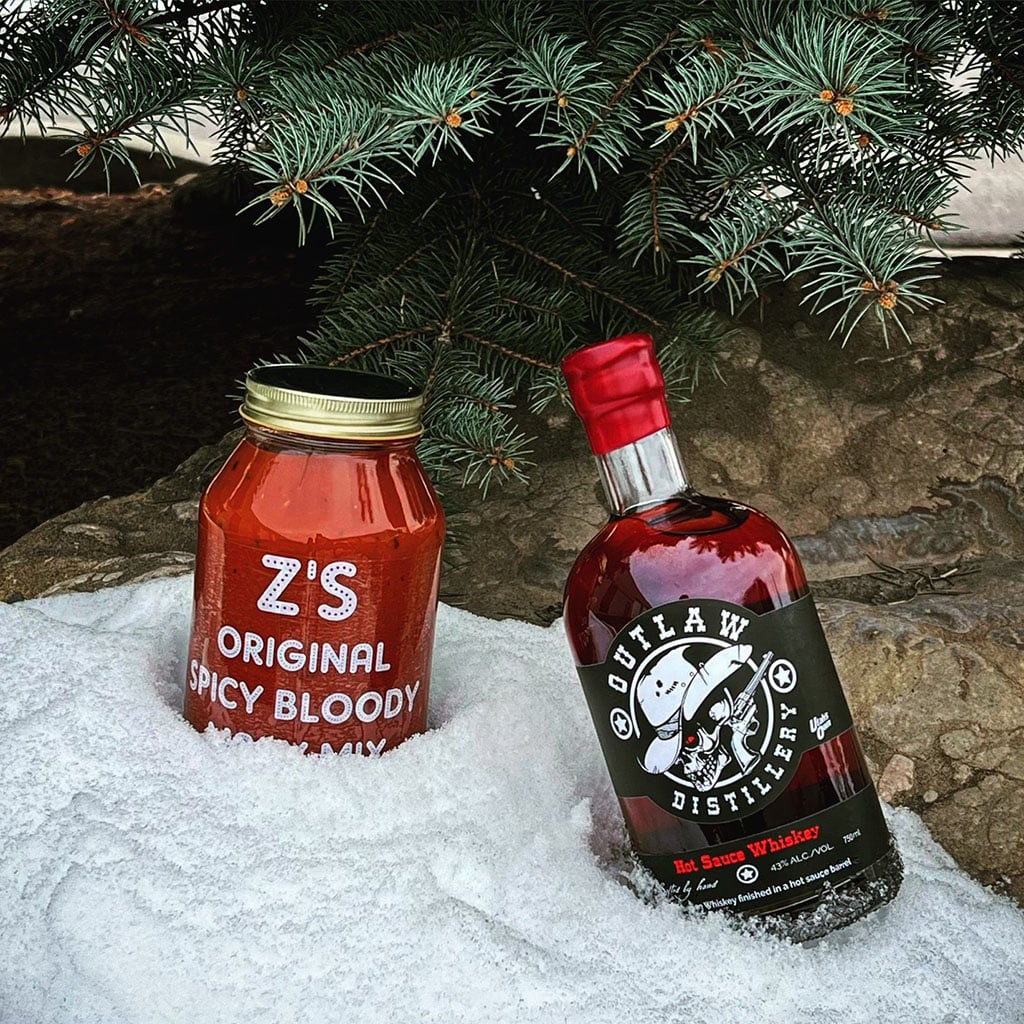 Tasted side-by-side, notes of the bourbon's corn and caramel are evident in the pepper sauce while the Hot Sauce Whiskey picked up much of the chile oils and heat left in the barrel.
It's a phenomenal match up and Halstead likes to cook with the Hot Sauce Whiskey, finishing fajitas with a splash of it and adding it to bloody Mary's—made with Z's Spicy Bloody Mary mix of course. You'll also find the Red Bourbon Whiskey Aged Pepper Sauce on just about anything he and his family are eating for breakfast, from skillets and scrambles to burritos.
James agrees. "Our favorite is definitely the Red Bourbon Whiskey Pepper Sauce using Outlaw Distillery's barrels. It's just so powerful in flavor and goes on everything!"
Farmers market and online customers are also clamoring for the product. "I love the Red Bourbon Whiskey Pepper Sauce," says Angie Gallegos, a customer at Wheeler Sunday Market. "It stands up well to grilled meats such as pork and chicken. The chunky texture clings to the meat and offers a slight sweetness and balances out the heat from the jalapeños and habaneros."
The next batch of Red Bourbon Whiskey Pepper Sauce will be ready in two months along with a new flavor of Z's Green Man chile verde Hot Sauce aged in an Outlaw bourbon barrel.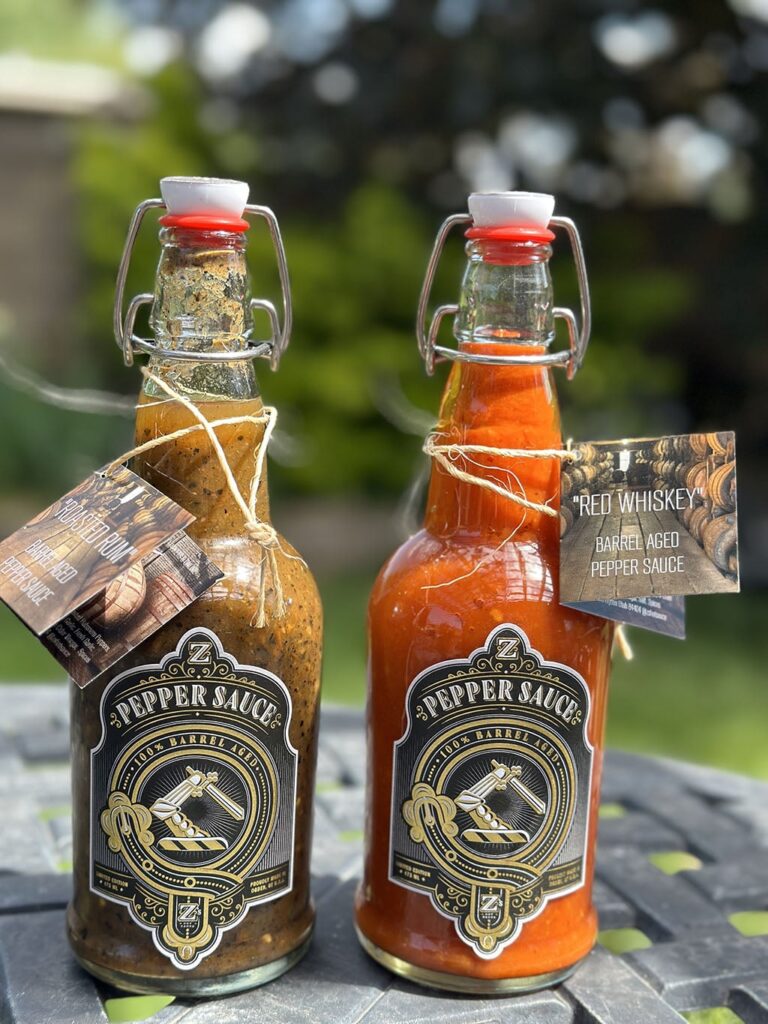 Other barrel-aged pepper sauces
In addition to the fully local Red Bourbon Whiskey Pepper Sauce, you can also find the Red Whiskey Pepper Sauce made with Z's Original Red Hot Sauce and aged in rye barrels from Far North Spirits in Minnesota.
"Our second favorite is the sold out Roasted Rum Sauce," James continues. "This one we aged our Viking Blood Roasted Pepper Sauce in a barrel that once held bourbon from one distillery and then rum from another distillery."
With the success of the initial releases of the barrel-aged pepper sauces, more flavors are set to release this summer. Look for a Viking Blood Roasted Pepper Sauce aged in a barrel that held maple syrup and then whiskey mid-summer.
"We have 60 gallons of whiskey/bourbon/rye pepper sauces barreled up right now and have some very interesting new flavors coming very soon!" says James as he casually mentions serrano tequila pepper sauce. "We have some rum barrels from Barbados, Buffalo Trace Whiskey barrels and some others are still a secret."
As each 30-gallon barrel produces around 240 bottles of hot sauce, there really is nothing quite like Z's barrel-aged pepper sauces.
"We wanted to take hot sauces to a next level with a product you just can't ignore, and I do believe we have done so," James concludes.
To get your own bottle of barrel-aged pepper sauce or any of Z's products, visit Wheeler Sunday Market beginning Sunday, May 21, Outlaw Distillery or Z's website.
To learn more about many of the other sauces in Z's line, check out this prior story on Z's from our archives.
Keep the conversation going
Want to stay on top of the SLC food scene, minute by minute, dish by dish? Here are a few other places you should follow along:
.
.
Heather King: Writer and lover of delicious food and drink in Utah and around the world. Anonymous food critic and writer for The Salt Lake Tribune, The Utah Review, Devour Utah, Utah Stories and more. Runs #LadiesWhoLunchSLC.
This article may contain content provided by one of our paid partners. These are some of the best businesses in Utah. For a list of all our current and past relationships see our
partnership history page
.