In its 19th year, Caffe d'Bolla has undergone its most dramatic physical transformation. Meanwhile, John Piquet's journey as Salt Lake City's first artisan roaster and siphon coffee bar continues, always finetuning the matrix for producing an exceptional cup of coffee – how and when to use the experience of his artistry in connection with the science and technology behind roasting and brewing coffee.
After 18 years when Piquet and his wife, Yiching, opened their street-level shop in the Stoneground Restaurant building on 400 South, the award-winning business has relocated to the heart of Salt Lake City's central business district. The shop is located in the Wells Fargo Building, along the small street leading to the Gallivan Plaza. The decor in the new spot is stunning, highlighted by the wallpaper from Milton and King, a Dallas company, with its hummingbird theme. The interior has been designed with the focus on maximizing the elegance of the experience for the customer, who realizes that whatever they thought they knew about coffee before coming into Caffe d'bolla is being wholly transformed.
The new location is ideal for the shop's inherent cosmopolitan appeal. It is within easy distance – either on foot or by a quick trip on the light-rail (which is free in the downtown area) – from major hotels, including the recently opened Hyatt Regency adjacent to the Salt Palace Convention Center. Many tourists, skiers, convention goers and business travelers make it a point to stop by for an espresso, americano or, when they have at least an hour or more to spare, the siphon bar experience. Caffe d'Bolla has at least 350 followers on social media from outside the U.S., including Canada, Japan, Taiwan, South Korea, United Kingdom, Norway, Australia, Indonesia, Italy and Thailand.
Customer engagement is a priority for Piquet, who is known for his plainspoken no-nonsense approach when discussing coffee. When a customer orders espresso, Piquet provides a compact, detailed introduction including the provenance of the espresso being served on a particular day, its tasting notes, its origins and recommendations for enjoying the experience of drinking it.
Regular customers already know that espresso and siphon offerings change frequently. Not one espresso will ever be a replicate or duplicate. It is conceivable to see 35, 40 or more different espressos annually. Sometimes, an espresso is available for only a handful of days. When Piquet began roasting beans in 2005, he highlighted the espressos often with clever and whimsical names, but, as the list of espresso creations grew, he eventually skipped naming them and instead let the merits of the coffee speak for themselves. From one day to another, the espresso experience naturally occurs as a unique tasting experience, even when it involves the same espresso beans. The nuances and subtleties are communicated to customers regularly, especially those who return on consecutive days to try the espresso.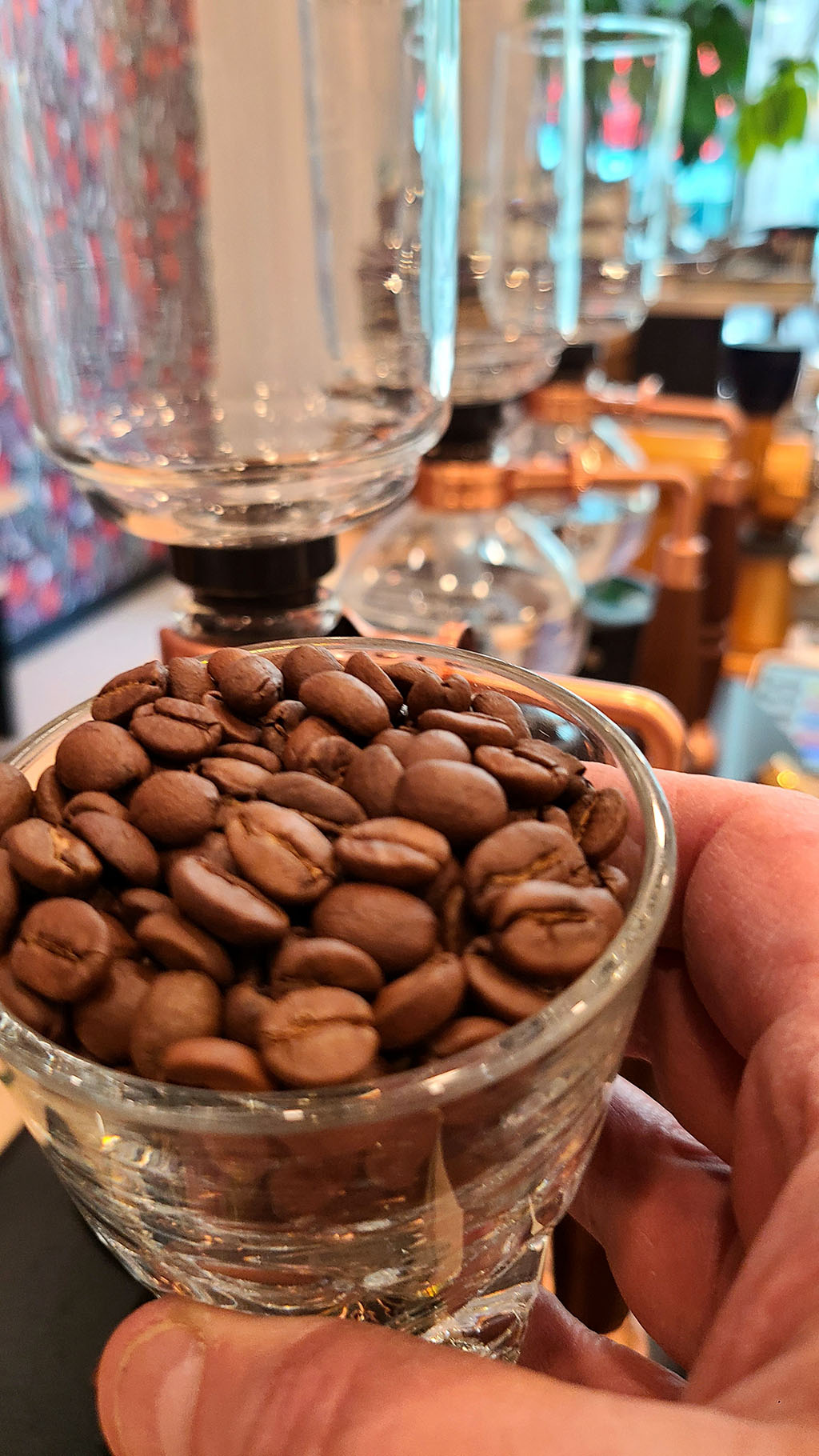 Piquet's offerings are listed in tiers of best, better and good. Most recently, an offering listed as best was Costa Rica Finca El Cerro, Carlos Fernández Morera- Anaerobic Washed. A stickler for precision, Piquet also shares information about the agricultural processing: "After pulping, it is fermented in a sealed tank. A selection of mucilage and a little water are added to the mix, and the slurry is closely monitored for pH, temperature, brix, and a host of other variables. Careful monitoring and adjustments are made which give control over the resulting flavors."
As for the tasting notes, Piquet lists "candied ginger, brown sugar, baked apple, cinnamon, limoncello, cranberry, and chocolate." He encourages customers to trust their own tasting instincts. The tasting notes tacitly underscore a nonnegotiable rule when it comes to drinking espresso, an americano or siphon coffee: no sugar or creamer is visible. It is evident no customer would dare ever request it, so as to enjoy the espresso in its pure, holistic realm. Piquet encourages customers to share their thoughts and to mention tasting notes they have experienced. This makes customers feel more comfortable to ask questions and satisfy their curiosity.
The description of this Costa Rican coffee also highlighted that the coffee comes from 65 years of farming experience and was a top finisher in Cup of Excellence (COE), an international competition which emphasizes integrity and transparency in the coffee industry. Not to be confused with fair trade, a concept that Piquet has dismissed for many years as misleading and misinformed, COE provides the wherewithal of tools to strengthen the economic model and produce more returns to individual coffee farmers.
More than a few customers are willing to tread farther into the field, especially when they are curious about Piquet's thoughts about brewing coffee at home. Naturally, as Piquet always emphasizes, it starts with fresh, properly roasted coffee, an adjustable burr grinder and water with the proper mineral properties (a feature that genuinely surprises those who take some pride in their knowledge about coffee). For those who purchase freshly roasted beans directly from the shop or through the website, where subscriptions are available, Piquet offers a good bit of information.
He'll recommend a digital scale for accurate gram measuring as well as the best filters to use. Finally, he tells customers to be confident in tasting and adjusting when they are brewing at home. More than a few times, customers will return to the shop to share the results of brewing at home and to troubleshoot their problems. It can often expand into a long dialogue that verges on full-on coffee geekdom. Piquet, who stays up on the "inside baseball" research behind coffee, is a fervent evangelist on the topic of water chemistry, for example, or on the point that good brewing relies on controlling the size of the grind and the grinder's capacity to generate a uniform grind size. It should be obvious to anyone that one of Piquet's absolute commandments is 'thou shalt not use any pre-ground coffee.' And, there are no decaf options. One of Piquet's favorite subjects to chat with customers is the misunderstanding about caffeine content.
While some beverages are available to go, customers should make the effort to enjoy their beverage in house. The service is flattering, with fine bone china, porcelain and ceramic cups. The menu is straightforward: espresso, americano, macchiato, cappuccino and latte. Cortados also are available and served properly. The siphon experience, as previously described, accentuates the adage of how patience has its rewards. Outstanding teas are available. Yiching Piquet also created a new treat for the shop: nami pan (波 パン), which translates as "wave bread." While she has experimented with other flavors, the version with adzuki (red bean) is especially excellent.
The shop is open Monday through Saturday, 10 a.m.- 2 p.m. and 3-6 p.m. For more information about purchasing coffee subscriptions and related items online, see the Caffe d'Bolla website.
Keep the conversation going
Want to stay on top of the SLC food scene, minute by minute, dish by dish? Here are a few other places you should follow along:
I am a native of Toledo, Ohio, having received my Ph.D. in journalism and mass communication from Ohio University's Scripps School of Journalism in 2002. In addition to teaching at Utah State University and the University of Utah, I have worked extensively in public relations for a variety of organizations including a major metropolitan university, college of osteopathic medicine, and community college.
When it comes to intellectual curiosity, I venture into as many areas as possible, whether it's about music criticism, the history of journalism, the practice of public relations in a Web 2.0 world and the soon-to-arrive Web 3.0 landscape, or how public debates are formed about many issues especially in the political arena. As a Salt Lake City resident, I currently write and edit a blog called The Selective Echo that provides an entertaining, informative, and provocative look at Salt Lake City and its cosmopolitan best.
I also have been the U.S. editorial advisor for an online publication Art Design Publicity based in The Netherlands. And, I use social media tools such as Twitter for blogging, networking with journalists and experts, and staying current on the latest trends in culture and news. I also have been a regular monthly contributor to a Utah business magazine, and I have recently conducted a variety of editing projects involving authors and researchers throughout the country and the world, including Dubai, Saudi Arabia, Canada, Lebanon, Cyprus, the United Kingdom, France, and Japan. I'm also a classically trained musician who spent more than 15 years in a string quartet, being involved in more than 400 performances.
This article may contain content provided by one of our paid partners. These are some of the best businesses in Utah. For a list of all our current and past relationships see our
partnership history page
.